Setting up an eCommerce business is simple enough; however, growing your eCommerce business requires a solid strategy.
If you're looking to grow your store into a successful business that brings in significant revenue, you'll need to implement some proven growth techniques. The secret to a successful business of any kind lies in freeing up the time spent doing manual tasks to allow you to focus on income generation. That can be done by hiring extra members of staff, but that incurs costs you may not have factored in.
The solution? Automation.
But before we dive into automation in all its glory, let's take a look at some other tried and tested ways to grow your eCommerce business, no matter your experience level.
TL;DR
Growing your eCommerce business allows you to increase your profits, create other businesses, reinvest in your company to take it global, or simply increase customers.
There are several ways to grow your business, and one of the simplest methods is using automation.
With an eCommerce helpdesk, you can automate customer service, freeing up your time to focus on other important aspects of growing your business.
Creating a killer marketing strategy, rewarding loyal customers, and making the most of social media are also effective ways to improve your business growth.
What is growth?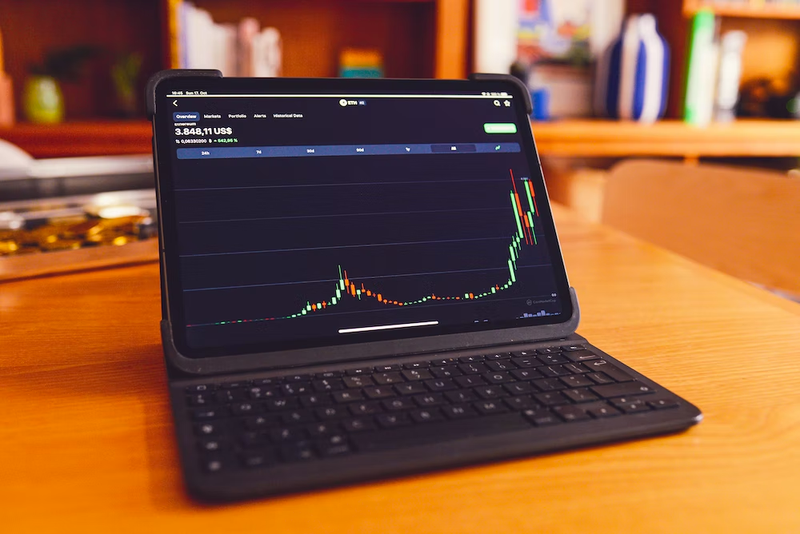 A growth company is one whose business generates significant positive cash flow and whose earnings increase significantly at a fast rate. Positive growth leads to reinvestment opportunities or high profits for company owners to enjoy.
In 2020, global eCommerce sales grew by 27.6%, so the industry itself is showing signs of serious growth. There has simply never been a better time to break into the eCommerce market.
The importance of growing your eCommerce store
If you're looking to make a living from your eCommerce store, there's only one thing to have in mind: growth, growth, growth. Growth involves increasing your revenue and average order value and attracting more customers to your store.
Once you've got to a certain number of consistent orders, you can start hiring more staff to take on roles, and even extend your offerings to other countries. Having a wider team around you frees up your time to further increase eCommerce sales, or even start another business to supplement your income.
How to grow your eCommerce business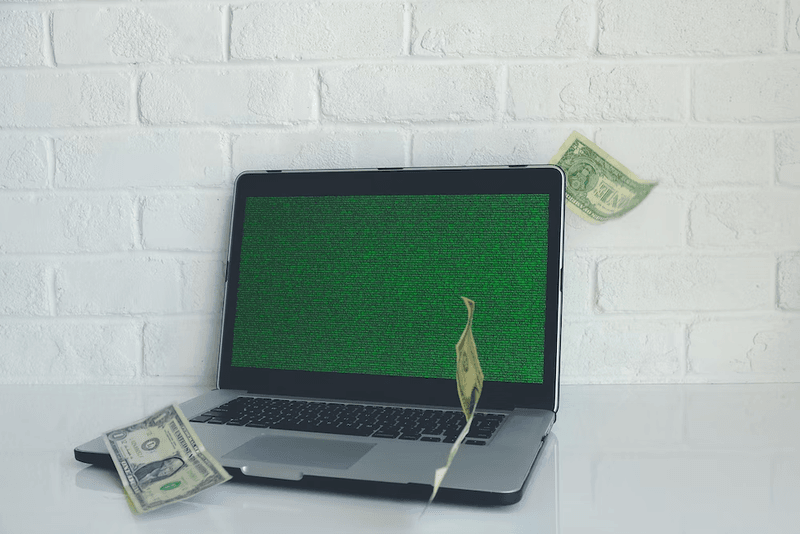 1. Focus on marketing
More and more people shop online these days, with more than 2.14 billion people shopping online in 2021. That's great news for you – but great news for your competitors too.
The more people turn online to look for products, the more you have to differentiate yourself from your competitors, which can be easier said than done. What you need is a killer marketing strategy.
If you're not already marketing savvy, it's worth exploring marketing tactics that have been tried and tested and shown to work by other eCommerce companies. Depending on which eCommerce platform you use, there may be the option to invest in marketing apps or integrations, which work alongside your online store to capture customer data and maximize sales.
2. Utilize social media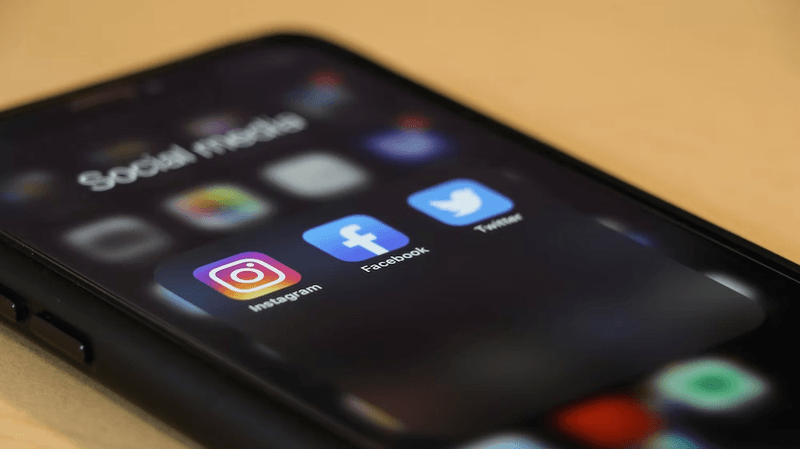 Social media has been one of the most important advances in marketing in the last 20 years, and the best part? You can do social media marketing entirely for free if you don't pay for sponsored ads.
The most effective way to take advantage of social media's power is to create a social media strategy that fits neatly into your overall marketing campaign. If you have an upcoming sale and you're sending emails and posting blogs about it, complement your efforts by posting about it on social media.
Social media is also where you can find the holy grail of content: user-generated content, also known as UGC.
Nowadays, authenticity is everything. Gone are the days when consumers didn't mind if brands behaved as detached corporate machines with profit as their only interest. In the modern world, consumers want to see authenticity from eCommerce businesses, and a signal that companies care about the values of their target audience.
This is where user-generated content comes in.
User-generated content provides an excellent form of social proof. After all, it makes sense that consumers are more likely to trust your products when other consumers vouch for them.
There are multiple ways to collect user-generated content to use as part of your marketing strategy. One is to hire a content creator to make content that shows your products being used in a real-life setting. This strategy is particularly effective if your target audience includes younger ages since 70% of teens trust influencers more than traditional celebrities.
If you haven't got the budget to work with a content creator, you can try the (completely free) technique of simply asking your customers for content. Encourage customers to upload images or videos of their products with a hashtag in the campaign, then use these visuals (with their permission) in your campaign.
Your customers will be thrilled to be part of your marketing campaign, and you'll have user-generated content that's as authentic as it comes. Win-win!
3. Conduct market research
If you know you want to start an eCommerce store, but aren't yet sure what you'll sell, make the most of market research. Research industries that are not only popular now, but are set to become even more popular in the future.
Once you've found a sector experiencing significant growth, see how you can offer something different, or more niche, to differentiate yourself from stores that already exist within that sector.
If you're launching a luxury handbag service, for example, consider creating handbags made from vegan leather instead of regular leather, to appeal to a smaller subset of consumers.
Although it might seem that niching down excludes a portion of your target audience, it makes it easier to get sales because you'll be competing in a less saturated market. To continue with the handbag example, there are more consumers shopping for regular handbags than non-leather ones, so you'll have fewer other businesses to compete with if you streamline your offerings.
You'll need to do market research to create an effective marketing strategy, too. If your target audience is made up of Gen Z, your best bet is to focus on video marketing which has exploded into popularity alongside the rise of TikTok and Instagram Reels.
Older users are more likely to use Facebook, so if your target audience is 40 and above, use Facebook as your social media marketing platform of choice.
4. Learn lessons
In the world of business, every mistake can be turned into a lesson for the future. When you try a new technique in a marketing campaign or invest in an app that doesn't work as well as you'd hoped, don't beat yourself up. The only way you'll ever continually improve is by learning from previous mistakes and using them to inform your future strategies.
Another way to learn from the past is with analytics. There are plenty of ways to analyze the performance of marketing campaigns and the like. Depending on the email provider you use, for example, you can check click-through and open rates for your emails to check which subject lines perform well, and which perform not so well.
5. Invest in customer service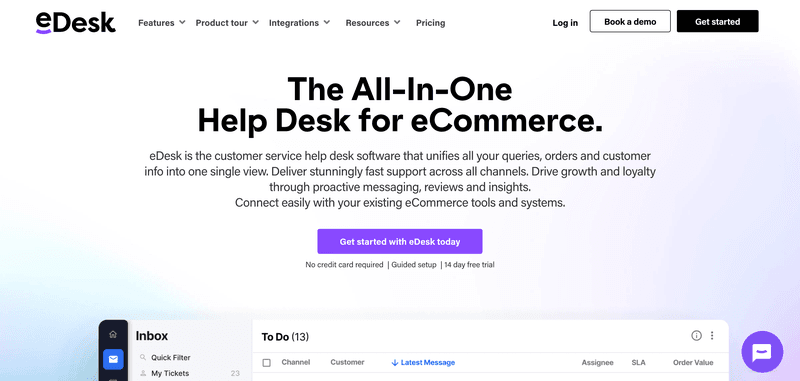 Customer engagement is important, but if customers come to your store and experience poor customer service, they'll make sure people know about it. The negative impact that poor feedback can have on your store shouldn't be underestimated.
From negative reviews to word-of-mouth complaints, one bad interaction can cost you thousands. If you've ever had a poor customer service experience you'll know that it puts you off returning to a particular store or service provider.
With that in mind, excellent customer service is non-negotiable for any eCommerce business that's serious about growth. But with so many tasks for an eCommerce business owner to juggle, how do you find time to provide excellent customer service at the same time as creating foolproof marketing strategies, and building relationships with suppliers?
The solution lies in customer service software.
Think of the most common pain points of providing customer service. There's the time taken to find order information before you can respond to a query, the challenge of managing customer conversations taking place over multiple platforms, and the difficulty of communicating with customers who don't share your first language.
Enter: eDesk's eCommerce helpdesk.
Wave goodbye to the days of flicking between 127 tabs to find the correct conversation. With eDesk, you have all the information you need in one place, whether the conversation is happening on Facebook Messaging, email, or live chat.
Need to access order information at the touch of a button? No problem. eDesk allows you to access customer information with speed, so no more keeping customers waiting while you scour through confirmation emails for an order number.
Communicating with a customer from another country, but don't share the same language? eDesk's auto-translate feature allows you to communicate easily with people from all over the world by translating the live chat, so each user can see the conversation in their language.
The best part is, eDesk is compatible with almost every major eCommerce provider. Whether your store is set up on Shopify or you're a fan of WooCommerce, you can integrate your online store with eDesk for those all-important features to supercharge your support strategy.
6. Grow your email list
Let's say you're shopping for an outfit for an upcoming wedding. You've scoured the shops high and low, so you're now turning to an eCommerce site to find something suitable to wear.
You find the perfect dress and add it to your basket, when suddenly your neighbor comes over asking for help with a burst pipe, and you leave your laptop and completely forget to return to it later.
The problem is, there are only three dresses remaining before they're out of stock, and other customers are eyeing them up.
Luckily, the site emails you with a gentle reminder that you've left the dress in your cart and there are limited items left. You buy the dress, you get your perfect outfit, and the eCommerce store gets a sale. That's the power of email marketing.
But how exactly do you create an effective marketing strategy and collect customer details in the first place?
With new data privacy laws, it's growing increasingly difficult to get customer data from third-party sources like social media sites. Instead, the focus in online marketing is collecting first-party data, that's information users give you themselves about their preferences, interests, and more.
There are multiple ways you can collect first-party data, including pop-ups, email forms, and gamification techniques such as wheel spins.
Once you've collected a sufficient number of email, you'll need to put together an email marketing campaign. For the most part, email marketing focuses on promoting upcoming sales and collections, or announcing new features and updates.
It's important not to bombard your customers with excessive emails as you run the risk of them hitting the unsubscribe button, but it's worth sending out emails whenever you have a new update, product, or sale that your customers would like. The sweet spot for email marketing is around one email a week for maximum results.
7. Look into Google shopping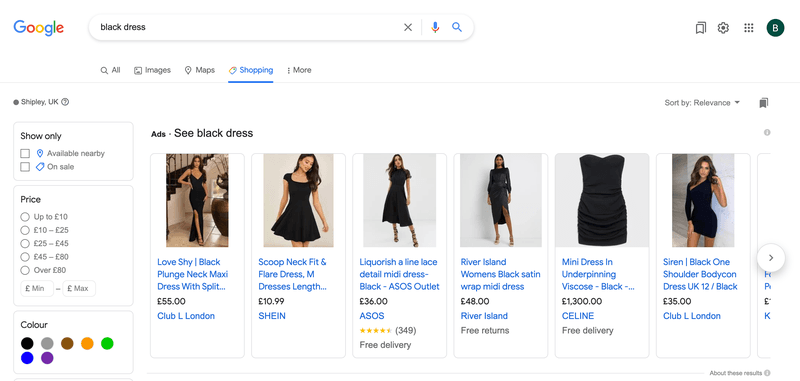 If you're on the hunt for a particular product, website, or piece of information, there's probably only one place you go: Google. Your potential customers do the same thing.
With that in mind, advertising on the world's favorite search engine can only yield positive results for your eCommerce website.
Google Shopping previously only offers its paid service for shopping ads, but the search engine giant now offers free ads to merchants.
Every eCommerce business owner dreams of red-hot leads, that arrive at their website with their virtual wallets open, ready to buy. Finding customers via Google is a little like this.
When consumers are searching on Google Shopping, they already have purchase intent. You don't have to convince them to buy something, you have to convince them to buy your thing.
Google Shopping is a type of visual comparison search engine that can help get your products in front of customers. A typical Google Shopping ad contains the product image, the price, and the name of your online store.
When a customer searches for a product on Google, yours will show up, as long as the product description meets the criteria they're looking for. You only pay for the ad once a customer clicks on it, so it's an incredibly cost-effective way of marketing.
So how can you create these high-converting ads?
Google Shopping ads are created using product information submitted to the merchant data feed. There's some effort involved in the initial setup, but once your ads are set up, there's very little need for maintenance. You'll also need a Google Merchant Center Account and a Google Ads account.
8. Give customers autonomy
Customers increasingly want to be able to solve problems themselves without the need for an hour-long call with a customer service agent.
If a potential customer has the choice between opting for your products or the products of a competitor and they have a query that needs an answer, they'll probably (understandably) opt for the choice that gives them the quickest answer.
Don't underestimate the need to offer customer service options that don't involve speaking directly to a customer. Live chat options are the most efficient way of communicating with customers, but having a knowledge base is just as essential.
Create a section on your eCommerce website that's dedicated to helping customers help themselves. Include a knowledge base, FAQs, and even video tutorials if you have the capacity. Not only will this result in happier customers, but it will also free up your time since you'll have fewer customer service tickets needing a response.
9. Open up to international markets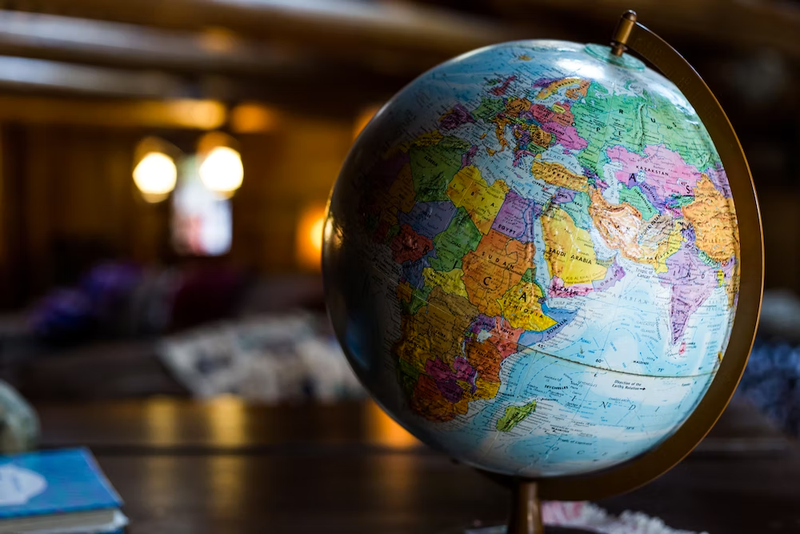 The beauty of the eCommerce industry is that it doesn't rely on brick-and-mortar stores. Customers aren't limited to only shopping in areas local to them, which means eCommerce stores can reach a wider audience than is possible with traditional, physical stores.
Once you've established a loyal customer base and strong digital presence in your own countries, you could turn your attention further afield to ensure a steady increase in sales – especially if there's a booming market for your product or service in another country.
If you're worried about communicating with customers who don't share your language, try investing in a helpdesk with auto-translate features, so you'll never be held back from your store's full potential by geographical location.
10. Don't neglect existing customers
Many businesses make the mistake of offering shiny rewards for new customers, while entirely neglecting existing customers. But the power of existing customers and customer loyalty shouldn't be underestimated.
Although any growth strategy involves increasing conversion rates and attracting brand-new customers, existing customers can also contribute significantly to growth. For starters, happy customers will use you as their default supplier for the products in your niche, giving you consistent profits.
Don't forget that growth can also be attained simply by keeping your existing customers – and this includes turning around disengaged customers. By increasing the order value of every customer, you can increase your profits without having to attract significant numbers of new customers. Retaining customers can become more important than appealing to new ones.
Existing customers can become a crucial part of your marketing strategy, too. Happy customers are a free method of marketing that not enough businesses consider because they provide social proof and recommend your store to friends and family members, increasing your number of sales with word of mouth alone.
So how do you keep existing customers coming back to your store for sales without deserting you for competitors? It mostly lies in rewarding them adequately.
If a particular customer has ordered from you multiple times, send them an email with a code or voucher for free shipping or a significant discount on one item. Sending regular customers a discount code on their birthday is another way to create a personal connection while showing them that their custom is important to you.
Have you ever had a relationship with your favorite local shop owner or hairdresser that made you feel guilty if you ever shopped elsewhere? That's the sort of relationship you want to cultivate with your eCommerce business customers.
11. Learn from your competitors
Nobody likes a copycat, and you certainly don't want to be accused of plagiarising another store's content, but keeping up to date with the competition is a necessary part of growing any business.
Look at what your competitors are selling, as well as the marketing techniques they're using, and see where you can do better. To keep up with general trends in the eCommerce space, follow some of the most in-the-know eCommerce influencers and listen to podcasts that discuss industry updates and upcoming trends.
12. Optimize your store for mobile
More than 60% of shoppers use their phones for online shipping. That's a huge chunk of the market you're missing out on if your online store isn't optimized for mobile. Whenever you're updating your online store, consider the user journey for any potential customers.
The journey from looking for a product to paying for that product should be as friction-free as possible, so be sure to minimize setbacks on the way. Offer one-click buying or simplify the number of shipping options to make the user journey as smooth as possible.
If you're not sure how best to optimize your shipping process for sales, try a shipping app that's compatible with the eCommerce platform you're using. We've shared everything you need to know about choosing Shopify shipping apps, including the best apps available today, in this article.
13. Consider every idea
The road to success is filled with figurative potholes, so rest assured that no business owner's journey is ever entirely straightforward. While your business is still growing, it's the perfect time to experiment with various business models and ideas.
If you want to make profits quickly, for example, but you struggle with the logistics involved in the shipping process, consider using a dropshipping business model. If you're unsure which eCommerce platform is best for your business, try several free trials before committing to one.
14. Make the most of affiliate marketing
Affiliate marketing is a simple and effective way of getting your store seen by an entirely new audience. The premise is straightforward; you work with 'affiliates' who are usually online blog publishers, and they mention your products organically within their blogs.
Every time one of their readers clicks through to one of your products from a link in the blog, you pay the affiliate a commission. You only pay when the affiliate marketing works successfully, so it's a cost-effective way of marketing that guarantees a decent return on investment.
The best part is that to the untrained eye, the marketing isn't marketing at all. Readers on your affiliate's website will presume the products have been organically mentioned, making them more likely to trust the recommendation.
This approach also gives your products a broader reach. If the affiliate websites relate to topics slightly different from your obvious target market, you'll access a market you wouldn't usually reach with your traditional marketing methods.
Affiliate marketing can help with SEO, too. SEO (search engine optimization) is the technique that gets you to the front page of Google, meaning more users will find your site. Part of off-page SEO involves backlinks, which is when other companies link through to your website on their blog.
Backlinks show Google that you're an authority that can be trusted, which in turn, makes them rank you higher.
Getting started with affiliate marketing is pretty straightforward, and if your website is hosted on an eCommerce platform, there are typically plenty of integrations you can add to your site to make affiliate marketing easier.
15. Offer bonuses
One of the easiest ways to differentiate yourself from competitors selling similar products is to offer rewards. If a customer is stuck between you and another eCommerce store, but you offer free shipping and they don't, the customer is more likely to shop with you.
When you've started to make a steady profit and can afford to reduce your profit margin slightly from time to time, begin to offer regular sales and discounts. Offering exclusive discounts to regular customers or followers on social media is another good way to increase sales.
Not only will people be drawn to the promise of a bargain, but they'll also feel like they're part of an exclusive group getting discounts and deals just for them.
16. AI-powered shopping
Your customers are busy, and they have higher expectations than ever before. If you want to compete in today's market, you need to meet their needs and exceed their expectations.
AI shopping assistants can help you do just that.
The average consumer attention span is just eight seconds. This means that if your customers don't see what they want within eight seconds of arriving at your site, they will leave and go elsewhere.
Customers also have higher expectations when it comes to personalisation. According to a recent survey by Salesforce, 72 percent of people say they expect brands to personalise their experience with them regardless of channel or device type. With AI shop assistants, you can hyper-personalise every interaction, boost conversion, reduce churn and maintain the volume needed to grow your eCommerce business.
The bottom line
If growth is an important part of your long-term eCommerce plan, you'll need to focus on your automation. The less time you spend on manual tasks, the more time you'll have available to spend doing activities that attract customers, increase profits, and improve your marketing.
The easiest way to take manual tasks off your hands? Investing in a helpdesk for eCommerce.
You could continue to waste valuable time responding to customer queries without all the information at your disposal and lose out on important opportunities to make a profit.
Or, you could invest in a helpdesk to revolutionize your workload, and experience unparalleled growth that supercharges your sales. The choice is yours.