Business is booming when it comes to eCommerce, but the fact remains that if you want to grow your eCommerce business, and attract more customers and traffic, then you must market it. There is more opportunity out there for you right now but remember, there is also more competition.
eCommerce will continue to grow in 2022. So, if you are deadly serious about the growth of your eCommerce business, you should already be seeking to put a strategy in place to help your business move forward.
There are many ways you can ensure your eCommerce business continues to grow but of course not all will be suitable for your specific business or its needs. There are some processes that apply to most though and which can be easily implemented.
How to grow your eCommerce business
1. Ramp up your customer service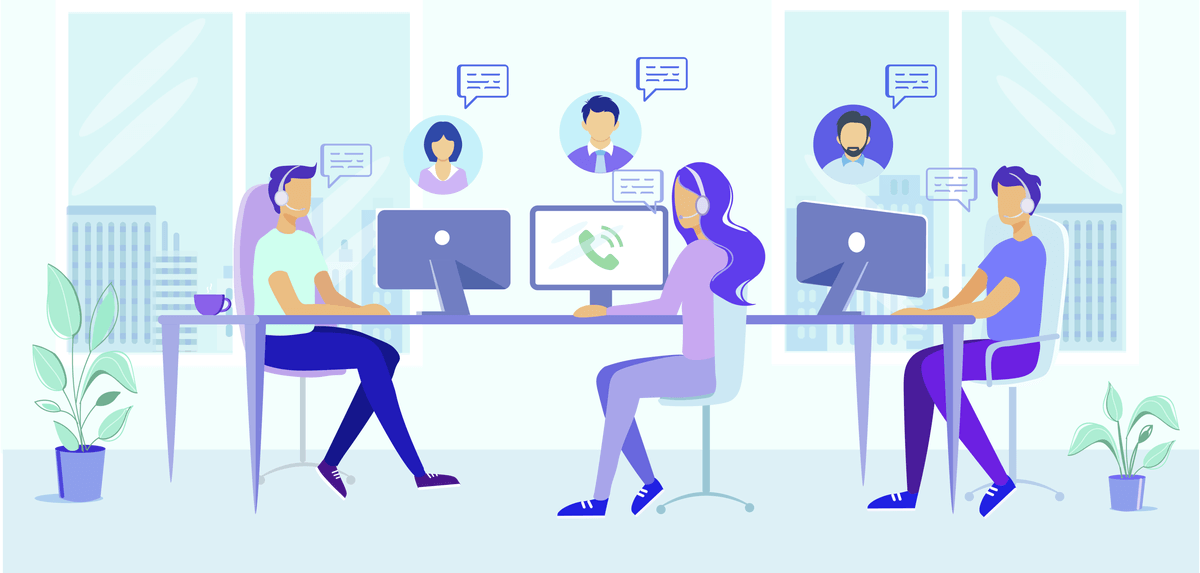 When consumers receive excellent eCommerce customer service or know that should they have a question or a problem, you are easily contactable, they are more likely to buy from you as it gives them additional peace of mind.
Remember, we live in a world of wanting instantaneous results which is why Chatbots – automated customer service software systems allowing online chat without human interaction – are an excellent choice for your customers to easily reach you with their queries. If you can answer a query quickly, the chance of the sale is higher so your conversions should increase.
How? If you've got time on your hands, you can build your own Chatbot. However, most eCommerce businesses will want to look at specific Chatbot software. There are some free 'out of the box' Chatbots which are worth considering and others which can be commissioned to be built and tailored to your individual requirements.
If you're an eCommerce business selling on multiple channels, then you might want to consider an eCommerce helpdesk like eDesk which consolidates your customer queries from sales channels, social and email into a central shared dashboard.
2. Publish blogs and newsletters
Leveraging content is one of the most effective and proven ways to help your eCommerce business grow. Unfortunately, many business owners ignore the power of this strategy because it takes time and effort and results are not instant. It's a long-term approach that works only when quality and consistency are involved!
Writing and posting engaging content on your blog can massively boost your organic SEO – but only when implemented correctly. One or two posts every few months isn't going to cut it. Likewise, if you only post sales-orientated content, that won't work either. The more helpful and engaging content you publish, the more visible your eCommerce business will become online – and the more customers you will attract.
Similarly, sending weekly bi-weekly or monthly newsletters – again written with educational and helpful topics in mind – to your prospects and customers will remind them of you. It will also instil trust and help them see you as the expert in your niche – so they are more likely to buy from you!
How? Blog posts and newsletters should be educational, engaging and informative – think e-guides, checklists, 'how-to's' and 'tips' type subjects relating to your business or product and aimed at your target audience. Post at least once a week on your blog and send a newsletter monthly. If you don't have time or the ability to write content yourself, you can outsource this to a professional content creator.
3. Post on social media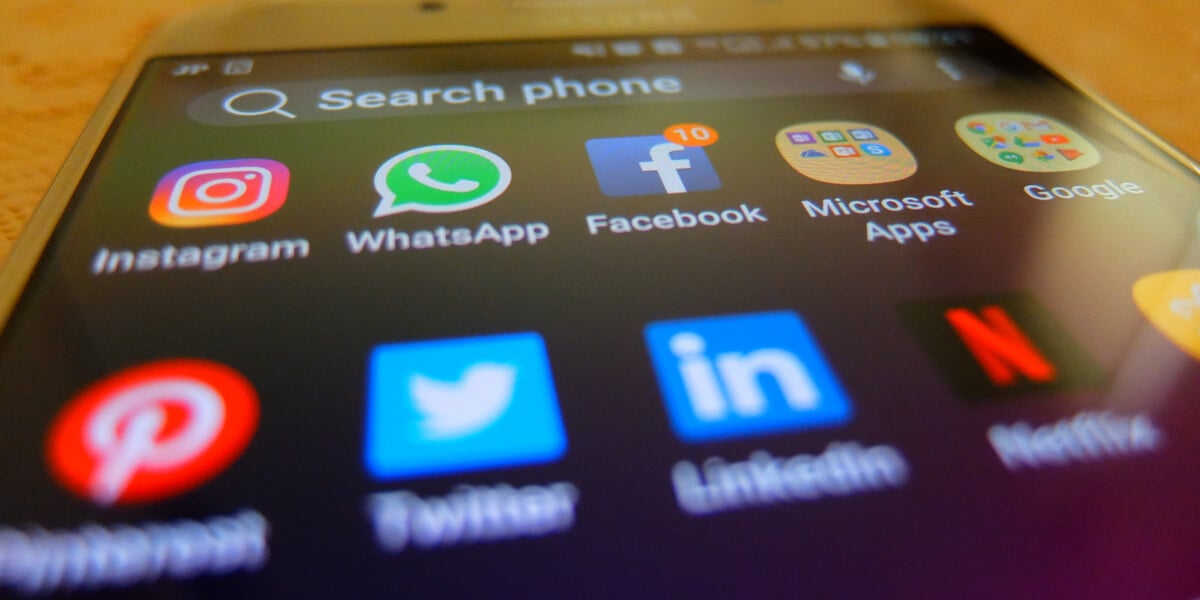 Just like publishing content on your blog and sending out in a newsletter, social media is a fantastic eCommerce tool that can bring you a greater reach and help you influence shoppers with your product or service.
Facebook and Instagram are particularly crucial for the opportunity to publicise product promotions or special deals, so you must have a strong presence with a business page on these platforms.
Again, you shouldn't just post offers and product information on your social media – that can turn consumers off. You should offer genuine, helpful information alongside your product or service.
How? Post every day. Yes, really! Just like your blog posts, consistency is key as it sets your eCommerce business into the minds of your target audience. Get a good mix of posts out there. Some sales, some product promos and some educational and informative posts. Spread your eCommerce business across all social media platforms – Facebook, Instagram, Twitter, LinkedIn so that you really expand your reach.
4. Give Google Shopping a go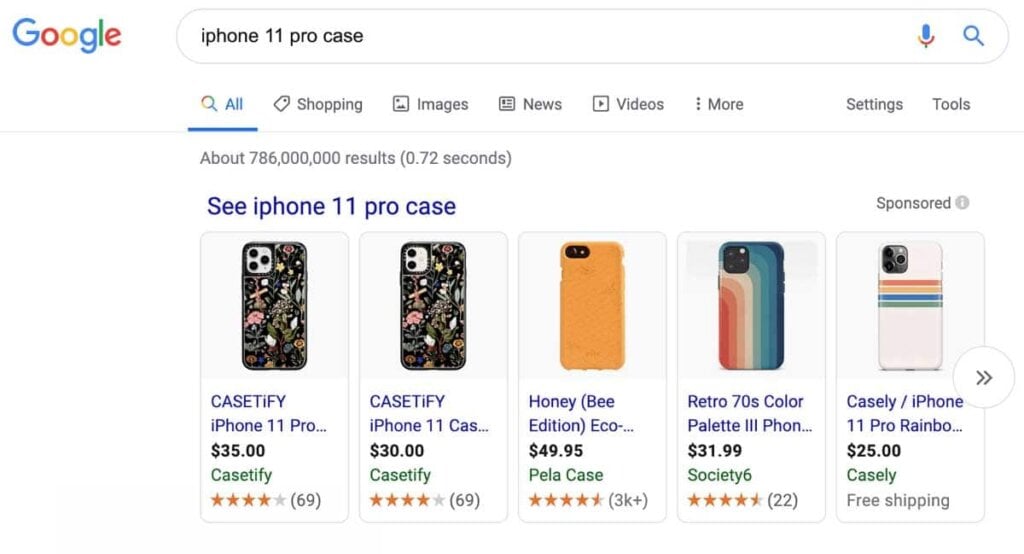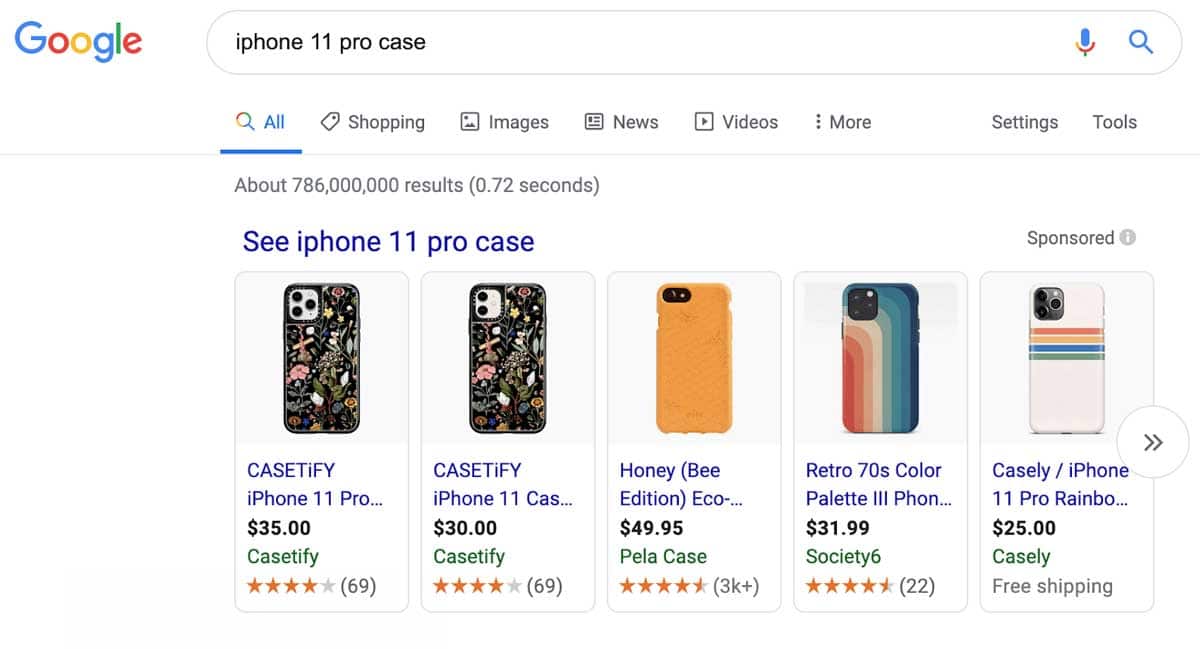 Google Shopping Ads for iPhone 11 Pro Case
Google Shopping offers free ads to merchants after a period when its paid for service was the only option available. It's free, so why wouldn't you take advantage to help your eCommerce business grow?
Google Shopping ads can help you get your products in front of customers as it's a type of comparison search engine. The great thing is that they are visual too. A typical Google Shopping ad includes a product image, the price and your business or store name. When customers search for a product on Google, if your product description meets the criteria searched for, then it will appear in front of the customer. You'll only pay each time someone clicks on one of your Google Shopping ads.
How? Google Shopping ads are created using product information submitted to the merchant data feed. This can take a little time to set up initially, but they require less ongoing effort. You'll need to turn the products in your store into Google Shopping Ads by creating a product feed. You'll also require a Google Merchant Center Account and a Google Ads account. This is an easy to follow process, particularly if your eCommerce store is set up on Shopify, Magento, BigCommerce or WooCommerce as they offer an app to help you with your product feed. There are also plenty of tutorials online.
5. Use omnichannel marketing
Omnichannel simply means 'all channels' and is essentially a streamlining of all your marketing efforts. It focuses on a single, smooth customer experience, whether your customer is shopping from their mobile device, a laptop or a tablet.
For example, your customer might add a product to their shopping cart whilst browsing your site on their laptop. They get distracted and don't come back to your eCommerce site until later when they are browsing using their mobile device.
Instead of the customer needing to start over, with omnichannel marketing, you can ensure they can continue with their purchase quickly without having to repeat the process.
Omnichannel marketing allows you to avoid your customer needing to repeat steps multiple times during the buying process and therefore increases conversions.
How? You'll need to investigate and understand each of your customer touchpoints to be able to build and implement an omnichannel strategy. The key lies in your customers' behaviour. You'll need to gather data and map their path to purchase, then tailor the marketing process.
Related: Omnichannel vs Multichannel Marketing
6. Grow your email list
If you don't have a place on your website (or after order completion) where customers can sign up to receive news, offers and information relating to your products or services, then you are ignoring a huge part of eCommerce that could potentially bring you more business.
Email marketing is a straightforward way of increasing your sales and growing your business. But first, you must build your list. The more you can grow your list, the more prospects you can build a relationship with and the more conversions you will enjoy.
How? Place an obvious sign-up form on your eCommerce website and on your 'Thank You' page at the end of the order process asking people to sign up for a special offer, discount code, free gift or similar. Subscribers enter their email address in exchange, so you grow your list, and they potentially receive better deals from you in the future.
Pro-Tip: It's crucial you stay in touch regularly and don't just sell to your subscribers! Send your newsletter out once a month (or more often) and offer exclusive discounts, early-bird deals and freebies alongside exciting information, tips and news. Think birthday and seasonal discounts to boost customer loyalty.
7. Sell internationally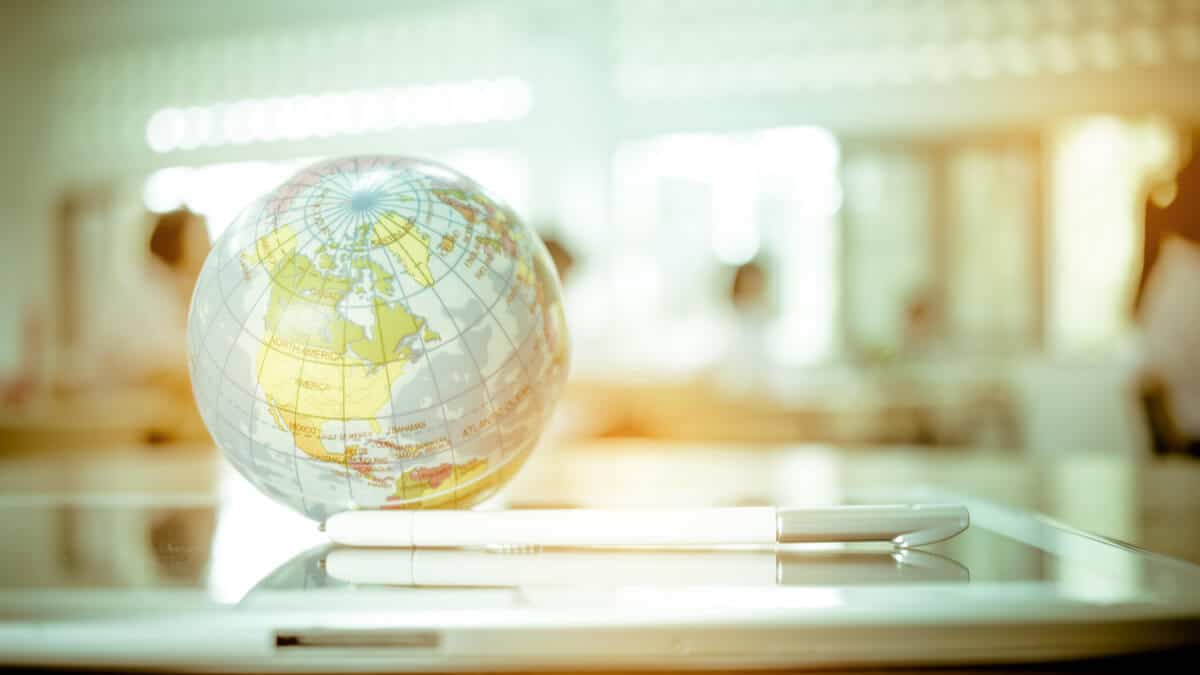 Growing your eCommerce business can be as simple as expanding internationally! In fact, it's so apparent that it's often overlooked. The growth you could realise just by targeting customers in multiple countries is vast.
Cross border eCommerce is snowballing, and with broader internet availability, buyers across the globe will have better access to businesses, including yours.
Replicating your current success in new countries can take time and will require some setting up – particularly when it comes to your product listings. You should, where possible, sell to your new customers in their own language. You'll see a higher conversion rate when you do.
How? Most major eCommerce platforms have translation plugins and add-ons suitable for different countries. However, it's best to get a professional translation done to avoid mistakes. You'll also need to ensure your payment processor is capable of accepting payments in the country's local currency.
Now let's look at some more advanced strategies that you can implement to complement the basics.
8. Personalise your customers' experience
These days a one-size-fits-all approach to your eCommerce business is not going to wash! Instead, you should concentrate on personalizing the experience for your customer. Why? Well, because according to research from growcode.com, more than 80% of customers are more likely to buy from an online store that provides personalised experiences that are implemented throughout their entire journey – from browsing to email, social media activity and paid ads.
But what are personalised experiences?
Simply displaying more products relevant to an individual customer! Think about it. Potential buyers are more likely to purchase if you are displaying products or services highly relevant to them. In fact, according to research by Epsilon, 80% of shoppers are more likely to buy from a company that offers these personalised experiences.
How? Content personalization allows each visitor to your eCommerce site to see a page tailored to them, such as product recommendations or favourites. However, for effective personalization you'll need a large amount of data. For example, previous interactions by that visitor to your site, their location, gender, age, the time of their visit and their interests. There is a whole spectrum of technologies involved in creating your personalization roadmap.
Related: How Carparts.com Parts Slashed Customer Support Response Time
9. Mobile ready already? Now become 'mCommerce' optimised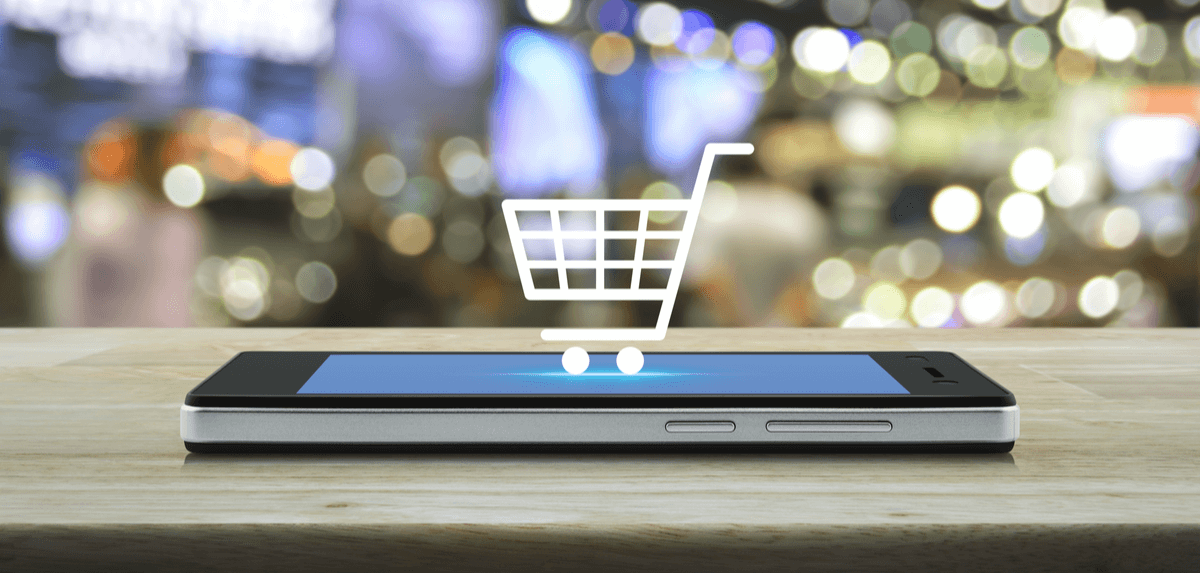 While having a responsive and mobile-ready website is fantastic, optimising for mobile commerce will allow you to grow even further. The aim? To make your customers buying experience via mobile even smoother.
With roughly four out of five Americans now online shoppers, and more than half making purchases with a mobile device, it's no wonder that customers won't tolerate slow shopping experiences.
How? Optimise your eCommerce store for mCommerce. Test the design and usability of your mobile store and checkout process to enable you to grow your mobile sales.
Final thoughts
As the owner of an eCommerce store, you must make sure your business is always growing. In these fast-changing times, if you are not growing, you'll find you reach a stagnant state.
It's crucial to understand what your customers want and to experiment with all the advanced technology available so that you can improve the overall experience for your customer, and ultimately help your eCommerce business expand in 2022.
When your eCommerce business grows, customer support tickets increase. eDesk's integrated eCommerce helpdesk gathers all your support tickets from your marketplaces, webstore and social channels into one place which helps you respond faster and sell more.
Book a demo to learn more about how eDesk can help your eCommerce business today. Ready to get started now? Try eDesk free for 14 days, no credit card needed.