Consumers purchased over $3.25 trillion worth of goods via online marketplaces in 2022, according to a Digital Commerce 360 report. That was nearly half of all ecommerce transactions globally.
As an online seller, you're probably seeking to explore new markets that will boost business and allow you to reach new potential customers. And with online sales in Europe expected to reach €1,319bn by the end of 2023, expanding into that area is a no-brainer.
Although Amazon and eBay dominate, a plethora of alternative European marketplaces are worth considering.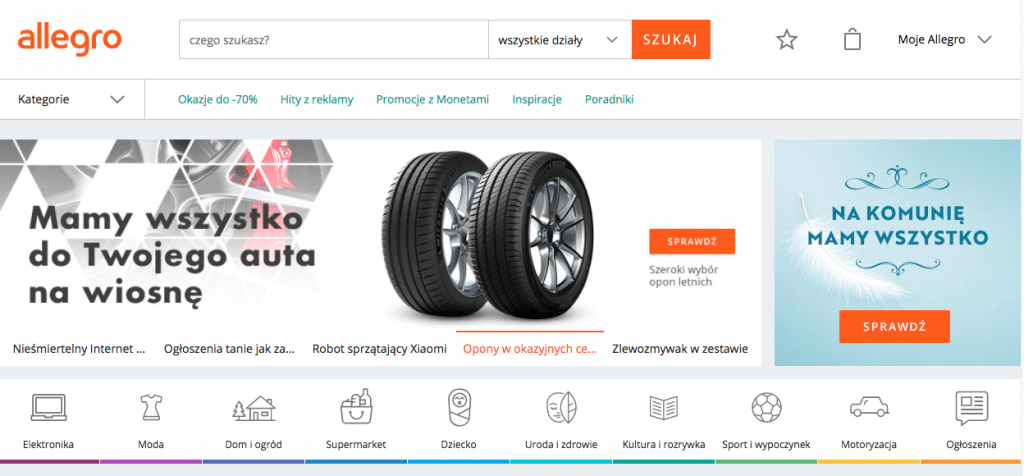 Who: Allegro is the biggest online marketplace in Poland and the fifth most visited marketplace in Europe.
What: Home goods, kitchenware, clothing, baby items, sports equipment.
When: 1999
Where: Eastern Europe
How much: Commissions and fees are determined using their toll calculator.
Customer profile: 194 million monthly visits and an active customer base of 14 million.
Key requirements: Product listings and customer service must be in Polish.
Recent updates: In March 2018, Allegro introduced a chat feature to enhance its customer service.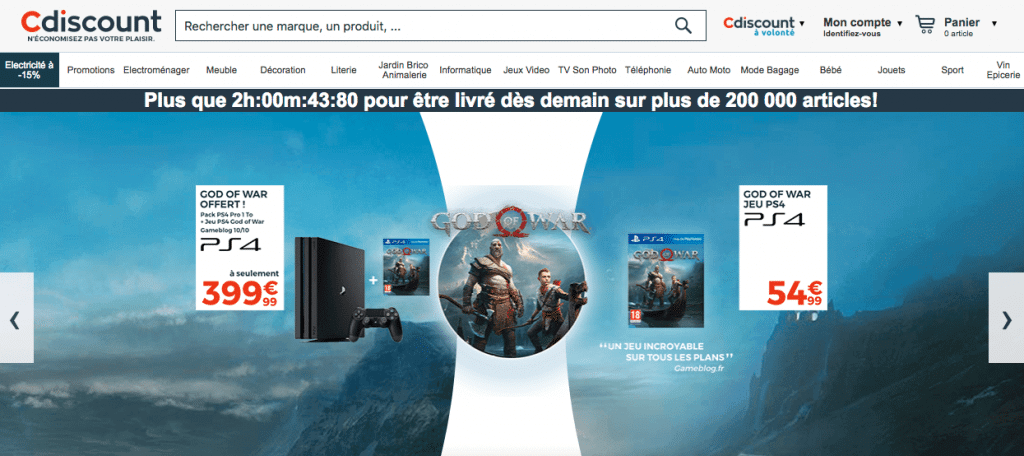 Who: Cdiscount is the second most visited e-commerce store in France, after Amazon, selling new and used products. One in three French online shoppers is reportedly a Cdiscount customer. 
What: More than 9,000 partner merchants offer products in over 40 categories, including home goods, toys, furniture, baby items, sporting and electronics.
When: 1998
Where: Over 150 countries around the world
How much: A monthly subscription costs €39.99 and commission starts at 5 percent, depending on the product sold.
Customer profile: Cdiscount has positioned itself as a discount retailer, offering big name brands for less such as Samsung, Apple, Michael Kors, Gucci and Lacoste to 8.6 million active customers.
Key requirements: Customer service must be offered in French and sellers must be on their country's Register of Companies and regularly registered with the relevant tax and social security authorities.
Recent updates: Cdiscount is rolling out a digital platform that will allow its sellers to participate in auctioning advertising space on Cdiscount as well as other websites in order to reach new audiences.

Who: French retailer Fnac operates the country's third most visited e-commerce site, after Amazon and Cdiscount.
What: More than 10 million electronics and entertainment products from brands such as Samsung, HP, Canon, Huawei and more.
When: Fnac launched its marketplace in 2008.
Where: France, Belgium, Spain, and Portugal
How much: Monthly subscription of €39.90, plus variable commission based on products sold (including shipping and VAT) ranging from 8 percent to 14 percent. There are no listing fees.
Customer profile: Fnac has more than 12.4 million unique visitors per month and the average basket size of its client base is high.
Key requirements: Listings and customer support are required to be in French.
Recent updates: In 2018 Fnac acquired Darty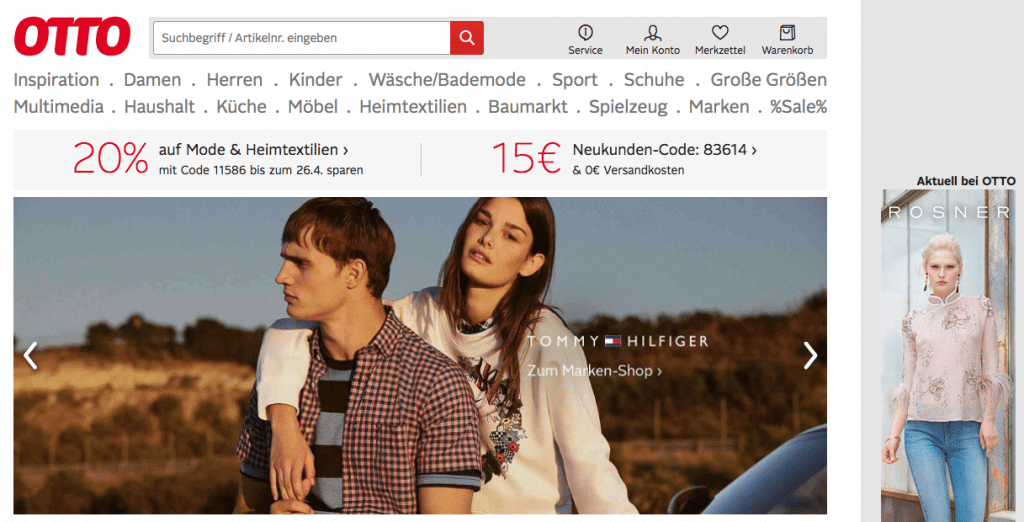 Who: Otto is the second largest e-commerce company in Germany, behind Amazon, selling €12.1 billion worth of goods in 2023
What: The site carries some 1.8 million items from about 6,800 brands in categories such as clothing, furniture, kitchenware, toys, household items and electronics.
When: 2016
Where: Operates in more than 20 countries, including Austria, Belgium, Netherlands and Russia.
How much: There is a one off registration fee of €10,000 and commission ranges from 15 percent to 50 percent. That being said, there are no membership or listing fees.
Customer profile: Otto has 12.3 million active customers, mostly aged between 25 and 55, and 9 million registered users. Products range from affordable to premium. Top brands include Only, Nike, Bosch and Philips.
Key requirements: In order to become an Otto seller, you must have a minimum of 100 products, previous marketplace or e-commerce experience and your content must be translated into German.
Recent updates: Otto is currently testing and preparing to launch its new augmented reality (AR) app, which will allow customers to virtually view their furniture selections in 3-D. Customers simply point their smartphones at the floor and select the 3-D option to instantly see how their furniture will look when placed in the desired location within their home.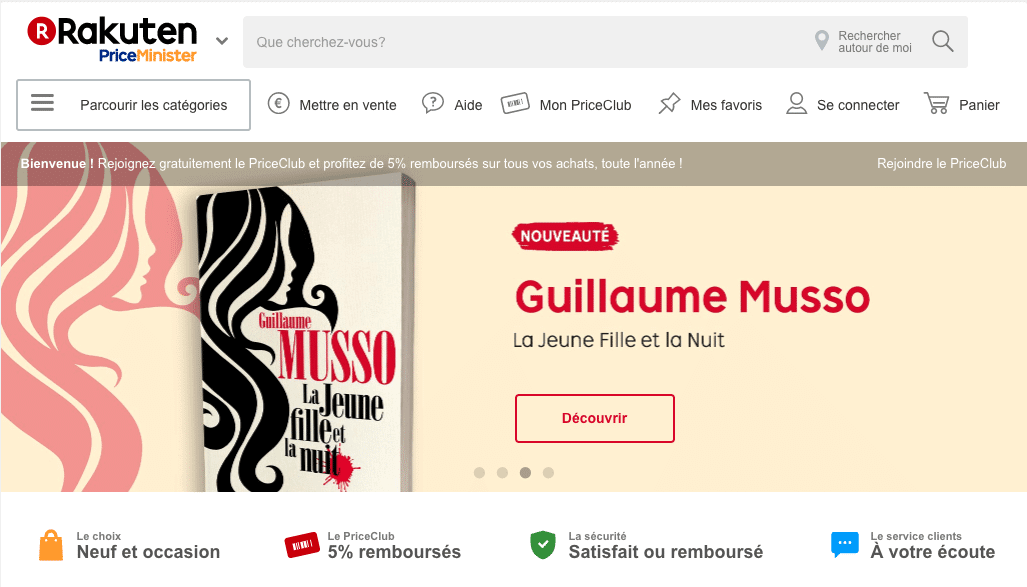 Who: Rakuten PriceMinister, owned by Japanese giant Rakuten Group, is the fifth most visited e-commerce site in France.
What: Everything from new and used books, electronics and home and garden items to shoes, handbags, health and beauty.
When: PriceMinister started in 2000, was acquired by Rakuten in 2010 and rebranded in March 2018.
Where: Rakuten PriceMinister has customers in 20 countries, including France, Belgium, Switzerland and Canada.
How much: Professional seller accounts start at €39 a month, while commission ranges from 4 percent to 22 percent, depending on the product category.
Customer profile: The marketplace has 22 million members and 9 million monthly active users. In the women's apparel category, for instance, the offering spans high-street names such as H&M, Vero Moda and Only to sportswear from Adidas and Nike.
Recent updates: Rakuten is launching its own cryptocurrency, dubbed Rakuten Coins, based on blockchain technology and its existing Super Points loyalty program.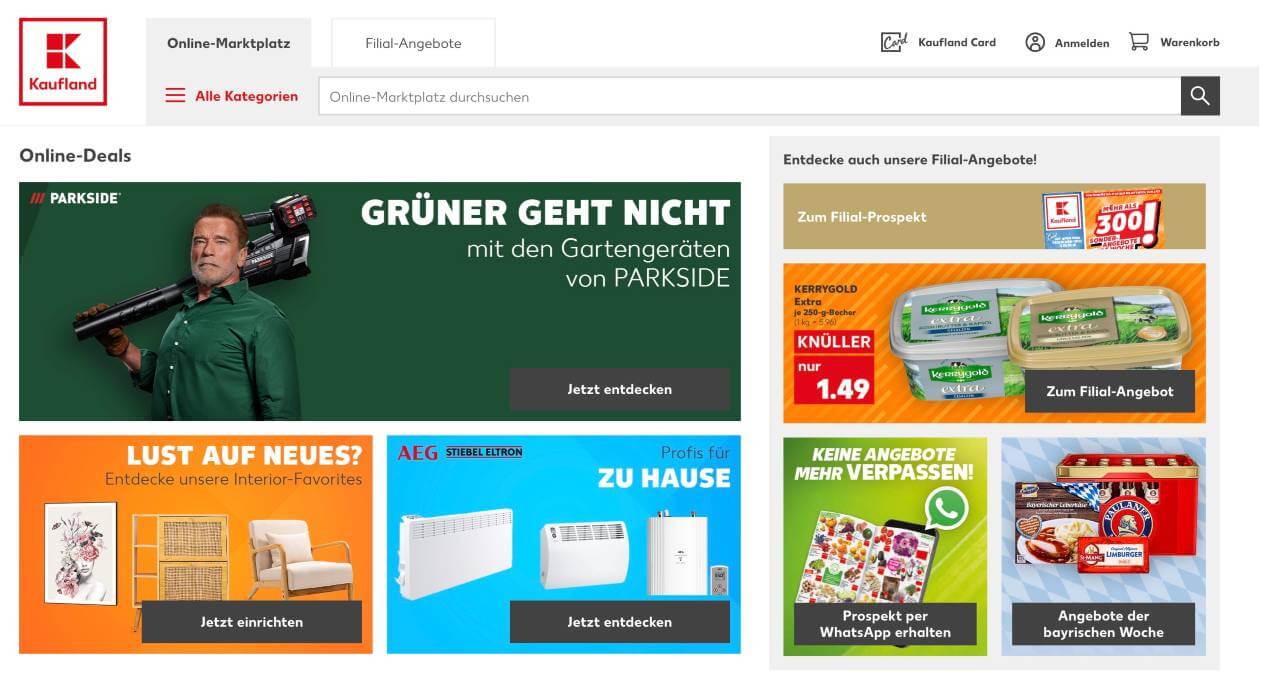 Who: Kaufland.de and Real.de merged in 2021 
What: More than 25 million products in over 5,000 categories including home and garden, electronics, fashion, accessories, camping and baby items, among others.
When: Relaunched in 2021.
Where: Kaufland.de ships to 8 countries.
How much: The basic monthly fee is €39.95, plus VAT, and an additional €9.95 is required to connect to your online store. Third-party sellers enjoy free unlimited listings. Commission (charged on the total price, including shipping) ranges from 6.5% for computers, electronics and household appliances to 12.5% for media items. There are no fees to cancel your account.
Customer profile: Kaufland.de boasts 32 million monthly visitors as well as 6.5 million customers.
Recent updates: Kaufland.de and Real.de merged in 2021, massively expanding the reach of the platform.

Who: Bol.com was recently voted the most popular retailer among Dutch consumers for its assortment, fast delivery and convenience.
What: Nearly 16 million items in more than 20 categories including electronics, toys, books, baby items, health and lifestyle products, jewelry and accessories, sports and leisure.
When: Founded in 1999, Bol.com launched its marketplace in 2011.
Where: Belgium and the Netherlands
How much: There are no monthly fees, start-up costs or listing fees and sellers only pay a commission for what is sold. Bol.com's cut ranges from 5 percent to 17 percent, depending on the item.
Customer profile: The marketplace has almost 13 million active customers in the Netherlands and Belgium.
Key requirements: You can register as a seller here. You will need a valid EAN/GTIN code to sell on bol.com
Recent updates: Bol.com welcomed their 50,000th seller to the platform in August 2023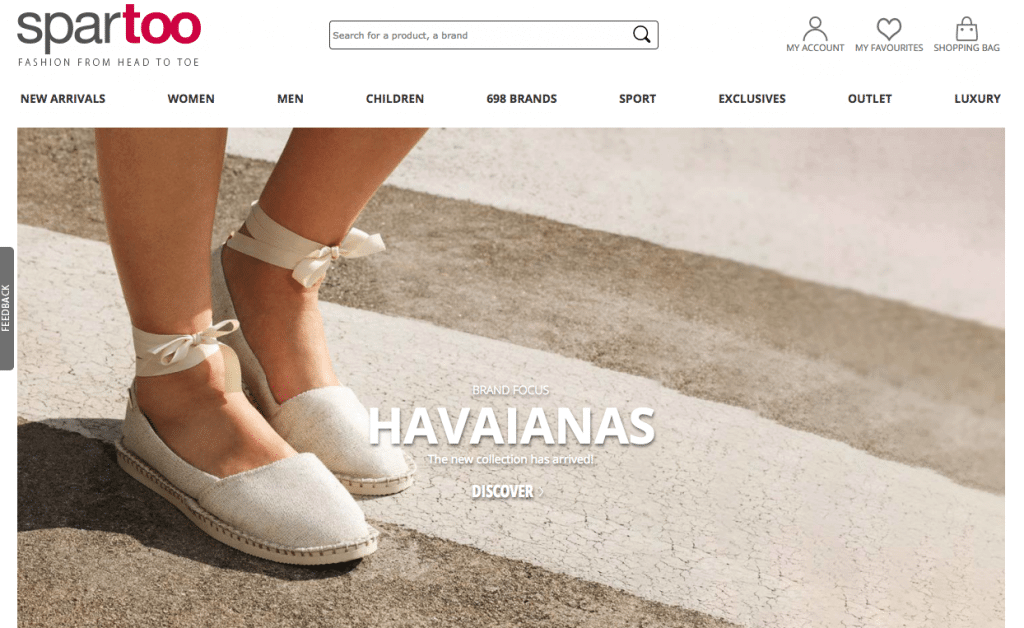 Who: French marketplace Spartoo is a household name in its home country and across most of Europe.
What: Shoes and clothing.
When: 2006
Where: Operates in 30 European countries, including Belgium, Denmark, Finland, France and the UK, and services customers in 12 different languages.
How much: Monthly membership fee is £35 and commission ranges from 15 percent to 20 percent. There are no listing or one-off registration fees.
Customer profile: With 450 million users, Spartoo's core demographic is women ages 30 to 40.
Key requirements: Spartoo will only work with sellers who can offer a minimum of 250 SKUs.
Recent updates: In their most recent full-year results, Spartoo announced revenue of €149.1million.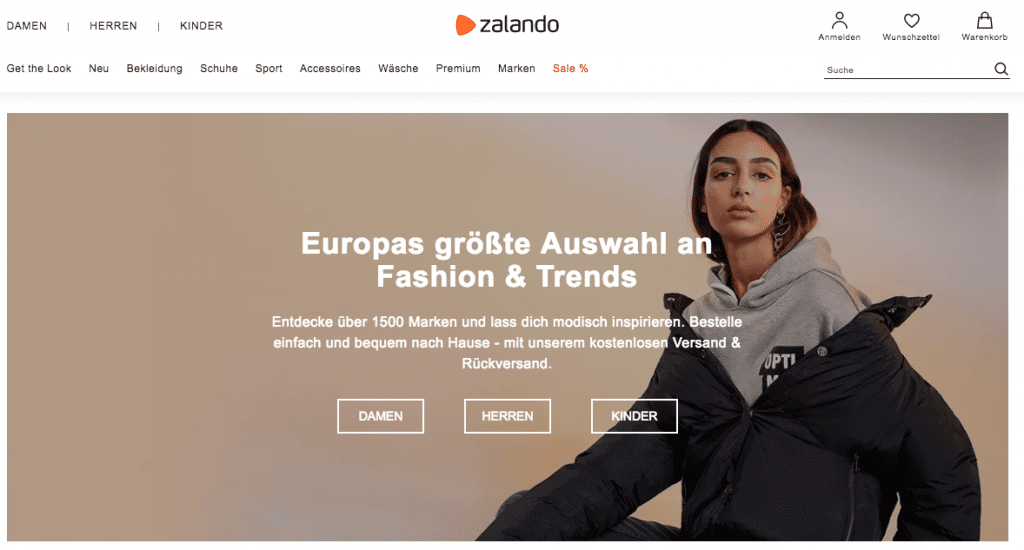 Who: Zalando is a German e-commerce company based in Berlin, with satellite innovation hubs in Helsinki, Dublin, and Lisbon.
What: Over 7,000 fashion and footwear brands, from high street to high end, for men, women, and children.
When: Launched in 2008
Where: Operates in 25 European countries.
How much: Commission is 5-25% per sale.
Customer profile: As of 2023, Zalando had 50.2 million active customers, attracting over 14 million visits per month.
Key requirements: You must offer products in the following categories: clothing, shoes, sportswear, and equipment, accessories. You should offer delivery and returns, provide a 100-day return policy.
Recent updates: In August 2023 – Zalando has removed product reviews from its platform. Instead of posting a review about a product, customers can now answer a survey about the product information featured on a page.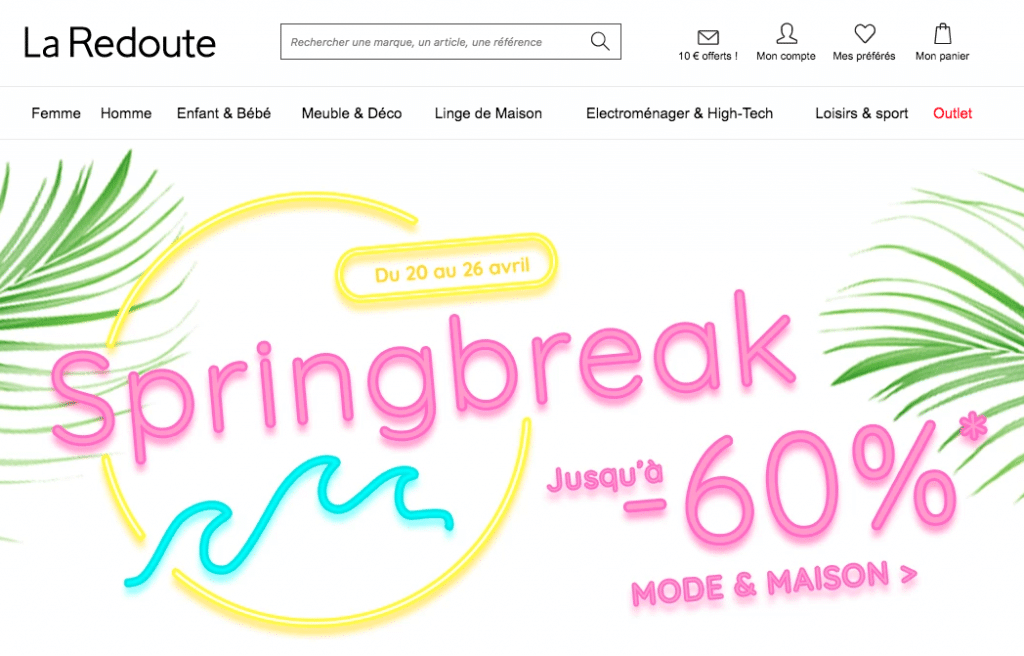 Who: La Redoute is one of the most popular online stores in France.
What: Mid-range and premium fashion and homeware, equally split between its own brands and external brands such as Adidas, Superdry, Mango and Petit Bateau.
When: Founded in 1837, La Redoute launched a marketplace in 2010.
Where: The company has a presence in France as well as in 26 other countries.
How much: A monthly subscription is €49.90 and there are no listing or one-off fees. Commissions are 8 percent to 20 percent.
Customer profile: La Redoute has over 11 million registered users, 90 percent of whom are female. Its core demographic is women aged 25 to 45.
Key requirements: La Redoute calls itself a curated marketplace and as such is highly selective when it comes to third-party sellers. Merchants must either be brand owners or authorized to sell the brand and, if selling more than €35,000 annually in France, must register for VAT with French tax authorities.
Recent update: La Redoute is one of the 2,000 platforms in Europe that have introduced MangoPay, a crowdfunding payment method to their shopping cart options.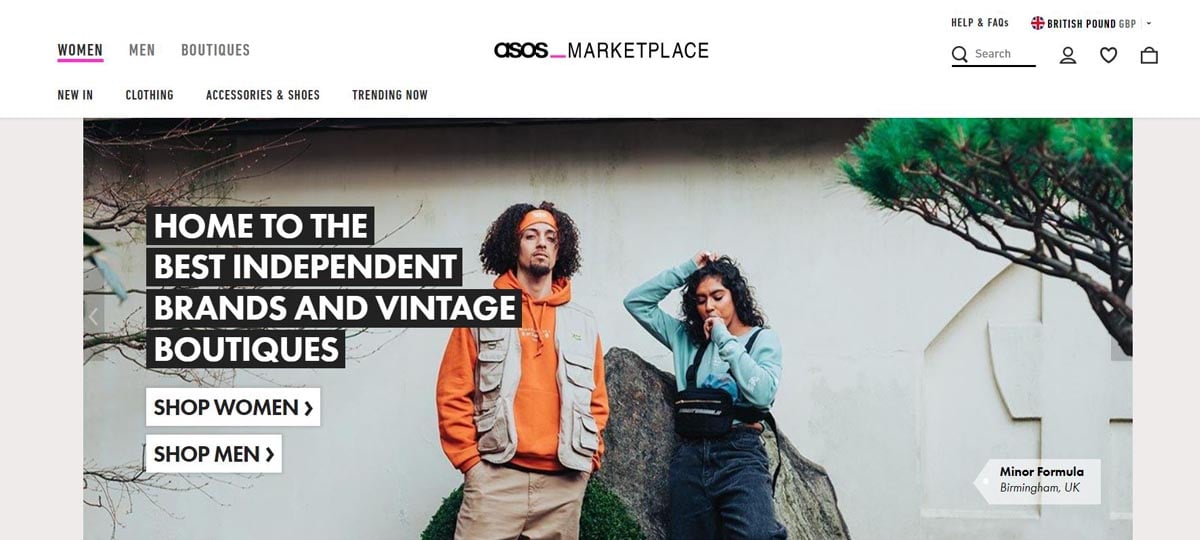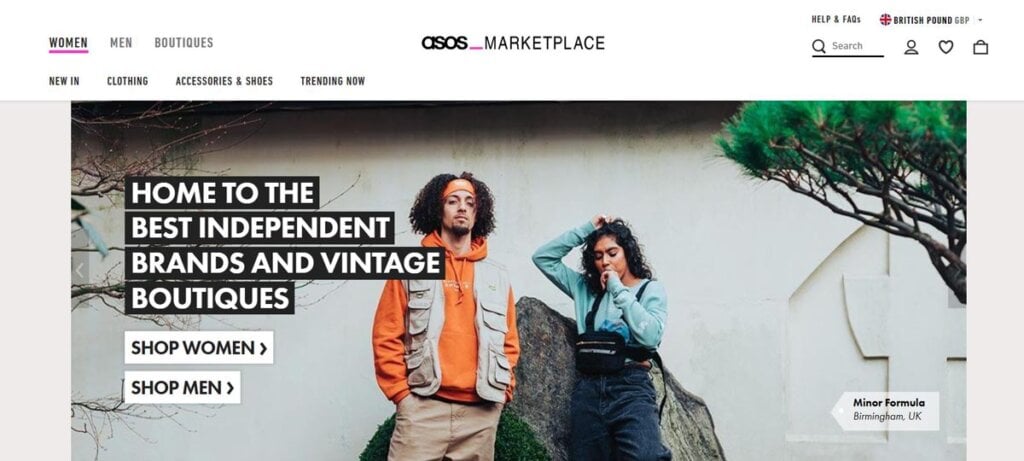 Who: Asos is a rapidly growing internet fashion retailer. In 2010 it launched its own marketplace allowing boutiques, vintage collectors and designers to trade with customers from all over the world.
What: Mid-range fashion and vintage clothing. Over 800 small business now sell on the Asos Marketplace.
When: Asos was founded in 2000, but the Asos Marketplace launched in November 2010.
How much: £20 per month and 20% commission on every item sold. It's free to list items and you can list as many as you want.
Customer profile: Asos is very popular with millennials and has a huge worldwide reach. It boasts 12.4 million active customers across 240 different countries and territories.
Key requirements: You must submit an application to sell on the Asos marketplace. For your application to be successful you need to be considered either; an emerging design talent, an innovative independent label and boutique or a seller of the finest vintage selections.
Recent update: Jan 2023 – Asos partners with non-full-price marketplace Secret Sales.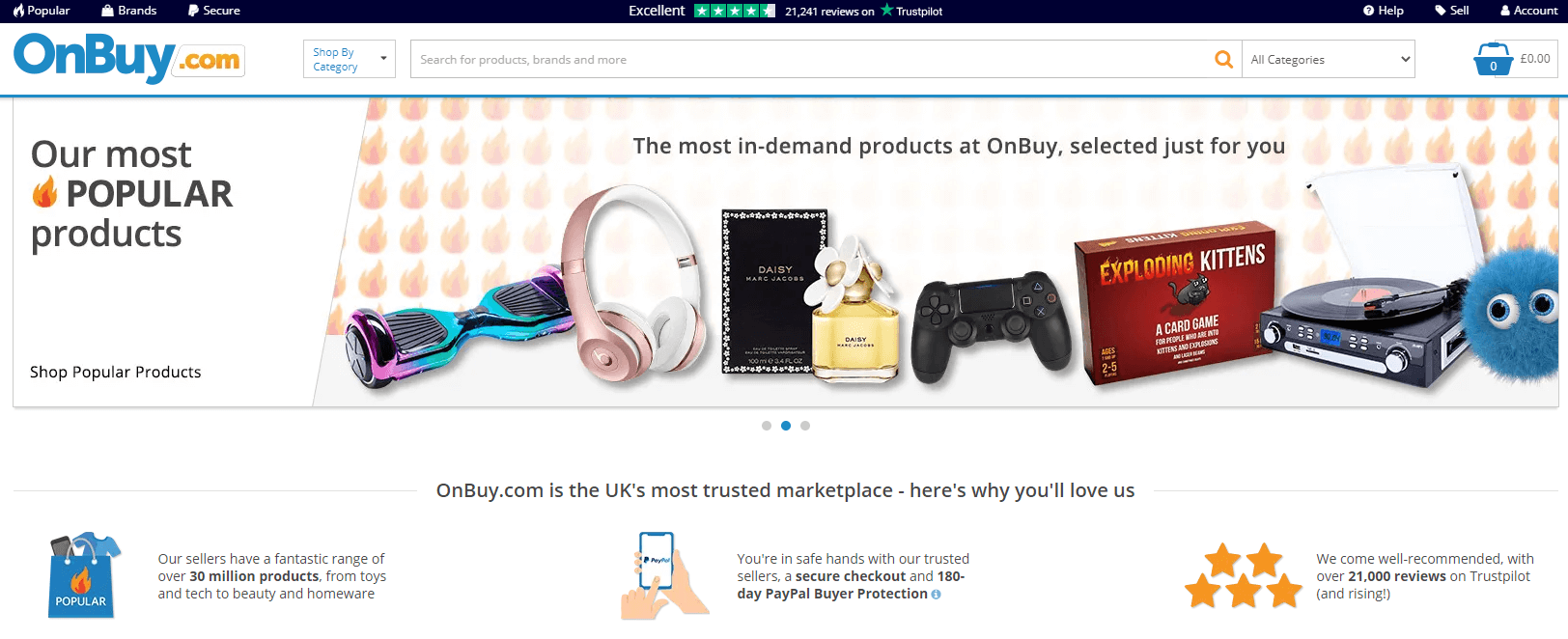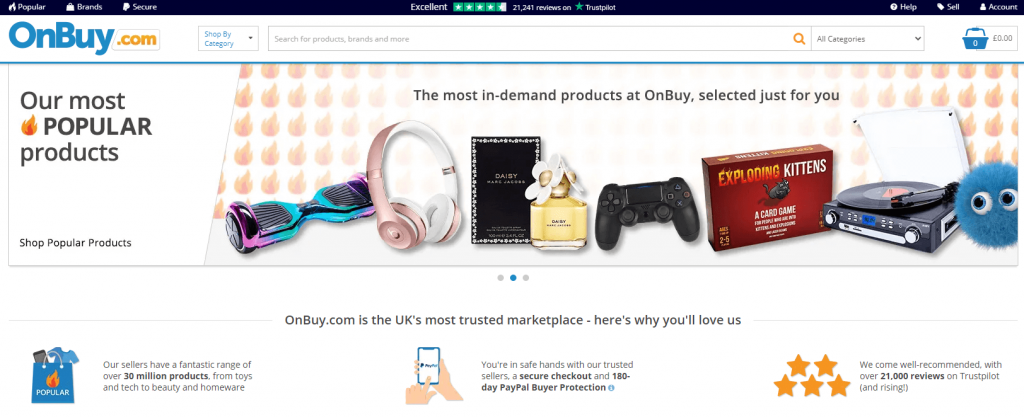 Who: OnBuy is the fastest-growing marketplace in the world, created by founder and CEO, Cas Paton.
What: Everything from electronics, home goods, books, DIY, tools, toys and games and so much more.
When: Founded in November 2016.
Where: OnBuy is based in the UK and will launch dedicated websites in over 140 countries by year-end 2023.
How much: Selling with OnBuy starts at just £19 per month with competitive selling fees and no listing fees. A package upgrade for an additional £20 per month is available with added benefits.
Key requirements: Businesses must have a PayPal business account (which can be set up during the sign-up process) and barcodes are required for products as OnBuy operates a catalogue system, although some products and categories are exempt.
Customer profile: OnBuy record just under 7 million visitors per month, shopping online for anything and everything.
Recent updates:Changes to OnBuy Boost from 23rd August 2023

Final thoughts
Choosing the right channel to further your reach into Europe is a great way to get in front of a new audience. While Amazon and eBay are excellent selling platforms, branching out to explore alternative European marketplaces can ultimately improve your visibility and reach, which in turn will improve sales.
Related: