If you sell products online or are thinking about doing so, you have probably heard of the Wish Marketplace. Having launched in 2010 as a list-creating app, it is now the third-largest online marketplace in the United States and the number one shopping app across 42 different countries. Valued at $8.5bn, Wish is giving other popular online marketplaces, such as Amazon and eBay, some healthy competition.
By 2018, Wish became the most downloaded shopping app in the world. It is known today for selling all sorts of items at rock bottom prices. Deals are simply part of Wish's DNA! Shoppers know this and Wish currently sees around 100 million users every month.
For sellers looking to sell on the Wish marketplace, there are plenty of opportunities to sell products to a wide variety of users from all over the world. With its scrolling display, Wish replicates the use of a social network, making it easy and fun for users to browse and hit 'buy' on millions of unique and innovative products.
Statistics show that over 500,000 merchants sell on the Wish platform. If you're looking to become one of them, we've put together some top tips on how Wish works and how you can get the most out of it to maximise your sales and revenue while reaching new markets.
What is Wish, and how Does it Work?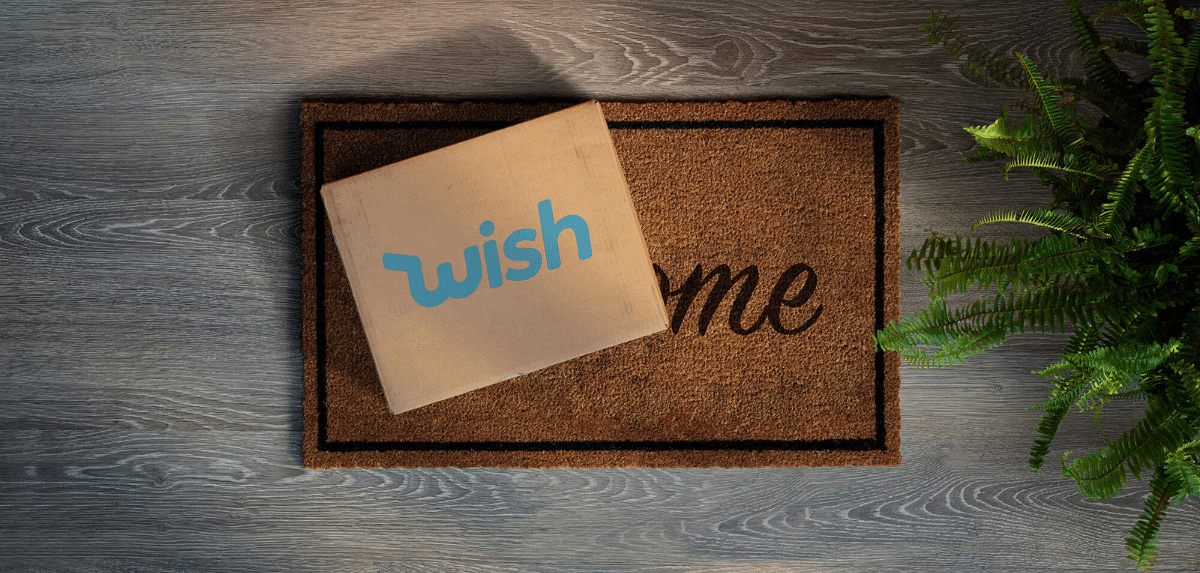 Like Amazon and eBay, Wish is an online marketplace that can be accessed via web and a mobile app to purchase all sorts of items. Over 300 million items are available on the Wish platform. Most items come from China, though anyone from any region can be a seller on Wish. Wish is known for its low prices and mass-market goods.
Wish is different from its competitors in that its products are typically of lower quality and value, and its shipping time is lengthier than Amazon's. However, this is not to position Wish in a negative light – it simply serves different purposes and market needs than Amazon or eBay.
Typical types of items sold on Wish include:
Fashion clothing
Baby and kids' items
Gadgets and mobile phone accessories
Watches and jewellery
Home decor items
Bags and wallets
Makeup and beauty products
Items that you cannot sell on Wish include alcohol, firearms, tobacco, gift cards, items containing nudity, counterfeit products, and of course, nothing illegal is allowed!
To become a seller on Wish, you must be a manufacturer, brand owner, retailer, or creator of the products you're selling, and you must have the rights (including any applicable licenses) to sell your products.
With a young and middle class demographic, selling on Wish can be a great opportunity to turnover high-volume sales and have your products seen and purchased by a wide range of people.
How Much Does it Cost to Sell on Wish?
It's simple to sell on Wish, and even the fee structure is very straightforward for sellers. Specifically, Wish only charges sellers when they make a sale.
The basic fee structure is that Wish will pay the selling price of each product to the seller, minus a commission. The sales commission rate depends on the item but can be up to 15% in combination with the order and shipping rate.
Best of all, there is zero registration fee, no fees for product listing and no monthly or annual subscription fee required to sell on Wish.
Why Should You Sell on Wish?
Wish has more than 500,000 registered merchants (sellers), and its shopping app is used by 500 million users worldwide. Wish also allows sellers to sell in 78 countries, meaning that your potential audience is greater than just the UK or US.
More than 2.4 million orders are processed daily, many of them coming from Facebook, as Wish is one of the largest Facebook advertisers in the world.
All of these facts mean that Wish presents a huge opportunity to have your products reach a large number of people –  the potential sales volume is very promising!
The Benefits of Selling on Wish
In addition to having such a large, global audience, there are many other benefits that can make selling on Wish lucrative for your business.
It's a no-fee marketplace
As we mentioned earlier, Wish doesn't charge its sellers any subscription fees. This means that, as a seller on Wish, you don't pay any fees until you sell your product. This makes Wish a low-investment marketplace, since you're not 'on the hook' for seller fees until you actually make a sale.
Wish is a great way to reach mobile shoppers
With more than 300 million shoppers buying from the Wish Marketplace using mobile devices, Wish is great if you want to reach mobile shoppers. These shoppers tend to be quicker to buy and often make impulse purchases, which can be lucrative for your revenue stream. This also means that you don't have to create your own mobile app to reach customers.
Targeting features available to sellers
Wish offers a product target functionality feature to its sellers, so sellers can specifically target demographic types by category. This is a great benefit when it comes to getting the attention of your target customer base.
Things to Consider Before Selling on Wish
Pricing is everything!
Because the Wish Marketplace focuses on low-cost items and includes competitive pricing, if you want to become a Wish seller, competitive pricing should be in line with the types of items you're selling. If you are a seller who sells high-value items, Wish may not be the right marketplace for you. However, if you sell large quantities of competitively priced items, selling on Wish can be a great opportunity.
You can sell both new and used items
Wish's policy allows for both new and used/refurbished items to be sold on its marketplace. However, as a seller of used items, it is important to note that only branded refurbished products can be listed on Wish Marketplace.
If you're selling brands, you must be authorised
Wish allows its sellers to sell branded items, from handbags to cosmetics to electronics. However, if you're selling branded items, be prepared to prove it: Wish will need to see authorisation in the form of a trademark or license, providing that you as the seller are legally authorised to be selling that particular brand.
A Step-by-Step Guide to Getting Started With Selling on Wish
Given all of the above, selling on Wish can be a great opportunity. Perhaps you're already thinking of taking the plunge and selling on Wish. If so, we've made it easy for you by listing all the steps you need to take to successfully sell your products on the Wish Marketplace.
Start by navigating to the Wish Merchant Account Registration page
Create your store name and merchant profile. It helps to make your store name unique so that people will recognise it. This will help you win repeat shoppers.
Enter your email address and choose the country where your shop is based. Confirm your account by verifying your email address.
To create your store, simply click the 'Create Button' icon. Your store is now created.
Enter any additional information necessary for store setup. Wish will sometimes ask for further information. You must enter this so that your store is successfully set up and you can begin selling.
Select your shipping settings. Using the merchant dashboard, you can select where you want to ship your merchandise. You can limit this to specific countries, or you can offer global shipping. Here, you can also enter the shipping costs for each location.
Add brand authorisations. If you're selling branded products, you'll need to prove that it's legal for you to do so. From the merchant dashboard, you can click on 'brand authorisations', which will allow you to upload any relevant licence agreements enabling you to sell branded products.
Start uploading your products to the Wish Marketplace by assigning relevant categories to each product you're selling. You can upload each product manually, or you can use a CSV file to bulk upload products. Another option for uploading products to Wish is via an integrated API using multi-channel management or listing software.
Enter your payment information and select the desired payment gateways that you'll accept from your customers. Accepted forms of payment on Wish include Google Pay, Apple Pay, Visa, Mastercard, Maestro, American Express, Discover, Cirrus, PayPal, iDEAL, Klarna, and EBANX. Wish also supports AllPay, Payoneer, UMPAY, and PingPong.
Accept Wish's terms & conditions.
Your products will be live once approved by Wish.
Enjoy selling on Wish Marketplace!
That's all there is to it!
Top Tips for Selling on the Wish Marketplace
Congratulations, you've now successfully set up your shop on Wish and are ready to start making sales! Although your shop is now live and can be found by Wish's millions of users, there are some best practice tips you can take on board to help your shop stand out from competitors and increase its visibility.
Consider your target audience
Understanding and identifying the target audience you're trying to reach will help you hone in on the right products for your target audience. If you are able to offer a cohesive set of items aimed at a specific audience, you can increase the volume of sales in your Wish store by being strategic and offering everything your target audience needs under one virtual roof.
Make sure your pricing is on point
The Wish Marketplace was specifically designed to offer low-cost items. Therefore, it is important to make sure that your items are priced competitively. Volume will also be a key driver of sales on Wish; that is, you'll have more success selling many items at lower price points than you will selling fewer items at higher prices. It helps to do a bit of research on competitors, to ensure that your price points are competitive and attractive to would-be buyers.
Arrange your products clearly
Visual merchandising isn't just for physical shops; it can be just as important in the online space as well. When you offer your products on Wish, you will want to make sure that you arrange them neatly, with professional photographs that showcase each item clearly. Easy-to-read, clear visuals will lend your store credibility, make it easier to access and help attract more buyers.
Build relationships with your customers
Every business knows the importance of repeat customers. Even with a low-priced marketplace like Wish, it is still important to maintain relationships with your customers because many of them do come back to trusted Wish stores and vendors. You can increase customer loyalty by rewarding customers with coupons, gifts or free shipping as a means to earn repeat business. Such tactics can result in greater volume and higher margins.
Use impulse buying to your advantage
Because Wish is known for its low prices, many customers browse the shop without a specific purchase in mind. They just want to see what's out there! This offers sellers the opportunity to capitalise on 'impulse buys' by including quick-selling items, innovative or unusual items, and deep discounts. Think of it like the items that grocery stores place near the tills. These are typically low-cost products that we often don't even know we need until we see them.
Final Thoughts
Perhaps you're looking to grow your business by selling to more countries overseas, or perhaps you want to increase the volume of items you sell by offering a large quantity of products at low prices.
Whatever your specific goal is, selling on Wish can help you unlock new revenue streams by opening up new markets. As it is the third-largest eCommerce platform, just behind Amazon and eBay, Wish presents an exciting and growing opportunity to have your products seen by many people around the world.
And because Wish is a straightforward, seller-friendly platform, there's no reason not to give it a go. You can set up an account quickly and easily, without paying any commissions until your first sale is made. So what are you waiting for? Selling on Wish might just be the boost your business needs.
eDesk integrates natively with the Wish marketplace so your support team can easily offer your customers the exceptional customer service they expect. Book a demo or try free for 14 days to see for yourself.