In today's competitive world, customer service is all about ensuring a superior customer experience. This means that the top brands must all compete to provide their customer with, not only the best customer service but also the fastest response times. It's simply what's expected!
As businesses become increasingly customer-centric, response times are an important element of providing a better customer experience and being able to respond to customers quickly is a key part of winning customer loyalty.
Although it feels like it's been with us forever, it was only 10 years ago that the average acceptable customer response time became 24 hours. This has since been considered the 'standard' response time for getting back to a customer in a timely fashion and exercising good customer service.
But given that methods of instant response have evolved since then to include social media and messaging, it's no surprise to learn that today's customer expects a response even sooner than the last decade's standard 24 hours. In fact, a recent survey revealed that 75% of customers say that the most important attribute of customer service is a fast response time.
It's clear that expectations around quick response times are changing. To keep up, businesses need to make sure they are taking all the necessary steps to cut down response times.
That's why we've put together this useful guide showing five ways that your business can reduce customer response times, without having to reorganise your entire customer service department.
Simply making a few changes around how you conduct your customer service can help you shave valuable time off your response times and improve your customers' view of your business for the better.
What is Customer Service Response Time?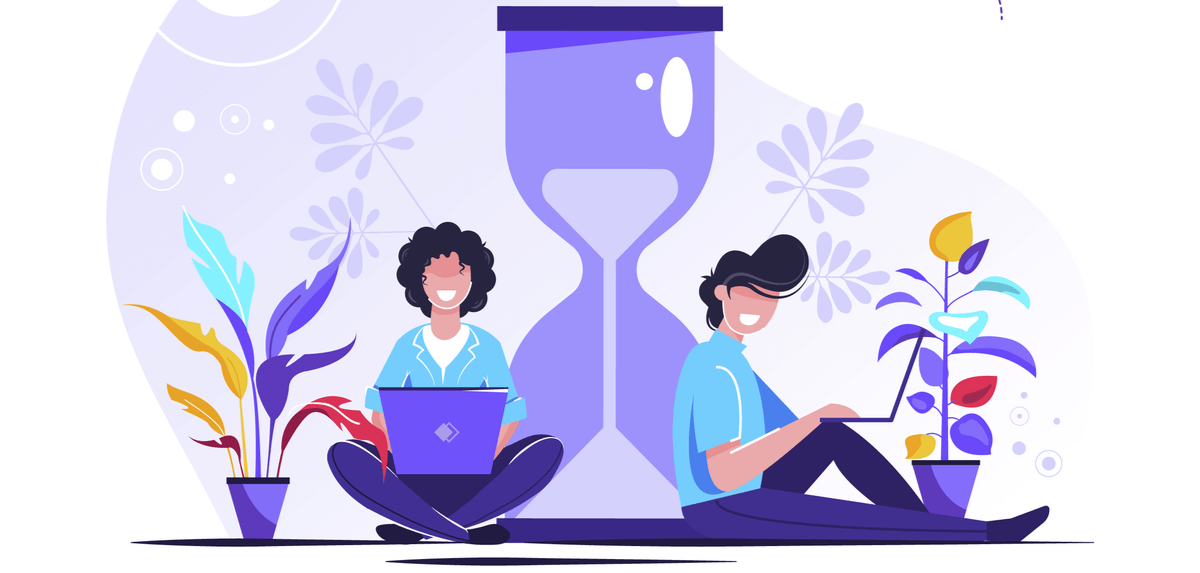 Customer service response time is simply the time it takes for a business to reply to a customer's query, regardless of whether that query comes through email, phone, social media, messenger, or any other online medium.
Response time does not include automated messages. So, while chatbots are a great way to show your customers you care and are paying attention when we talk about response times, we are referring specifically to the amount of time it takes for a real live agent to get back to a customer to start the resolution process.
Of course, response times will vary depending on the method by which your customers contact your business. For example, if they ring the call centre, they are likely to reach an agent straight away who can then help them resolve their issues. Whereas sending an email asking for help may take several hours (or up to the standard 24 hours) to action simply because it's a text-based form of communication that is actioned differently than a phone line.
So, while the channels of communication matter, response times matter both separately and as a whole. The goal of every business should be to offer timely, reasonable response times to their customers, regardless of the channel.
What Is the Average Customer Service Response Time and How to Calculate It?
The time it takes for a business to respond to its customers will be different for every business, so to understand and improve your response times, you must calculate what the response time for your particular business is.
Understanding your company's response time is also known as identifying its 'first response time' (FRT), that is, the amount of time it takes a business to initiate customer service help following the initial customer service query.
FRT is an important customer service metric used to evaluate overall customer service performance. It is the key metric used to determine a company's response time and whether it requires improvement.
When calculating FRT, a business will be able to identify the average response time of its entire customer service department.
As a first step towards understanding and improving your customer service response time, you must first calculate your company's unique FRT. Yes, FRT has a formula! Fortunately, it's also relatively straightforward:
First, you must identify a specific period (let's say the last quarter or the past six months).
Next, you will want to look at the total number of customer service responses within that time frame and the amount of time it took to respond to customer queries during that period.
Finally, you divide the total amount of time it took to respond by the total number of responses.
By working out the above, the number generated will be your average first response time (FRT). If you want to go further, you can compare FRT during different time periods, amongst different departments, and even by different agents.
Once you have your numbers, you can compare them against industry benchmarks, which are:
24 hours for email
60 minutes or less for social media
Three minutes for phone
If your team's FRT isn't in line with the industry benchmarks, or even if it is but you feel there is room for improvement in some areas, you can then implement the following five easy steps to help improve your FRT.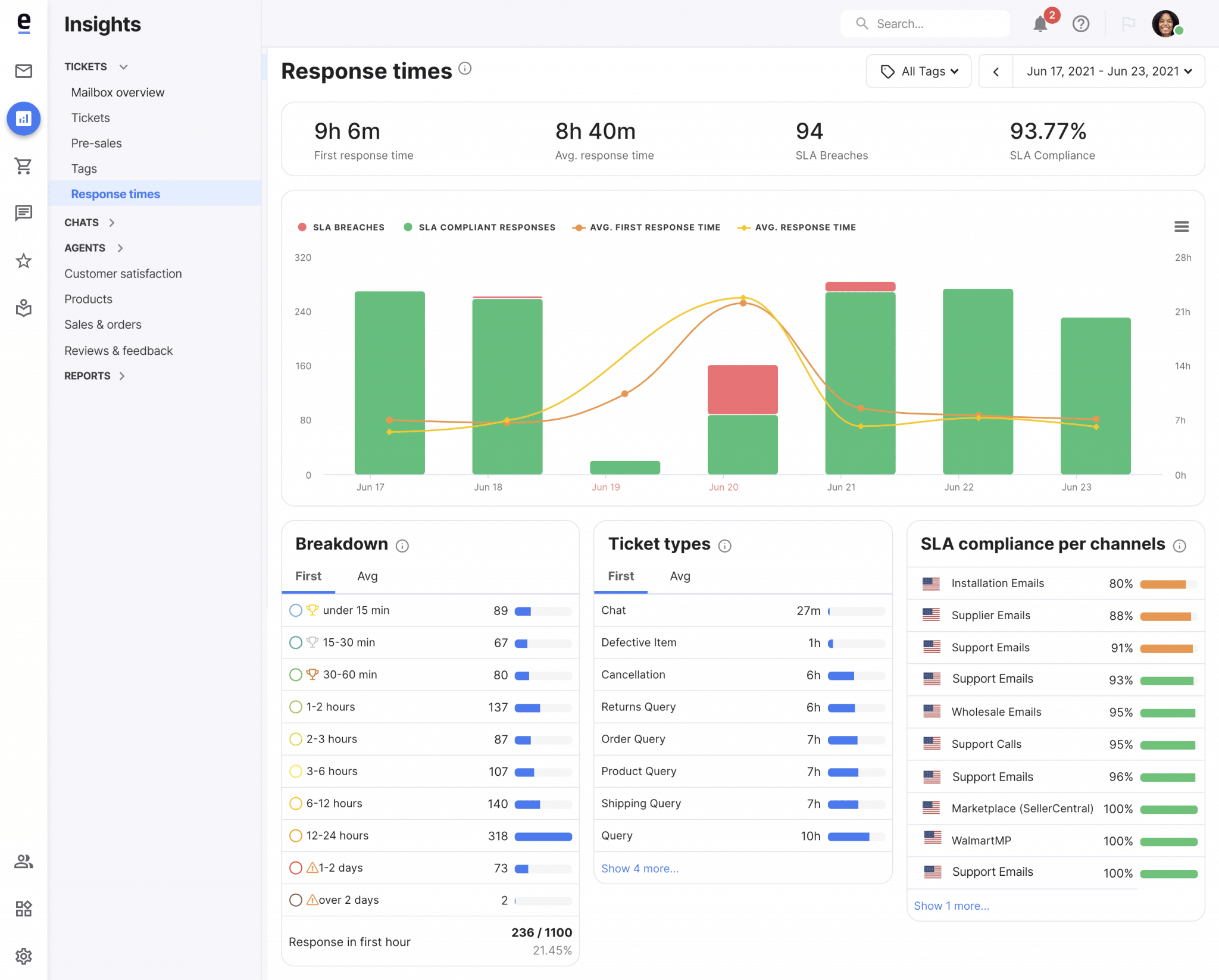 eDesk Insights shows you your first response time, average response time, SLA breaches and SLA compliant responses at a glance.[/caption]
5 Ways to Improve Your Customer Service Response Time
1. Use The Right Customer Service Software
Customer service software is one of the best investments you can make to ramp up your customer service.
There are various helpdesk solutions available that allow you to pull all your customer queries, whether they be via email, phone, social media, or messaging, into one easy-to-use dashboard that makes it simple for your customer service team to respond to and log efficiently.
By giving your customer service team a powerful tool like customer service software, you can help them cut down on the amount of time it takes to respond to each customer.
They'll be more organised, more efficient, and therefore able to process a greater volume of customer queries in the same amount of time that it would take having to manually sift through each one.
So, a simple, modern way to improve your FRT and overall customer response times is to onboard a customer service software that will make dealing with customer queries easier and more streamlined.
Related: How CarParts.com Slashed Customer Support Response Time
2. Use a Priority Ticketing System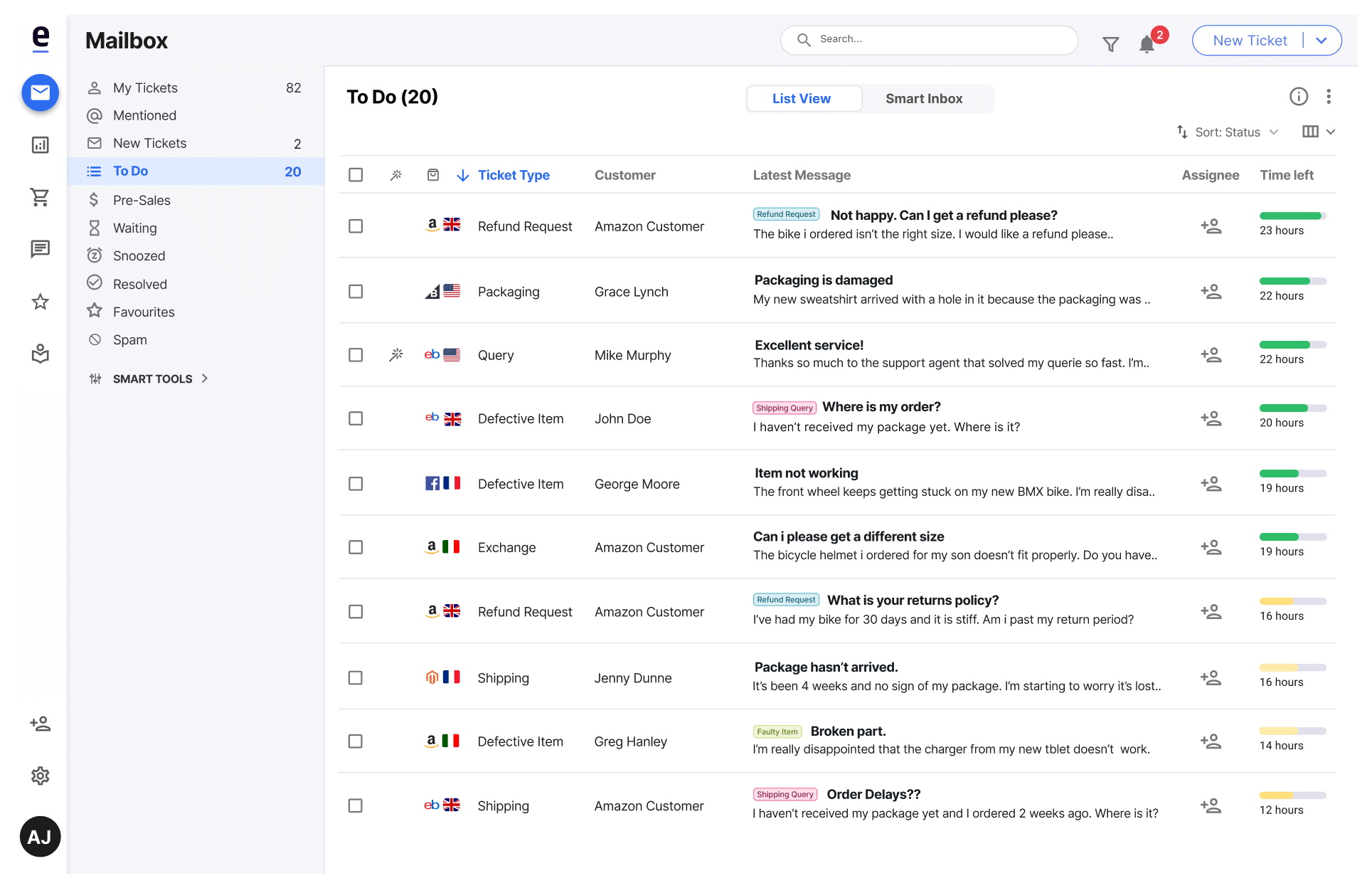 eDesk's Smart Inbox prioritizes support tickets to help your team respond and resolve faster.
Of course, we know that each customer query is important, but to provide efficient customer service, you need to know how to prioritise the queries that come in so that you can maximise your team's time and available resources.
A ticketing system is great for this. Found in most customer service software, a ticketing system helps you tag each of your customer enquiries by priority, so that you can get a handle on which ones are especially urgent, and which can be replied to a little later – though still in a timely manner.
Categorising the queries you receive based on subject matter and complexity helps your customer team be more productive. They'll know which ones to prioritise and will be able to work within an organised framework of prioritising the most urgent queries first.
Much of today's customer service software solutions even offer automation for prioritising queries, taking the guesswork out of having to do so manually and eliminating yet another step from your procedure.
Related: What is a Support Ticket System and How to Use One
3. Use Templates and Text Shortcuts
Inevitably in customer service, there are some questions that are asked again and again by many customers.
Sometimes, these questions, while common, aren't particularly complex issues that require a lot of hands-on responses.
Such frequently asked questions can be dealt with quickly and efficiently by making use of templates that contain prepared answers. Email templates that provide the right information, in a clear message, can be used by agents to respond to customers quickly, without having to individually type out the same answer repeatedly.
You can create templates for each of the questions that your customers ask frequently, such as 'Where can I check my tracking number?' or 'How can I reset my password?' so that your team members have each response at their fingertips whenever a frequent customer query comes up. This will save them lots of time dealing with queries.
Similarly, text shortcuts identify commonly used words or phrases, and can create automatic responses based on those keywords. This dramatically reduces the number of keystrokes it takes each agent to type out a message responding to the customer regarding common issues.
Best of all, text shortcuts can also be used to auto-generate links to FAQ documents or knowledge base pages on your website, both of which empower customers to find answers to many common questions and issues.
Both text shortcuts and email templates help reduce the amount of time it takes your team members to respond to a customer. This frees up their time to be able to handle more queries in the same amount of time, reducing the average response time.
4. Employ Time-Based Alerts
Every business focused on its customer service wants to be sure to respond quickly to optimise its customer response time. However, there are times when the lag in resolution time is outside your control. For example, your agent may be waiting on key information from the customer to be able to resolve their query.
In this situation, it's important to flag your customer queries for a timed follow-up so that they don't slip between the cracks and become forgotten.
Using time-based alerts is your best bet here because it means that your team will always be notified within a set period to either work through the query (if the customer has provided the requested information) or will be notified to follow up with the customer to obtain the required information. Either way, time-based alerts make sure that nothing is dropped.
Your team members can, of course, create manual alerts, but it's much more effective to automate this using customer service software, most of which have handy features that can automatically tag new queries with a timer.
5. Realistic Goals and Rewards Work!
In addition to all the productivity tools and procedures listed above that you can employ to increase your response time, it's important not to forget one of the most crucial ways of upping response time — by motivating your customer service team!
After all, improving response times across the board is a team effort and everyone should feel as though they are in it together, working towards an exciting goal.
For that reason, you want to give your team realistic goals to achieve when it comes to improving customer response times. If you set goals that are too unrealistic, it can be demoralising.
Instead, have a look at the industry standard and try to align your goals with it, using realistic benchmarks to see how your company's procedures can be updated to achieve those goals.
When you set realistic goals for your team and encourage them to meet those goals, you create a motivating environment where employees feel empowered to do their best. By setting a positive, upbeat tone, your employees will be driven to not only meet but also exceed, the targets you've set.
Offering incentives, such as performance bonuses, additional holiday days, or special prizes, can also help motivate employees to do their best to meet the new response time goals you've set.
Ultimately, when you restructure your approach to customer service by giving your employees a powerful toolkit (like customer service software and other tools that make their jobs easier), and combine this with a motivational, goal-orientated environment, you'll be on the right track to lowering your FRT and overall response times.
Final Thoughts
Better customer response time means better business!
After implementing these five steps, you should be able to recalculate your FRT and see an improvement in the numbers. You'll see the difference in not only a lowered score, but in feedback from your customers. A lower FRT and more efficient customer service programme make up the cornerstone of being a customer-centric business that stands out from the competition.
By improving your response times, you'll also improve your customers' overall experience, which will not go unnoticed. You'll see the difference in your bottom line, driven by customers coming back to your business repeatedly.
eDesk's eCommerce helpdesk software includes a centralized shared inbox for multichannel customer support including Amazon, eBay, Walmart, Shopify, Facebook, Instagram and loads more. Book a demo or try it FREE for 14 days and see how eDesk can help you respond faster and create happier customers.