Today's customers have a number of different ways through which they can contact your business for help and questions, such as phone, email, live chat and social media. For any high-growth business, having a strategy to deal with these different customer communication channels is the cornerstone of any omnichannel customer service programme.
But, with so many customer service tools on the market, it can be challenging to know where to start when trying to find the one that's right for your business, your customer service team and your customers. Different types of businesses have unique needs, and the right customer service tool is one that will help you manage your customer service both internally and externally.
This means that implementing the right tools will empower your internal team to do their job more efficiently and effectively while also providing the best solution to capture and analyse external queries from your customers. By doing so, you facilitate a win-win situation on both sides.
You won't be surprised to learn that there are many excellent customer service tools on the market, all offering incredible capabilities to help you. So many in fact, that it can be overwhelming. With this in mind, read on to compare and contrast the different standout customer service solutions we've identified in our list of the top customer service tools.
What Are Customer Service Tools?
In a nutshell, customer service tools are the technology-driven solutions that help your business provide excellent, streamlined customer service.
They consist of different types of software platforms that help you manage the various important communication methods. That's live chat, email, social media, phone, and knowledge base pages, in an efficient manner, which your customer service team can easily use to resolve customer queries and issues most effectively. And once it is resolved, such tools can then remove the query from the ticketing queue, archiving it if it ever needs to be referenced in the future.
eCommerce customer service tools can help with either one specific channel of communication (e.g., help your business manage its social media queries specifically) or can help you manage multiple communications channels in one solution.
Why Your Business Needs a Customer Service Tool
If your business deals with customers – and let's be honest, almost all do, regardless of whether they provide products or services – it needs a solution for efficiently managing and responding to the customer queries it receives.
A customer service tool can help you do just this by centralising all the queries you receive through any given channel into one place, tagging them according to a system that is most logical and efficient to your team's workflow, so that each customer query can be actioned and resolved swiftly, with the proper knowledge and the right approach.
So, customer service tools can service one communication channel in particular or all of them. Depending on your particular business pain points, you'll want to choose the tool that can help you achieve your unique goals. Regardless though, it's safe to say that every business can use at least one of these tools to give its customer service programme a productivity boost.
While many businesses just starting out think they can manage without a customer service tool, there comes a time where the company outgrows manual methods of processing customer queries. In order to scale, a better, tech-driven solution is almost always needed, and the investment into a proper customer service tool is worth its weight in gold. It means you can ensure customer satisfaction, which in turn allows your business to scale.
What Makes a Good Customer Service Tool?
Depending on your type of business and its stage of growth, the definition of what makes a good customer service tool may vary. That's why we've included a comprehensive list of different tools below. There's something for every business here!
Broadly speaking though, any customer service tool worth its salt will have a few factors in common:
They're easy to use. Today's time-strapped business owners don't have time to fuss with products that are cumbersome, unintuitive and require experts to run. The top customer service tools on the market are intuitive, easy to set up and simple for customer service agents to understand and adopt as part of their workflow.
They're effective. You wouldn't buy any other product that doesn't achieve the goals it purports to, and customer service tools are no different. Each business has specific goals with regard to the problems they're trying to solve, and the right customer service tool will be able to solve your exact problems with the least amount of hassle.
They provide a clear return on investment (ROI). For any tool to be effective, your team and broader business must identify a clear value from its use. The right customer service tool will save your business time and money, paying for itself over time.
Types of Customer Service Tools
To meet the needs of each type of communication channel, different types of customer service software exist. Here's an overview of how the different types are categorised:
1. All-in-one customer service tools
These are the customer service tools that cover all of the communications channels – phone, email, live chat, social media, etc – in one omnichannel solution. Because they're all-encompassing, it means that by employing one of these tools, you can have everything in one dashboard.
2. Help desk customer service tools
Typically (but not exclusively) used for managing large volumes of email, help desk software helps centralise messages so that they can be tagged, assigned, and tracked at scale. There are many types of help desk software on the market including eDesk which brings all of your customer messages and order details into one shared inbox. Using eDesk will help you to deliver superior support to customers and make their buying experience a positive one.
3. Live chat customer service tools
Live chat software incorporated on your website means that customers can always reach an agent via messenger directly from your website. It usually comes in the form of a small button on your website that a customer can click to activate and open a chat window.
4. Social media customer service tools
Social media customer service software will help your business track all customer queries across various social platforms such as Facebook, Twitter, Instagram, and TikTok, flagging them so that your customer service team can respond as quickly as possible. Tools such as Mention can help you track all mentions of your brand online, as well as helping to monitor and manage your social media accounts.
5. Call centre customer service tools
Need help managing inbound calls to your customer service call centre, including logging them into your database? Call centre customer service tools can help you with just this. They keep your call centre running with tip-top efficiency.
6. Knowledge base customer service tools
These are designed for providing pre-prepared answers to common customer queries. Tools such as HelpSite can support you with your FAQs and knowledge base. They help empower customers to help themselves, lowering the volume of queries needed to be dealt with by live agents, emails and call centres.
Best Customer Service Tools for 2023
Having provided a thorough overview of customer service tools, here is a list of the top ones we rate the highest in their categories: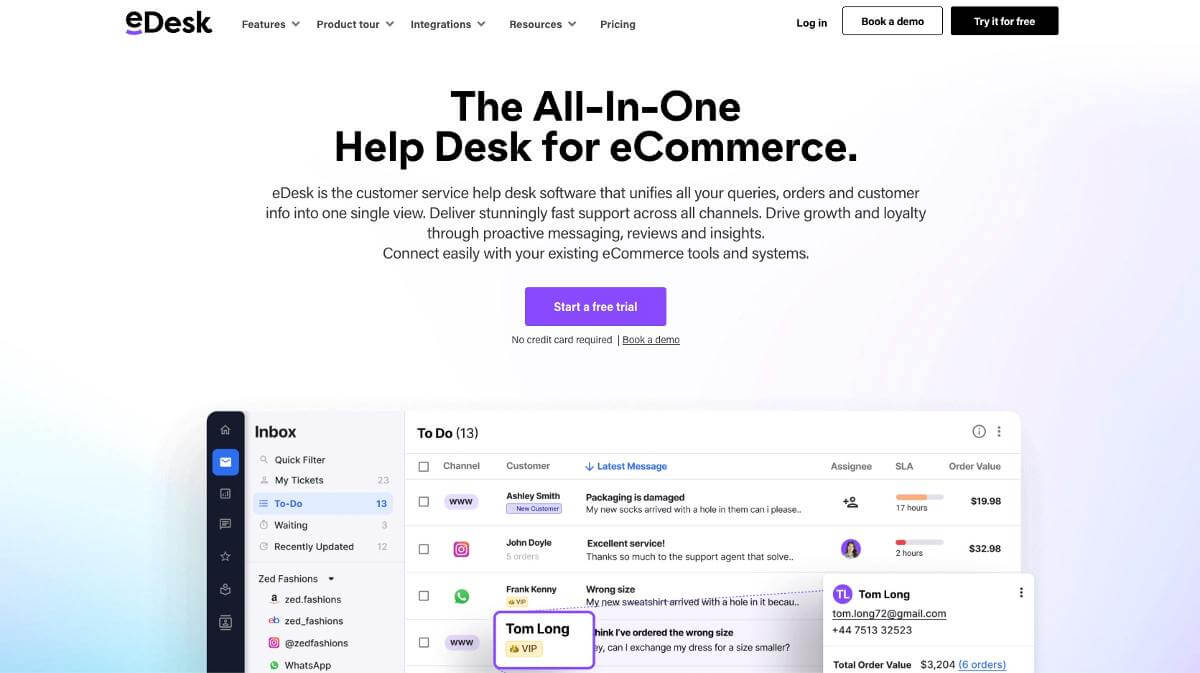 eDesk is a leading eCommerce helpdesk used by thousands of major retailers worldwide. Developed using a customer-centric approach, eDesk empowers your support team to provide a positive experience for customers across all of your company's channels: email, live chat, social media and webstore.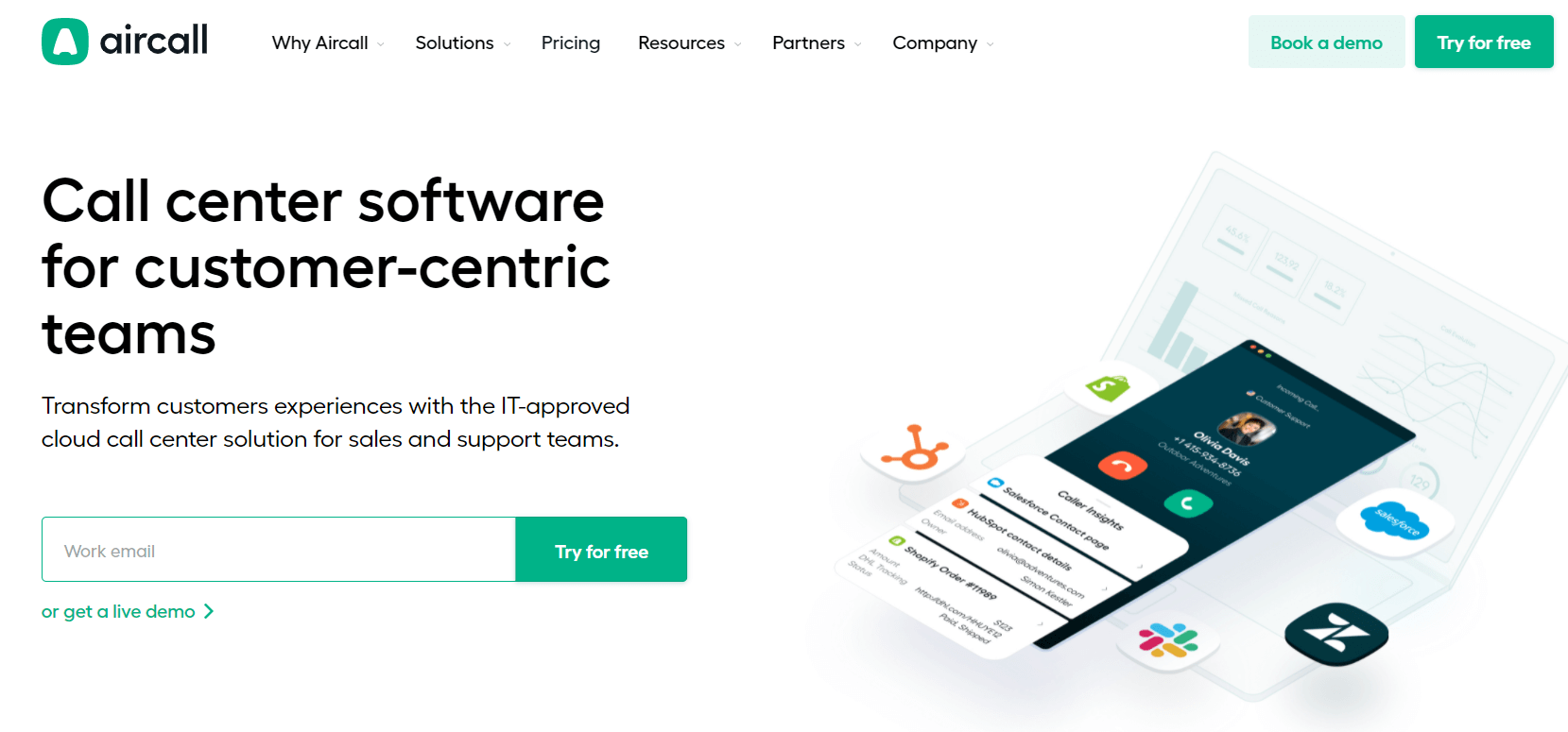 Keep your call centre organised with Aircall, which allows your team to consolidate phone activities under one dashboard. It provides insights and analytics on how many calls are answered, how many drop, and on agent performance. Its basic plan comes in at £22/month/user ($30/month/user) if billed annually. One other benefit is that it integrates with other productivity tools, including CRM systems and Slack.
A powerful knowledge base tool, Document360 offers its knowledge base management tool starting from £43/month/project ($59/month/project) for its most basic plan. All subscription plans offer unlimited articles, but the higher tier packages, like its £217 ($299) 'Enterprise' plan, are able to support larger teams, as well as greater backups, analytics, and increased storage facility.
4. TalkDesk
This contact centre tool integrates with your customer service help desk to ensure that your phone-based customer support runs smoothly. It offers features such as call recording and note storage so that you can recall each customer service transaction. It also provides valuable reports on call duration, percentage of inbound calls answered below the target threshold and wait times, in addition to detecting agent status in real-time. Pricings for TalkDesk can be obtained by enquiring through its website.
A social support tool that offers something for businesses at every level. It offers seven different subscription plan levels for social media management support, which vary depending on what your particular social media needs are. For example, its 'Reply' package supports social media customer service by enabling you to respond to social conversations across Instagram, Facebook, and Twitter. Its most basic support plan comes in at £11/month/user ($15/month/user) and a more advanced level, at £25/month/user ($35/month/user), offers automation rules for automatic tagging, assigning, and setting statuses.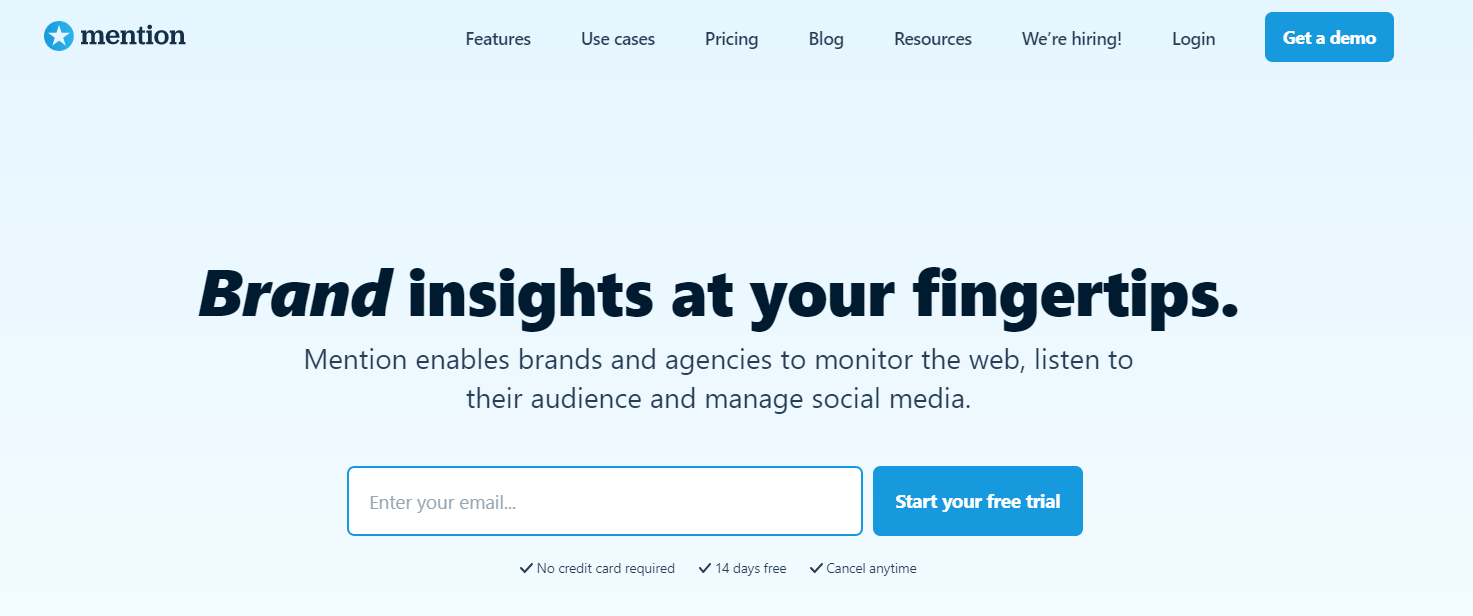 This social support tool packs a punch. It offers robust, enterprise-level social media management support. Its subscription fee starts at £21/month/user ($29/month/user), and it is capable of monitoring and managing your social media accounts, as well as tracking all your brand's mentions across the web.

If live chat help is what you're after, Chatra has got you covered. Starting at £14/month/agent ($19/month/agent), Chatra supports unlimited chats and chat history. It also connects your email inbox and Facebook Business Page into one multichannel dashboard so that you can manage all your chats in one place.

This knowledge base tool gives you a support site with your FAQs and knowledge base so that your customers are armed with the information they need whenever they need it. With prices starting at £11/month ($14.99/month), HelpSite offers customisable knowledge base pages which can be boosted to apply custom CSS and HTML if you subscribe to the £36/month ($49.99/month) plan.

Finally, last but certainly not least, is Intercom, a powerful all-in-one customer service system that offers numerous features, including live chat, help desk, knowledge base, chatbots and email marketing support. Its live chat feature, Intercom Messenger, can be used to showcase company news, blog posts and knowledge base articles, as well as, of course, providing customers with chat support. With prices starting at £43/month ($59/month), it is worth noting that Intercom can be pricey, as it charges for additional features.
Final Thoughts
Take a smart approach to customer service! Choosing the right type of customer service tool depends on what your business needs to operate its customer service programme most efficiently.
What problem is the business looking to solve? Perhaps your company is call centre-heavy and needs a solution for managing the call centre specifically? Or perhaps there's a social media backlog that requires a more effective solution? Or it could be that all communications channels need better unity for resolution, then perhaps an all-in-one customer service tool is the right answer for you.
With many tools on the market, businesses are spoiled for choice. Ultimately, you'll want to go with what serves your customers' needs best because, after all, the customer comes first.
If a business can find the right solution to support its customers through the channels that are most important to them, it'll be your best bet for success.
Book a demo to learn more about how eDesk can help your ecommerce business deliver exceptional customer service. Ready to get started now? Try eDesk free for 14 days, no credit card needed.