eBay top rated seller status is an incentive for sellers to provide excellent customer service and offer a generous returns policy.
Top rated sellers on eBay enjoy a number of benefits including increased visibility for listings, a 'top rated seller' badge to and increased protections.
However, sellers need to meet quite a few strict requirements to obtain this status. Let's take a look at how to become a top rated seller on eBay.
How to become an eBay top rated seller
Top rated sellers have very little room for error and need to consistently maintain some key sales metrics. To become a top rated seller on eBay, you must have:
An active account for 90 days or more
A minimum of 100 transactions and $1,000 in sales with US shoppers over the past year
A history of resolving customer issues; cases closed without a seller resolution can't exceed 0.3% – or two cases
A maximum defect rate of 0.5% on transactions
No more than 3% of transactions with late shipping – or five late shipments
Tracking uploaded within your stated handling time and carrier validation for 95% of transactions
Adherence to eBay's selling practices policy, which includes requirements like providing accurate item location and clear T&Cs
It's worth noting that a seller's defect rate isn't related to damaged or defective products. This metric is actually about counting defective transactions. In other words, it's about how many times a seller cancels transactions because of inventory problems or other issues.
What this means for sellers
Phew! That may seem like a daunting list, but these things are largely within a seller's control. They're all about providing great customer service in a way that is flexible, responsive and fast.
You can check to see how you're doing by looking at your seller dashboard. eBay will show you if you're eligible to be a top rated seller. If you meet the above requirements, your account will automatically be upgraded during its next evaluation – this takes place on the 20th day of each month.
For low volume sellers, these metrics are based on your seller performance over the past year. Higher volume sellers, who process 400 transactions or more every quarter, will be judged on their performance over the past three months.
Becoming an eBay top rated seller in other countries
It's possible to be an eBay top rated seller in another country if you meet the criteria set out for that specific marketplace.
For eBay.com, your metrics are based on your sales performance with US shoppers. Even if you're located in the US, you can also become a top rated seller on eBay.co.uk based on your performance with British buyers.
Want to know how to become a top rated seller on eBay marketplaces around the world? Check out the requirements for Australia, for Germany and Austria and for the rest of the world. Some of the requirements vary slightly. For example, the global guidelines allow for a late shipment rate of 5%, rather than 3%.
What are the benefits of being a top rated seller on ebay
Because of the level of service provided, eBay top rated sellers are likely to benefit from positive reviews, feedback and repeat purchases. But beyond this, eBay also throws in some extra benefits to really reward great seller accounts. These include:
eBay top rated sellers in the US who also give shoppers 30 days or more to return their purchases also benefit from increased seller protections, which include:
Return shipping label credits when a buyer returns an item falsely claiming that it wasn't as described in the listing
Refund deductions of up to 50% when a buyer has returned a product which they damaged or used
Automatic removal of negative or neutral buyer feedback and transaction metrics in the above situations
eBay top rated plus sellers
For some or all listings, you can go even further and become an eBay top rated plus seller. This comes with even greater benefits to help you increase eBay sales, as well as even stricter service requirements.
What you need to be eligible for top rated plus listings on eBay
For a listing to be upgraded to top rated plus, you already need to be a top rated seller and then provide:
Lightning fast handling – completed on the same day or within one business day
Flexible and free returns – giving customers at least 30 days to return something for free with a money back option
Some products, like food and plants, are exempt from these return requirements.
What are the advantages of eBay top rated plus?
It will take some significant investment to implement such speedy turnarounds and free returns, but taking these actions are also likely to drive more sales. It's worth considering, especially when you take into account the added benefits provided by eBay.
Any listings which meet eBay's top rated plus requirements, receive:
10% off the product's Final Value Fee
Further visibility in Best Match search results
The Top Rated Plus seal of approval, which appears prominently in search results and listings




The Top Rated Plus badge can really impress shoppers, but it can also stress sellers. Can you handle same-day handling? And can you afford free returns? You'll need to weigh up the costs involved and calculate how it will impact your profit margins.
We suggest trialing free returns and fast handling for just a couple of products. Focus on the listings which will benefit most from a reduced Final Value Fee. It is more likely to be worth the effort if it saves you money. Then if everything goes well, you can introduce these policies for more and more of your product offering.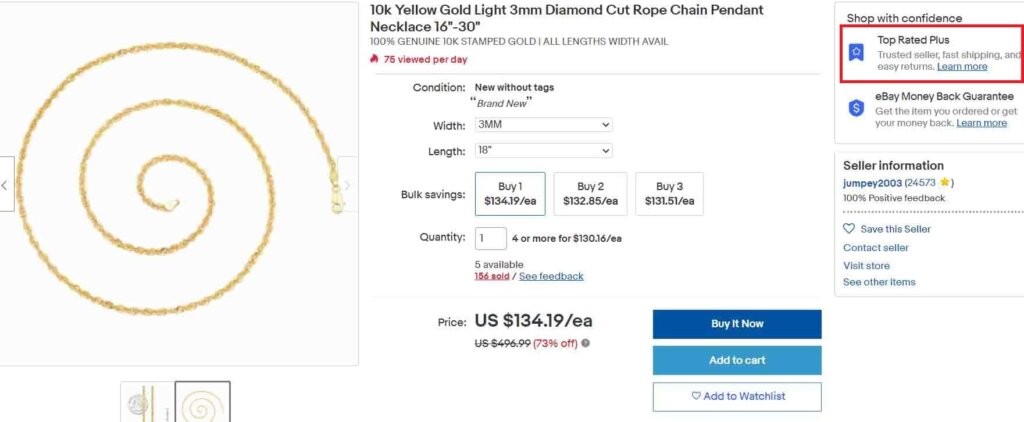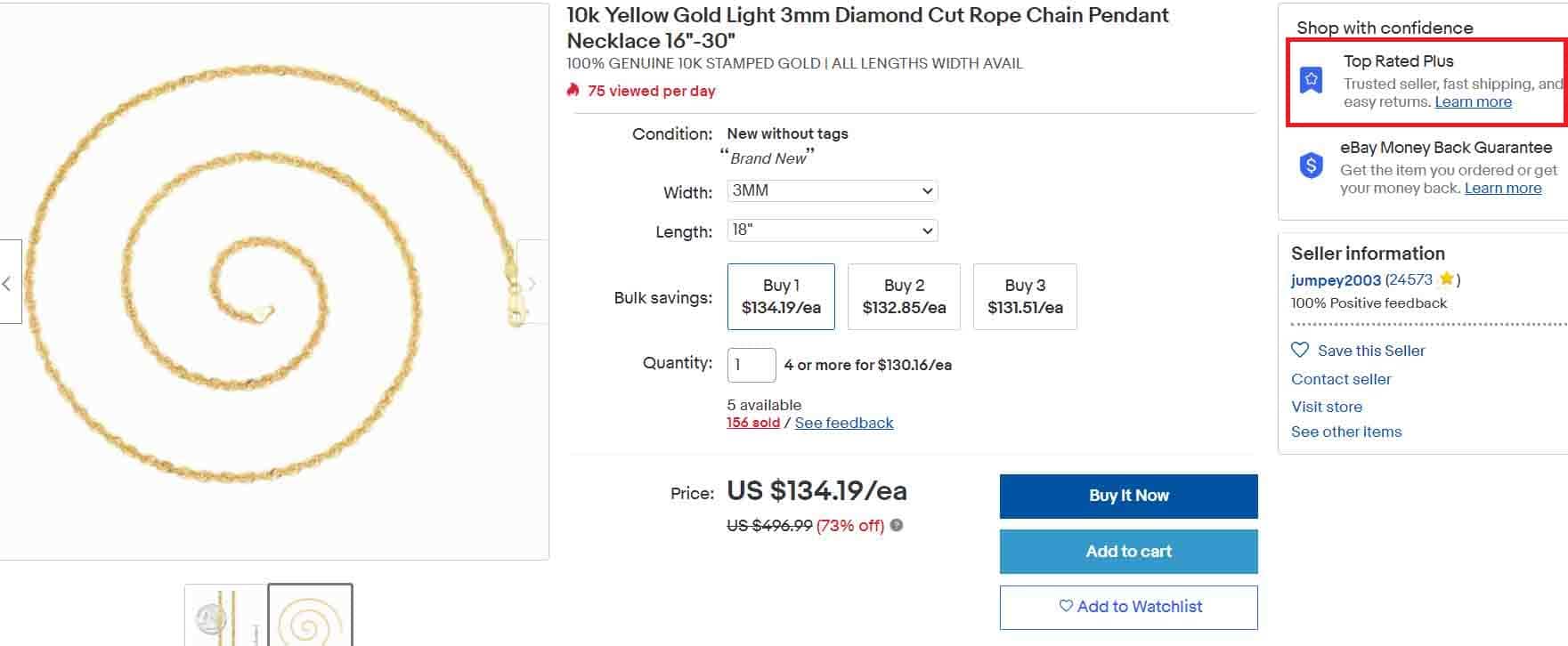 How to get and maintain eBay top rated seller status
Great customer service is important at every stage of the customer journey. If you're after top seller status, here are the specific areas you'll need to focus on.
1. Providing punctual shipping and handling
Be realistic when setting out your handling and shipping estimations. If it will take you a couple of days to process an order, just say so. You may have to sacrifice your top rated plus eligibility, but at least you'll be able to achieve regular eBay top rated seller status.
2. Reduce and resolve customer cases
Cases closed without a seller resolution need to be kept to an absolute minimum. To do this, sellers can prevent new cases by:
Writing accurate product descriptions: Include as much detail as possible and if there are any faults in your products, be honest about it
Providing plenty of product images: This will reduce cases where customers claim a product didn't come as described
Use appropriate packaging: Top quality eCommerce packaging will reduce the chance of a product arriving damaged
When a case is opened, sellers should make sure to resolve it by:
Responding to messages quickly: Politely deal with customer complaints before they contact eBay Money Back Guarantee or PayPal Buyer Protection about the case. Prioritizing customer service is one of your most effective eCommerce marketing strategies!
Compensating customers generously: Where customers didn't receive a product or it didn't come as described, do your best to make the customer happy. Refunds may hurt your bottom line in the short term, but it's important to keep your eBay metrics in good standing
Related article: How to Remove Negative Feedback on eBay
3. Prevent transaction defects
You can keep your defect rate to a minimum by staying on top of your stock. The moment you're out of an item, make sure to take down the listing. You can use eBay's out-of-stock feature to do this automatically. Alternatively, you can use multichannel inventory software like OrderWise or TradeGecko to manage stock across several platforms.
Related article: The Best eBay Software for Online Sellers in 2020
Final thoughts
eBay top rated seller status is certainly something to aim for. Even if you don't achieve it, you're likely to see a boost in positive feedback, happy customers and repeat purchases.
If you do hit this milestone, you can then consider if you should go for gold and pursue eBay top rated plus status. There are more costs and risks involved here, but you can take it one product at a time to understand exactly how it will impact your bottom line.