Are you a fan of eDesk's new AI functionality? If so, you'll be thrilled with our latest updates! And if you aren't yet an eDesk AI user, our remarkable new features might just be the thing to win you over!
From the cutting-edge AI Composer to new eDesk AI language localisation, we have been tirelessly working to enhance the user experience for our valued customers.
Don't miss out on exploring these product enhancements, along with the exciting product updates currently in progress – From marketplace integrations, improved insights and further advancements in AI – the opportunities to scale your eCommerce business with eDesk are endless.
Missed out on last month's product roundup? Check it out here!
Hot off the Keyboard
Introducing the all-new AI Composer, your secret weapon for crafting perfect customer responses effortlessly. Say goodbye to the days of struggling to find the right words or worrying about matching your brand's tone consistently.
With AI Composer agents can instantly change the tone, rephrase, or expand the text – improving the clarity, depth and speed of their responses with just a few clicks. It's like having a professional wordsmith right at your fingertips, ready to assist you with your writing style, anytime.
Since launching in early August the AI Composer has been used by over 770 users to compose a reply more than 16,000 times! Read on to find out how it works.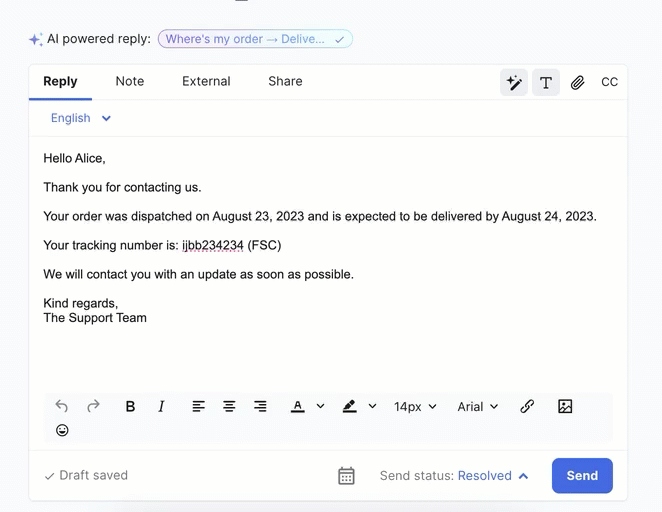 How it works: You will firstly need to turn on the composer feature within the reply box. Then you can simply compose a message box, highlight the text and select a button to instantly change the tone, rephrase the message, or expand the text.
Learn more about the AI Composer and how you can start using it today
AI Composer is available to customers on any of eDesk's Performance + plans. To learn more about our pricing, click here.
eDesk AI now speaks your language!
We're thrilled to announce that we are now offering eDesk AI-generated message summaries, customer sentiment analysis, and classification in not one, not two, but FOUR new languages: German, French, Italian, and Spanish – enabling agents to enjoy AI-assisted customer support in their preferred language.
Forget about needing agents that speak the language of every country you sell in. This game-changing feature makes it easier than ever for your agents to support international customers with the power of eDesk AI. It's like having an AI assistant who speaks your language, regardless of which language your customers communicate in!
How it works: Simply navigate to your account settings, select your preferred language. Once set, eDesk will seamlessly generate all AI summaries, classifications and sentiment in whichever language you have selected.
eDesk AI features are available to customers on any of eDesk's Performance + plans. To learn more about our pricing, click here.
💻Get the latest product updates from eDesk
So What's next from eDesk?
We truly value your input and have been diligently working on implementing some exciting new features based on your suggestions. Our dedicated eDesk product team has been working tirelessly to bring these features to life. See what's coming soon to eDesk.
🛒 Seamless Integration with Mano Mano Marketplace!
Soon, you'll be able to effortlessly manage customer queries and access order information directly from Mano Mano—all within the eDesk platform! With this upcoming integration, you can expect a smoother workflow, faster response times, and a more streamlined approach to managing your Mano Mano customer interactions.

📄 Level up your data analysis with reporting extracts
eDesks reporting extracts feature will take your data analysis to the next level. Imagine having the ability to access and tailor granular data extracts – all with the control to include or exclude precisely what you need. Well it will soon be a reality!
Reporting extracts allows customer access to granular data extracts of ticket, channel, agent, tag and language reports over a specific time period. These reports will be stored in the insights section of your account, available to download for further analysis.
We've been working closely with select customers to beta test this and recently added the user interface. So stay tuned, we hope to launch this new feature very soon!

✨ Benefit from improved AI classification coverage
As it stands today, although proven to be a powerful tool eDesk AI is still in its infancy, but we're putting in relentless effort to enhance its capabilities, and improve ticket classification coverage, by boosting the accuracy, and broadening the range of ticket classifications available.
As we expand the ticket classification options, you'll have more flexibility to tailor your support processes to your unique business needs. This translates into quicker response times and higher customer satisfaction.