Attracting customers to your Shopify store is one thing. But keep them coming back for purchase after purchase? That's much more challenging.
However, with the probability of selling to an existing customer standing at a whopping 60-70%, it's much easier to turn a profit with a large, loyal customer base than it is by constantly trying to chase new customers. And with just 20% of your customers representing 80% of your sales, according to the Pareto Principle, keeping that base happy is non-negotiable.
The good news is that a Shopify helpdesk app makes it easier to increase customer satisfaction, collect customer data, and ultimately, create a base of committed customers. But with multiple customer support apps on the market, you need to look for the most effective customer service software to transform your store's success. Read on to explore the best Shopify helpdesk apps on the market, their benefits, pricing, and more.
What is a Shopify helpdesk app?
Shopify is arguably the biggest name in eCommerce. It's a fully hosted eCommerce platform that allows you to create and grow your own online store from scratch. While Shopify is full of great features and advanced functionality, its apps and integrations allow you to add extra functionality to your store.
Customer service apps like help desk apps tend to offer features such as live chat, automated responses, a centralized messages platform, and integrations with your ticketing system. Some offer features like a self-service widget and even the ability to track order status and carry out returns. These features aim to help customers get a better, speedier, and friendlier solution to issues.
A vast range of businesses use Shopify as their provider – from small start-ups to multinational corporations – so finding a solution that appeals to all sizes and niches is a must.
Why use a Shopify helpdesk app?
Thinking of investing in a helpdesk app for Shopify but not sure why you need one? Let's dive into the benefits.
Reduce customer response times
In a world where consumers expect an immediate response in every interaction, it's safe to say that long wait times are a no-no. If you're a customer searching for an item online, and you find two stores with similar products at the same price, but you just have one quick query, the store that responds quickest will win your business.
Wetsuit Outlet had this very problem when its complex ticketing system and customer support service made it impossible to respond to tickets and messages promptly, disappointing customers. Head of customer service, Susie Waghorn, had this to say about the difference a helpdesk app for Shopify makes.
"It's so easy to integrate, and to have all of your customer queries all in one place from all the different places that you sell is just a dream […] eDesk has absolutely exceeded my expectations. Everybody that I've spoken to in the company has been absolutely fantastic."
Improve your response times by 38% like Wetsuit Outlet thanks to eDesk for Shopify.
Scale up your business
There comes a natural point in every company's lifespan when they want to scale up – whether that means going international, hiring more staff members, or simply growing your profits.
Here's the catch.
If your customer service system isn't up to scratch, scaling your business becomes a lot more challenging. The more customers your Shopify store has, the more queries you'll receive, so you'll need customer support infrastructure that's robust enough to support an influx of new customers.
Take it from Marion von der Brelie, Customer Support Leader at Q-Parts24. After using eDesk to scale up customer service at the same time of growth, Marion had this to say about the experience.
"I'm really happy with our smooth operations which are now more transparent and straightforward. Ratings went back up after being able to manage all the negative tickets in one place. It was much easier and quicker."
Have your customers market your brand for you
A massive chunk of any business's costs goes toward marketing. Whether it's social media posts or PPC ads, it's one of the biggest outgoings alongside eCommerce platforms. But what if your customers could do your marketing for you?
Providing excellent customer support results in not only better online reviews and testimonials, but word-of-mouth marketing, too. If you go above and beyond basic customer support, shoppers are more likely to report their positive experiences to loved ones. And with 90% of people trusting recommendations from family and friends, that social proof goes far.
It works the same the other way around. Provide shoppers with a poor customer service experience, and they're likely to go and warn others not to shop at your store. Failing to provide exceptional customer service just isn't a risk worth taking, which is why Shopify help desk apps can be so invaluable.
Save valuable time and money
You know the drill. Your already overworked customer support team receives another influx of queries that are repeated from the day before. With your support agents struggling to keep on top of the tickets, you start to receive angry messages from customers, upset that their issue hasn't been resolved quickly enough.
You're not only losing money hiring round-the-clock support agents, but you're also wasting time that could have been spent growing your business. The good news is, there's another way.
A helpdesk ticketing system can seriously reduce your manual workload by automating most of the tasks that consume your day-to-day. Plus, you can save labor costs and avoid having to hire a whole new customer support team every time you want to scale up.
If you're interested in leveling up your customer relationships with apps that help you provide great customer support, read on to explore our pick of the best Shopify help desk apps on the market.
Top 7 Help desk apps for Shopify
eDesk
Freshdesk
Zendesk
ReAmaze
UVDesk
Gorgias
Richpanel
1. eDesk
eDesk is a complete customer service helpdesk built exclusively for eCommerce sellers. It takes the pain out of trying to deliver consistent customer service across multiple channels by bringing all tickets, order/shipping data, customer data and metrics together in one place. Uniquely, eDesk can integrate with:
Leading eCommerce platforms such as Shopify, Magento and BigCommerce
Leading marketplaces such as Amazon and eBay
Major social channels such as Facebook, Instagram, and WhatsApp
And just in launched in 2023… Klaviyo!
When you trial eDesk, you get access to an eCommerce-focused platform that combines AI, native eCommerce integrations, automations, and metrics that help eCommerce support teams respond faster and increase sales.
Centralize all eCommerce support in one smart inbox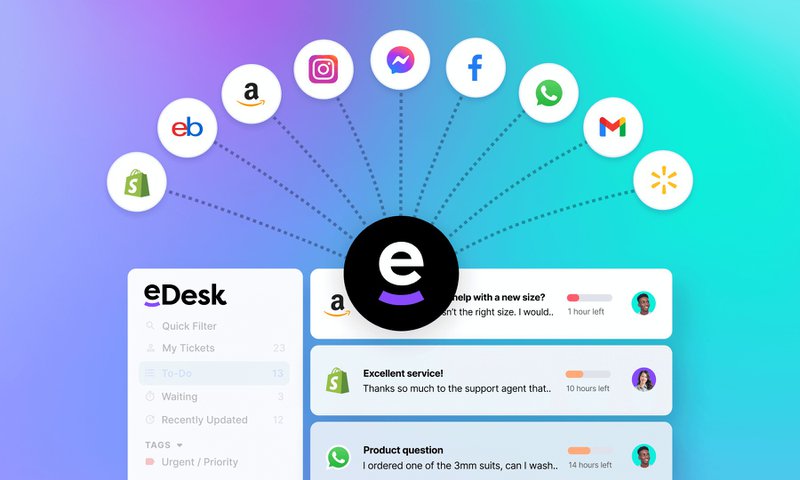 eDesk brings all your multichannel messages, order details and customer information together in one place.
Smart inbox automatically groups, prioritizes and assigns incoming tickets, so your team doesn't have to. Features such as SLA management ensure you always respond according to internal targets or within marketplace SLAs. Real-time collision detection helps agents avoid working or responding to the same customer tickets at the same time.
AI responses make answering common queries an absolute cinch. Meanwhile, eCommerce-focused workflows powered by sentiment analysis, order, shipping and customer information, can assign conversations to the right team or agent at the right time.
Team collaboration features allow you to loop in a supplier or @mention a colleague for a second opinion. This helps ensure tickets are resolved quickly and accurately.
Live chat for higher sales conversions
With Live Chat, you can turn your website visitors into buyers by proactively engaging with them in real time. Chat prompts allow you to target visitors to specific pages or products, and deliver highly personalized messages or offers to increase website conversions. You'll even have analytics built-in to see what tactics are working and where you can make improvements.
A 360-degree customer view for highly personalized support
Every customer deserves exceptional customer service. With Customer View, your agents always have the full context of a shopper's order and conversation history, so they can deliver uniquely personal and accurate responses in a fraction of the time.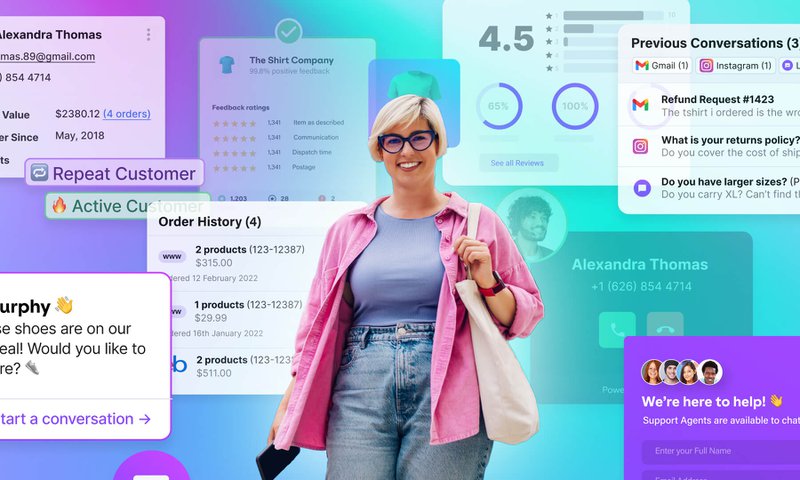 Segments are automatically created for VIP and first-time customers to help you prioritize customers and refine workflows, by identifying and grouping customers based on buyer behavior and your business criteria. You can even push this powerful information back into your CRM or other systems in your eCommerce stack.
Make updates to Shopify orders more easily
Connecting your Shopify account to eDesk's customer support software doesn't just make it easier for your team to stay on top of messages. With our updated integration, you can also refund or cancel a Shopify order directly from within your eDesk tickets. This is just one more way we take the hassle out of providing great customer service.
Knowledge base for self-service support
Online shoppers are more than happy to find answers themselves—if it's easy! In fact, you can reduce customer queries by up to 30% by using Knowledge Base to publish help articles to your website, so customers can self-serve everywhere you sell.
What's more, your knowledge base can become a single source of truth for support agents, so they can respond to customer inquiries faster and ensure that customers always receive consistent information. Knowledge Base is searchable, so agents can easily add a link or insert article content into their customer responses.
Use personalization to retain more customers
How can personalization help your eCommerce business retain customers? With eDesk you can use personalization to tailor a customer's journey based on context from their previous behavior and their segmentation into categories such as new customer, repeat customer, VIP, etc.
Generate reviews automatically
No matter where you sell, positive reviews increase conversions and generate more sales. eDesk Feedback makes it super simple to generate these using smart, selective feedback requests that resonate with your happy customers. All on autopilot.
Of course, not all feedback is positive in eCommerce, but Feedback can help dramatically turn negative experiences to your advantage. When negative sentiment is detected, it will block the sending of a review request or allow agents to do so. If you receive negative feedback, Feedback will immediately notify the right agents directly, so you can reach out and resolve issues like any other support query.
Trial: 14 days.
Price: Starts with our Free forever plan that has unlimited agents & 30 tickets per month.
Learn more about eDesk:
eDesk for Shopify
Freshdesk is a customer support help desk app that aims to help companies reduce the time spent on manual tasks and replying to support queries and tickets. You can provide omnichannel support through a centralized platform, saving you from clicking endlessly between tabs and windows and reducing the time spent on manual tasks.
Who is Freshdesk for?
Freshdesk works for businesses of all sizes and is especially helpful for those that use omnichannel messaging. It's worth noting that without built-in auto-translate features, however, it might not be as simple to use for owners of international online stores. Integration can be more challenging, too, so it's probably not ideal for sellers who use multiple eCommerce platforms.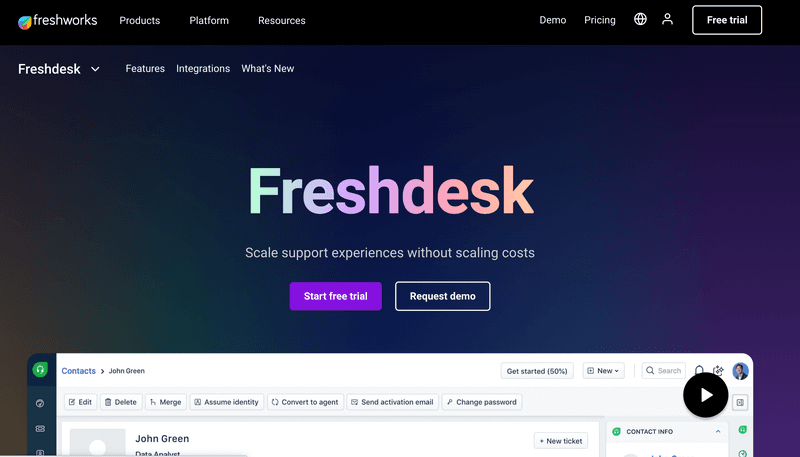 Pricing
You can get started for free for up to 10 agents, after which time the most basic plan costs $15 for the support desk only. Expect to pay more for omnichannel packages, which start from $29 per agent per month for the basics.
Main features
Advanced automation rules
Customizable analytics and reports
Omnichannel customer support
If you're considering customer support software for your eCommerce business, there's a good chance you'll come across Zendesk (and of course, Zendesk alternatives). And that's not by accident—it's undoubtedly, one of the best-known help desk software products out there with features for almost any industry.
But while Zendesk aligns itself with being the right choice for practically any support team and business, that 'fit-all' approach creates feature bloat and complexity for many teams that simply don't need it.
Zendesk is complex, and you may end up paying for a ton of features you don't need and will never use.
Zendesk can require third-party tools and help to get it working the way you require it to. As it caters for all industries, you may find yourself paying for add-ons to get it connected to your systems. Additional help during setup may also be required, and this can take months to complete.
Zendesk's support can be very slow. The company is huge, and it surely has a lot of support to deal with at any one time. But when you require super responsive support and help, it can ironically fail to deliver.
Who is Zendesk for?
Zendesk isn't especially suited to a particular size or style of business. It offers a range of pricing plans, with some aimed at smaller businesses just starting out, and some more suitable for large enterprises. It's also not specifically built for ecommerce, meaning that you will need another 3rd party add on to manage multiple marketplaces & stores.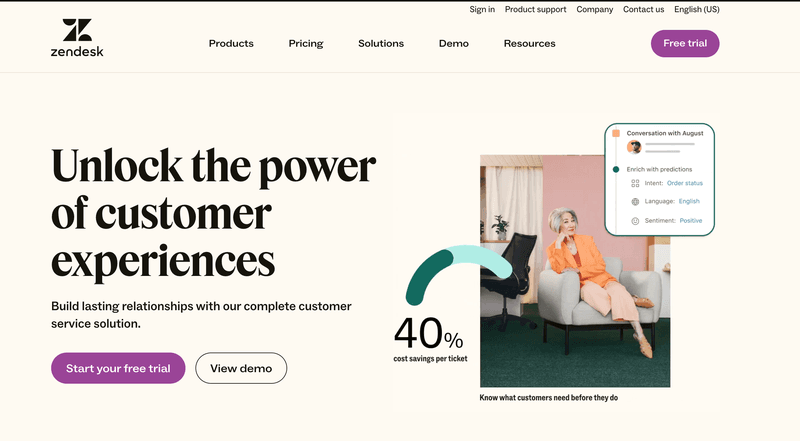 Pricing
Zendesk service plans start at $55 per agent per month. The Suite Professional plan is $115 per month and enterprises have to contact the team directly for custom pricing.
Main features
Help center
Messaging
AI and automation
Analytics and reporting.
ReAmaze combines live chat with other useful customer service features to create a help desk that solves most of the issues your customer support agents face. It integrates with Shopify, BigCommerce, and WooCommerce (although not many of the other popular eCommerce platforms) and allows you to consolidate all of your customer support channels in one place. You can automate common tasks using machine learning, saving you and your team valuable time.
With its Shopify app, in particular, you'll also be able to refund and cancel orders, view order status, and pin an order to a conversation.
Who is ReAmaze for?
The lack of auto-translate features might make ReAmaze less suitable for international brands, but in general, it's suitable for businesses big and small.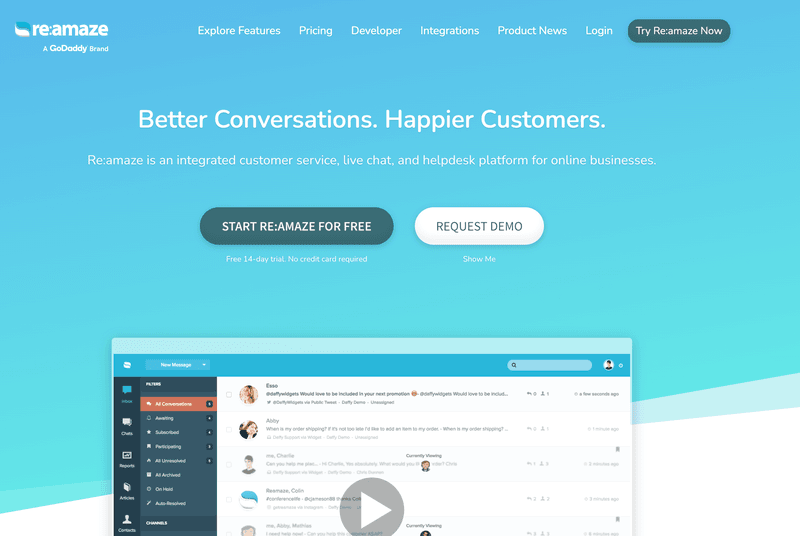 Pricing
You can try ReAmaze free of charge on a free trial. The cheapest pricing plan will set you back $29 per team member per month, or for more features, you can pay $49 per month for the Pro plan or $69 per month for the Plus plan.
Main features
Shared inbox for all support channels
Live chat and chatbots
AI automation.
UVdesk is an open-source help desk solution that integrates with Shopify to help you provide an unforgettable customer experience. Features include email management, multichannel support, ticket administration, and the ability to examine an agent's performance.
Its Shopify integration allows you to fetch order information directly on customer tickets using the order ID and keep all order-related information in one place. There are even fraud-related features, which allow support agents to establish whether a support ticket is fraudulent and avoid time-wasters.
Who is UVdesk for?
While UVdesk isn't marketed at any type of business in particular, some users report it being slightly challenging to navigate for first-timers. As a result, it's probably best for the tech-savvy eCommerce business owners out there.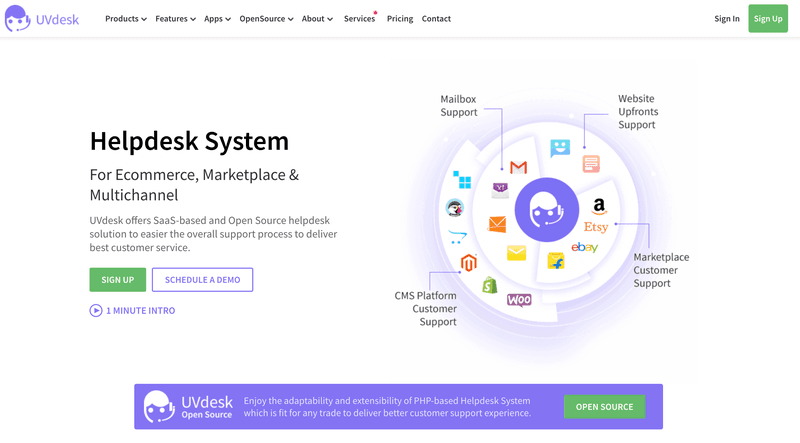 Pricing
You can use the open-source UVdesk for free, although that won't be as convenient for all users. Shopify store owners who would prefer to pay for the Pro plan can expect to pay $22+ per month, while enterprise users will be set back $36+ per month.
Main features
Seller central messaging
Ticketing system
Multichannel support
Reporting.
6. Gorgias
Gorgias is helpdesk software that's specially designed for eCommerce stores to boost customer satisfaction. Gorgias allows you to centralize all your tickets and queries in one place – no more flicking from a tab to answer a question. Gorgias supports omnichannel messaging, so it doesn't matter whether you receive messages via Facebook, a ticketing system, or multiple channels. You can manage them all from one dashboard.
The Shopify integration creates customer profiles within the ticket view to make it easier to access all customer data in one view. You can manage your Shopify orders from the helpdesk, too.
Who is Gorgias for?
Gorgias doesn't offer auto-translation, knowledge base or AI & automation out of the box nor does it offer many marketplace integrations, so it's probably better suited to smaller businesses rather than well-established, larger online retailers.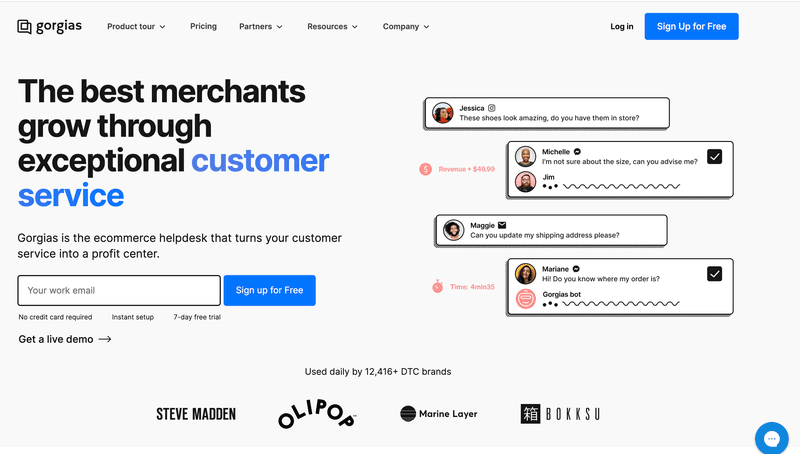 Pricing
Paid plans start from $50 per month for 300 tickets. Larger companies that receive a regular influx of customer support tickets will need to pay for one of Gorgias's more expensive plans, such as the Pro 2000-ticket plan for $300 per month or the Advanced 5000-ticket plan for $750 per month.
Main features
Order management
Customer sidebar
Live chat and email.
Richpanel's Shopify integration allows you to manage interactions and customer data from one place, with customer order details appearing on the Richpanel dashboard. From Richpanel, you can update accounts, addresses, and refunds – no need to leave the help desk dashboard.
The live chat incorporates personalization features, so you can make your customers feel like the valued individuals they are. Plus, the self-service options give users the autonomy to find answers for themselves when they don't feel like chatting with an agent.
Who is Richpanel for?
Richpanel is suitable for a variety of businesses. Their help desk app for Shopify doesn't boast as many integrations as eDesk, and it recently separated its chat and helpdesk products, meaning you have to pay twice for these. If you need to hit SLA's and provide fast response times then the lack of AI classification may be a concern.
If you're unsure whether Richpanel is compatible with your business, check its list of integrations.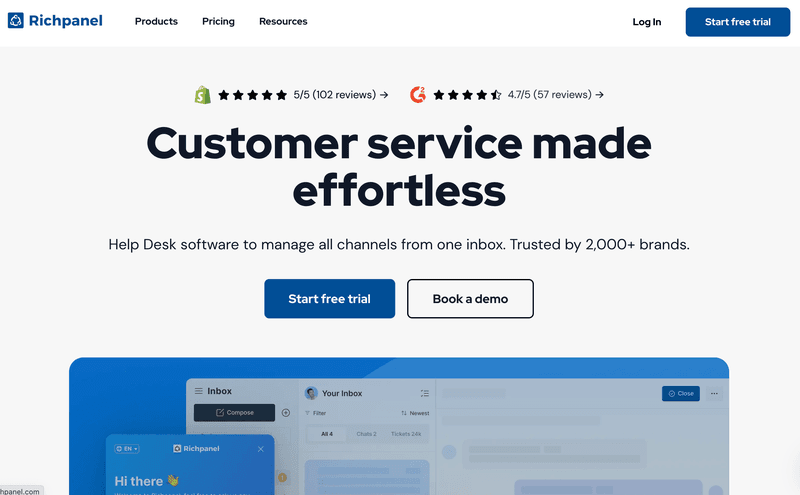 Pricing
The cheapest plan will set you back $29 per month per user. The Regular plan costs $49 per user per month and the Pro plan costs $99 per user per month. Enterprise businesses should get in touch with the sales team directly for a custom quote.
Main features
Multichannel messaging
Self-service options
Automation
Reporting and analytics.
Customer service software that converts
For the best return on investment when it comes to your Shopify customer service app, features are key. Luckily, eDesk combines all the features you need to take your customer communication to the next level in one handy platform. No more having to pay for multiple apps just to keep your customers happy – find everything you need in one place.
Say hello to customer support software that powers your profits and reduces the workload for your support agents. Say goodbye to repetitive manual tasks, unhappy customers, and poor reviews.