If you're an online seller, customer service for eCommerce should be at or near the top of your priorities list.
Why is it so important? And how can you perfect yours? Keep reading to discover crystal-clear answers to those questions, as we present our top 10 customer service tips for eCommerce brands.
Why is it important to provide great eCommerce customer service?
Customer service (CS) can make or break the success of a business. This is especially true for eCommerce businesses. Since shoppers aren't physically present in your store, these support interactions may be the only contact you have with a customer (I.E., your one chance to make an impression… and a sale).
eCommerce Customer Service Statistics
While it makes common sense that good customer service leads to positive business outcomes, let's look at a few statistics on the subject.
Customer Expectations
According to recent data compiled by Hubspot, a whopping 90% of consumers cite customer service as a major factor in deciding whether to do business with a brand. 63% of customers expect businesses to understand their needs and wants, and 90% rate an immediate response to inquiries as "important" or "very important."
Customer Loyalty
Want to encourage brand loyalty? A massive 93% of shoppers are likely to make repeat purchases from brands that provide excellent customer service. 94% of customers will also recommend a business if its customer support is "very good."
Personalized Service
Stats show that customers expect personalized service. In fact, 54% of consumers say they expect CS communications to be personalized. Your online conversion rate can increase by 8% if you offer a personalized customer experience (CX).
Top 10 eCommerce Customer Service Tips
Okay, so you know customer service is important. And you understand that the general idea behind good customer service is keeping customers happy. But, how exactly do you go about doing so?
We're glad you asked! As the eCommerce help desk of choice for more than 5,000 online sellers, we know a thing or two about providing great support. Here are our top 10 eCommerce customer service best practices and tips that you can implement today.
Note: Giving your shoppers great service doesn't have to be a chore. With eDesk, you can level-up every aspect of your customer support, all while spending far less time and effort on it.
1. Put together an organized CS strategy (and keep it updated)
All online sellers need to put together an eCommerce customer service strategy. Whether you're handling support on your own, or employ a whole team of customer service agents, an organized strategy leads to more consistency and better results.
Without a structure in place, your team may struggle to respond to customer queries as they come in. Inquiries could fall through the cracks. Response times and SLAs could suffer. Marketplace accounts could fall out of compliance. Customer satisfaction could drop, and your brand could start getting negative reviews.
However, by implementing a set strategy, you can make sure everyone on your support team has a protocol to follow when handling customer service. This involves laying out guidelines for how customer inquiries are managed (and by whom), organizing your customer messaging, and using the right tools to streamline your CS.
If the idea of organizing your customer service seems overwhelming, we've got great news. Our help desk for eCommerce can do it for you! With eDesk, you can centralize the customer messaging from all your marketplaces, selling channels, and communication platforms into one smart inbox. We also offer sorting and filtering options to help you prioritize inquiries and assign them to the right agents. Use our templates, automation tools, and AI-assisted features to reduce repetitive tasks, save more time, and send timely responses to customers even when you're unavailable.
2. Be easy to reach and respond quickly
A huge part of providing great eCommerce customer support is being easy to reach and quick to respond.
Customers shouldn't encounter any problems contacting your business. If they do, you'll likely lose sales and put your brand's reputation at risk.
For example, imagine a scenario in which a shopper is looking at a shirt on your website and wants to ask a question. By making it easy to contact you, and by responding quickly, you can increase the odds that this shopper will purchase from you.
Conversely, if there's no obvious way to contact you on your site, or if you take too long to respond, there's a good chance this shopper will simply go buy the shirt somewhere else.
Now, let's say the customer has bought and received the shirt. Unfortunately, they were sent the wrong size and contact you to complain. If you respond quickly, you can rectify the situation and offer a valuable solution. However, if you take too long to reply, the customer could become frustrated and leave a negative review.
Being easily reached and responding quickly are also key components to meeting SLAs (service level agreements) and maintaining good standing on eCommerce marketplaces. Use our help desk solution to keep things simple and respond to your customers in record time.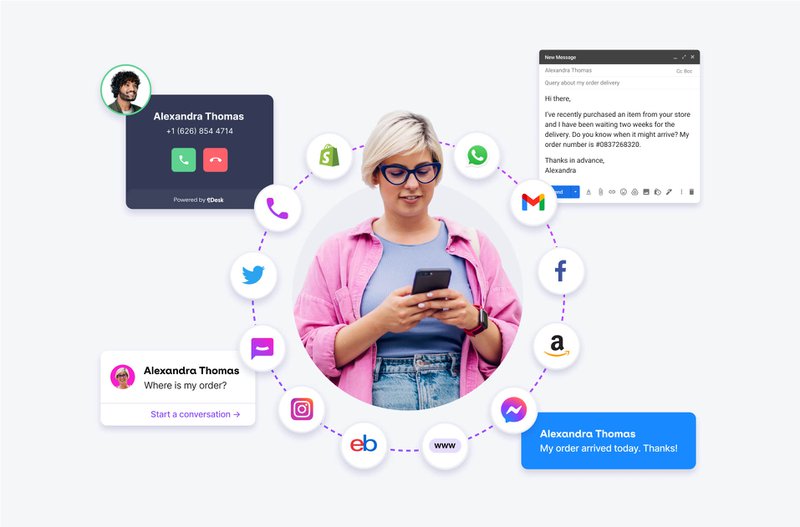 3. Meet customers where they are
Want to keep customers happy and make sure you're aware of any questions or needs they have? Meet online shoppers where they are.
This could involve offering live chat on your website(s) to support customers in real-time, using social media platforms as customer service channels (for example, using Facebook Messenger and WhatsApp to connect with customers), providing phone support, and keeping up with where your shoppers communicate online.
Note: eDesk makes it easy to meet customers where they are with our live chat functionality that you can install on any webstore, like Shopify.
4. Go the extra mile to ensure customer satisfaction
Go the extra mile to ensure customer satisfaction. After all, customer satisfaction is the desired end result of any customer service interaction.
Confused about a customer's query? Ask follow-up questions to determine needs and wants. Then, do everything in your power to answer the customer's question, solve the problem, and/or offer a resolution. This may mean you need to offer multiple options, or provide unique solutions to address a specific inquiry. The important part is to demonstrate that your brand is committed to delivering a positive customer experience (CX).
Going the extra mile also means providing proactive customer service. Don't just say you want to keep customers satisfied, take actionable steps to do so. For example, if a certain item is receiving frequent complaints, you should look at what improvements you need to make. This could eliminate the problem and prevent future queries regarding the issue.
Finally, customers want to feel like more than just a "number." That's why you should offer personalized service. Luckily, this doesn't have to be time-consuming. By using smart automation and tagging features, like those offered by eDesk, you can automatically add customer first names to messages and apply a range of additional personalizations to your messaging.
5. Adhere to your policies and promises
As an eCommerce seller, you need to adhere to any policies or promises you've put into place. This shows customers that yours is a trustworthy and dependable company.
For example, if you have a money-back, satisfaction guarantee on your products, you need to honor it.
6. Own any mistakes (and fix them)
Another key to great eCommerce customer service is to take responsibility for any mistakes and do whatever you can to fix them.
No one is perfect, and mistakes happen in every business. Your store may have sent a shopper the wrong size shirt, or left an item out of a multi-item order. Whatever the case, don't get defensive when a customer contacts you (even if they're frustrated or abrasive). Instead, admit any error and offer relevant solutions.
This also goes back to the importance of having a customer service strategy in place. You should have a clear escalation plan for when one of your agents is having trouble dealing with an unhappy customer. For example, if a certain type or level of complaint needs to be sent to a specific CS manager, this should be in your strategy.
7. Hire customer service representatives carefully
Speaking of customer service agents, you need to hire CS staff carefully. A great customer service representative should care about customer satisfaction, keep their cool in stressful situations, and be a skilled communicator.
8. Train your customer service team well and frequently
Once your customer service teammates are hired, you need to train them. Make sure every agent understands your customer service strategy, as well as their own responsibilities.
You should also revisit training often to ensure customer support agents remain up-to-date on protocols.
9. Save time wherever possible
Running an eCommerce business is hard work. That's why you need to save time wherever possible. This is especially true for the customer service aspect of your business, as it can get insanely busy.
By organizing the customer messaging from all your marketplaces and selling channels into one smart inbox, you can save loads of time. We also offer templates that you can use to easily answer FAQs, rather than having to type out the same messages over and over. And our auto-responder features let you send smart, automatic replies (even when you're not available).
Another great way to save time and effort is to offer self-serve options to customers. Post answers to FAQs on your website, put up a knowledge base and help articles, and provide other ways for shoppers to find answers to their questions without having to contact you. You can also link these FAQs and helpful pages in your live chat and on your contact page so customers with questions will see them. (Note: Hubspot research shows that customers prefer knowledge bases over any other self-service channel.)
10. Follow up with customers
Always follow up with customers after any interaction. If you do a great job providing customer service, then following up will let you know what you did right (and give you a chance to request customer feedback). And, if anything goes wrong, then following up will give you the chance to make things right.
eCommerce Customer Service: Final Thoughts
Customer service means everything to the success of your eCommerce business. Follow our top 10 tips to save time, smash support, delight shoppers, and watch your profits soar.
Want some help getting your customer service under control? Our help desk for eCommerce can help you do everything from centralizing your messaging to monitoring team performance. With a single organized inbox for all your customer queries, the ability to automatically assign certain messages to certain teammates, an easy-to-navigate dashboard, convenient templates, customizable auto-responders, and more, you can deliver exceptional customer service like never before – all while spending far less time and effort on it.