Back in April 2016, Walmart announced plans to improve its eCommerce marketplace by inviting more merchants to join. At the time it had less than 500 sellers on its platform. Now, four years later, 40,000 sellers use Walmart to access consumers across 27 countries.
Walmart has shaken up eCommerce and offers a new platform for multi-channel sellers to take advantage of. But before we get started with how to sell on Walmart, let's consider if it's right for you and your business.
Why should you sell on Walmart?
Walmart's eCommerce sales will more than double from $15 billion in 2017 to about $38 billion in 2020, according to Forbes.
In 2019, eCommerce accounted for around 8% of Walmart's total revenue and this is expected to increase to 11% in 2020. Overall, this would represent a 30% growth in online sales for Walmart and, if this comes to pass, the retail giant will own a 5% share in US eCommerce sales.
Many pros and cons come with selling on Walmart. But with its current focus on eCommerce growth and lower fees than Amazon, it's no wonder the marketplace is now attracting around 1,000 new sellers every month. However, not everyone can access its huge customer base.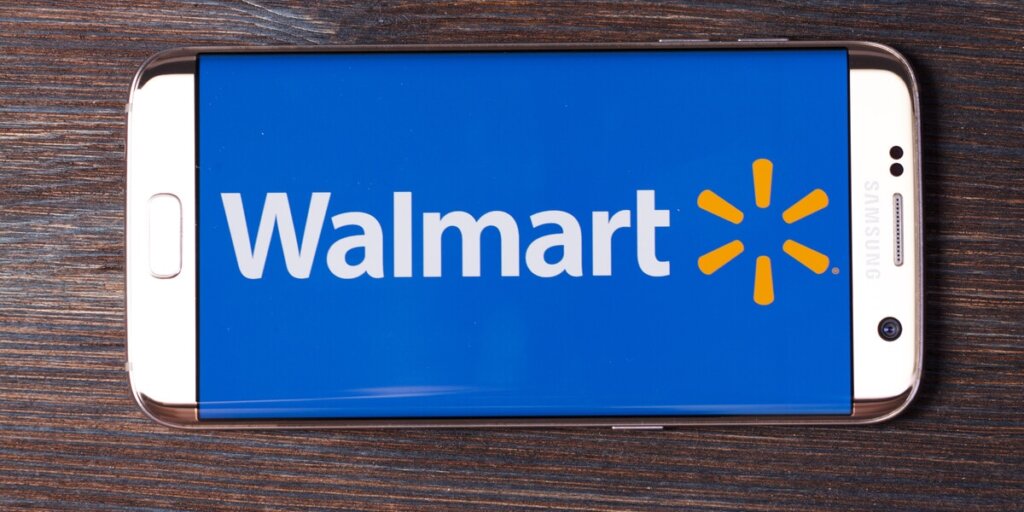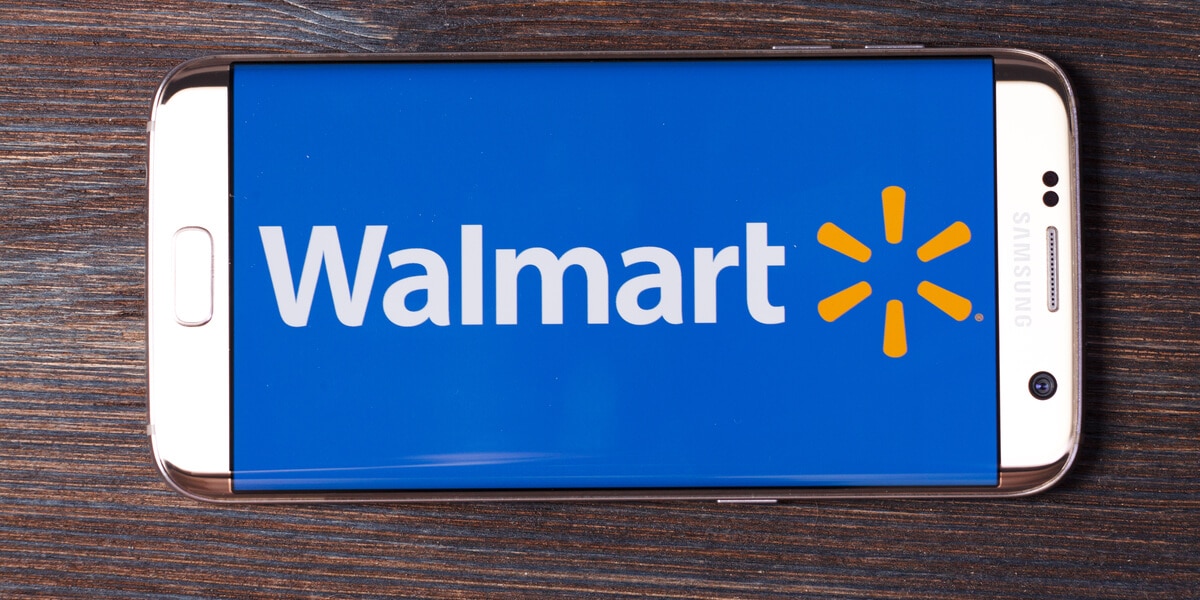 Who can sell on the Walmart marketplace?
From apparel and accessories, to electronics, furniture, food and software, Walmart offers the opportunity to sell a wide range of products across its 35 categories.
Although Walmart works in a similar way to eBay and Amazon, it doesn't allow all sellers to use its platform. It sets the bar higher for its merchants and only gives access to professional, established sellers who have a proven track record.
So if you're just starting out, it's best to launch a Shopify store or an Amazon dropshipping business before approaching Walmart.
When assessing third-party sellers, Walmart looks for
Well-established, reputable merchants
Unique brands and product selections
Merchants who provide excellent eCommerce customer service
Competitive prices
Quick and high quality fulfillment
In terms of mandatory requirements, Walmart sellers must also have:
A business registered in the US
A warehouse with a US address
International sellers may also have to provide a DUNS number
If you check all these boxes, Walmart will probably give you access to its marketplace. So it's time to look at how to sell on Walmart.
Step 1: The initial application
Walmart's stringent standards means it's an invitation-only marketplace. So, you have to fill out an application to prove you're up to the job.
This will slow down your marketplace set up. But it also means that less sellers and competitors make it onto the platform.
To request access to the marketplace, you'll need to fill out this application form. For experienced sellers, it should only take about 15 minutes – as long as you have all the necessary documentation to-hand. Along with some basic details, you'll need your:
First, under the Company Registration section, you need to provide your personal and business details, along with the above information.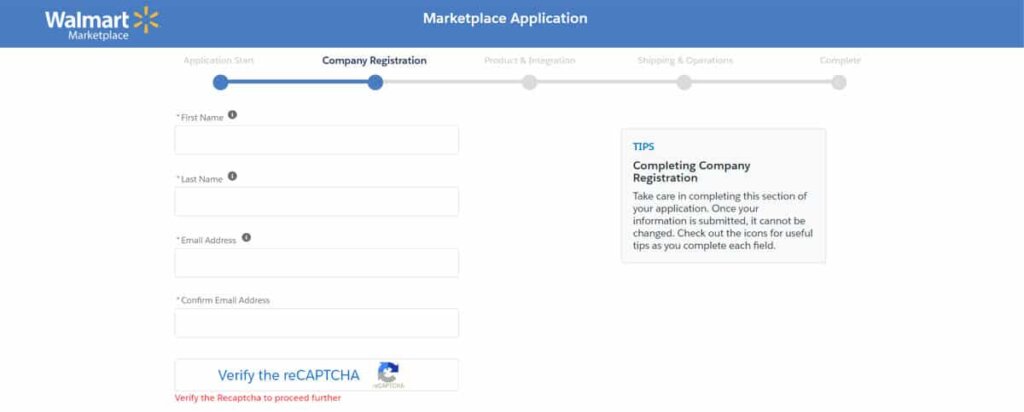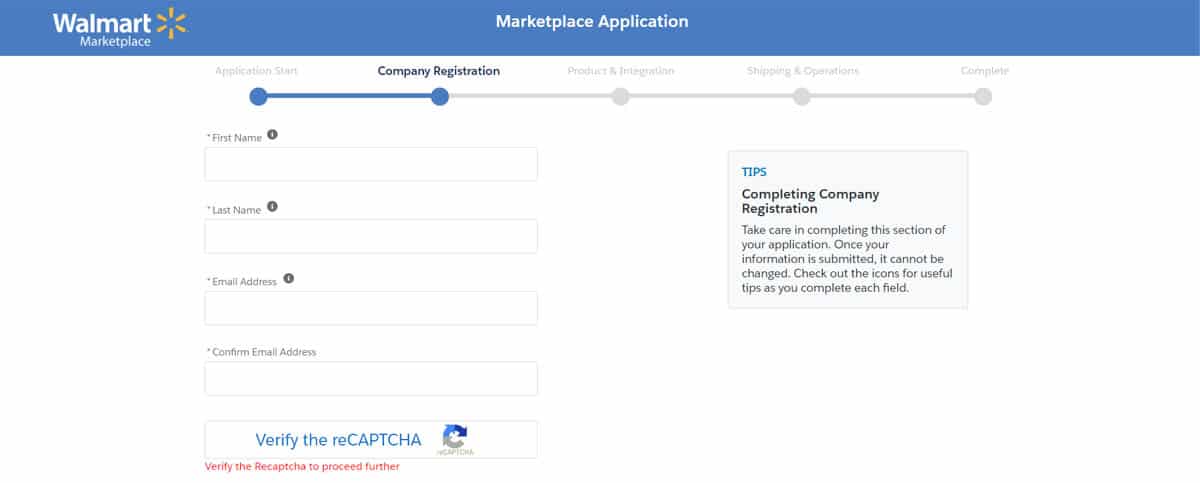 Next, under the Product and Integration section, you'll need to share your average online revenue and details on the number of SKUs you plan to upload to the marketplace. Walmart looks for details on how many of your products will be refurbished, used and without UPCs.
Though not mandatory, it also looks for the name and URL of your Amazon seller account.
It then asks how you'll upload and manage inventory. Choose 'Direct through portal' if you plan to list products using the Seller Central application or API. Alternatively, you can choose 'Using solution providers' if you plan to use a third party tool, like ChannelAdvisor or Linnworks.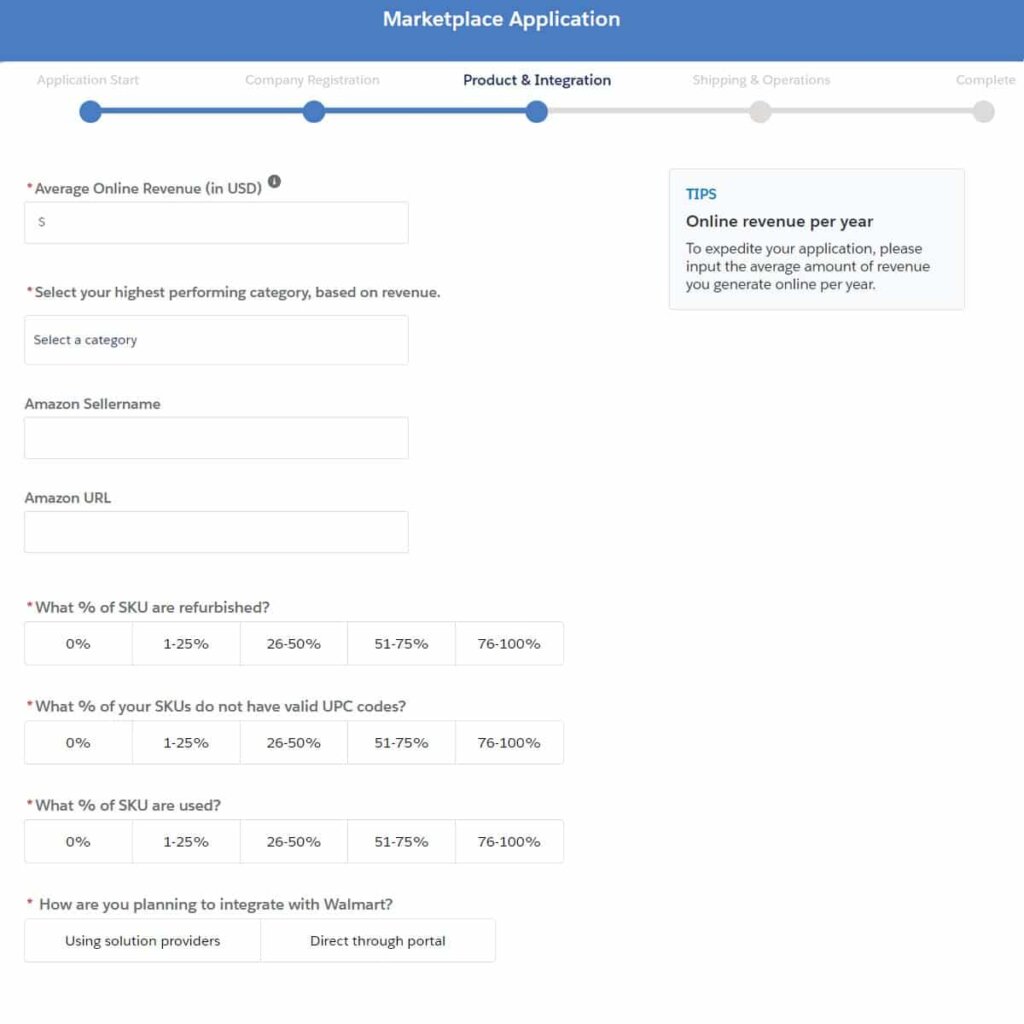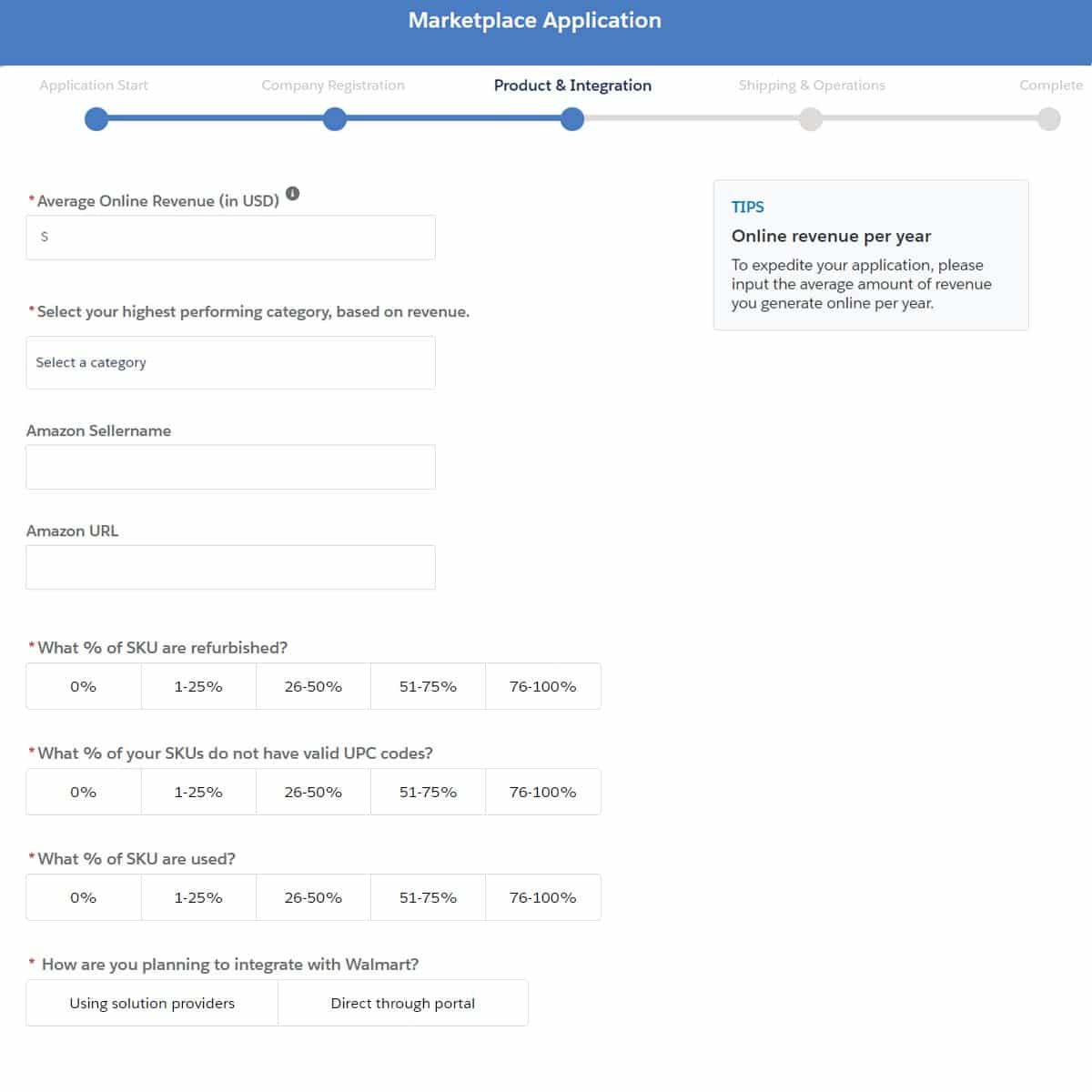 Under shipping and operations, you need to fill in some basic details around the location of your warehouse and the operator you use for shipping.
The form finally ends with the question: 'Why would you be a good fit for Walmart marketplace?' Then, your application is complete and ready to submit.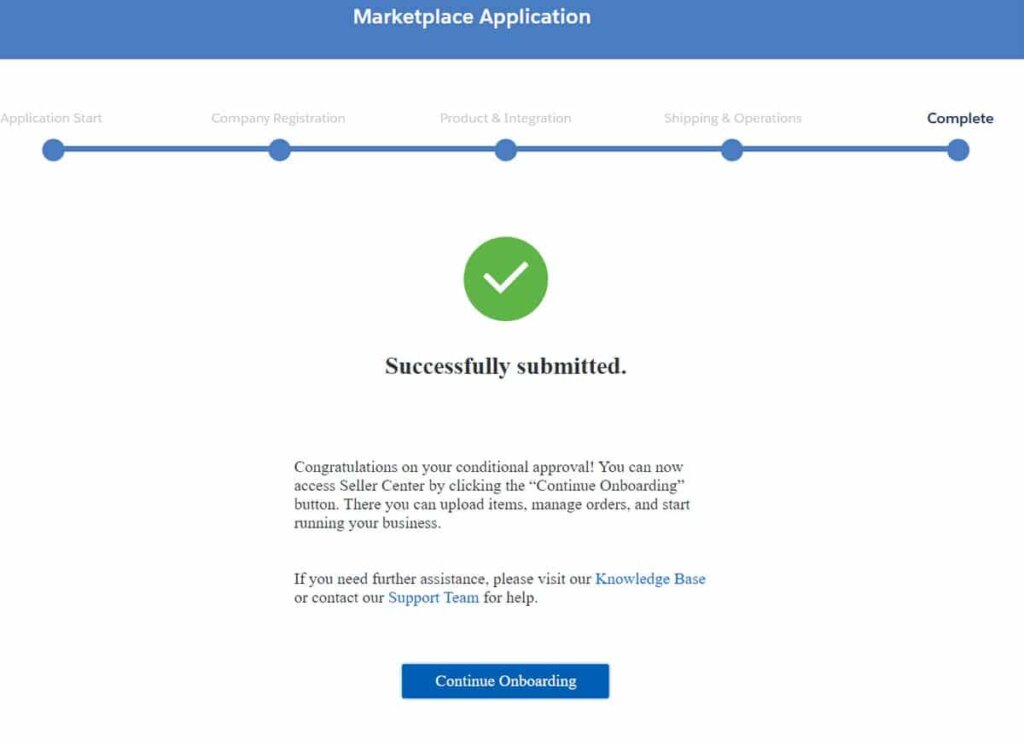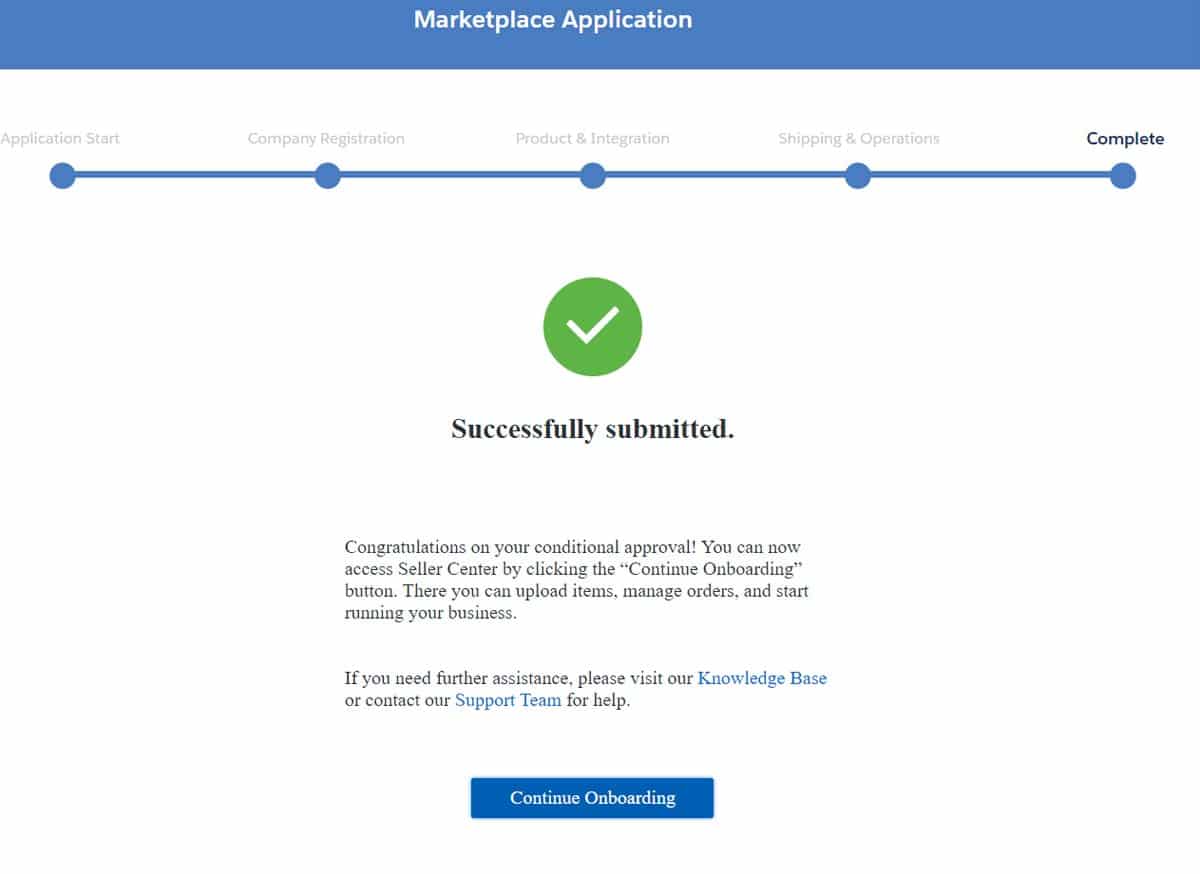 It can take a couple of weeks to hear back about your application. You can wait until you get a congratulatory confirmation or, if you feel confident the application will go through, you can get started with the next step.
Step 2: Onboarding
Walmart's onboarding is quite similar to the application process, but it requires some more paperwork. We'll take you through the five steps.
First of all, you need to create an account. Just fill in a password and some security questions.
Next, you need to sign off on the Walmart seller agreement. Take note of the marketplace's prohibited products, which is key to knowing how to sell on Walmart.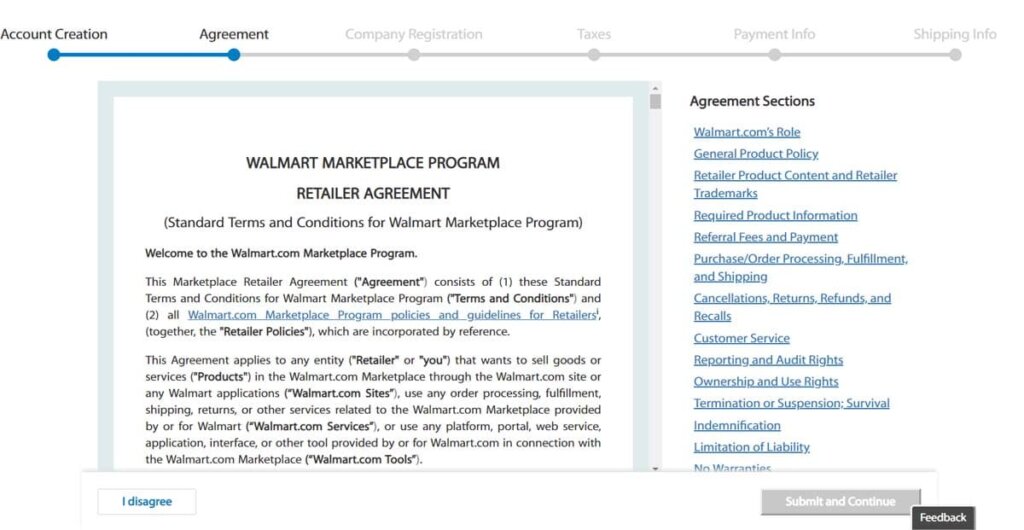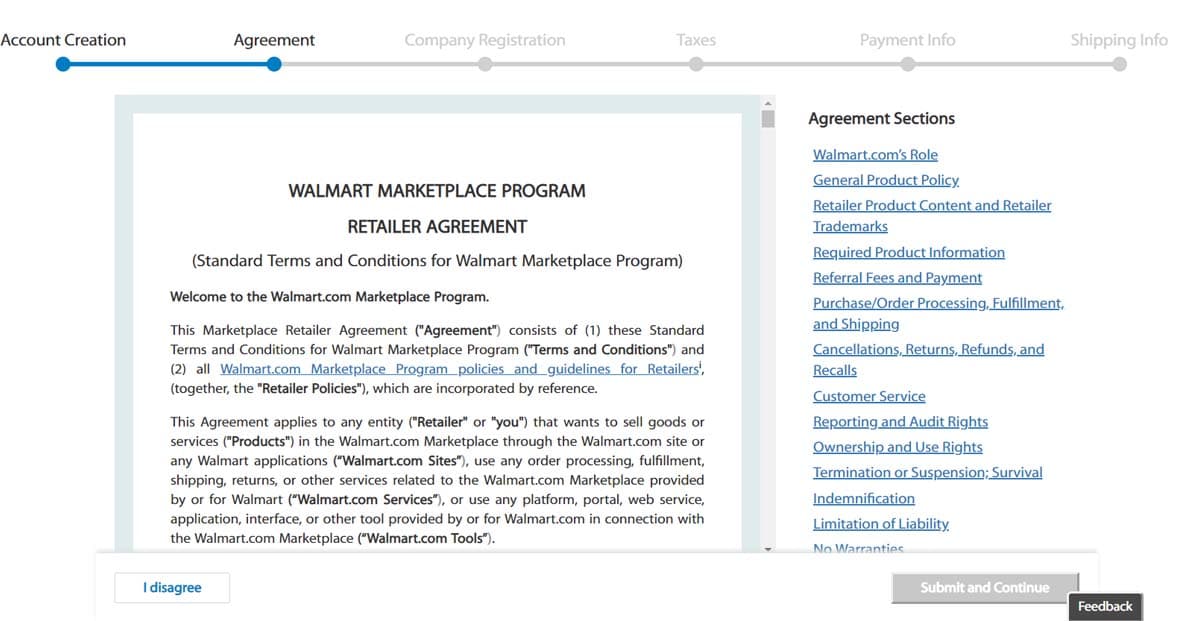 Next up, is Walmart's company registration. Here, you set the display name shoppers will see.
Then, you upload a Form W-9 and sign off on the details of your company taxes. Walmart needs a Form W-9 to report the payments you receive on Walmart Marketplace to the IRS. This also allows it to issue sellers a 1099 at the end of each year, which companies need to file taxes. Non-US business owners will need a Form W-8 ECI instead.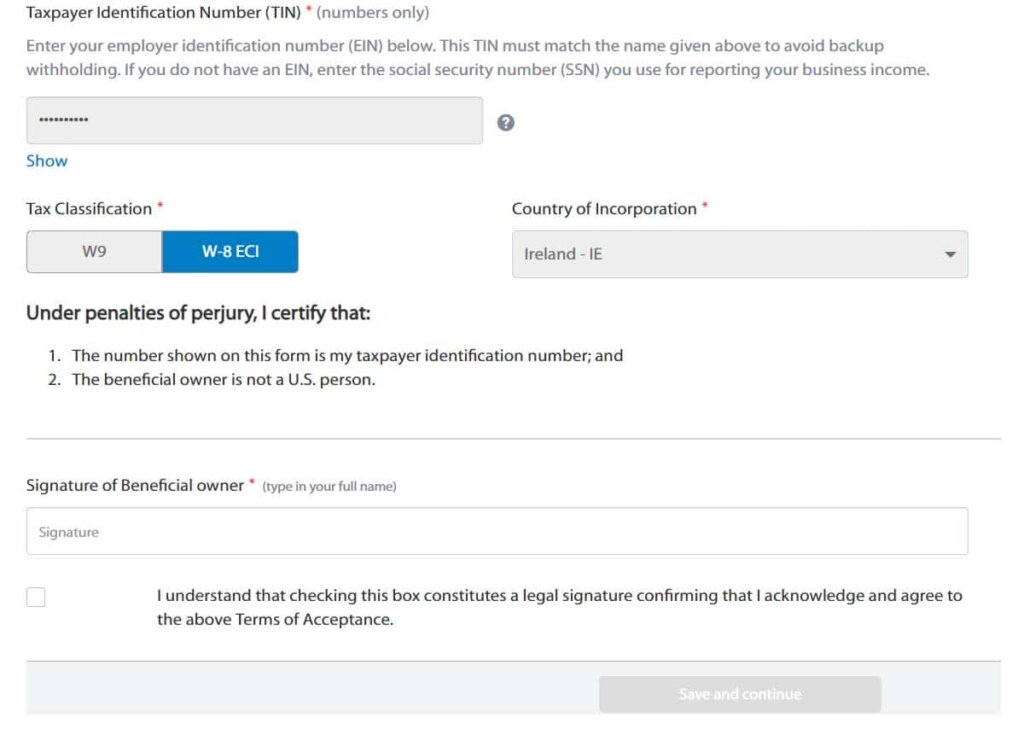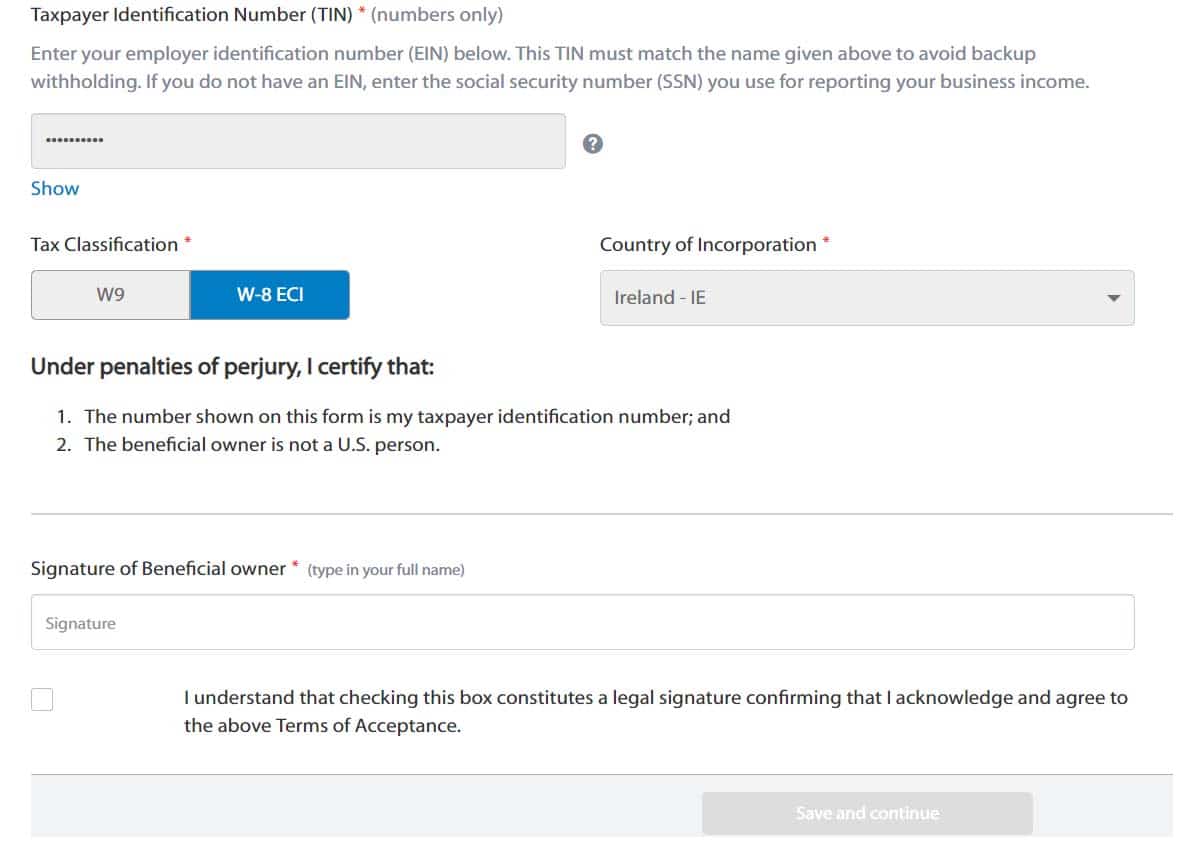 To complete your payment info, you'll need to sign up for Payoneer. This is how Walmart processes all of its payments and deposits money to your bank account. If you already have an account, you can link it to your marketplace profile. Otherwise, you'll have to sign up. Just make sure to do it through the Walmart marketplace so you don't have to pay any unnecessary fees.
Last but not least, you need to fill out your account's default shipping info. This may take some consideration, as you'll have to include a pricing model, default shipping method, transit times and the locations you deliver to for all your products.

You can decide whether shipping is based on weight or number of items, as well as whether you plan to offer free shipping or tiered pricing based on an order value.
However, if you'll be selling products that don't fit with these default settings, you can edit the shipping details for specific items later on. In fact, all your default shipping settings can be updated as necessary.
Step 3: Completing your account set up
Once you've completed the onboarding process and received approval for your seller account, the last thing you need to do is complete the Launch Checklist.
This guides you through everything that has to be done before your account can go live.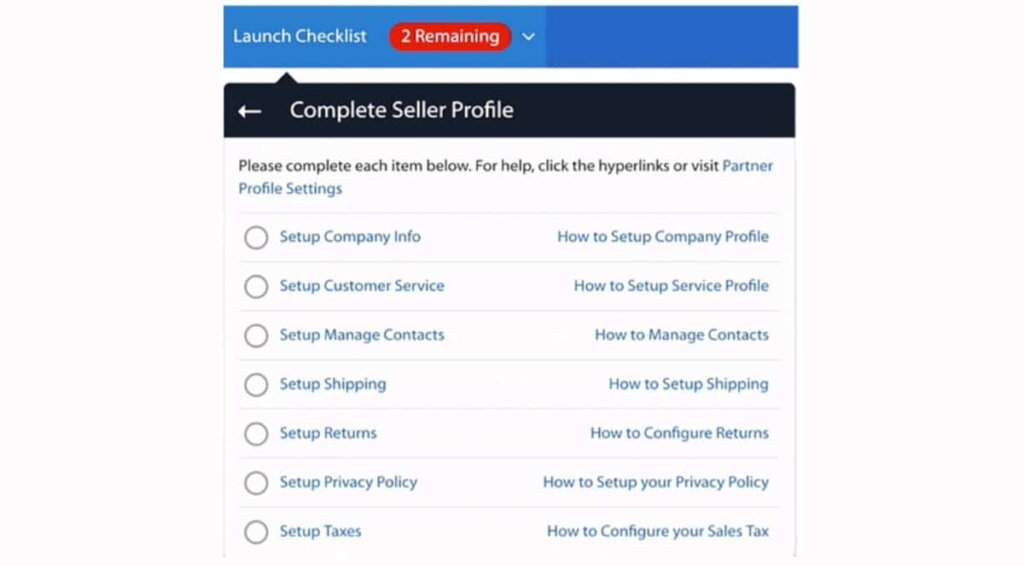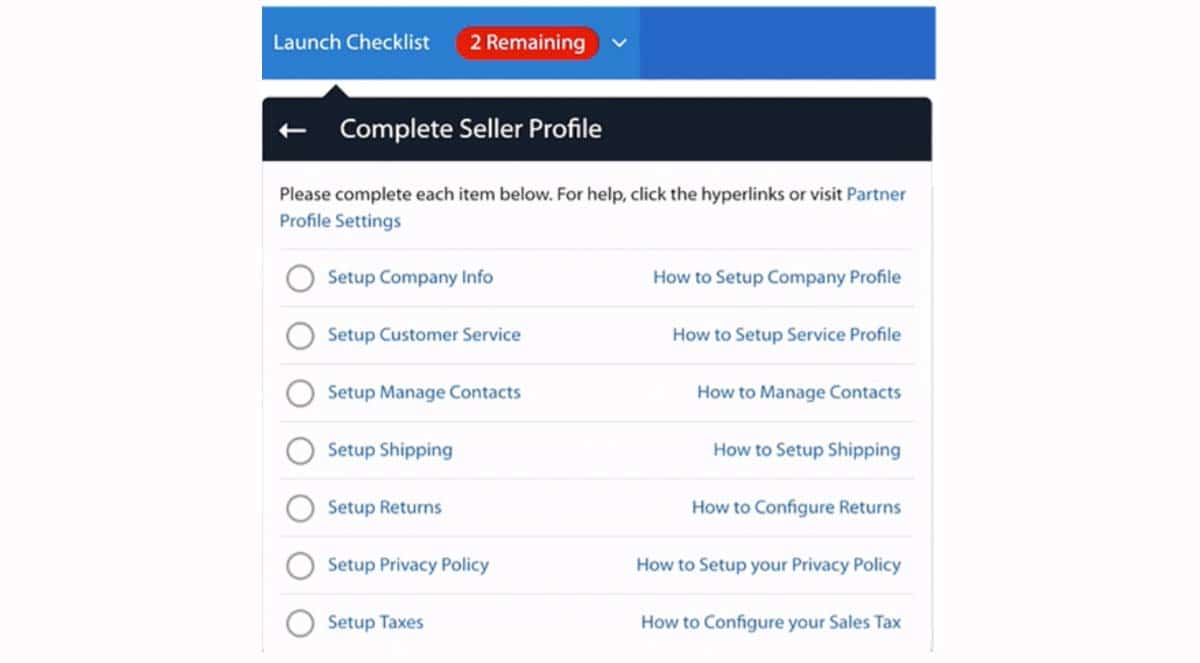 First, you need to fill up all seven sections of your seller profile. This should include:
Company info: Your display name, logo (400×50 pixels) and a short company description (up to 4,000 characters)
Customer service: Details on how customers can contact you, including email, phone number and customer service policy
Manage contacts: Contact details for all the different departments of your business
Shipping: Here, you can add your shipping policy, pricing and tweak anything you aren't happy with during your onboarding set up.
Returns: This is about setting your returns policy, address, rules and labels
Privacy Policy: Details on how your business handles and secures customer data (up to 4,000 characters)
Taxes: You can configure your sales taxes so that Walmart collects them for you. This is an optional setting, but a very useful one. It's tricky to set up state by state, but you've probably done it before. Once done, make sure to click 'Mark Nexus Setup as done'
Next, you need to choose the method you'll use to manage your inventory and review some guides which are essential to knowing how to sell on Walmart.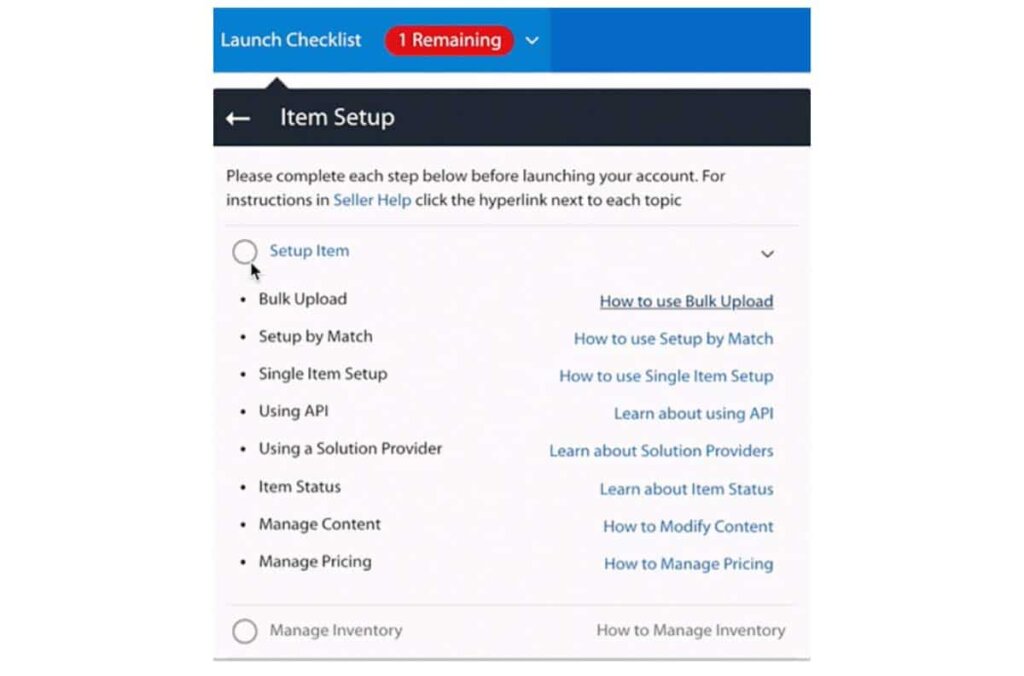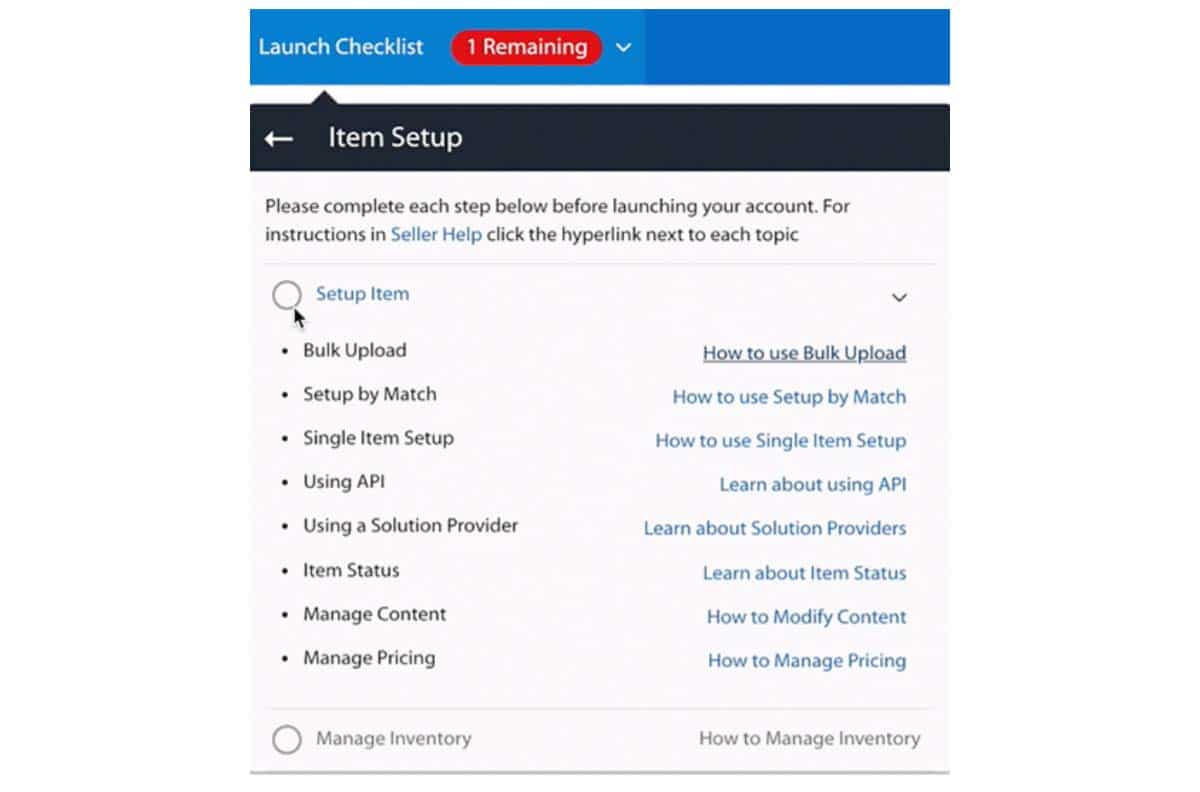 Your options for uploading listings are:
Single item set up: You add all the data for each item, one at a time
Set up by match: If your product is already live, you can add your name to the listing without uploading the product data yourself
Bulk uploads: Smaller sellers can create a CSV file of items to upload using a Microsoft Excel or Google Sheets spreadsheet
Using an API: If you have development expertise on your team, you can connect your eCommerce platform with Walmart's marketplace API to automatically upload inventory
Using a solution provider: If you have an eCommerce website with the likes of Shopify, BigCommerce or WooCommerce, you can link your online inventory directly to Walmart. But you'll have to pay a sizable monthly fee
Finally, once you've got some items uploaded and they look okay, you'll need to read through Walmart's resources for managing inventory. Then, with the checklist completed, you're finally ready to sell. You can confirm that you're ready for your account to go live.


Try a better way to support your customers. Sign up for a 14-day trial today. No credit card needed.