Any eCommerce store owner knows that owning an online store comes with challenges. There's the issue of how to provide excellent customer service, how to design a store with little to no design experience, and where to market your store. But arguably the most difficult aspect of running an eCommerce business? Fulfilling orders.
Enter: dropshipping.
Dropshipping is a method of fulfillment in which a business doesn't stock the products it sells. Instead, the eCommerce business owner will purchase the inventory of a dropshipping business as and when needed. The dropshipper will usually send the product directly to the customer.
In that way, a business using the dropshipping model acts as a middleman between the customer and the products, rather than manufacturing the products themselves.
TL;DR
CJ Dropshipping is a dropshipping platform based in China that offers hundreds of thousands of products. Product categories range from health and beauty to computer and office.
This dropshipping platform integrates with some of eCommerce's biggest players, including eBay, Shopify, and WooCommerce.
Although the dropshipping business model limits personalization of products, with CJ Dropshipping you can customize product design, product pictures, and even the packaging it's shipped in.
To maximize your chance of eCommerce success using CJ Dropshipping, research the best-selling products, write detailed product descriptions, upload product photos and videos, and implement SEO strategies to attract more traffic to your site.
What is CJ dropshipping?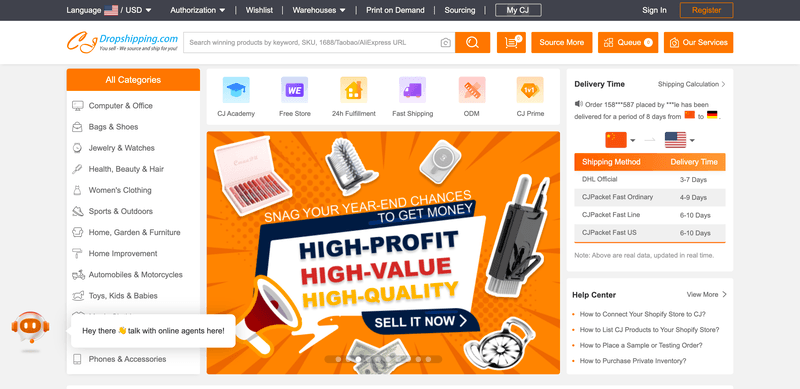 There are several dropshipping companies to choose from if you're interested in working with this particular business model. One of the best-known is CJ Dropshipping, a China-based wholesale company that's been around since 2014.
CJ provides dropshipping services including product sourcing, processing orders, product branding, custom packaging, and even shopping services that eCommerce sellers can take advantage of.
As it stands, CJ Dropshipping offers around 400,000 products for dropshipping spanning various categories. The platform can easily connect with eCommerce giants such as eBay, Shopify, and WooCommerce. The best part? CJ Dropshipping ships worldwide, so you can run your eCommerce store from anywhere and connect with global customers.
Benefits of using a dropshipping company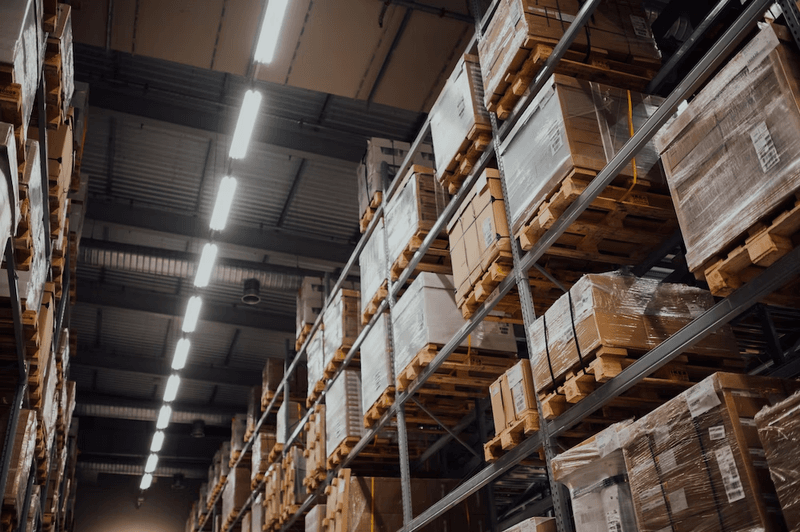 Easy to get started
If you're new to eCommerce, one of the hardest things about setting up your online business to begin with is sourcing stock and finding somewhere to store it. Then there's the question of how much inventory to buy. Buy too little, you risk disappointing customers when their favorite item sells out. Buy too much and it doesn't sell, you risk wasting valuable capital.
The beauty of dropshipping is you don't have to start building an inventory and second-guessing the products that will or won't sell. Simply start selling online, and order as many products as you need, when you need them.
There's less to worry about, too. Remove the need to find a shipping company and track inventory, and you significantly reduce your manual workload.
Less upfront cash required
The challenge most likely to discourage budding eCommerce entrepreneurs from making a start is a lack of capital. Dropshipping solves this problem.
With dropshipping, you don't have to worry about buying thousands of dollars worth of inventory. Instead, you can save your money to use elsewhere, such as on social media marketing, or a killer eCommerce customer service platform to supercharge your sales.
Flexible location
Fancy being a digital nomad? Want to hire remote staff from across the globe? One of the biggest perks of running a business with a dropshipping model is that you can do it from anywhere.
You're not tied to a location near where your storage or suppliers are based, giving you the freedom to work wherever best suits you. Your customers aren't geographically limited, either. Because companies like CJ Dropshipping have warehouses all over the globe, you're able to ship more flexibly than you would if you manufactured and stored your own products
Easily change your products
Every eCommerce seller's worst nightmare is spending money on a ton of stock, only for customers not to be interested. In that scenario, you're left with products you can't shift, and you've wasted valuable money that could have been spent growing your business.
Dropshipping avoids such a scenario. If you initially opt for a product line that doesn't interest consumers, you can easily switch to another one. You won't have purchased any inventory, meaning nothing goes to waste.
It also removes much of the risk of setting up an eCommerce store. If your initial concept fails, you'll be able to quickly pivot to another sector without significant financial loss.
Things to consider
Choosing the right supplier
Finding a supplier you trust is hard enough when you're manufacturing your own products, but a dropshipping supplier can make or break your business. If their products are poor or they're too slow at shipping orders your customers will be upset – and you're the face of the company, so you'll have to deal with it.
With that in mind, choosing the best dropshipping business to work with is vital, so opting for a well-known, reputable company like CJ Dropshipping is recommended.
Lower profit margins
Many businesses that operate with a dropshipping business model will sell products at ludicrously low prices to start growing because the overhead costs are so minimal. This can make the competition in the world of dropshipping a race to the bottom, with companies competing until eventually the profit margins reduce significantly.
If you want a store with long-term success, don't try to emulate these low-quality sites with poor customer service. Instead, choose the right products, select a niche that's well-suited to dropshipping, and offer customer service that goes above and beyond that of your competitors. These factors will help differentiate you from a crowded marketplace with low prices.
No control over the product
Because you're shipping somebody else's product, dropshipping gives you little control over the product itself and the branding. This is not an issue for the revenue potential of your products, it's just something to bear in mind if you're a passionate creative.
If you've ever dreamed of designing and developing your own products from scratch, dropshipping probably isn't the right long-term solution for you.
Why choose CJ Dropshipping?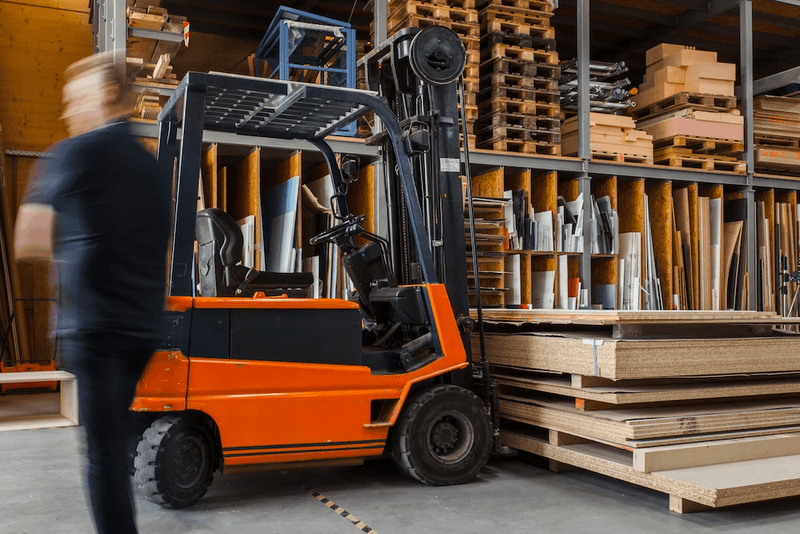 As discussed, choosing the right dropshipping supplier to work with is paramount to your store's success. One of CJ Dropshipping's biggest selling points is that it's a one-stop shop for all things dropshipping, whether that's product creation and personalization or timely shipping.
CJ allows you to buy dropshipping products at wholesale prices (and offers wholesale fulfillment) without having to buy the volume typically associated with wholesalers. The more you buy, the better the value, but you don't need to buy a huge number of products for buying from CJ Dropshipping to be cost-effective.
Finally, this platform has been entirely created for dropshippers. The professional team behind the supplier offers reliable customer support and extensive knowledge of which products are currently most popular in an eCommerce space. Plus, all of CJ Dropshipping's products undergo quality inspection, so you can rest assured you're getting bang for your buck.
If you have any queries, the helpful CJ team will be happy to help you out, and you'll be assigned a personal CJ agent to look after your account.
If you're new to dropshipping, you'll get a lot out of working with such an established dropshipping partner. Not to mention there are no setup or recurring fees and no minimum order quantity – saving you money that can be put back into growing your store.
How to use CJ Dropshipping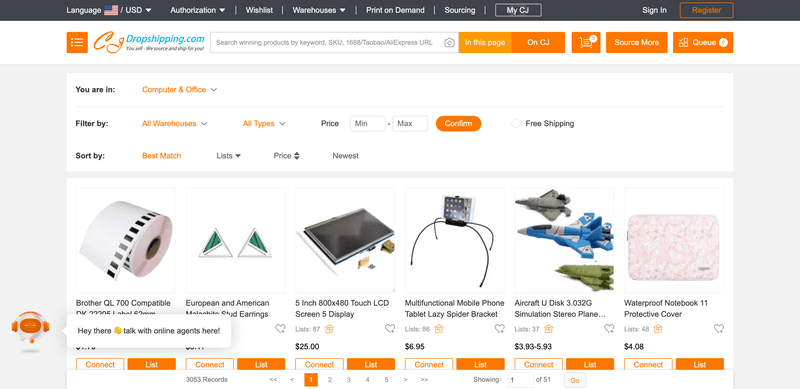 Authorize your store
If your online store or marketplace was created with one of CJ Dropshipping's integration partners, you can authorize your store to begin automating your orders. This authorization means any orders placed on your own website will pull through automatically to your CJDropshipping account.
Navigate to the Authorization sector on CJ Dropshipping, then select your eCommerce provider from the list provided. There you'll find detailed instructions on how to link CJ to your own website in just a few clicks.
Find your product niche
CJ Dropshipping has a seriously impressive inventory for you to choose from, with hundreds of thousands of products and several categories. Categories include jewelry, health and beauty, home and garden, electronics, and more.
One of the best aspects of opening a dropshipping store with CJ is that the products are picked especially because of their relevance to the market. While the wholesaler has slightly fewer products available than other dropshipping providers, this is because CJ Dropshipping purposefully selects products that are doing well in the eCommerce space.
Another plus point is the user-friendly and intuitive interface. If you regularly shop online, you'll be familiar with the type of interface CJ uses, so it doesn't take much getting used to for newbies.
Looking for a particular product? CJ dropshipping has a handy filter feature you can use to filter by price, free shipping, supplier products, and warehouse location. You're also able to search by keyword. The dropshipping store even has a US-based warehouse that's perfect for stateside eCommerce sellers.
Source your products
One of the main advantages of CJ Dropshipping is that it allows you to request a specific product to be made available on the platform.
If you've been keeping on track of eCommerce trends or you've found another product type that would complement your existing inventory, you can get in touch with CJ Dropshipping directly and request that they add the product to their catalog. It's not guaranteed, but the team will certainly do its best to source it.
Download videos and images
It's no secret that adding high-quality images and videos to a product listing increases sales, with 8 out of 10 consumers purchasing an app or software after watching a brand video, and 88% of video marketers being satisfied with their ROI.
CJ Dropshipping knows how key images and videos are to increasing conversion rate, so they enable users to download product videos and photos directly from their site. Adding these videos and images to your product description boost sales and reduces returns because consumers have clearer expectations about the product they're buying.
The benefits of working with CJ don't end there. You can actually request a custom photo or video to be made about a particular product, taking a more personalized approach to your marketing strategy.
Try print-on-demand products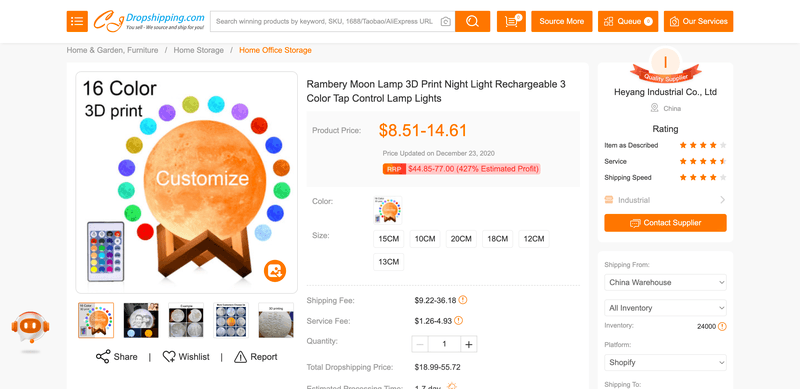 The holy grail of eCommerce products is personalized products. Whether that's products that are personalized to your brand or a particular customer, consumers want to know they're getting one-of-a-kind, unique pieces. Plus, creating customized and personalized goods allows online retailers to access their creative streak. That's where print-on-demand products come in.
Print on demand is only available on some of CJ Dropshipping products, but it allows you to create custom designs on anything from jewelry to photo frames. To get started, simply go to one of the print-on-demand applicable products, select 'Design', and get creative. Once complete, you'll be able to see a mockup of how your product will look once it's been created.
Create custom packaging
While one of the downsides of dropshipping is the lack of branding, the benefit of working with CJ Dropshipping is that the popular order fulfillment giant allows for custom packaging.
By using custom packaging, you can strengthen your brand by differentiating yourself from competitors without having to deal with the logistics of order fulfillment. To access the branded packaging feature, log in to your CJ account and go to My CJ>Custom packaging.
In this section you'll find two options: Pre-Designed Packaging and My Custom Packaging. Within the Pre-Designed Packaging section there are existing packaging options made from different materials, include more sustainable packaging if you want your store to be more eco-friendly. You'll also find 'Thank you' tags and stickers to add to your packaging for a personalized touch.
If you don't plan on adding your own logo to your CJ packages, pick one of the pre-designed options. If you want to use your own branded packaging, upload a design to the Custom Packaging section of the CJ website. If you have any issues with uploading custom packaging to your CJ account, a customer service agent will be more than happy to help.
Consider wholesale fulfillment
If the dropshipping model's not for you, but you're attracted to CJ Dropshipping's wide array of budget-friendly products, consider the wholesale order fulfillment service.
You can order items in bulk, which CJ will then send to one of its eight warehouses and store for you. You'll then be charged the processing fees.
Create your listings
For dropshipping stores, there can sometimes be fewer ways to stand out from the crowd than those available to competitors who create their own products. That means the quality of your product listing is more important than ever.
With CJ Dropshipping, creating new listings on your online store couldn't be easier. When you find a product you like the look of, click the List button on the product description page. If you're unsure which products work best for dropshipping stores, choose products that fit into a particular niche, fill a gap in the market, or solve a common problem for consumers.
A pop-up wizard will appear and allow you to edit details such as the title, price, and product details before you push your new listing live. Consider optimizing your description with keywords relevant to your sector for maximum reach.
You can then use CJ's product photography and demo video-making service for access to exclusive, professional photos and videos for a low fixed cost.
Manage and process orders
Make your CJ Dropshipping experience as seamless as possible using eCommerce integration options. If your online store is already connected to the popular dropshipping service site, any orders will be automatically imported to your CJ account for you to process.
CJ Dropshipping integrates with Shopify, Wix, Etsy, Squarespace, Magento, WooCommerce, eBay, Shopee, BigCommerce, and Lazada.
To process orders, log in and navigate to the Imported Orders section. Orders can also be manually imported to your CJ account or placed directly through the website, as long as you input the customer's shipping address.
You'll be provided with tracking information once the order has been dispatched. For excellent customer service credentials, forward the tracking information to your customer as soon as it becomes available.
Maximize sales
Once your store is live, the only thing left to focus on is maximizing sales. CJ Dropshipping takes care of order fulfillment – you just need to make sure the orders come rolling in. Straightforward but effective ways to increase conversion rate include offering free shipping, reducing response times, and using SEO to improve your site's online ranking.
Conduct competitor research to find out what successful businesses are doing to increase their sales and follow suit – putting your own unique twist on their techniques, of course.
CJ Dropshipping Alternatives
AliExpress
AliExpress (commonly compared to similar competitor, Alibaba) is a dropshipping platform that dropship products on behalf of individual online retailers as well as selling some stock directly to consumers. AliExpress operates globally but is particularly popular in the US.
The company follows a similar process to the traditional dropshipping model, but also includes specialist services and support such as software development.
Just like CJ, AliExpress makes it easier to import low-cost, high-margin items to your online store thank to its cheap pricing and wide range of products. AliExpress also provides photos of each item as well as product descriptions, both of which you can import directly to use in your store.
Spocket
If you're based in Europe, a CJ dropshipping alternative is Spocket. Spocket is a dropshipping app that offers integrations with Shopify and WooCommerce stores. Just like CJ dropshipping, Spocket has a wealth of products available in different categories, and you can choose your products based on location and other characteristics.
FAQs
What shipping method does CJ Dropshipping use?
The shipping method used varies, depending on the product purchased and the location of the customer. The main shipping methods used by the dropshipping giant include famous postal services like USPS and DHL, plus their own special delivery service, CJPacket.
CJPacket is highly recommended by the dropshipping company for fast shipping. Its tracking numbers can be tracked in real time, and this shipping method is accepted by popular eCommerce platforms like eBay and Shopify.
Be smart about which shipping method you choose because fast, reliable shipping is an underrated aspect of your customer service strategy.
What is CJ Dropshipping shipping time?
As with most dropshippers, the shipping time depends on the shipment's destination. For a shipment to the US, the average delivery time is between 10 and 22 days. In general, shipments from CJ won't take more than approximately 25 days to arrive.
What are the advantages of dropshipping with CJ?
One of the main advantages of CJ Dropshipping is the affordable, wholesale prices with no minimum order quantity.
Then there are the personalization features. Dropshipping takes most of the personalized approach out of selling online, which is why it's so impressive that CJ allows you to request custom products, photos, and videos. As well as custom products, you can customize packaging to bring it in line with your branding.
When it comes to international order fulfillment, there are CJ warehouses across the globe in China, the US, Germany, Thailand, and Indonesia. This abundance of international warehouses helps to keep shipping times short no matter what continent your customers are based in.
What is cash on delivery and does CJ accept it?
Cash on delivery (known as COD) is a type of payment that involves paying for the items upon receipt rather than in advance. This can be beneficial for online stores experiencing temporary cash flow issues.
The cash in the title doesn't have to refer to actually cash – often credit card payments are accepted. CJ Dropshipping offers this type of payment for dropshipping store owners.
What if the customer no longer wants the package after receiving it?
If a product arrives with a customer. and they don't want it, you'll have to bear the shipping cost. You're able to return items to CJ's warehouse in Thailand, but you will have to pay the shipping costs.
Avoid paying shipping fees for returned items by giving customers a transparent insight into what they're buying. By adding product images and videos to the product description as well as including a detailed description with dimensions, you'll reduce the chances of products being returned.
How can I calculate the shipping rate for my products?
Before entering the shipping cost on the CJ platform, there will be a calculator item you can use to check the estimated cost.
The bottom line
Dropshipping is an excellent business model for budding eCommerce entrepreneurs hoping to grow a successful online store, and there are few better dropshipping suppliers than eDesk partner, CJ Dropshipping.
Thanks to features such as product requests, extensive product descriptions, and the inclusion of videos, CJ makes it easier than ever to grow a comprehensive business without having to store a single product.
Looking for other ways to grow your dropshipping business? You'll need a customer service helpdesk. With the ability to control all your customer interactions from one handy dashboard and a live chat feature that reduces response times, a customer service helpdesk is the performance tool to supercharge your sales.
You could blend in with all the other dropshipping stores and risk receiving poor customer reviews that jeopardize your business. Or, you could invest that extra capital not spent on inventory into customer service software that will make your dropshipping store truly stand out from the rest. If the latter interests you, try eDesk for your dropshipping business.