We are ecstatic to announce the official launch of eDesk AI! This iteration of our customer service software marks the next generation of artificial intelligence for eCommerce, and is unlike anything the industry has ever seen.
With eDesk AI, eCommerce sellers can.
Save significant amounts of time and effort.
Handle customer inquiries more easily and effectively (sometimes "HandsFree").
Know customers' moods before ever interacting with them.
Much more.
Keep reading to explore everything you need to know about eDesk AI. Along the way, we'll cover features, benefits, and how you can start using these tools today.
What is eDesk AI?
eDesk AI is artificial intelligence-powered customer support software for eCommerce. This innovative suite of features uses generative AI to analyze and classify incoming customer messages. It then generates a contextually relevant reply. That reply can be automatically sent to the customer (with no support agent interaction needed), or an agent can review the recommended response before sending it.
From enabling eCommerce brands to take care of certain inquiries completely HandsFree, to performing the initial "triage" on customer queries until an agent can follow up, eDesk AI leads to massive amounts of saved time, dramatically reduced manual effort, and more streamlined customer service (not to mention faster SLAs). And every online seller knows: saved time + better customer service = higher profits.
eDesk AI Features
As our existing customers already realize, we have always been dedicated to providing cutting-edge customer service solutions. From smart automations to templates, eDesk's features help online sellers save time and reduce manual effort while smashing customer support.
In keeping with this philosophy, eDesk AI represents the next generation of help desk software for eCommerce. Thanks to advanced Large Language Model (LLM) technology from OpenAI, eDesk AI's features are stunningly intuitive, accurate, and nuanced. Here are some of the amazing tools users get with eDesk AI.
AI Classification
eDesk AI's features work together to result in a more efficient, effective customer support experience for both you and your shoppers. That all starts with AI Classification.
eDesk AI's Classification feature analyzes the content of incoming customer messages. It then, as the name suggests, assigns the inquiry to the appropriate classification (such as "Where's my order?" and "Item not as described").
Sentiment Analysis
Have you ever wished you could know what kind of mood a customer is in before ever interacting with them? Now you can! eDesk AI's Sentiment Analysis intelligently scrutinizes incoming messages and determines a customer's demeanor (such as positive, neutral, or frustrated).
Understanding a customer's mood before responding can go a long way to making sure the ticket gets resolved in the most satisfactory way. For instance, if Sentiment Analysis shows you that a customer is frustrated, then you'll know to approach the situation with extra care and attention.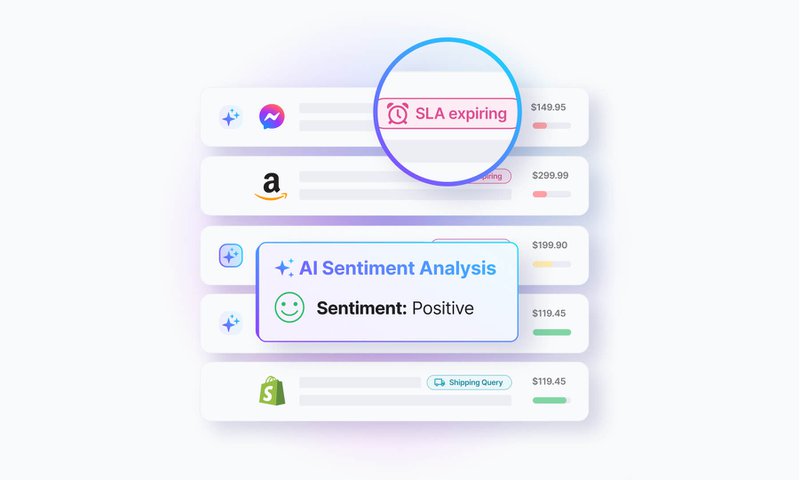 AI Summary
In addition to classifying incoming queries, eDesk AI also scans the first customer message in order to provide an at-a-glance summary. This allows agents to quickly digest the information and get a feel for what the customer needs, before reading the full message.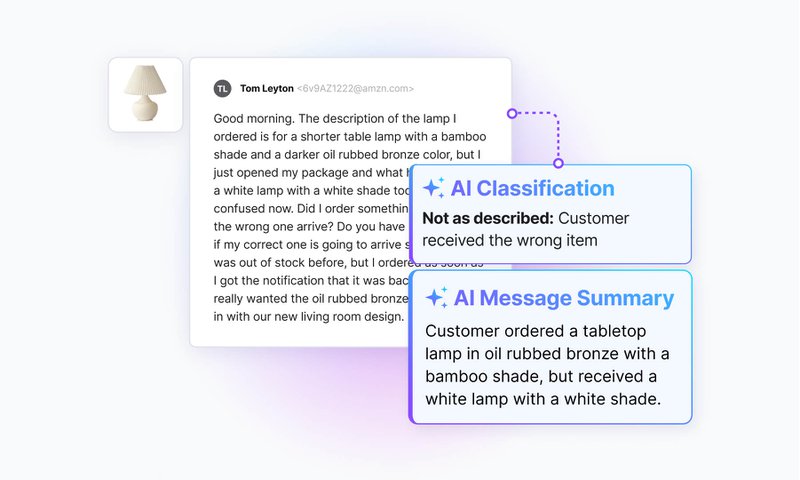 AI-Generated Summary
The AI-Generated Summary is similar to the AI Summary. However, rather than just summing up the first message from a customer, this feature provides a summary of the entire interaction thread.
For example, if you've had three or four back-and-forth messages with a customer, it can be difficult to keep track of everything that's been said or requested. But, with the click of a button, our AI-Generated Summary will provide a snapshot of the main points that have been discussed thus far.
AI Assist
Next up, AI Assist is a massive time saver for eCommerce brands. This feature is one of the central perks of eDesk AI.
Once a message has been classified, sentiment-analyzed, and summarized, it's time to figure out what response to send. AI Assist helps you do just that by recommending specific templates based on the classification and content of the message.
For example, if a customer messages you that they received the wrong item, AI Assist could recommend a "Received Wrong Item" template.
Note: the recommended templates have been painstakingly created by the support experts at eDesk. However, your account administrator can change the content of your templates to fit your needs.
AI Assist recommends the appropriate template from within the "Ticket View," which means agents can send the reply with one click, without ever even having to open the message.
AI-Suggested Responses
AI-Suggested Responses work similarly to AI Assist, but they show up within the message itself rather than in Ticket View.
This is very helpful when you're reading a message from a customer, as it automatically suggests an appropriate response.
AI HandsFree
Finally, the piece de resistance: AI HandsFree. eDesk AI HandsFree is exactly what it sounds like. Once a message has been classified, sentiment-analyzed, summarized, and assigned a suggested response, AI HandsFree can automatically send the reply.
This means, when using HandsFree, you can reply to customers without your agents ever having to interact with them.
Not only will this save you time and effort on those inquiries, but it will also free up your agents to focus on the more involved or pressing requests.
Don't forget. You have total control over template messaging. You can include personalization snippets like name, order number, shipping date, shipping address, and much more.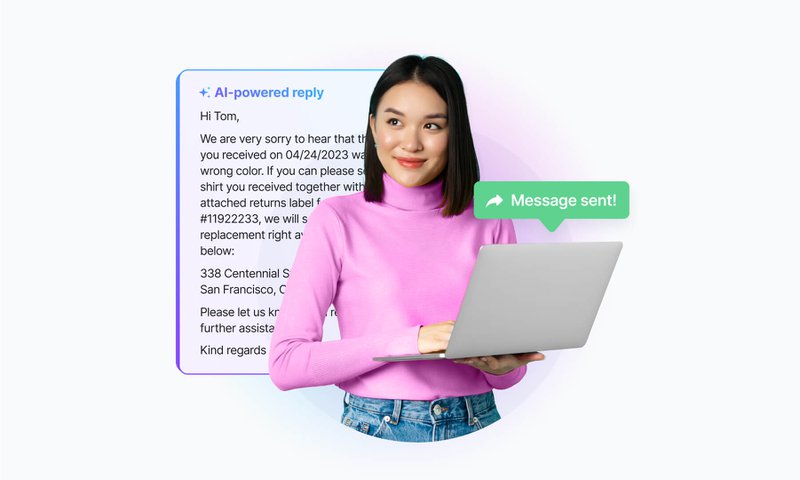 AI + Human Agents = Best of Both Worlds
As we've said before in our Groundbreaking Benefits of AI article, we aren't presenting AI tools as a replacement for humans. AI tools aren't here to replace people or supplant jobs. They're here as virtual assistants to make our jobs easier.
By learning how to master and implement AI into your repertoire, you can save time, improve the quality and accuracy of your data, and provide incredible value to your own company.
And eDesk AI helps you do exactly that. By automatically classifying incoming customer messages, determining the moods of your customers, providing summaries of messages and suggested responses to them, and even sometimes sending those replies automatically, this technology enables your agents to get a handle on customer messages like never before–all while saving loads of time and effort.
Get eDeskAI today!
In summing up how thrilled, we are about releasing eDesk AI into the eCommerce market, we think our CEO, Ray Nolan said it best:
"When I founded eDesk seven years ago, my number-one goal was to create a tool to simplify and centralize support for eCommerce. Today, we process more than 50 million messages per month for thousands of sellers across the globe. We've taken those learnings, harnessed the power of AI, and automated front-line support, so agents can reply in seconds, rather than hours. eDesk AI is the future of customer support, and we're excited to be at the forefront of this innovative technology."
By using eDesk AI, you can save time and effort while knocking customer service out of the park. Ready to get started? Try eDesk for free today!
eDesk AI FAQs
Have questions about using AI for eCommerce customer support? Here are answers to some of the most common eDesk AI FAQs.
Is my customer data secure?
At eDesk, we place great importance on data protection. We utilize OpenAI's GPT models to enhance customer support by understanding customer queries, summarizing long-form messages, and inferring emotions from message tones.
Our implementation with OpenAI ensures that none of this data is stored on their servers and prohibits learning from the queries we submit. By leveraging AI, we empower agents to deliver efficient and superior support, all while maintaining the security of customer data.
AI may be efficient, but doesn't it lack personal touch?
eDesk AI is trained with customer information from eDesk which enables more personalized experiences and more human-like AI communication than ever before.
Is AI able to solve complex problems that require human intelligence?
Using eDesk AI for eCommerce customer service will not replace your amazing support people, but it can help them become more efficient through better automations and reporting, as well as free up time, so they can be where customers need them.
AI may not be able to handle emotions or empathize with customers; can't this lead to negative customer experiences?
eDesk Sentiment Analysis analyzes a customer's mood and then AI-Assist and AI-Suggested Responses recommend an appropriate reply based on the customer's need. This should actually lead to better customer experiences, as your agents will know customers' demeanours before ever even interacting with them.
Is implementing eDesk AI costly or difficult?
Implementing eDesk AI is as simple as signing up for eDesk, which you can do for free.
Note: Ticket-based pricing, available on our Performance+ plan, is the only plan supercharged with eDesk AI. You get unlimited users, unlimited channels, access to all features, and only pay for the tickets you respond to (whether manually or automatically). System messages are not included.