Facebook Messenger is the most popular mobile messaging app in the US. In 2019, it had 109 million active monthly users – and forecasts anticipate this will grow to over 138 million by 2022.
For eCommerce merchants, Facebook Messenger is a great way to provide lightning fast customer service. With so many people using it on their phone, it provides a very convenient channel for reaching out to businesses.
The chat box format gives users a sense of immediacy and they expect quick answers. It's tough, but businesses who can meet these expectations are rewarded with the Facebook very responsive to messages badge.
What is the Facebook very responsive to messages badge?
Messaging platforms have made customer interactions potentially faster than ever. Despite this, just a few years ago it normally took brands ten hours to respond to customers on social media. So Facebook wanted to change this!
Back in June 2015, Facebook introduced the very responsive to messages badge for business pages. This was part of its approach to improve customer service by encouraging quick and consistent message responses.
The badge appears just below a page's cover photo and acts as a marker of trust.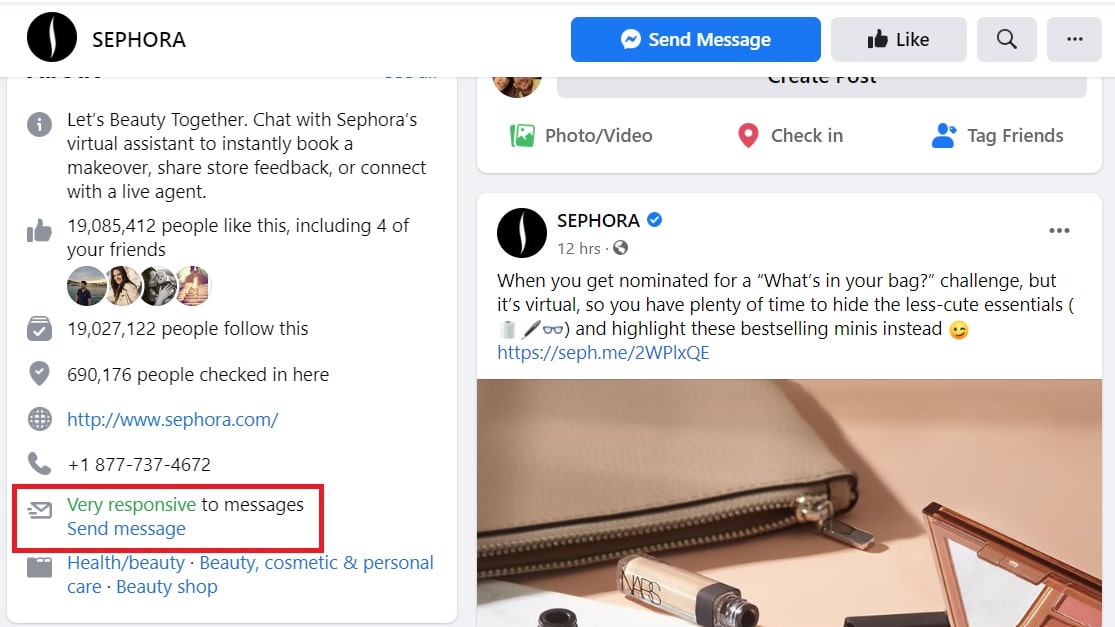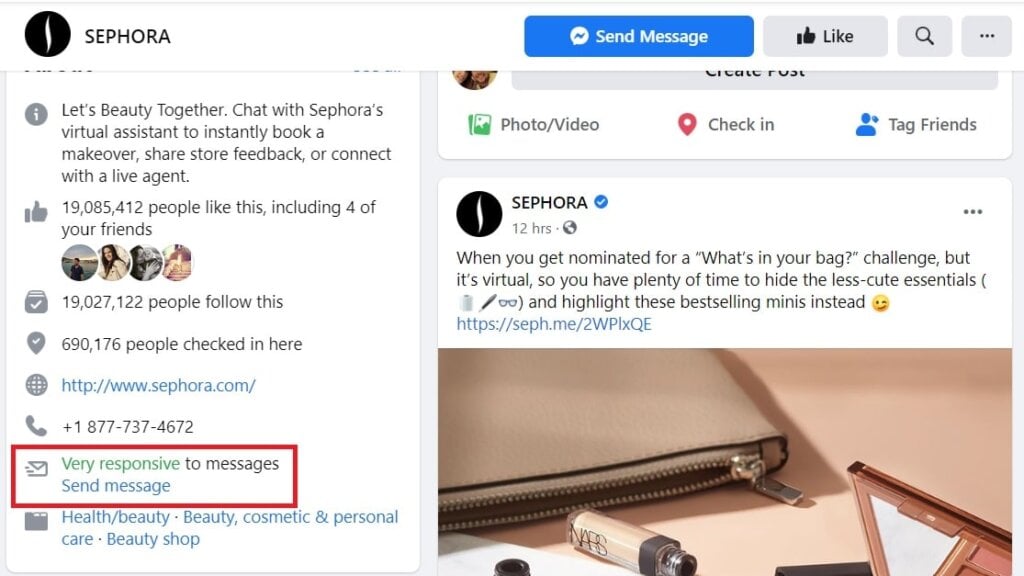 Why does it matter?
The Facebook very responsive to messages badge is a great way to show that your business looks after its customers and is proactive in dealing with problems. This helps to drive trust and maximize conversions.
Data published last year shows that 20% of consumers expect immediate responses to questions or complaints raised on social media. And as of March 2020, Facebook's messenger policy implemented a response time limit on businesses. After 24 hours, they can no longer respond to messages.
So it's really important to respond to messages as soon as possible, especially on Facebook. Businesses that care about customer service should chase the very responsive badge.
How to get the Facebook Very Responsive to Messages badge
To get the badge, businesses need to achieve two things:
1. A 90% response rate
Your response rate is simply the percentage of messages you reply to.
To calculate this, Facebook looks at whether or not you've responded to the first message a person sends to your business. If there is a 24-hour silence within a conversation – where neither you or your customer sends anything – the next message your customer sends will be seen as a new message. This will contribute to your response rate too.
If you received less than ten messages in the past month, Facebook will actually look at your last ten messages overall. If you haven't received ten messages yet, it will consider them all.
2. A 15 minute response time
Your response time is based on how long it takes you to respond to a customer's first message – or any sent after a 24-hour delay within a conversation.
Like with your response rate, if you receive only a handful of messages, Facebook might look beyond the past month and assess the last ten messages you received.
One quirk of Facebook's response time algorithm is that it allows for some slip ups. To calculate a page's overall response time, Facebook takes the average speed of 90% of your fastest responses. So don't beat yourself up over the occasional missed message. Your slowest responses won't work against you if they're an outlier.
5 ways to respond faster to Facebook messages
The strict metrics necessary to achieve the Facebook very responsive to messages badge sound intimidating. But don't worry, you won't have to spend weekends and nights checking your inbox. Follow these five tips and you'll make it look easy!
1. Use eCommerce helpdesk software
eCommerce helpdesk software makes everything customer service related easier. eDesk has a particular focus on speedy responses, using A.I. technology to suggest relevant answers, so you can click, send and resolve issues instantly.
eDesk centralizes all messages from every channel, including social media, online marketplaces like Amazon and eBay, as well as your own store. This makes it easy to keep on top of every customer interaction and respond quickly.

2. Let customers know you're working on the problem
Setting up automated replies on your business page is a good idea. It's considerate to let people know you'll get back to them soon. It may also be practical to direct customers to FAQs.
Automated replies won't contribute to the metrics that determine if you win the very responsive to messages badge, however. Only replies made manually or through a helpdesk count.
Responding to the first message contributes your response time, so you should try to answer all incoming messages as soon as possible. Even if you don't have the answer right now, just letting customers know someone is working on it keeps your response times low.
3. Create templates for common queries
Identify common questions and create customer support templates to answer them. Copy past replies and edit them to make sure they are concise and clear. This will make your reply times shorter and improve interactions with your customers.
If you're using eDesk, the A.I. software will suggest a suitable answer for you, meaning you can answer in a single click!
Related article: How Carparts.com slashed customer support response time
4. Put a team member in charge
Depending on the size of your team, several people might have access to your Facebook page. This can lead to missed notifications and delayed response times. Someone may even ignore a message believing someone else is dealing with it.
eDesk can help you manage this by automatically directing queries to the relevant team member. This will help you seamlessly ensure your agent allocated to the Facebook account is on top of everything!
5. Organize your messages
Make sure you move irrelevant messages to spam and complete conversations to the 'Done' folder. Then, these messages will no longer count toward your response rate or time.
This makes it easier to find important messages that need immediate attention too.
6. Set your status to away when necessary
Even if you're chasing the very responsive badge, there's no way you can monitor your Facebook page 24/7. As well as setting auto-responses, you should set your status to away when there's nobody answering questions.
Messages which come in when your status is set to 'away' won't count against your response metrics.
From your inbox, you can change the status toggle to away. Your status will switch back to 'available' after 12 hours – or you can do it manually. It is also possible to automatically set your status to away outside of office hours.
Can you lose the very responsive to messages badge?
Maintaining the Facebook very responsive to messages badge requires consistency. If your response rate or time drops, you'll lose it.
Your current response rate and time are based on messages received 30 days prior to the last new message which came in. So if you want to get the very responsive to messages badge, you can turn things around quickly and get it. Likewise, if you let you customer service metrics slip on Facebook, you can lose the badge.
Final words
Providing quick responses on Facebook Messenger should be seen as an opportunity rather than a chore.
With customers already on your business page, providing a great experience can drive likes, shares and and positive Facebook reviews. Facebook's policy also states that responses are allowed to contain promotional content so it offers a fantastic eCommerce marketing opportunity too.
Try a better way to support your customers. Sign up for a 14-day trial today. No credit card needed.