As a busy eCommerce business owner, time is of the essence when it comes to developing business strategies. This is where eCommerce podcasts can be a big help.
Business podcasts are a great way to learn new skills, keep up to date with industry trends, and get valuable business advice without having to take extra time out of your already packed schedule.
From self-development tips to marketing strategies, these podcasts are taking over the charts and helping entrepreneurs just like you grow their eCommerce businesses. Not sure where to start in the world of eCommerce podcasts? We've got you covered.
TL;DR
eCommerce podcasts cover industry news and business tips, allowing you to grow your eCommerce brand with advice from specialists in the sector.
Podcasts allow you to listen anytime, anywhere, and you can find a podcast that covers almost every niche in the eCommerce industry.
The benefits of regularly listening to eCommerce podcasts include the chance to: learn from the experts, listen anywhere and anytime, find niche-specific topics, boost your profits and smash your competition.
There are tons of eCommerce podcasts you can listen to and benefit from, no matter your level of experience.
What is an eCommerce podcast?
To understand what an eCommerce podcast is, let's first discuss podcasts as a whole.
Podcasts are audio programs, similar to radio, but more niche, and available to listen to any time. A whopping 41% of Americans are already listening to them regularly. There are tons of podcasts out there – from true crime mysteries to celebrity interviews – but a growing number of podcasts are turning their attention to the world of business.
So, onto eCommerce podcasts.
An eCommerce podcast is an audio program that provides advice or information about eCommerce businesses and the industry as a whole. One of the chief selling points of podcasts is that you can listen to them anytime, anywhere.
Unlike books that require your full attention, you can have a podcast playing in the background while driving, doing chores, or even working. No more taking time out of your busy schedule to sit and read for two hours.
Podcasts take many forms, but the most popular are interviews, conversations, and educational podcasts.
Interviews usually involve an influential businessperson or celebrity, while conversational podcasts consist of a chat between two friends. Educational podcasts are similar to audiobooks, with the primary intention of informing listeners.
Conversational podcasts are perfect if you like a casual listen that feels like you're among friends. Educational podcasts suit those who like to take in information in an easily digestible format, with the host speaking directly to the listener.
The benefits of eCommerce podcasts
1. Learn from experts
Podcasts are started by everyone from amateurs to specialists, but the most popular tend to be hosted by experts in their fields. If you're looking for a podcast in the eCommerce niche, you can expect to find podcasts hosted by successful business owners, marketing strategists, and experts in the eCommerce space.
However much you think you know about running an eCommerce business, you can always learn more. The industry experts hosting these podcasts boast a wealth of experience, so they'll no doubt have some groundbreaking tips that can supercharge your sales.
It's basically like having a business expert in the room with you. You can even contact some podcasts directly with questions and comments for advice specific to your situation.
Not only do many podcasts give tips on business growth, but they also stay ahead of industry trends. By keeping up with the latest eCommerce news, you can be ahead of the curve with your products and marketing strategies, leaving your competitors lagging behind.
2. Listen anytime, anywhere
Reading books and newspapers and watching TV requires a level of engagement that makes it hard to multi-task at the same time. Podcasts offer a solution.
You no longer have to choose between carrying out your day-to-day tasks and brushing up on business tips. Instead, you can listen to podcasts anywhere at any time, whether you're commuting, shopping, or working out.
Plus, the average podcast is only between 20 and 40 minutes long, so if you do decide to take a break and listen properly, you'll have all the information you need in less than an hour.
3. Find topics specific to your niche
The beauty of podcasts is there are so many of them, all covering different topics within one industry or sector. The eCommerce industry is as broad as they come, with each eCommerce business having its own unique sales strategy, product selection, and target audience.
From mastering your customer service to increasing your average order value, thanks to the sheer abundance of podcasts available, you're sure to find an eCommerce podcast specific to your niche, with tips to grow a business just like yours.
4. Boost your profits
The ultimate goal of successful eCommerce business owners is to make a profit. All the time-saving techniques, eCommerce marketing costs, and customer service tools you invest in support your goal of growing a successful business that makes money.
Not only does listening to podcasts improve your business knowledge which in turn helps to make money, but the best part is, it's completely free! Although some podcasts require a subscription, the vast majority don't, so it's a tool guaranteed to boost your sales that doesn't cost you anything.
5. Smash the competition
A huge chunk of your success depends on how well you can differentiate yourself from your competitors. In a world in which you're competing with several other tabs at any given time, you need an edge over your competitors, whether it's a unique brand identity or products you simply can't find elsewhere.
This is where podcasts come in.
By keeping up to date with retail news, for example, you might hear about an industry trend that takes your online store to the next level – something your competitors might not be aware of.
Whether it's actionable advice on reducing customer response times or a rundown of the best tips for customer retention, gain the upper hand with expert knowledge from some of the savviest podcasters in the business.
The best eCommerce business podcasts
1. My Wife Quit Her Job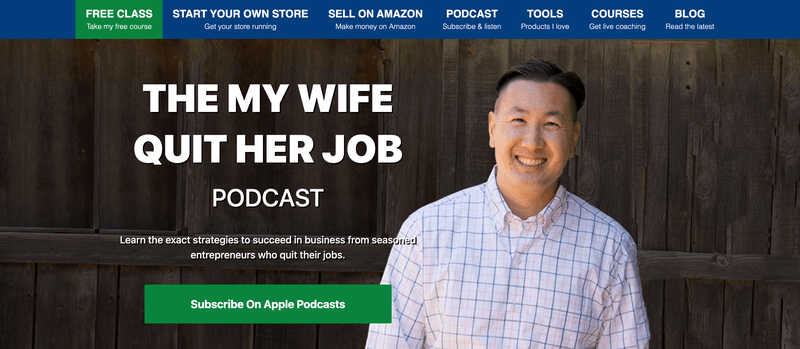 Calling all mavericks who eschew the traditional 9-5 job and go it alone – My Wife Quit Her Job is for you.
This podcast is dedicated to leaving the traditional workforce and trying your hand at entrepreneurship. It's hosted by Steve Chou, who left the corporate world with his wife to try his hand at becoming an eCommerce businessperson.
My Wife Quit Her Job is the perfect introduction for people considering leaving their job and venturing into the world of eCommerce. It's full of useful tips and information on how to grow a business from the ground up and overcome any challenges you experience along the way.
2. eCommerce Minute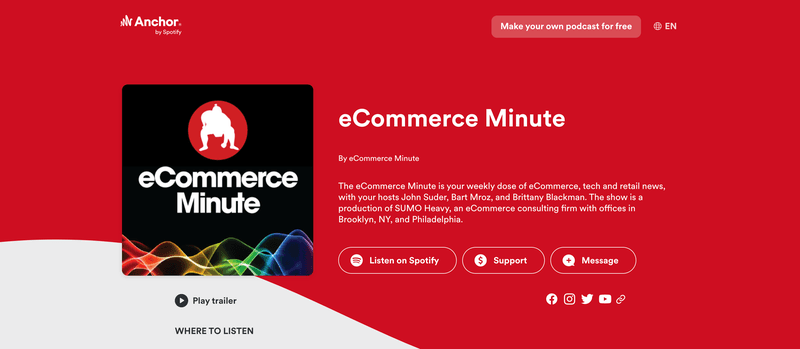 Whether you're just starting out with an online eCommerce business or you're a seasoned pro, you'll learn tons about the eCommerce industry with this weekly podcast, hosted by John Suder, Bart Mroz, and Brittany Blackman.
eCommerce Minute keeps you up to date with the latest from eCommerce, tech, and retail in general, so you can stay ahead of the curve with trends.
Each episode lasts just seven minutes, so you can get your eCommerce news fix in the time it takes to eat breakfast.
3. eCommerce Influence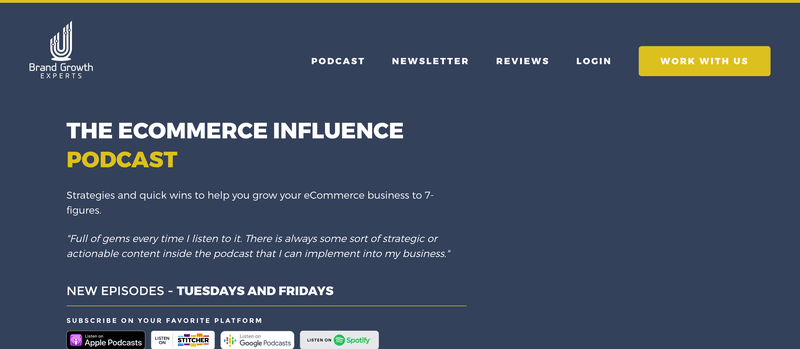 Looking to grow your small online business to six-figure success? The eCommerce Influence podcast has got you covered. The podcast is centered around conversion, and mixes profiles of successful eCommerce business owners with industry updates and actionable business advice.
Covering everything from hiring staff to optimizing your site for search engines, eCommerce Influence is suitable for novices and experienced online store owners alike.
If you're looking for a particular episode or topic, use the handy keyword section on the website's podcast page. New episodes drop every Tuesday and Friday.
4. The eCommerce Fuel Podcast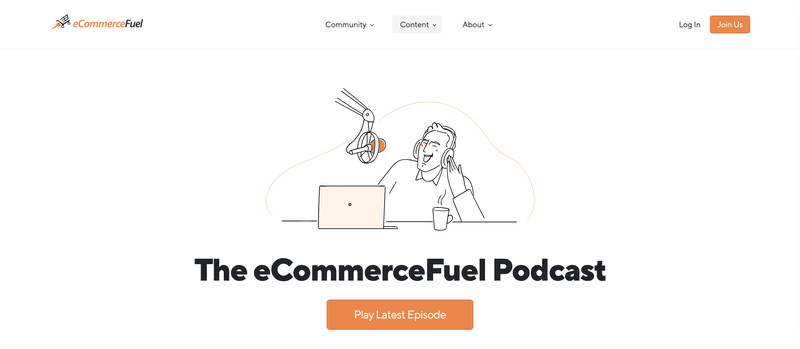 If you've heard of one eCommerce, the chances are it's The eCommerce Fuel Podcast – a big name in the world of business podcasting.
Hosted by Andrew Youderian, the podcast is suitable for entrepreneurs no matter where they're at in their business journey. There are tips for beginners on how to get started with an online store, and useful advice for leaders looking to hire new staff.
Episode themes include pricing strategies during inflation, how to improve your leadership skills, and how to support your mental health as a business owner. You can scroll through topics such as Amazon, operations, and marketing on the podcast's website to find exactly what you're searching for.
5. 2X eCommerce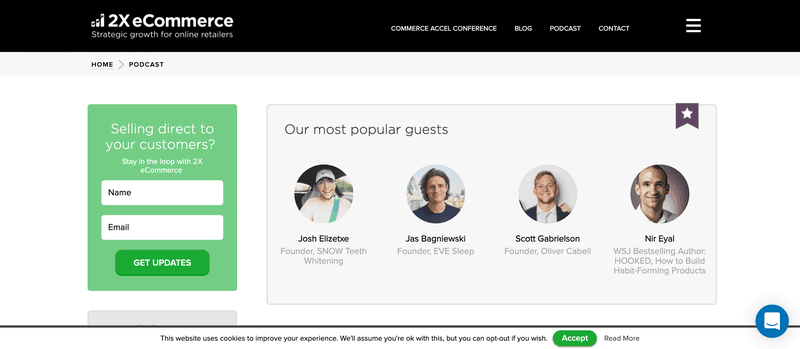 Created by hugely successful eCommerce advisor, Kunle Campbell, 2X eCommerce is all about growth, growth, growth. The podcast is filled to the brim with useful tips about attracting more customers and improving conversions, no matter how saturated the market.
The host speaks to founders of some of the most lucrative online stores on the market to find out the secrets of their success and the eCommerce strategies that have got them where they are today.
If you're at a point in your journey where you're looking to maximize growth, you'll benefit from listening to this well-known business podcast.
6. The Fizzle Show Podcast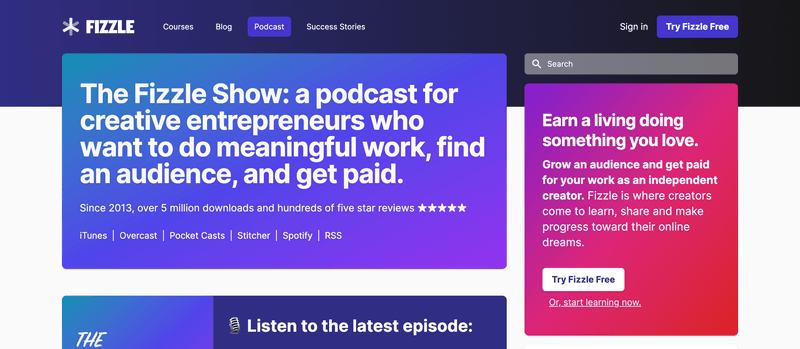 The Fizzle Show podcast aims to help entrepreneurs do what they do best – make money doing something they love.
This podcast is one of the original business podcasts of the last ten years and is a long-standing resource for not just eCommerce professionals, but business owners in general. Most episodes are interview-based and feature an in-depth conversation with somebody who's eschewed the traditional 9-5 in favor of entrepreneurship.
Topics include marketing, growth, writing web copy, and how to choose an effective business model. If you like podcasts that feature an industry expert revealing their secrets to success, you'll like this one.
Although The Fizzle Show isn't as specific to eCommerce, the advice given is useful for all business owners.
7. The Jason & Scot Show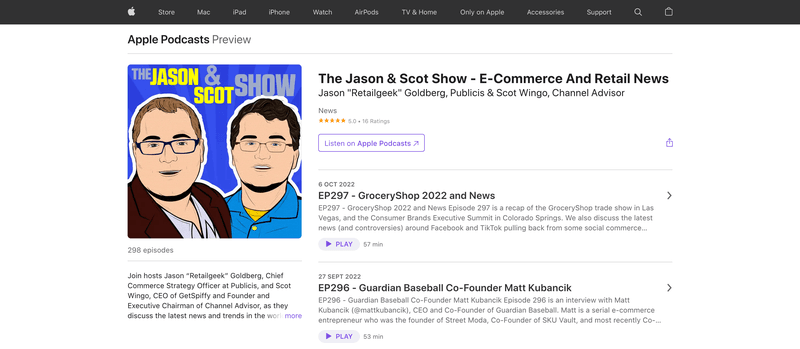 The brainchild of retail experts Jason Goldberg and Scot Wingo, The Jason & Scot Show discusses the latest in retail and eCommerce news and deep dives into key online retail trends and topics.
Focusing more on the eCommerce climate than specific business tips, this weekly podcast is perfect for business owners wanting to stay ahead of the game with the latest eCommerce trends.
The show explores what makes particular eCommerce brands successful and provides in-depth commentary on everything you need to know about the retail space. Plus, the two hosts' friendship makes The Jason & Scot Show a laid-back, easy listen.
8. Women in Retail Talks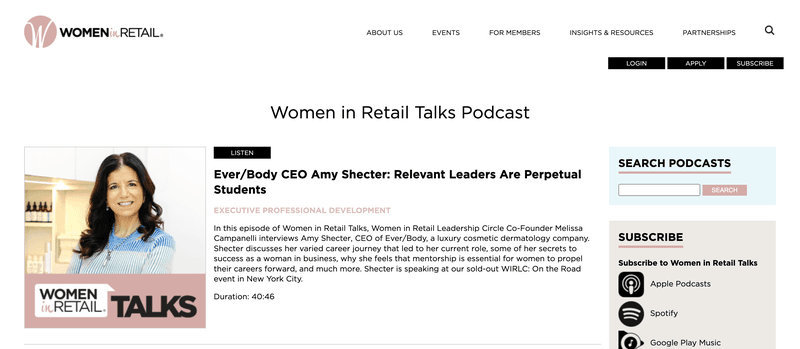 Are you a woman trying to break into the world of retail? This is the podcast for you.
Women in Retail Talks chats to female thought leaders in the retail space for tips on everything from business strategy to professional development. Tune in to this weekly podcast to hear actionable tips from female career coaches, CEOs, and motivational speakers.
Episode topics include leading male-dominated industries, innovation, and retail trends. The podcast also does a great job of deep diving into particular brands or companies, to gain an understanding of how the biggest retail brands have made their success.
9. The Story of a Brand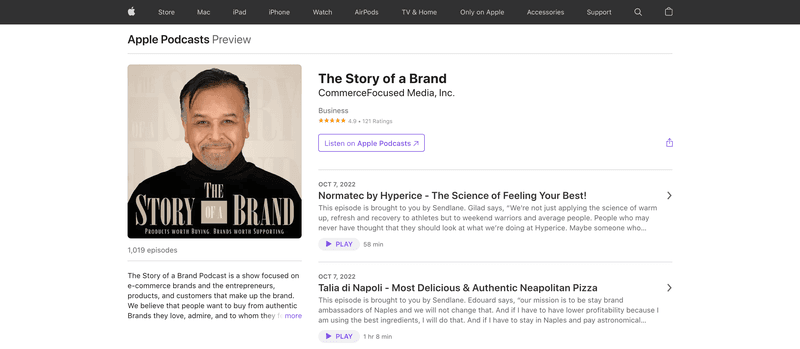 Ever wondered why some brands enjoy unparalleled success in the eCommerce space, while others fail? The Story of a Brand has the answers.
This eCommerce podcast focuses on brand owners and entrepreneurs and their stories. The Story of a Brand takes popular brands and deep dives into their products, operations, marketing, or stance on social issues, to get to the bottom of their appeal to customers.
By listening to this popular pod, you can hopefully get valuable inspiration from the way the world's most successful entrepreneurs run their businesses.
10. eCommerce BrainTrust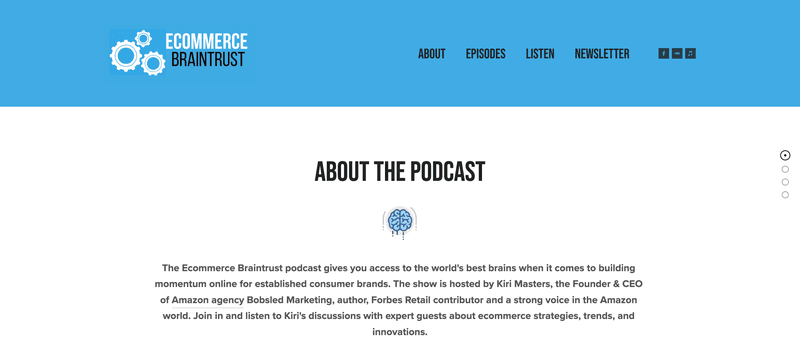 eCommerce Braintrust brings together the brightest brains in the eCommerce space and collates their insights for entrepreneurs breaking into the online sales market.
The popular podcast is hosted by Kiri Masters, and follows her discussions with expert guests, covering topics such as business strategies, trends, and more specific areas like order fulfillment and selling on Amazon.
If you like actionable business advice that comes straight from the experts, you'll love eCommerce Braintrust.
11. eCommerce MasterPlan Podcast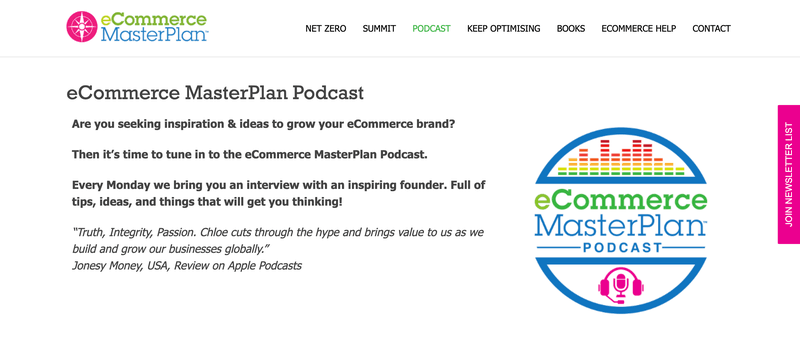 If you're lacking inspiration on how to grow your eCommerce brand, this weekly eCommerce podcast might just be the answer to your prayers.
eCommerce MasterPlan Podcast is packed full of easy-to-action advice to supercharge your sales. Hosted by Chloe Thomas, the podcast takes on an interview format, in which prominent eCommerce entrepreneurs share their techniques for success.
Topics include rapid growth and sustainability.
12. eCommerce Lifestyle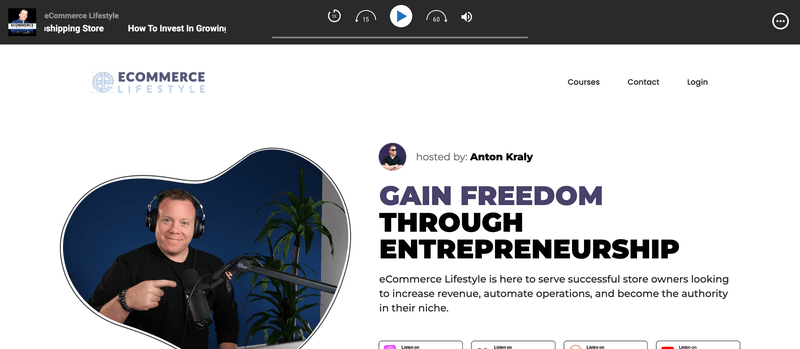 If you're looking for a deep dive into some of the more niche eCommerce topics, you'll love eCommerce Lifestyle. Hosted by industry leader, Anton Kraly, this podcast deep dives into the specifics of making an online store successful.
Topics covered include dropshipping, marketing techniques, and supply chains. As well as providing an in-depth analysis of these eCommerce themes, the podcast looks at successful online stores and the general status of the eCommerce space.
If you're operating under a dropshipping business model, you'll gain a lot from the podcast, which aims many of its episodes at creating success with dropshipping.
One thing we love about this podcast is its honesty about current challenges in the world of eCommerce. Providing business owners with a realistic view of where the market is helps entrepreneurs future-proof their companies.
13. eCommerce Evolution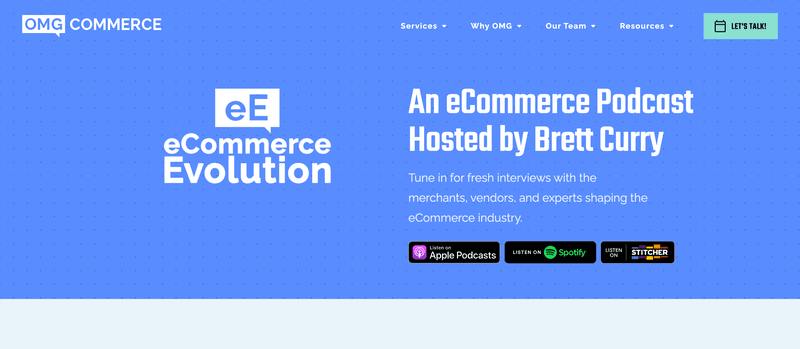 If interviews with industry experts are your thing, you'll benefit from the insights of eCommerce evolution. Created by OMG eCommerce and hosted by Brett Curry, the podcast aims to educate listeners on almost all aspects of running a lucrative eCommerce business.
Topics include increasing traffic with SEO, email marketing hacks, and tips for one of the biggest events in the retail calendar – Amazon's Prime Day. Most of the episodes feature insights from industry leaders and advice on how to implement these insights in your own work.
Guests range from business owners to marketing experts, and each one has easy-to-action tips to help grow your business.
14. Startup Stories – Mixergy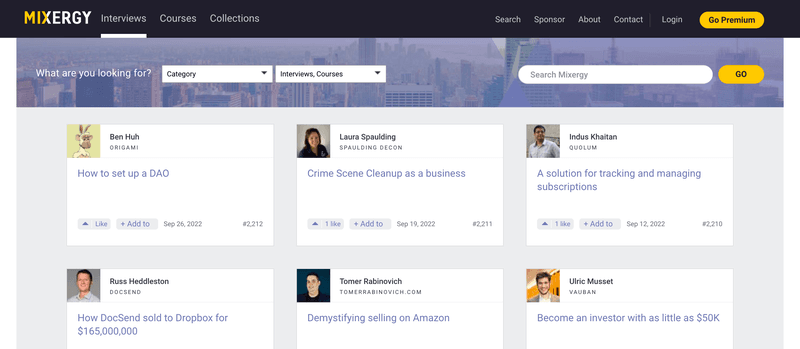 Startup Stories is brought to you by Mixergy, and it does what it says on the tin – namely brings you stories from the most innovative minds creating startup businesses.
This informative podcast is hosted by Andrew Warner, who created an online greeting card company that went on to be incredibly successful when only in his 20s. Andrew created Mixergy in the 2000s as a way to give back to the business community, and become the type of mentor that supported him in his early career.
From Mixergy came the podcast, which is mostly made up of interviews with entrepreneurs who share the tips and lessons behind their success. While not exclusively aimed at eCommerce store owners, Mixergy's podcast has something useful for every entrepreneur – online or otherwise.
Episode topics include selling on Amazon, tracking and managing subscriptions, managing remote teams, and automation solutions.
15. Titans of eCommerce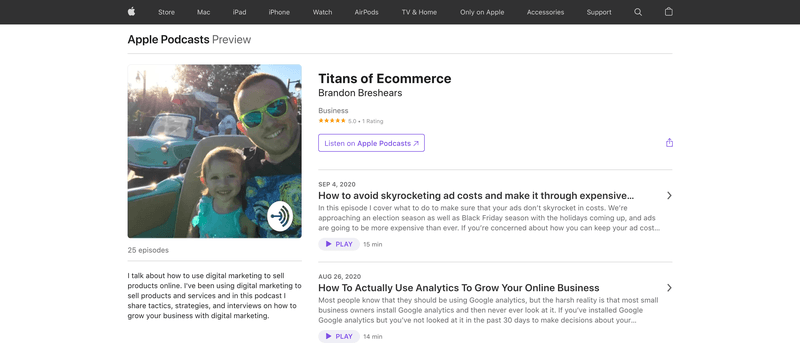 Being a business owner doesn't automatically make you a marketer. If your products are on point but you're just not sure how to sell them to your target audience, you'll benefit from listening to Titans of eCommerce.
Hosted by Brandon Breshears, this popular podcast advises listeners on how to use digital marketing to sell products online. Brandon has tons of experience in using digital marketing to successfully sell a range of products and services, and this podcast details the secrets to his success.
Episode topics include growing your business using analytics, how to make a marketing plan, and chatbots for marketing.
16. eCommerce Conversations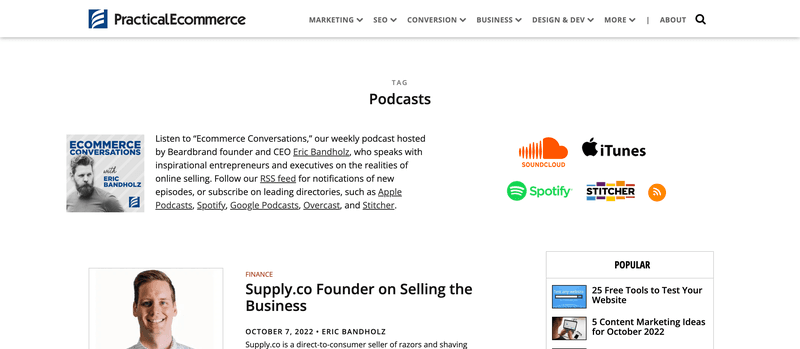 Created by Practical eCommerce and hosted by CEO Eric Bandholz, eCommerce Conversations is a weekly podcast focusing on success stories from within the eCommerce industry. If you're interested in what has and hasn't worked for entrepreneurs with booming online businesses, you'll learn tons from this informative podcast.
The best part about eCommerce conversations is the sheer range of businesses it covers. Whether your niche is skincare, food, or clothing you're bound to find a success story that mirrors your business, giving you inspiration on how best to market and manage your retail business.
17. Future Commerce Podcast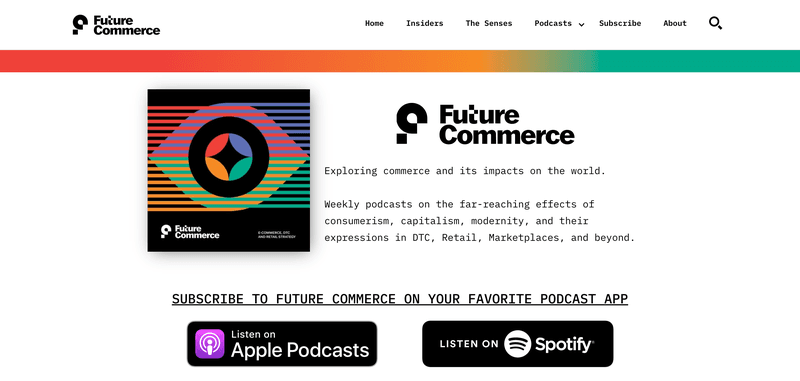 A must-have addition to any entrepreneur's podcast subscription is Future Commerce. Covering the entire retail landscape rather than just eCommerce, this popular podcast keeps listeners up-to-date with emerging trends in retail and online.
If you're a little further along your eCommerce journey, you'll find Future Commerce particularly helpful since it offers in-depth information on high-level media and marketing strategies and uses lots of industry-specific lingo.
Topics covered include choosing the right technology partners, retail software, and how to be a successful leader.
18. Smart Passive Income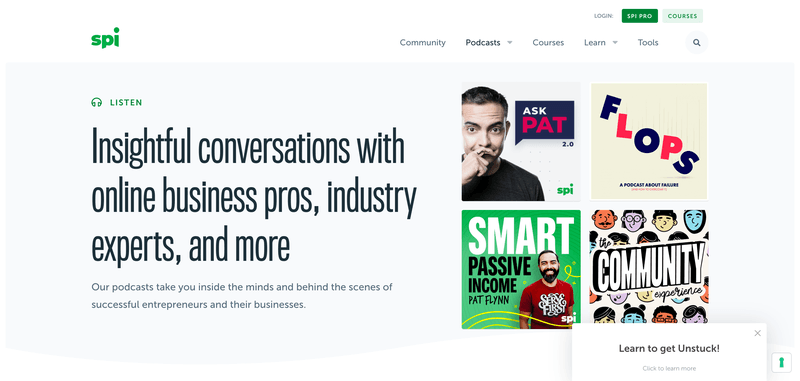 Smart Passive Income is a podcast hosted by Pat Flynn off the back of his popular blog, which helps people just starting out on their entrepreneurship journey. It's most suited to new starters and small business owners – and although the podcast doesn't exclusively cover eCommerce, it's full of useful tips for getting your small business off the ground.
The episodes include advice from Pat as well as Q&As which deal with frequently asked questions about startups. Smart Passive Income covers topics such as online marketing, collating testimonials for your products, and creating irresistible offers for your customers.
19. eCom@One Podcast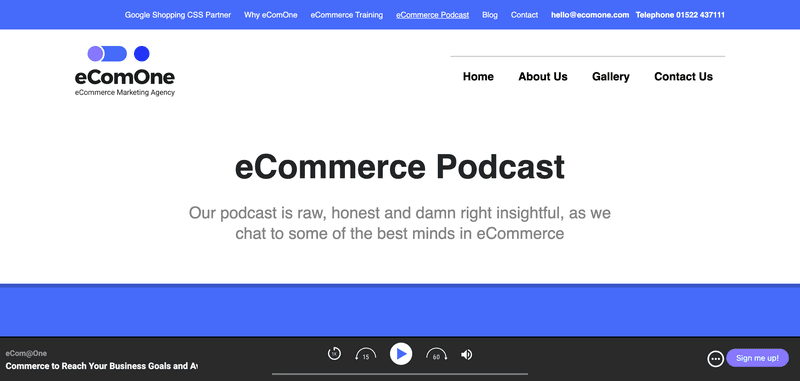 The popular weekly podcast, eCom@One, is hosted by Richard Hill and interviews some of the most passionate and successful players in the eCommerce space.
Through Richard's insightful interviews, you'll hear their secrets to success, career highs and lows, and tips for scaling an eCommerce business. The podcast explores subjects such as SEO, email marketing, and creating a successful shipping process. Whether you're an eCommerce novice or have decades of experience, you won't want to miss this insightful podcast.
20. Commerce Tea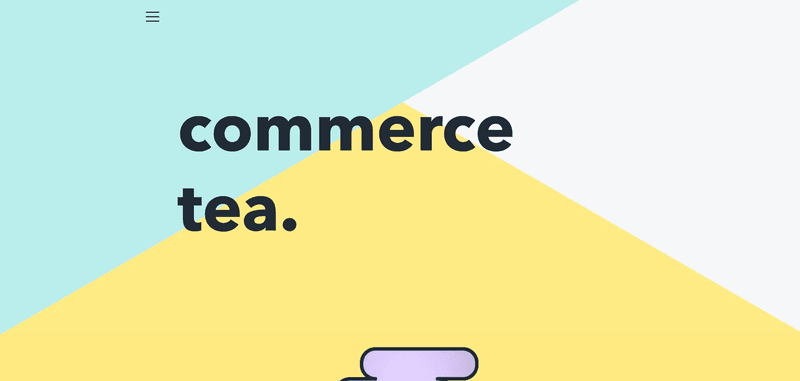 Created by founders Kelly Vaughn and Rhian Beutler, Commerce Tea aims to keep listeners up to date with the latest happenings in the world of eCommerce.
Kelly and Rhian discuss tips and tricks for growing a successful eCommerce business. You'll also hear from industry experts and accomplished entrepreneurs about where they see the future of eCommerce and the advice they'd give to budding retail business owners.
The podcast covers topics like optimizing your conversion rate, writing product pages for SEO, and how to break into saturated markets.
The bottom line
Whether you're thinking about setting up an online store or you already have years of experience, listening to eCommerce podcasts can revolutionize your business. With industry news and actionable tips from experts, learn how to supercharge your store sales and grow your business to its fullest potential.
Want some more inspiration? Our eCommerce blog has the secret to success for eCommerce business owners, from ways to improve your customer service to the best shipping apps for Shopify stores. We've also assembled a list of the top eCommerce influencers, so you can get up-to-date industry information from some of eCommerce's most successful business people.