The saying 'time is money' exists for a reason. When you're a small business owner with a Magento store, every minute spent answering queries that could be easily automated means less time spent growing your business.
As 79% of customers prefer live chat to any other communication channel, there's a clear solution for keeping on top of your customer service without wasting valuable time: live chat extensions.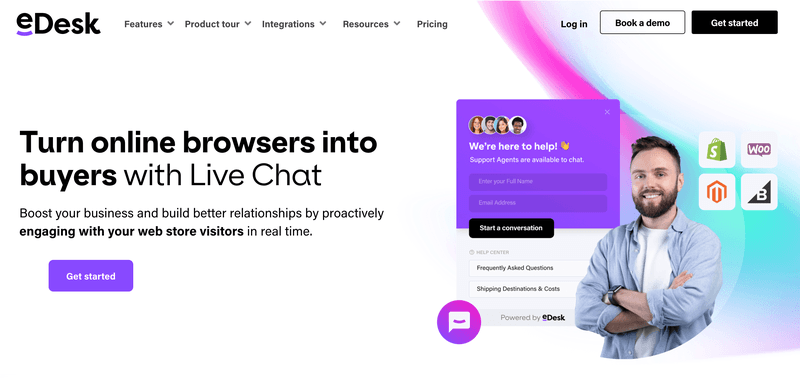 With extensions such as our Live Chat, you can streamline queries and give your team context before customer inquiries even come through, improving response time considerably. It's a win for your business and a win for your customers.
If you're ready to scale up your customer service with a live chat feature, we've assembled a list of the best live chat extensions for Magento, so you don't have to. Here are our favorites.
TL;DR
Using a live chat extension on your eCommerce website can improve your customer service and increase your conversion rate while saving you time. Plus, many integrate with Magento.
There are various Magento live chat extensions available, with different prices and features.
Decide which live chat extension is best for your business by judging all your options against your budget, and considering which features will most benefit your online business.
What is live chat software?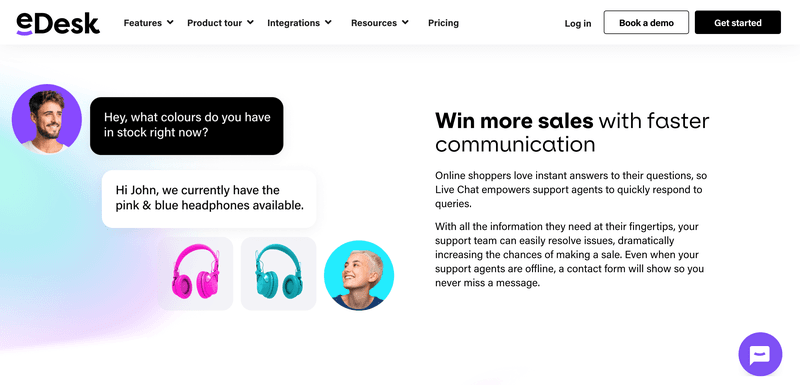 Live chat software is similar to instant messaging software. Live chats allow your customers to access support quickly by speaking to your team in real-time, with many live chats featuring automated responses in order to collect more information and direct customers to the right staff members.
Benefits of live chat for Magento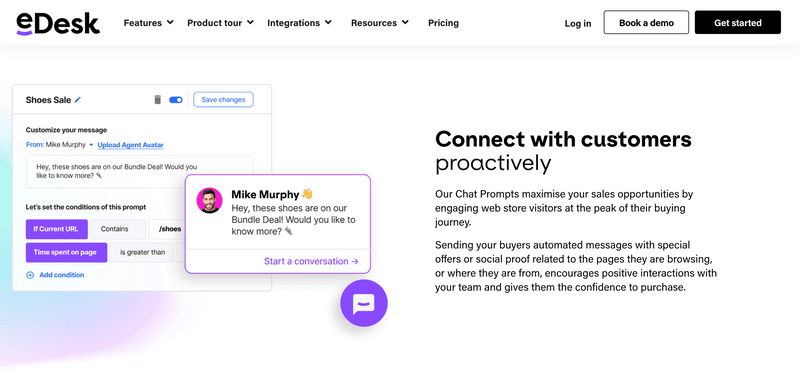 Optimized sales
Every business owner shapes their online site with one thing in mind – increasing eCommerce conversion rates. Customers who use live chat spend up to 60% more per purchase than those who don't, so the proof's in the pudding that incorporating live chat can increase your conversion rates.
As an online store owner, too much time is wasted reacting to customers instead of proactively reaching out. With chat prompts, you can engage website visitors at the peak of their journey by sending potential buyers automated messages featuring exclusive discounts and social proof – giving them that final push to treat themselves to one of your products.
Every person who finds their way to your site is there for a reason – they want what you're selling. A prompt from a live chat with an exclusive discount can be the difference between a full or empty shopping cart.
More time to grow your business
When it comes to improving your bottom line, chat prompts aren't the only way live chat can make a difference. How much time do you and your team waste replying to emails or going back and forth with a customer to decipher what their issue is in the first place?
With a Magento live chat extension, you can get to the route of the problem easily with a live chat system that gathers context for a customer's query before sending it to your team.
Plus, thanks to the option for self-service links, you can wave goodbye to wasting time on simple queries that could be answered with a quick link, allowing your team to focus on more challenging queries.
Increased customer loyalty
Using live chat software can also increase customer loyalty, because online visitors to your site know that their queries are taken seriously and responded to in record time. Customer loyalty leads to repeat visits and positive recommendations to family and friends, so live chat extensions can build you a loyal user base over time.
The best Magento live chat extensions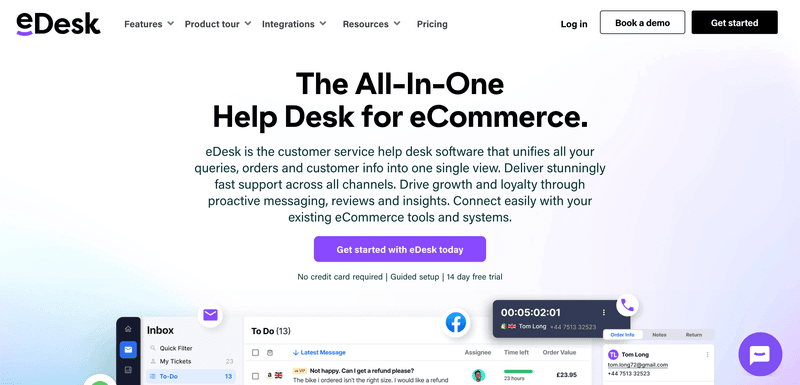 Instant responses? Tick.
Seamless customer experiences?
Tick. Easily managed incoming queries? Tick.
Used by the likes of Superdry and Toyota, our award winning Helpdesk has it all. Our all-in-one help desk for eCommerce includes Live Chat and a Magento integration, so you can streamline your customer service offerings and guarantee customers speedy responses to their queries.
Even when your support agents are offline, you can engage with customers by prompting them to fill in a form for offline messages. And to save your agents' time, customers can even get answers without getting in touch using self-service links to our Knowledge Base that automatically pop up based on how they interact with your webstore pages.
Chat prompts and insights are just some of the features that make this live chat extension so appealing. To upsell products at the touch of a button, you can set up a pop-up chat window to inform website visitors about discounts and offers, and display social proof. With 93% of customers reading online reviews before deciding to buy a product online or not, this social proof could be the difference between a customer buying your item or abandoning their cart.
If your agents have ever spent hours trying to get to the bottom of a query before even beginning to answer it, you'll love the context our Live Chat tool provides – Auto-tagging categorizes inquiries, and you can connect conversations with related order details, chat history, and support tickets, to gain powerful customer insights.
Brand consistency is incredibly important for cultivating your business's voice, and our Live Chat tool helps you with that too. You can add a personalized chat widget and chat window background in your brand style, so your customers experience consistency throughout their entire user journey.
If you're looking for live chat tools that go above and beyond to ensure customer satisfaction, eDesk is for you.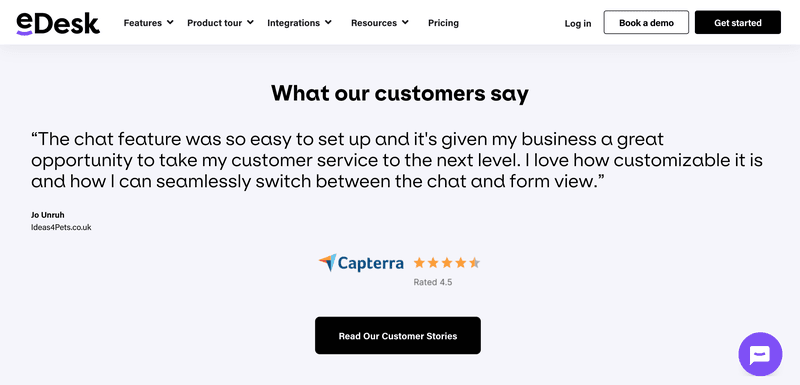 Key Features:
Tags for categorizing inquiries
Self-service links
Personalized, on-brand live chat
A contact form for inquiries outside of office hours
Actionable customer service performance insights
Automatic customer satisfaction rating requests
Helpdesk, Knowledge Base, Feedback, and Insights tools included
Pricing:
We recognize that all businesses operate differently, so we offer two different types of pricing – agent-based pricing (best for dedicated support teams) and ticket-based pricing (ideal for informal, flexible teams). There's even a pricing option for companies that simply need more feedback and reviews.
Prices include access to all our customer support tools and start at £49 per month, while our enterprise plan comes in at just £209 per month for a whole host of features to optimize your online store's sales.
There's also a free trial for users who want to experience eDesk's value-add first-hand before committing.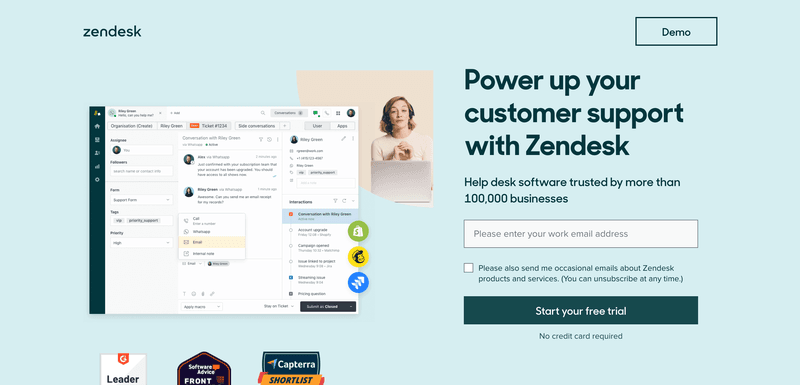 Zendesk isn't just a live chat extension – it's a customer relationship management (CRM) platform, too. Its live chat solution offers automated responses, live reporting, and customizable widgets so you can keep your brand identity consistent throughout your entire site.
Plus, the live Zendesk chat extension allows you to distribute chats evenly. This distribution prevents chat agents from getting overloaded with multiple customer queries at once and enables website users to enjoy a quicker response.
While Zendesk is a popular live chat platform, it's more suited to large organizations and enterprises and less so small online store owners, who may want to look into Zendesk alternatives.
Key features:
The ability to share images and files with customers in the chat
Customizable chat widgets
Organized routing
Offer auto-responses for capturing leads
Pricing:
Zendesk offers a free trial for first-time users. If you commit to the platform after your trial ends, you can expect to pay at least $19 per chat agent per month, with users of the most expensive platform spending $99 per agent per month. Unlike eDesk, there's no option for a ticket-based pricing system.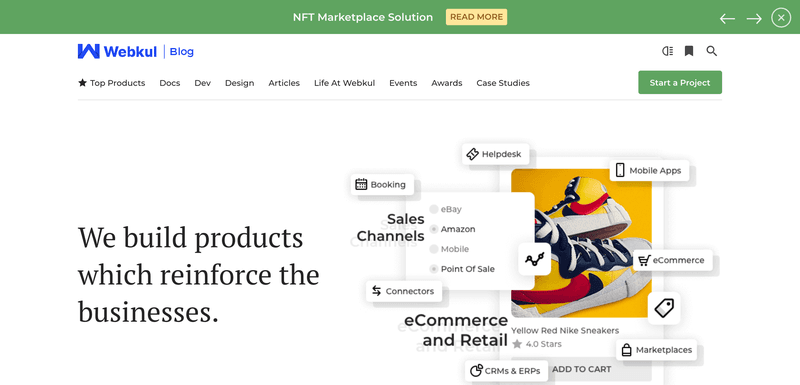 This Webkul module allows you to set up a live chat system in your Magento store, which customers can use for live conversations with chat agents. If you have multiple chat agents answering queries at any given time, the store's admin can create multiple streams for better management of customer queries.
Each query is then automatically assigned to the available chat agents. While this basic chat system can be useful for small business owners, you'll need to have Node.js already installed to use Webkul's live chat. Installing Node.js for the chat extension can be quite a lengthy process, so Webkul isn't the best solution for time-poor business owners.
Key Features:
Create multiple chat agents for managing customer queries
Reply to multiple customer queries at once
Send and receive file attachments within the chat
Adjust your chat status to Online, Busy, or Offline
Choice of a chat profile picture
Pricing:
Webkul's live chat for Magento 2 starts at $99 for three months. You can expect to pay an extra $19.80 for installation, and $250.00 for socket.io/Node/js setup, so it's worth factoring in these costs when budgeting for your live chat solution.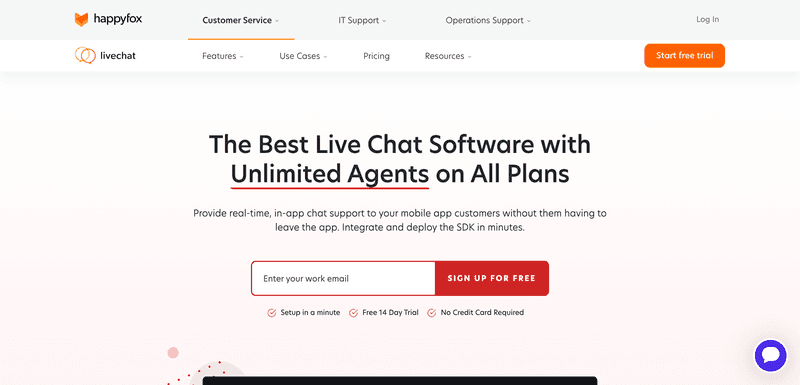 As with all live chat solutions, Happyfox promises to improve your conversion rate and reduce abandoned carts on your eCommerce store by allowing your agents to respond to customer queries in seconds.
Happyfox enables your customer support team to respond to multiple chat sessions at once, which in turn increases customer satisfaction – just one of the ways live chat transforms your online store.
Happyfox prides itself on being easy to use. Manage your chat system easily from a minimalistic admin dashboard, and install Happyfox's fully customizable chatbox interface on your website in less than a minute, with no coding experience needed.
Once installed, you can customize the colors and content on your chat widget for a seamless brand experience.
Although the desktop version of Happyfox is easy to use, the mobile app lacks features and offers a less user-friendly experience – worth bearing in mind if you'll be using the chat solution on your mobile.
Key Features:
Routes chats to the appropriate department for speed and ease
Provides analytics reports
Support in multiple languages
Easy-to-operate user interface with no need for coding
Pricing:
Whereas most live chat solutions charge for different chat agents, Happyfox offers unlimited agents on its pricing plans. However, the pricing plans do limit the number of chats that agents can have per month.
Happyfox's starter plan comes in at £29 per month for 500 chats per month, with its most expensive plan setting users back $299 every month for 20,000 chats per month. Happyfox does offer a free trial plan, so if you're unsure whether it's the right platform for you, try before you buy.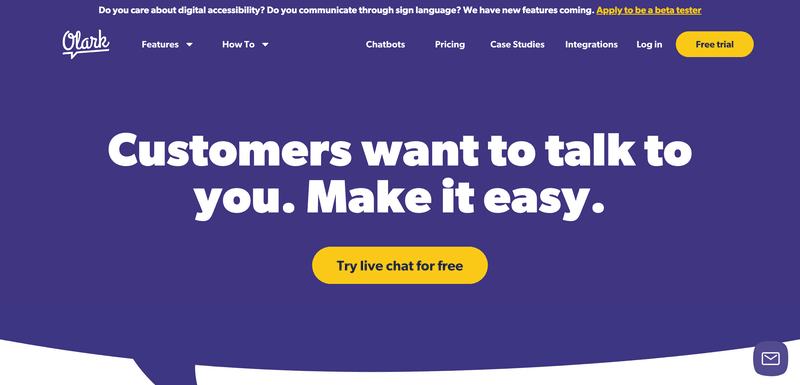 Olark is a live chat solution that comes as part of a full support suite for eCommerce stores, including Magento, Shopify, and other Shopify alternatives. As with all live chat solutions, Olark allows you to respond to live chat users in real-time while answering queries and gathering customer feedback.
You can greet customers automatically, send custom messages based on the user's behavior on the site and route chats to the appropriate department.
Olark also boasts a user-friendly interface and widget customization to match your brand, meaning customers can experience a consistent user journey.
One of Olark's key features is its accessibility. Olark appeals to a broad user base by offering disability-friendly keyboard use, screen reader integration, and large text for people who struggle to read small font.
Key Features:
Live chat analytics
Accessibility
Online chat automation rules
Transcripts of live chat conversations
Custom chatbox forms
Pricing:
Olark offers a free trial for new users, after which you can expect to pay from $29 per month per agent onwards, with extra costs for 'PowerUps'.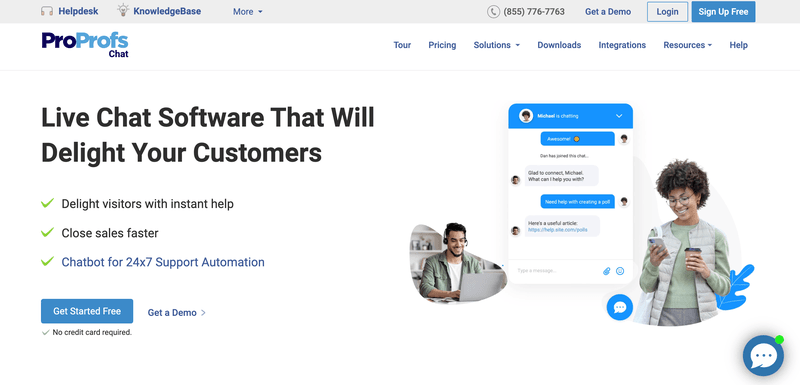 ProProfs Chat allows you to interact with your Magento customers and increase sales by using a live chat function or a chatbot. If you waste unnecessary time answering queries that could easily be solved with accessible FAQs, you'd benefit from ProProfs Chat's canned responses, which allow you to automatically respond to commonly asked queries.
To save time on endlessly scouring through order numbers, ProProfs allows you to view customer details during an ongoing chat. There's also the option of a knowledge base, so users can look for answers themselves instead of defaulting to getting in touch – a huge time saver for your team.
As well as a live chat extension for Magento, ProProfs chat offers the option of an automated chatbot on your site. While the addition of this feature is useful, there are limited options available for chatbot templates.
Key Features:
Chat transcripts available
The option to transfer files
Message delivery status
View customer details during an ongoing chat
Pricing:
ProProf Chat's Essentials plan starts at $20 per month. Its most expensive plan, the Business plan, requires a custom quote, agreed with the ProProfs team.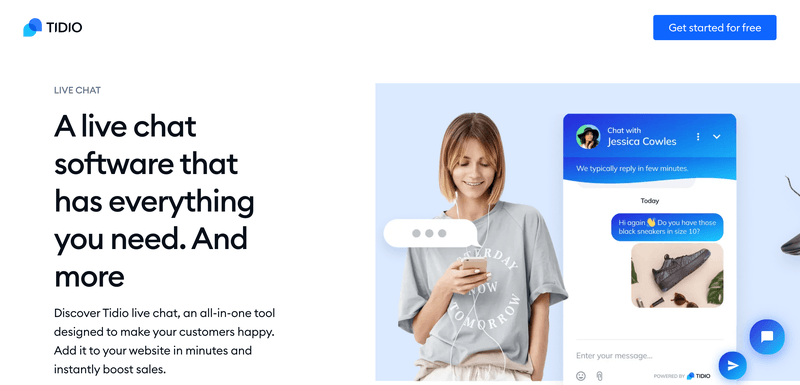 Like all live chat extensions, Tidio is designed to give real-time support to website visitors for a seamless customer service experience and reduced customer response times. All messages that come through to the live chat can be managed from one shared inbox, alongside inquiries you receive from emails and social media platforms.
Tidio's handy live visitors' list helps you understand which users are visiting your store and when, so you can build customer profiles and adapt your website accordingly. Plus, you can automate repetitive tasks by preparing ready-to-send replies to the most commonly asked questions, and see what your customers are typing live – giving you the chance to prepare a detailed response.
Key Features:
Ready-to-send replies
Customizable chat widget
Live visitors list
One shared inbox for all messaging services
Pricing:
Tidio offers a free trial, and once that finishes, there's the option to move onto their free plan. As appealing as it sounds for those on a budget, users of this free plan miss out on some of the platform's most attractive features. Paid plans start at €19 per month per operator, with the most expensive plan setting users back at least €289 per month.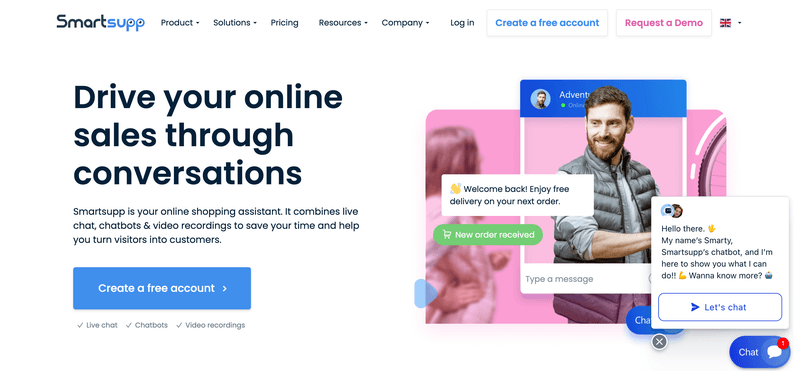 Smartsupp combines chatbot, live chat, and video technology to offer a seamless user experience for your eCommerce store's visitors. You can also access all your inboxes in one platform, combining live chat, email, and Facebook messenger.
Smartsupp's web dashboard contains complete visitor information – so you can see who's browsing your site at any given moment. Notice a lurker visiting over and over but never making a purchase? Optimize your sales by reaching out to them with an exclusive discount, or nudge them towards a product you think they'd like using Smartsupp's automated messages.
This live chat solution also offers a mobile app, so you can interact with your customers on the go. Software developers wanting to integrate Smartsupp with a third-party platform are in luck, since the chat extension's API allows for integrations outside of the selection already on offer.
Key Features:
API for integrations in your chosen platform
Video recordings of customer behavior
Automated messages
Detailed statistics
Pricing:
If your eCommerce store only requires one agent, you can use Smartsupp (albeit with limited functionality) for free. The standard plans start at €19.50 per month for start-up businesses, with their most expensive plan offering custom pricing.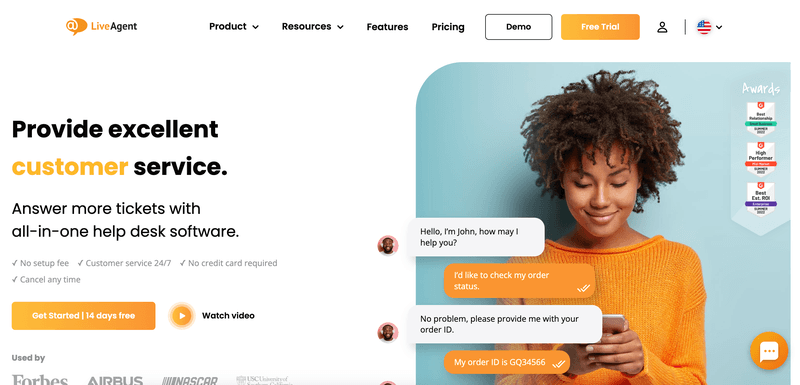 LiveAgent offers multiple support solutions, including their signature live chat solution that allows agents to manage multiple chats at once. One of LiveAgent's key benefits is that users get live chat support for the cost of a ticketing system.
LiveAgent's live chat is user-friendly and easy to install, and offers users access to unlimited chat history and ticket history. That way, chat agents can pick up where they (or another agent) left off, meaning a seamless transition for your customers, and minimal fuss for your agents.
The helpdesk's chat widget is customizable, too, so you won't have to worry about an out-of-place lime green chat box clashing with your neutral-colored branding.
LiveAgent users also benefit from the option of video call support, so agents can start with live chat before moving on to video-based support. While the diversity of features offered by LiveAgent is great, there's no pricing option just for users who want live chat – it all comes as part of the ticketing system.
LiveAgent Key Features:
Customizable chat window
Website monitoring and visitor tracking
Real-time typing view
Multilingual chat widget
Pricing:
While LiveAgent does offer a free account, the features are limited, and you can only see a week's worth of ticket history. For the ticketing system alone, it's $15 per agent per month, but throw in the live chat and the price increases to $29 per agent per month. For the all-inclusive helpdesk, you can expect to pay $49 per agent per month.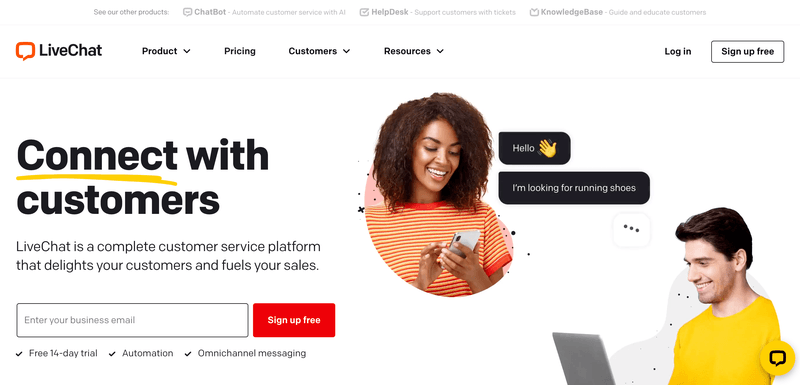 LiveChat is a complete customer service platform featuring a live chat extension for eCommerce stores. With omnichannel messaging, you can consolidate all your instant messaging platforms into one easy-to-use interface for a speedy customer response.
LiveChat allows agents to show customers products through the chat, so you can upsell during ongoing conversations and show off your range of products to an engaged customer. The sales tracker and personalized goals monitor your live chat's performance, so you can understand how it's benefiting your business and what you need to do more of.
Key Features:
Sales tracker
Leads qualifier
Show products live in chat
Pricing:
There's a 14-day free trial, then LiveChat's paid plans start at $16 per agent per month, going up to custom pricing for the Enterprise plan.
The bottom line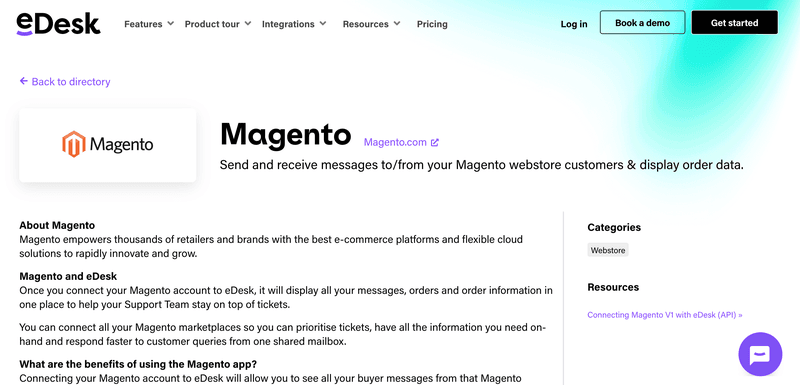 When it comes to optimizing store sales, you've got two options. You could stick with the same old customer service options of responding to emails, going back and forth with customers for days on end, and wasting valuable time that could be spent maximizing profits.
Or, you could invest in a live chat extension for a seamless customer service experience and an increased conversion rate. The choice is yours. Bear in mind that live chat is just one part of any user's journey.
The best way to ensure customer buy-in is to invest in a Magento integration that offers omnichannel support through an eCommerce helpdesk. Try eDesk for free to see for yourself how your business can start reaping rewards.