Want to know the best Black Friday tips for Amazon sellers? You've come to the right place.
If you're an Amazon seller, you'll know there's one event in the annual social calendar you simply can't miss: Black Friday. Taking place on the Friday after Thanksgiving (this year that's Friday, 25 November), this day is one of the most important in the retail calendar, thanks to the huge surge of online consumer traffic.
It's the perfect opportunity for your profits to shoot through the roof – if you do it right. So how can Amazon store owners make the most of this once-a-year retail extravaganza? Read on to find out how, with our Black Friday tips for Amazon sellers.
TL;DR
Black Friday is one of the most important retail events of the year, and an excellent opportunity to boost your sales not just on the day, but in the long term, too.
Start planning for Black Friday well in advance, and curate your Amazon and social media presence for new customers visiting your online store.
Make sure you're offering something unique, with perks such as free shipping, and exclusive discounts to reward regular customers.
Excellent customer service is paramount when it comes to boosting your store's sales. For a helping hand with your customer service strategy, consider getting a helpdesk for Amazon to handle all your customer messages on one platform.
What is Black Friday?
Black Friday takes place on the Friday after Thanksgiving, and it's a time when shoppers bag bargains from online and brick-and-mortar stores for the holiday season. During Black Friday, companies ranging from multi-national corporations to small local businesses offer Black Friday deals – from huge discounts on popular products to free shipping or even giveaways.
On the Monday following Black Friday comes Cyber Monday. Similarly to the Black Friday sales, Cyber Monday offers consumers significant deals and discounts across various products and services, the only difference being that all Cyber Monday promotions take place online.
In 2021, Black Friday saw 88 million Americans take to their laptop or mobile device to indulge in some online shopping – and that's just customers in the US. Black Friday opens up an entirely new market of people who don't online shop regularly, but who put money aside precisely for the attractive deals and discounts offered on Black Friday.
Why do you need a Black Friday strategy?
Businesses on Amazon can benefit from a selling strategy every day of the year, but Black Friday planning is even more crucial.
Black Friday is probably the most significant day in the retail calendar. Great for you – but great for all your competition, too. On Black Friday, it's more important than ever to stand out from the crowd and differentiate yourself from your competitors.
By putting together a Black Friday strategy that starts weeks before the retail event takes place, you'll get a head start on your competition, setting your Amazon store up for success.
Black Friday tips for Amazon Sellers
1. Prep your online presence

With an influx of new customers seeing your profile on Black Friday, your Amazon presence will be under more scrutiny than ever before. Not only will shoppers be checking your ratings and the overall look of your store, but they'll also be checking your reviews.
The majority of Amazon sellers have received poor feedback at some point, so a couple of negative reviews in a sea of positive ones won't do too much damage. What consumers will be checking, however, is that you take your customers' feedback seriously.
93% of potential buyers would read an online review before deciding whether or not to buy a product, so your potential customers will be eyeing up your review section for social proof.
By replying to negative reviews, you show that your customers' opinions are important to you and that you work hard to solve problems quickly if and when they arise. Your reputation as an Amazon seller is one of the variables most likely to increase (or decrease) the amount of first-time and repeat customers that buy from your store.
If you have a social media page to complement your online store, make sure it's up-to-date in time for Black Friday with these Cyber Weekend social media tips.
2. Start early

Amazon sellers know that Black Friday is actually Black Friday week – or even Black November. Online shoppers scouring the holiday sales for bargains will start looking well before Black Friday. Plenty of shoppers will have their favorite products saved, in the hope that they'll be discounted when Black Friday rolls around.
With that in mind, start planning for Black Friday as soon as possible. Order in stock and upload product listings to your page in good time, so that when online shoppers view your store in the run-up to Black Friday, they can bookmark your products to buy on the day.
3. Make the most of new customers

If you focus all your attention on gaining a new set of customers purely for Black Friday, you're missing the bigger picture. If you're clever with your marketing, your Black Friday shoppers can become regular customers.
Retaining customers can be more challenging than attracting them in the first place, but it mostly comes down to excellent customer service, speedy delivery, and a high-quality product.
To incentivize customers to keep returning for more products, message shoppers after they've bought from you with an exclusive discount code for their next purchase. Too many businesses focus on rewarding new customers instead of existing ones, but by rewarding customer loyalty, you'll make sure your regulars don't start looking elsewhere.
4. Streamline your customer service offering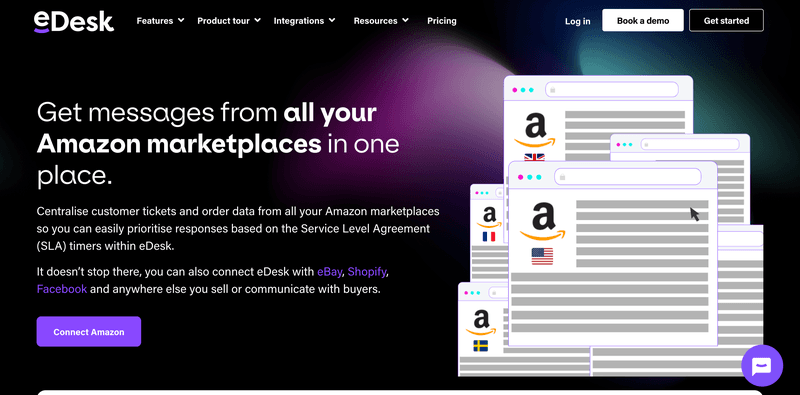 When Amazon sales pour in on Black Friday, you need to eliminate any barriers that may slow down your ability to fulfill orders. One of the common culprits is customer service enquiries.
There are multiple ways you can streamline your customer service strategy, so you spend less time responding to queries, and more time managing your business. A key step is adding an FAQ section to your product listing.
Customers don't always want to wait for a response from a customer service agent, and would rather find the information themselves with a self-service help center. As well as adding FAQs to your product descriptions, try a helpdesk for Amazon.
A helpdesk for Amazon, such as eDesk's, allows you to view all messages from all your Amazon marketplaces in one handy platform. Plus, you can connect your helpdesk to eBay, Facebook, and Shopify, so you can get a single view of all your eCommerce stores in one virtual desk.
5. Order sufficient stock

If you've got a successful marketing strategy in place, you should experience an influx of new customers over Black Friday and Cyber Weekend. Ideal, right? As long as you have enough stock to fulfill orders.
Ordering more than you think you'll sell is never a good idea – especially if you're buying products that expire – but buying at the top end of what you think you can reasonably sell is wise.
If you don't sell as many items as you expected over Black Friday itself, discount the items further in the hope of selling the rest on Cyber Monday.
6. Ask for reviews

Reviews are one of the best, most authentic forms of social proof available to Amazon sellers. Once a customer has purchased an item from you, request a review. The more reviews on your profile, the more potential customers will trust your Amazon store.
With eDesk's helpdesk for Amazon, you can get great reviews without lifting a finger.
eDesk Feedback uses the Amazon feedback software system behind the Request a Review feature in Seller Central, so it's 100% compliant with Amazon's policies, making it easier than ever to gather social proof for your profile.
7. Offer free shipping

Think you've tried every trick in the Black Friday book? Try adding free shipping, too. If you already offered free shipping to customers, create product bundles, up-sell, and cross-sell to increase your sales even more.
Strategic bundling also just happens to be one of the best ways to land a Buy Box, so it's a win-win.
8. See what's trending

Every year, there are a few products that rule the retail space. From children's toys to beauty products, check retail news to see what the upcoming trends are for this season.
Once you've established which products are in high demand, research competitors that are also offering those products, and find a way to set yourself apart, whether it's with free shipping or a quirky brand presence.
9. Stock up in the sales

Don't be so busy setting up your store for Black Friday that you forget to benefit from the deals and discounts yourself! Some of the best Black Friday deals might be the stock you need for your store, so load up your inventory cheaply, and sell those products for a higher price later in the year.
10. Optimize your product listing

Black Friday attracts more customers to marketplaces than many other days in the retail calendar. But with all these new shoppers up for grabs, how do you make sure they find your Amazon store, and not your competitors'? You need to optimize your product listings.
There are a few ways you can make your products easier to find. Use relevant, high-converting keywords that shoppers will be searching for in your product description.
Once shoppers have found your listing, they'll probably only see it for a number of seconds before deciding whether or not to purchase an item. Your job is to make an impact during those seconds.
Use high-quality images, taken with the best camera or camera phone you have. Blurry, poor-quality photos that don't do a good job of showing the product and its features will put prospective buyers off.
Giving a detailed product description is also crucial. Black Friday shoppers want information quickly – they don't want to message back and forth to find out key details about the item. Use bullet points for concise information all in one place, and include vital information such as material and dimensions to manage your customers' expectations.
11. Make data-driven decisions

It's crucial to avoid spending money you won't get a return on, whether it's a form of advertising or stock that won't sell.
Before developing your Black Friday sales strategy, use data from your store to decide which products to list and which products to discount. Take a look at your sales from last year's Black Friday to establish what offers worked and what didn't, to learn from your mistakes and replicate your successes.
You can also use market research to your advantage. Search for SEO keywords, including terms related to your industry, to discover what your target audience is searching for. Research your competitors and their best-selling products, so you can see which products you should buy more or less of.
The bottom line
Black Friday and Cyber Monday deals don't just happen overnight. For the best results on Black Friday, make sure you plan your strategy in advance and get your stock and your Amazon profile ready for an influx of new virtual visitors.
If you really want to level up your customer service during Black Friday and beyond, try a helpdesk for Amazon. You can manage all your messages in one handy platform and get back to customers at lightning speed, while also giving your Amazon store global reach with eDesk's auto-translate feature.
The result? More time for you to focus on growing your business.