If there's one thing that eCommerce offers in abundance, it's flexibility. Unlike traditional brick-and-mortar stores, if your eCommerce strategy is failing or your products go out of fashion, changing them isn't a huge deal. You don't have to redecorate a building or move your premises.
Advantages like this are what's led to eCommerce sales accounting for 20.8% of all sales worldwide, and traditional retailers opening online stores. But to make the most of this flexibility, your approach needs to be adaptive and dynamic – able to change things at the click of a button to keep customers engaged.
The solution? Headless eCommerce solutions.
TL;DR
Headless eCommerce stores use a decoupled front end and back end solution, for ultimate customizability in the customer experience.
The benefits of headless commerce platforms include unlimited customization, an omnichannel experience for customers, ease of integration, and faster time to market.
Examples of headless commerce platforms include Magento, Shopify Plus, BigCommerce, Snipcart, Salesforce Commerce Cloud, and CommerceTools.
Whichever eCommerce platform you opt for, it's worth investing in a customer service desk solution to complete your entirely customizable user interface.
What are headless eCommerce platforms?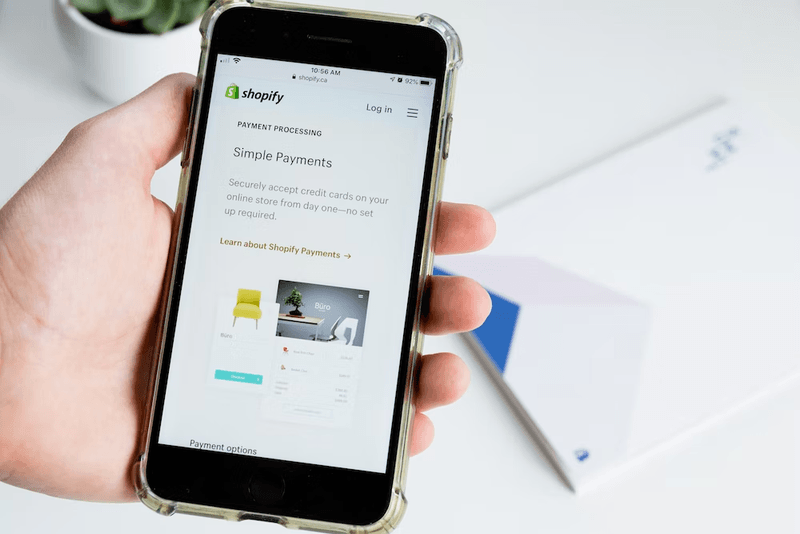 A headless eCommerce platform is one that separates the front end of an eCommerce system from the back end. Put simply, you can change your product page and user interface without interfering with the back-end logic of your store, such as your order processing and shipping tools.
The front end presentation (such as templates and themes) is decoupled from the back end infrastructure that powers the store. This approach allows companies to use their front end technology of choice to provide a seamless user experience, while integrating their preferred back end eCommerce solution to manage functionality. It truly is the best of both worlds, with 92% of businesses claiming it's easier to deliver a powerful digital experience through headless commerce.
How do headless eCommerce platforms work?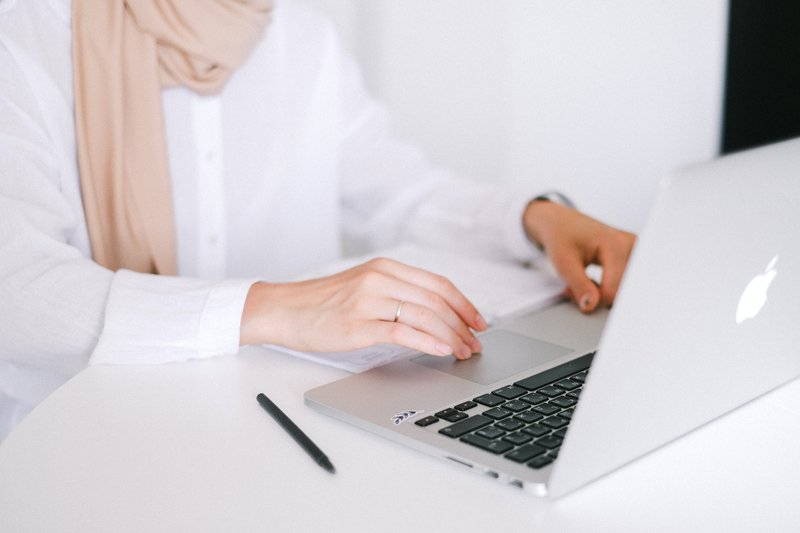 A headless eCommerce solution uses something called an API – an application programming interface – to deliver content. This software acts as an intermediary between the front end and the back end.
Headless eCommerce systems communicate API requests between the front end and the back end when a customer performs an action on your online store.
Let's say a customer buys a product from your store using their tablet. The user interface will trigger an API call, which is sent to the back end, or in this case, the order management system. The back end system processes the customer's order and communicates this to the interface, which presents the customer's order status. Et voila!
The process works the same whether customers use a smartphone, laptop, or tablet to access the store. As far as your customer is aware, it doesn't matter what's happening in the back end of your online store, as long as they get their order (and excellent customer service to boot).
The benefits of headless eCommerce platforms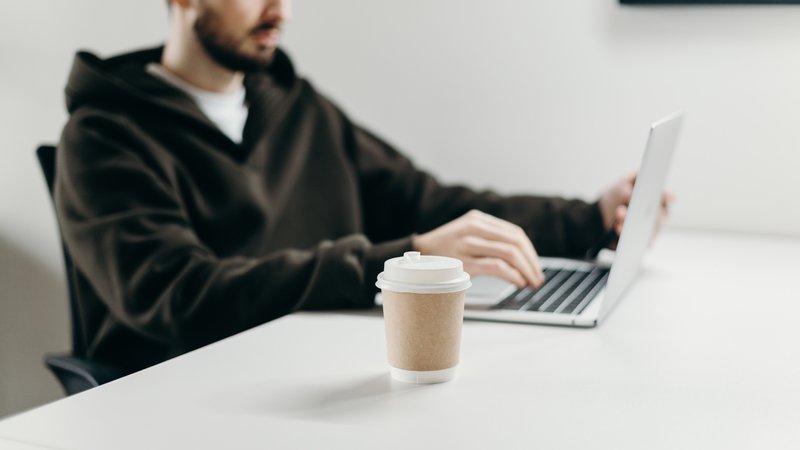 Unlimited customization
The more control you have over your eCommerce store, the better. With the headless eCommerce approach, you're not restricted to a one-size-fits-all customer experience. Since the front and back ends are decoupled, you can experiment with changes to your customer interface without worrying that you'll disrupt its underlying infrastructure.
Reports of an illogical user journey? Does your store theme no longer fit your brand's aesthetic? Worried your checkout page has too many steps and it's leading to cart abandonment? If you need to make quick changes to your front-facing content, you can do so, without having to reconfigure your entire store.
The ability to experiment can't be underestimated, with quick responses to changes in the market being key to the success of your store. If one of the key advantages of eCommerce over brick and mortar is its rapid ability to change and re-brand, make the most of it with a headless commerce system.
Faster time to market
While the planning stages of an online store can be incredibly exciting, any budding business owner knows that the longer you spend setting up your store, the longer you go without turning a profit. With that in mind, having a reasonable time to market is paramount.
A headless eCommerce platform can support new technologies when they're fresh off the market, and they can adapt their store in days when customer trends change overnight. Plus, by combining two systems in one (your front end and your headless content management system), you don't have to wait for an entire system that fits your needs before getting started.
Omnichannel experience
Customers expect a seamless experience whether they're shopping on their mobile, tablet, or laptop. And what they don't expect is to have to navigate an entirely different user journey on each one. That's where the omnichannel solution of a headless commerce platform comes in.
The beauty of a headless commerce solution is that it allows a company's own developers to create the front end for any new digital sales channel, allowing your store to stay ahead of the curve when it comes to delivering omnichannel experiences.
Given the speed at which technology's progressing, along with the growth of IoT (think interactive digital signage), it's not inconceivable that platforms will have to adapt to entirely new user interfaces within years. The ability to adapt to new digital channels quickly is what can set your business apart from others.
Easier adjustments
Picture the scene. You need to make a quick change to your site's checkout design to bring it in line with your new branding. You click one wrong thing and accidentally break your checkout process, preventing potential customers from shopping with you for hours.
With a traditional platform, you run the risk of affecting your checkout's functionality by making one small edit. That's because with traditional digital commerce platforms, what you do on the front end directly affects the back end.
If you need to make a simple update to your digital storefront, it's much easier when you don't run the risk of messing up your entire store's functionality. If your customer touchpoints need updating, rest assured that you can play around with your store's aesthetic without putting it out of business for a few days.
Increased conversion rate
As with all the benefits of an eCommerce platform, you're ultimately looking to increase your profits. The advantages of headless commerce – such as a faster speed to market and better uptime when making changes – can result in an increased conversion rate.
This increased conversion rate will show up nicely in your bottom line, giving you more money to invest back into your business or simply enjoy as profit.
The best headless eCommerce platforms
1. Shopify Plus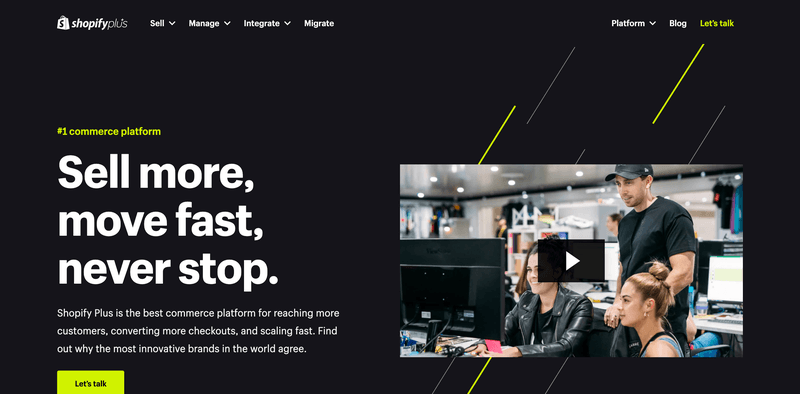 If you're present in the world of eCommerce, you'll know about Shopify. Arguably the biggest eCommerce platform currently in use, Shopify provides eCommerce sites for some of the world's biggest brands, and its easy-to-use interface and wealth of apps make it popular with everyone from new starters to enterprise-level global corporations.
For a while, Shopify was a traditional eCommerce platform, before its API made it compatible with headless solutions through Shopify Plus – Shopify's most expensive pricing plan, aimed at growing corporations. Think of it as Shopify's cooler older brother, with the reliability that makes Shopify so popular, alongside extra functionality.
As with all of Shopify's pricing plans, Plus is known for its iron-clad stability. Your store is unlikely to go down just when you're running an all-important sale, and the user dashboard is simple to get to grips with, even for beginners.
Shopify's customer service has a decent reputation, too. There are multiple ways you can get in touch with the support team, and Plus users get help on setting up and growing their store from a designated staff member.
Not to mention, there are community forums where you can find advice from other users, as well as a comprehensive help center covering almost every issue or piece of advice you'll need.
Shopify Plus Features
Integrations and apps for popular tools such as Mailchimp, Google Sheets, and Slack.
Live chat and phone support, as well as a designated account manager for Plus users.
Customizable themes, checkouts, discounts, payments, and more.
API resources.
Shopify Plus Academy, which is home to self-guided training to supercharge your store's sales.
Shopify Plus Pricing
Shopify Plus isn't for those on a tight budget. Costing upwards of $2000 per month, Shopify Plus is better suited to well-established businesses looking to grow than start-ups with little cash to spare.
While it's a more expensive solution than many others, users report a significant return on investment with Shopify Plus. Bear in mind that thanks to Shopify Plus's extensive functionality, you might be able to save on staffing costs by implementing this popular headless eCommerce platform.
If you're in the financial position to do so, it's well worth giving this headless eCommerce website a go.
2. BigCommerce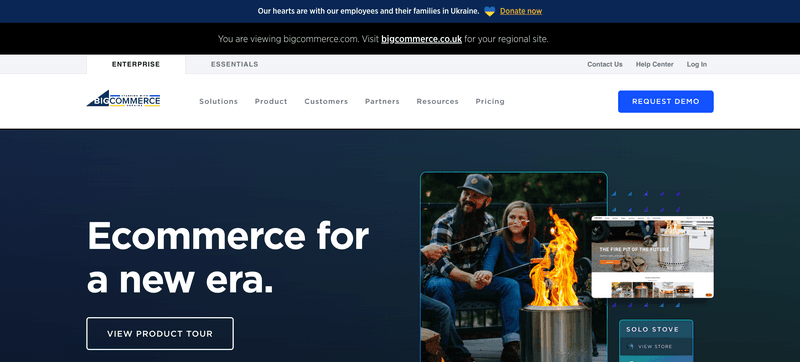 Along with Shopify, BigCommerce is another big player in the world of eCommerce that offers a headless commerce approach. With BigCommerce, online business owners can decouple the back end engine from the front end user interface, allowing you to run several stores across several channels, all from one centralized location.
BigCommerce offers a range of front end framework solutions, each with its own advantages. These include Next.js, the leading react framework for front end devs, Gatsby.js, which turns eCommerce sites into progressive web apps, and Nuxt.js, which offers an intuitive front end framework.
BigCommerce's open API headless architecture, coupled with its large (and ever-growing) set of apps designed to integrate with ease, makes it easier than ever to innovate and adapt your store in response to customer trends.
This eCommerce business platform is essentially a developer's dream. There's tons of freedom and flexibility, but the pre-integrated apps make it easier than ever to connect your store to useful tools.
One thing every eCommerce business owner worries about is uptime. If your store drops offline – even for a few minutes – it can negatively impact your user experience, sales, and reputation. BigCommerce promises 99.99% average uptime, as well as consistency even with traffic spikes and large-volume orders.
BigCommerce Features
Access to fully-customizable themes with built-in HTML, CSS, and Javascript.
Unlimited checkout customization.
Built-in mobile optimization for a site that works across multiple digital devices.
WordPress integration.
An easy drag-and-drop page builder.
BigCommerce Pricing
Prices start at $29 per month for BigCommerce's standard plan. The more features you want, the more you can expect to pay, and for an enterprise-level solution, you have to contact the sales team directly for a quote.
3. Magento/Adobe Commerce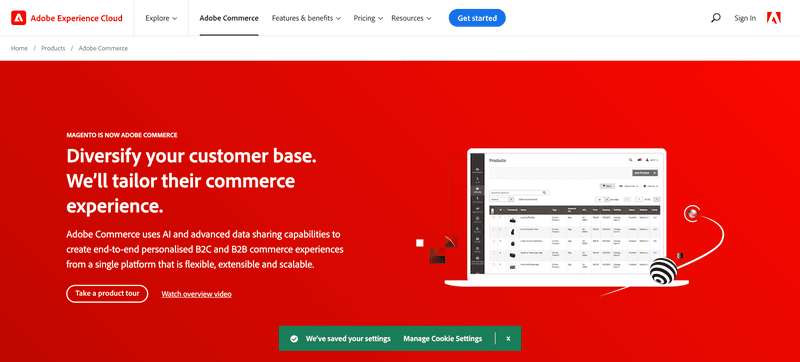 Adobe Commerce, previously known as Magento, takes a headless approach to eCommerce, promising tons of customizability and an omnichannel solution. This popular platform offers developers the chance to create custom applications to suit their customer's needs, so you can tailor your eCommerce offering to your target audience.
With personalization on the rise, the importance of appealing to your customers' needs directly can't be overstated. And with 73% of consumers preferring to shop through multiple channels, Adobe Commerce's omnichannel approach has never been more useful.
The platform is known for its inventory management system, which allows you to track what's in stock across all your locations, in real time. If analytics are what you're looking for, you'll find them on Adobe Commerce, thanks to its advanced data visualization tools.
Keeping better track of your customer trends, sales, and touchpoints, allows you to create a better-informed strategy to supercharge your sales going forward.
You'll also enjoy the option of custom integrations through web API frameworks. You can create CMS, marketing, accounting, and inventory management integrations, among other handy tools to support your business.
One thing to note about this platform is its high customizability lends itself to use by people with development expertise. If you don't have developers as part of your team, it's worth considering outsourcing or hiring freelancers.
Adobe Commerce Features
SEO feature to boost your online store's visibility.
An unparalleled inventory management system.
Help center with useful self-service options.
Various payment gateways on offer for customers.
Adobe Commerce Pricing
Adobe Commerce's pricing is available upon request from the sales team.
4. Salesforce Commerce Cloud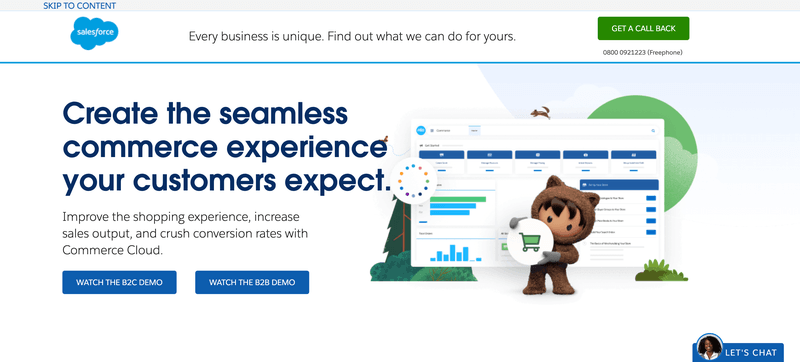 Created by the CRM giant, Salesforce, this headless commerce platform comes with configurable APIs to offer developers the ultimate customizable front end and back end experiences.
Given that Commerce Cloud is the brainchild of an esteemed CMS company, you can seamlessly integrate your online store with Salesforce's content management system, which helps personalize customer interactions. You can pull your existing data from Salesforce to be used in your eCommerce endeavors.
While Salesforce promises lots of tools and integrations for users, it's not quite as beginner-friendly as a platform like Shopify. The multiple APIs can take longer to get used to, so this headless commerce platform could be more suited to businesses with a dedicated development team.
Salesforce Commerce Cloud Features
Order management platform.
A wide range of integrations.
Options for a B2B and a B2C eCommerce platform.
Endless aisle, a feature which integrates your digital store with your physical customer touchpoints.
Seamless mobile optimization.
Salesforce Commerce Cloud Pricing
To find out more about Salesforce's pricing plans, contact the sales team directly.
5. Commercetools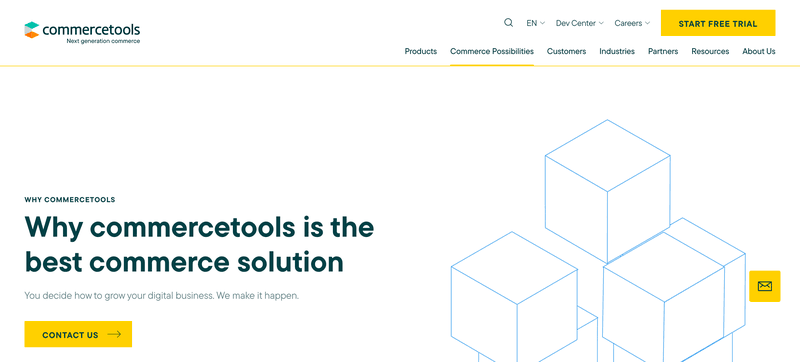 This eCommerce platform is truly API-first, so you can customize the customer experience in a way that's more likely to increase your average order value and conversion rate. Commercetools is popular with both B2C and B2B sellers, offering features and tools for both types of businesses.
One of Commercetools' greatest advantages is the ability to deploy eCommerce experiences across various touchpoints, including mobile apps, websites, and even voice assistants. This flexibility is available thanks to the platform's API-driven architecture. Its APIs cover everything, so you can wave goodbye to the need for SQL and other customizations.
As far as integrations are concerned, there are fewer available than some other headless commerce options, but you'll have access to various payment management, content management, and CMS systems.
While the use of an API doesn't make the platform as suited to complete beginners, the user interface is clean, simple, and straightforward to use. On the other hand, the customer service options are limited, so community support might be your best bet for technical queries.
Commercetools Features
Order management tools.
Built in The Cloud.
A/B testing options.
A stable back end regardless of traffic spikes.
Commercetools Pricing
To find out more about Commercetools' pricing plans, contact the team directly.
6. Snipcart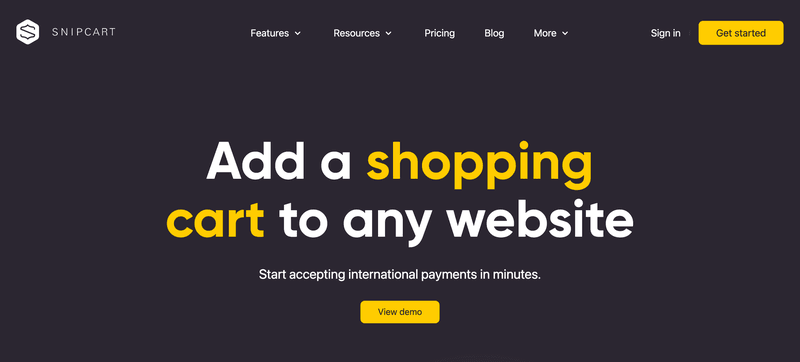 Snipcart is a headless eCommerce platform, but it doesn't come with an eCommerce site builder like many of the other all-in-one solutions. Instead, Snipcart allows you to add a cart and allow users to check out on any website or web app, including using international payments.
Snipcart integrates into many CMS, such as WordPress. You can enjoy features such as inventory management, marketing options like pop-ups and discounts, and a quick and easy setup. There's a dedicated support page for technical queries, as well as an email address for the customer support team.
The platform also boasts a wealth of tools designed to increase your sales. There are abandoned cart retrieval features as well as customized shipping methods, so you'll never let a sale slip through your fingers again. Not sure what works and what doesn't? Snipcart's analytics give you an insight into how well your current strategy is working.
Because of the solution's limited functionality, Snipcart doesn't offer an end-to-end solution for people wanting to open an online store. Instead, Snipcart is best used in conjunction with other tools to make your site or app suitable for eCommerce transactions.
Snipcart Features
Advanced inventory management.
Fast checkouts with minimal steps.
No redirection.
Connects with many of the most popular eCommerce tools.
Snipcart Pricing
Snipcart runs a scalable business model, so you'll pay more when you're doing well, and less when your finances aren't as strong. You pay 2% to Snipcart on all transactions.
7. Swell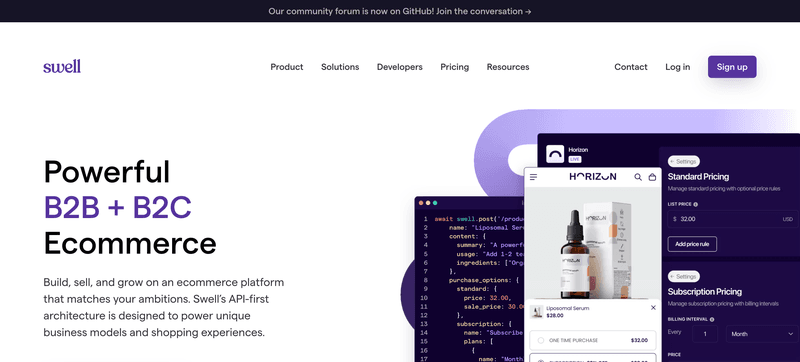 Whether you run a B2B or B2C business model, Swell is filled to the brim with features to increase your sales and improve your user experience. This API-first platform specializes in powering unique business models thanks to built-in subscription capabilities, wholesale and marketplace features and some serious customizability.
Swell's easy-to-use site builder gives you the option of working with one of the stylish ready-made themes or building custom storefronts. You'll even have the ability to customize style, content, and functionality without the need for code.
When it comes to eCommerce, Swell understand that the proof is in the pudding, and the pudding in this scenario is a high conversion rate. Built-in promotional features allow you to set up discounts, cross-sell and up-sell and even generate custom coupons to encourage users to buy more.
Swell's customer support and documentation aren't as detailed as other headless solutions, so despite its simple user interface, you might find it takes a little longer to find your way around.
Swell Features
Multi-layered and fully-encrypted security features.
Integrations include Stripe, PayPal, and Mailchimp.
There's a free option with limited functionality.
Effective marketing tools help to increase conversion rate.
Swell Pricing
For businesses that are just getting started, there's a 'free' option. While it doesn't require a monthly payment, you will have to pay Swell 2% of your sales. The Standard plan costs $299 per month, while larger, more established businesses might benefit from the $2000 per month Enterprise plan.
8. OroCommerce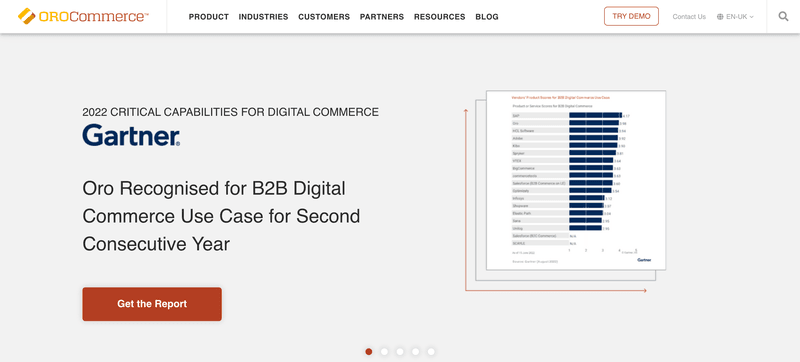 OroCommerce is a commerce solution aimed at B2B online businesses. The platform is the brainchild of Magento's leadership team, so you can expect a similar level of functionality and customizability.
With this popular platform, you can choose between taking a headless approach or a traditional approach – whichever best suits your need. The company's approach is open source, which means there's a thriving developer community available to discuss the product and brainstorm ideas.
OroCommerce boasts. a robust inventory management solution that allows you to manage multiple warehouses and websites at once, either at your premises or on the cloud. Another huge advantage of OroCommerce is its in-built CRM, which allows for easy creation and analysis of sales pipelines, customer categories, and income projection.
OroCommerce Features
Custom user roles.
Multiple price lists and shopping lists.
Custom reports.
Built-in content management system.
Personalized B2B catalog management.
OroCommerce Pricing
To find out more about OroCommerce's pricing plans, get in touch with the sales team directly.
9. Nacelle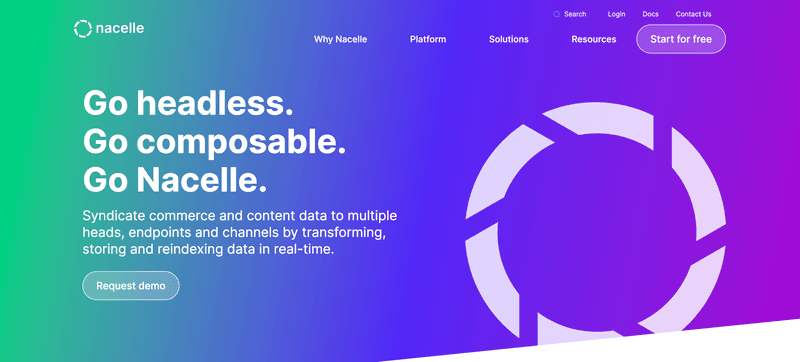 If you're looking to create headless architecture using a tech stack you're already using, you'll need Nacelle. By collecting data from your existing system and connecting it with your store, Nacelle makes it considerably easier to set up an eCommerce store without the need for migration.
The data is processed using a GraphQL API, which works especially well with builds that use a progressive web app.
Nacelle's system stores and reindexes data in real time, including from platforms such as Shopify, Salesforce, and Adobe Commerce (Magento). If you already have multiple tools in place, Nacelle will bind with them, rather than replacing them. This flexibility makes Nacelle ideal if you want to continue using your existing tools, but with extra eCommerce features.
Nacelle Features
Fits into your existing tech stack.
Data can be pulled from Shopify, Magento, and Salesforce, as well as CMS and OMS systems.
Nacelle Pricing
There's no pricing listed on Nacelle's site. To find out more, book a pricing consultation with the team. You can try Nacelle for free for 30 days before committing to a paid plan.
10. Commerce Layer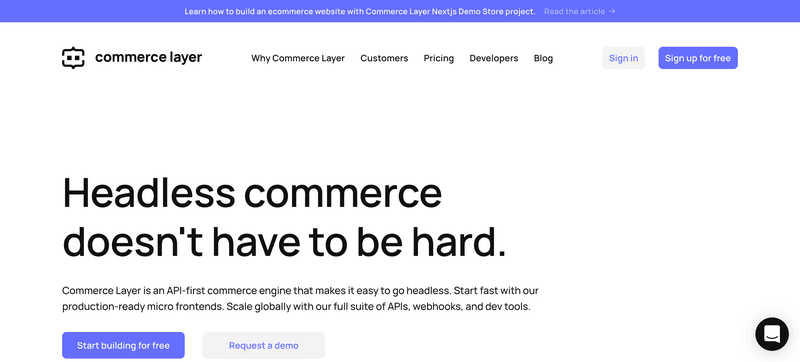 This Italian headless commerce platform doubles as an order management system and allows you to add global shopping services to websites, mobile apps, and even IoT devices. Commerce Layer prides itself on being user-friendly – a characteristic that not all headless commerce stores share.
This platform also prides itself on being easy to set up, no matter what size your business is. You can start with Commerce Layer's micro front ends to build a successful proof of concept for your existing site. This speedy turnaround makes it easy to test if a headless approach is right for your business. Plus, you've got the option to either create a new eCommerce store from scratch, or simply add a shopping cart to an existing site.
A significant concern for any online business owner is uptime. For every minute your website is down, you're losing out on potentially huge chunks of revenue while frustrating your customers in the process. That's why it's such welcome news that Commerce Layer boasts a guaranteed uptime of 99.99%.
There are a few features that could be improved – the customer support options, for example, are limited – but overall, Commerce Layer is a robust, simple-to-use headless platform that allows you to equip your website with eCommerce functionality in days, not weeks.
Commerce Layer Features
A flexible data model.
Detailed documentation for your development team.
There's a free pricing plan for businesses on a budget.
Commerce Layer Pricing
You can start building using Commerce Layer for free, but there are limited features with this option. Paid pricing plans start from $649 per month, while enterprise-level companies can contact the sales team directly for a custom quote.
11. Teleport HQ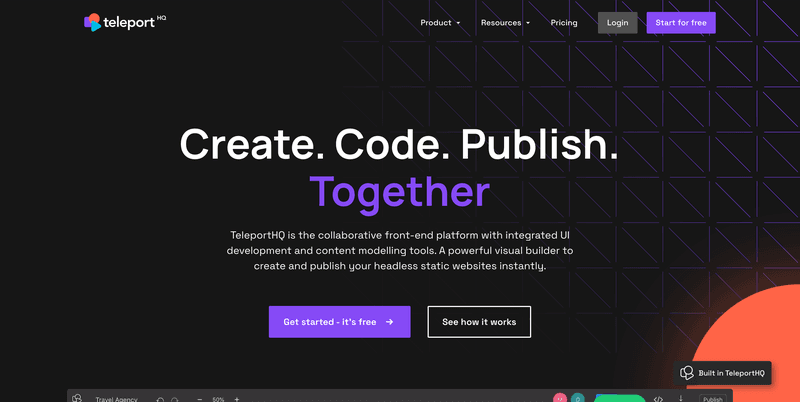 Teleport HQ is a front end platform that allows you to create a high-converting, eye-catching storefront using a simple drag-and-drop editor – no graphic design skills needed. You can combine website templates and advanced customization tools to create a storefront that's tailored to your target audience.
The support team are available via live chat and email, while the wider developer community has a Discord chat that explores the platform, asks questions, and shares tips.
Teleport HQ Features
SEO features.
An AI-powered website builder.
Advanced customization tools.
Teleport HQ Pricing
There's a free plan that comes with basic features for no cost. For access to all of Teleport HQ's features, you can pay €15 per editor per month. For this price, you'll enjoy unlimited projects, the option to upload videos, and dedicated customer support.
12. Spryker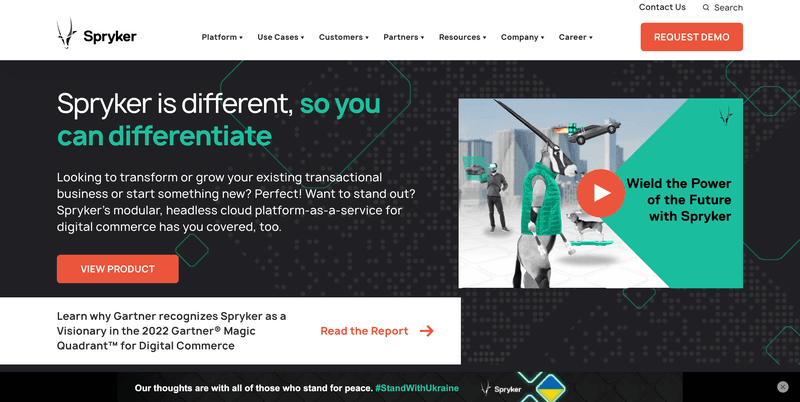 With an easy-to-use interface, the German headless commerce platform Spryker is perfect for B2B and B2C companies alike. Spryker uses more than 900 API modules to allow you to scale your business without the barrier of technical limits.
If its extensive customizability doesn't win you over, its impressive customer base will, with companies such as Toyota and Lekkerland using the solution for their online stores.
If increasing customer loyalty and the average order value of shoppers on your site is your goal, it's made easier with Spryker's IoT touchpoints for recurring eCommerce purchases.
Spryker Features
Fast deployment makes it easy for even large companies to go live quickly.
Marketplace capabilities.
Extensive documentation.
B2B and B2C capabilities all in one platform.
Spryker Pricing
Pricing is available upon request from the Spryker sales team.
13. LogiCommerce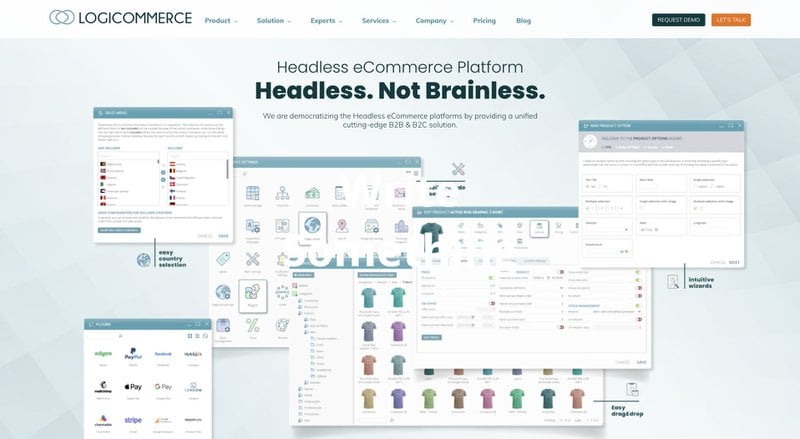 LogiCommerce is a SaaS Headless eCommerce platform that provides cutting-edge technology for growing businesses and large organizations through a Unified B2B & B2C solution.
It allows you to build your Front-ends from scratch or use its Web-Front-end solution to create more engaging and personalized shopping experiences; it seamlessly integrates with third-party solutions and features a wealth of Plug-ins. Moreover, it allows you to choose from more than 200 native B2B and B2C functionalities such as multi-currency system, multi-invoicing company, multi-shipment system, advanced SEO tools, pricing policies and sales agent management, among others.
Its intuitive and easy-to-use BackOffice is one of the elements that makes LogiCommerce stand out from other platforms. It helps you simplify the day-to-day operations of your eCommerce by connecting and managing multiple channels from a single Control Panel.
LogiCommerce provides a worldwide self-scalable infrastructure – with 24/7 global support – that guarantees high security standards and a minimum uptime of 99% with SLAs.
The software is provided through an innovative two-service architecture: SaaS and PaaS. It has the Core in Java and is delivered on a multi-tenant SaaS architecture, which provides maximum robustness, non-disruptive upgrades, and full scalability. And the Front-end is delivered on a single-tenant PaaS architecture, which provides an isolated infrastructure for an open source Front-end, offering the flexibility to create completely customized designs with high scalability, security and speed.
World-renowned brands such as VW, Audi, GAP, eseOese, Munich, IMC Toys and Nestlé rely on LogiCommerce.
LogiCommerce Features
Headless B2B & B2C unified all-in-one platform
Very intuitive and easy to use BackOffice
200+ native B2B & B2C functionalities
Seamlessly integrates with third-party solutions
Transparent pricing; no hidden costs or transaction fees
LogiCommerce Pricing
Focused on growing companies and large organizations, LogiCommerce is perhaps the most affordable Headless platform on the market. Its pricing policy is very transparent, with no hidden costs or transaction fees, and all prices are published on its website.
FAQs
What's the difference between headless commerce platforms and traditional eCommerce platforms?
While both traditional and headless eCommerce platforms offer benefits for budding online entrepreneurs, there are key differences between the two.
The traditional eCommerce model is an all-in-one solution, in which the back end and front end are connected. If you make a change on the back end, it will be reflected in the customer-facing aspect of your store.
Let's imagine your developer edits a design element on your store's user interface. With a traditional eCommerce platform, this adjustment could mess with the checkout's functionality, stopping users from being able to carry out a crucial step.
When customers try to buy items on your site only to find out it doesn't work, this could cost you valuable sales, as well as putting them off returning. Not to mention that your site could develop a reputation for unreliability, and with consumers telling friends and family about their shopping experience, that's not something you want to risk.
If your developer edited a design element on a headless platform, on the other hand, they wouldn't have to worry that the site would crash or the functionality would be affected.
On the other hand, headless commerce solutions can be harder to use for beginners, so it's worth making sure you or somebody on your team is familiar with APIs and the basics of development before opting for this type of platform. If you're a beginner with a limited budget and a small team, there are benefits from working with an all-in-one platform.
How should I choose the right headless eCommerce platform?
Don't opt for the first headless solution you come across. First, you need to decide what you're looking for. Choosing the right platform could make or break your store's financial success.
An obvious place to start is setting your budget. If you're just starting out on your eCommerce journey, you might want to go for a cheaper option. If your store is flying high and you want to grow and supercharge sales, consider spending more in return for extra functionality and features.
Next up, determine your goals and which features would help you achieve them. Does your current provider have limited functionality? Are you searching for more apps that integrate with your decoupled commerce system of choice?
Consider which features are priorities and which ones you can live without before choosing which headless eCommerce platform to work with.
What are the disadvantages of headless commerce?
As with any online solution, there are some aspects that will suit you, and some that won't. Headless eCommerce platforms are no different.
For starters, running headless eCommerce businesses can cost more. Because the front end and back end of your site are decoupled, you may need to pay for hosting and maintenance for each. Not to mention that higher levels of customizability can increase the need for a development team.
The plus side of these extra spends, is that headless commerce is known for providing an excellent return on investment. With less downtime and quicker adaptability, any extra costs you spend on this technology tend to be offset by an increased conversion rate.
The key to headless eCommerce success
If you're searching for an eCommerce platform with ultimate customizability and flexibility, look no further than a headless eCommerce system. From Shopify Plus to BigCommerce, some of the most respected names in the eCommerce business offer headless commerce architecture, so you can scale your store in record time.
But customizability is only one part of the equation. To attract (and retain) paying customers, the importance of customer service can't be overlooked, especially if long-term business growth is your goal.
Put simply, headless platforms work best when paired with a killer customer service strategy to boot. Customer service tools such as online helpdesk solutions can reduce response times, improve customer loyalty, and ultimately, improve conversion rate.
Look for a helpdesk such as eDesk, which offers advanced live chat functionality, as well as the ability to integrate seamlessly with your favorite eCommerce platforms. The combination of headless commerce functionality with an unparalleled customer service experience makes for a foolproof sales strategy to grow your store – and your bottom line.