All successful eCommerce businesses have one thing in common: an eye-catching online store complete with killer copy and a user-friendly interface. But if you're not an internet whizz or graphic design expert, how exactly do you create one?
Platforms like WooCommerce and Shopify offer even novices to the eCommerce space an easy way to create an online store that converts. The best part? These popular platforms allow you to do it all by yourself, without help from professional designers or developers.
So, which platform is best for your new online business? It really depends on what you're looking for from your eCommerce platform. Whichever platform to choose, your store will perform best if you pair it with a killer customer service helpdesk for Shopify or WooCommerce. Now, let's dive into our comparison.
TL;DR
Shopify Plus and WooCommerce are two popular eCommerce platforms that give budding entrepreneurs the ability to create and grow an eCommerce site from scratch with no previous experience.
Both platforms have pros and cons and a unique set of features, so it's worth considering which features are most important to your store before choosing between the two.
Shopify Plus is hosted and licensed, but WooCommerce is open-source, so you'd need to host it yourself.
Shopify Plus is more expensive than WooCommerce, but offers plenty of in-built features and an excellent customer support package.
If you want to optimize your chances of online success, invest in a helpdesk for WooCommerce or Shopify Plus.
What is Shopify Plus?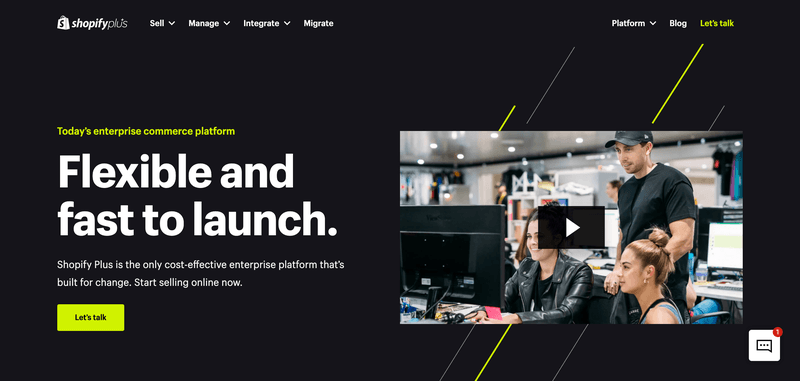 Unless you're completely new to the eCommerce space, there's a high likelihood you've heard of Shopify. Shopify is one of the most popular eCommerce platforms on the market, and it's helped countless online stores go from small startups to thriving international businesses.
Shopify uses cloud-based software, meaning you can create your own online store without the need to download any software or code a website from scratch. If you're considering using Shopify as your platform, make sure you check out the differences between WooCommerce and Shopify.
Shopify Plus is Shopify's most expensive pricing plan. The cooler, smarter older brother of the other Shopify options, Plus is specially designed for high-volume, enterprise-level online brands.
Used by the likes of Gymshark, Nestlé, and Red Bull, the enhanced platform offers more customization, improved multichannel and omnichannel features, and the ability to reliably handle tons of traffic.
There are currently more than 25,000 domains running Shopify Plus. According to Kelly Brown, the COO & CFO of The Working Party, "Shopify Plus is the most robust and flexible eCommerce platform on the market."
"With Shopify Plus, you can get to market quicker, integrate your existing business functions and focus your budgets on driving traffic." While this is just one business owner's opinion, it speaks to the success Shopify Plus has enjoyed since its inception.
What is WooCommerce?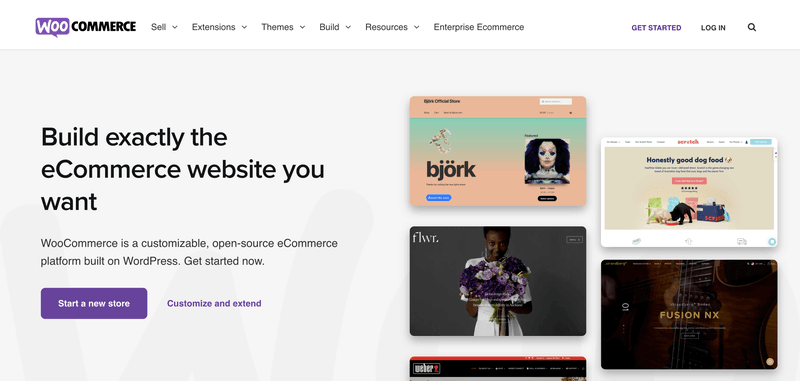 6.2% of the top 1 million websites use WooCommerce. This eCommerce platform has an impressive success record and has helped plenty of lucrative businesses create thriving online stores.
WooCommerce differs slightly from Shopify in that it's a WordPress plugin, so you need a WordPress website to start with in order to use it. WooCommerce essentially turns your regular WordPress site into an eCommerce store.
Once downloaded, the plugin is fully compatible with the functions on your WordPress site. WooCommerce allows you to build an entire eCommerce site complete with products, a shopping card, and simple checkout.
Just like Shopify Plus, WooCommerce is scalable. If you're worried about whether you can grow and develop a successful store with WooCommerce, don't be. The platform features a wealth of features and a fast, user-friendly experience for customers.
WooCommerce vs Shopify Plus
Whatever your niche within the eCommerce market, both WooCommerce and Shopify Plus are excellent eCommerce options. To make it less challenging to decide between the two, it's worth making a list of the features you're looking for in an eCommerce platform, as well as establishing your budget.
Here are a few things to consider when deciding which platform is best for you.
The look of your website – which themes are available, and do they suit your brand?
How many products you'll add, and what type.
Whether you'll be selling internationally.
Whether you want an open-source or a licensed platform.
Payment options.
A shipping process.
Shopping cart options.
Developer requirements (Shopify users usually need a web developer to help customize their websites, while WooCommerce users need developers to keep their WordPress sites up to date).
Establish exactly what features your ideal eCommerce platform would have, then see how Shopify Plus and WooCommerce compare.
WooCommerce vs Shopify Plus features
Customization
Having scope for customization is a crucial part of any eCommerce platform. To successfully stand out from competitors and cultivate a clear brand identity, you need a look and inventory that's entirely customizable, as well as features you can adapt to suit your target audience.
If there's one thing both Shopify Plus and WooCommerce offer users in abundance, it's customization. WooCommerce allows you to sell anything, whether it's products, services, subscriptions, or bundles.
There are also tons of WooCommerce themes you can access to help your store stand out from the rest. This feature is particularly useful for business owners who don't have any graphic design expertise because it allows even novices to create professional-looking eCommerce stores.
Want to enhance your store with features that WooCommerce doesn't have yet? That's where the WooCommerce marketplace comes in.
The marketplace offers a variety of free and paid extensions that add extra features and improved functionality to your store. Whether you want to gather data from key metrics with the help of Google Analytics, or update your SEO with innovative marketing integrations, you'll find something to suit your site on WooCommerce's marketplace.
When it comes to converting, WooCommerce knows that the checkout is where any eCommerce store really shines. With an average cart abandonment rate of just under 70%, one of the best ways to reduce it is by customizing a checkout system to suit every user.
We've all been there – you get to the checkout, and there are hidden costs you hadn't expected, or the checkout process is simply way too time-consuming. It's enough to put any potential customer off. That's why WooCommerce is so big on checkout customization.
Whether you want to change the way your checkout looks or add or remove fields, there are tons of ways to customize this crucial step in the user journey on WooCommerce.
So how does Shopify Plus compare?
Shopify Plus is also an excellent platform to use if you're on the hunt for customization. Beyond the basic designs or themes available, there's tons of room for maneuvering if you want something more specialized.
If you have a dev team, you can allow them full site control through editable CSS files and scripts.
When it comes to the checkout process, that's fully customizable, too. You can adjust the look of the checkout so that it fits your brand. Plus, you can alert customers to shipping and returns options, as well as offering support and contact information on the checkout page itself.
Want to offer Click + Collect to certain customers based on their proximity? All that good stuff is available on Shopify Plus. Want to offer incentives for VIP customers? You've guessed it – it's available on Shopify Plus. Shopify Plus' checkout customizability is where this platform truly shines.
Like with WooCommerce, the look of your shop itself is editable. You can choose from a wide variety of Shopify themes and templates to choose your digital storefront, then change individual features to make it your own.
While Shopify has slightly fewer themes available in the Shopify Marketplace, the platform does have a strict approval process for the themes they upload. This approval process means you're guaranteed a certain level of quality when purchasing a theme from Shopify Plus.
Larger companies tend to develop custom themes that better reflect their unique brand identities. With both Shopify Plus and popular alternative WooCommerce, you're able to develop a custom theme entirely from scratch or with an existing theme as the base.
Shopify even has its own easy-to-learn coding language. If you have some prior knowledge of HTML and CSS, you'll get along just fine with Shopify's counterpart.
App marketplace
So, you've got your basic online store set up, but there are a few things missing. For starters, you might want users to be able to track a package using an effective shipping app. Perhaps you want users to be able to locate one of your stores in their area.
Or maybe you're prioritizing streamlining your customer service offering, and for that, you'll need a helpdesk for WooCommerce or Shopify. The good news is, you can access apps like these and more in the platforms' marketplaces.
WooCommerce and Shopify both have marketplaces, which are home to apps and extensions that add functions and features to your eCommerce site. These apps and extensions range from Shopify shipping apps to live chat apps and everything in between.
Shopify's app store boasts more than 2000 apps, while WooCommerce's offering has more than 300 extensions. WordPress (which WooCommerce requires) has more than 50,000 plugins. Most apps in the Shopify app store cost somewhere from a couple of dollars to $50, and WooCommerce extensions range from free to around $300.
If there's an app or extension you need that doesn't yet exist, both platforms are compatible with custom functions built by developers. But these aren't always as reliable as tried and tested compatible apps. We'd always recommend looking at proven integrations first, to check whether what you need is already available.
Payments
The types of payments your online store offers can make or break its success. Many consumers prefer to pay through trusted companies such as PayPal or Apple Pay.
Shopify Plus offers Shopify Payments and integrations with popular gateways like PayPal, Amazon, and Apple.
With WooCommerce, you must download an extension to process payments. Extensions are available from the likes of Stripe, Amazon, and PayPal. Both platforms offer 100+ payment gateways to choose from, including the most popular.
Open source vs hosted platform
The two platforms differ in how they're created – WooCommerce and WordPress are open-source while Shopify Plus is a licensed and hosted platform. Not sure about the differences between the two? Let's dive in and find out.
Shopify is hosted, which is one of the key reasons it has become so popular with advanced Shopify store owners who aren't exactly technical wizards.
Hosting your own servers or website can mean purchasing a computer to run as a server, as well as performing ongoing maintenance and updates. Plus, there are security risks and the need for regular testing and troubleshooting. If you opt for a hosted solution – such as Shopify Plus – it's all taken care of for you.
With Shopify, you don't have to worry about the hardware and infrastructure associated with web hosting an online store.
If you opt for a WooCommerce store, on the other hand, you'll need to establish how you'll host it. You have a couple of options: you can purchase a cloud hosting subscription or buy your own hardware and the IT services needed to support it. Most companies opt for a web hosting service.
So where does open-source software come into it?
Open-source technically means that the core software of the platform is freely available. The fees charged for using open-source software cover support, extensions, hosting, and customization.
With open-source software, you have the freedom to customize a wider range of features, and open-source products are generally cheaper. However, all this customization requires developers, so open-source isn't always the best option for small businesses or technical novices.
When software is licensed – such as Shopify Plus – you get a product that's owned and managed by an individual company. The company sells, supports, and improves its own product, and the costs incurred relate to the management of the platform.
Licensed software usually has better customer support, is more user-friendly, and has better security. There's limited scope for customization, however, as this depends on the API offered by an individual company.
While the open-source nature of WooCommerce makes it more customizable, there's also the hosting element to think about. If you're new to website creation and don't have a large technical team, it might be advisable to go with Shopify since it's hosted and licensed.
WooCommerce vs Shopify Plus support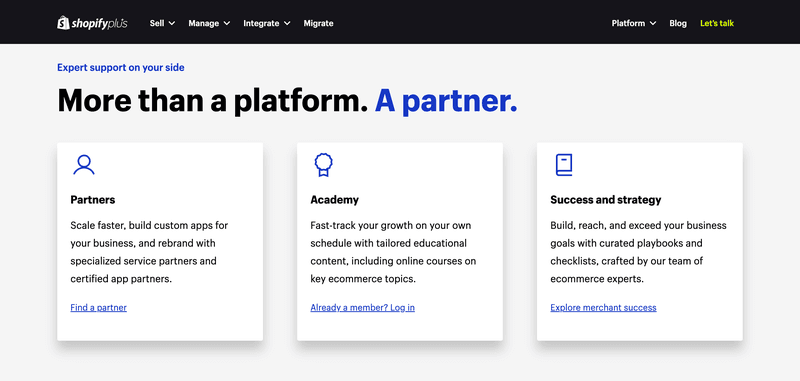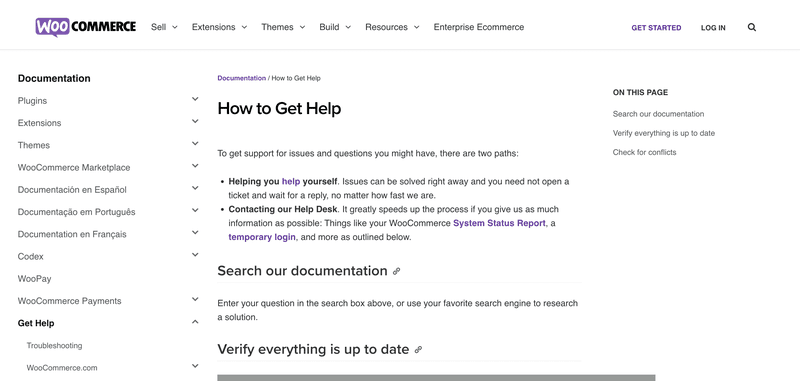 When you're running an eCommerce platform, providing excellent customer service is non-negotiable. Leaving a customer request dangling can be the difference between winning or losing their custom, while poor website functionality can result in complaints.
There are tons of ways to improve your customer support offering, but many of them rely on having an eCommerce platform that can respond quickly to any problems.
But is Shopify Plus or WooCommerce better at providing support to its customers?
Shopify (from Shopify Lite to Shopify Plus) has always maintained an excellent reputation for providing support. On its site, you'll find support articles and discussion forums to find answers to your queries.
Each Shopify Plus user receives their own Merchant Success Manager and Account Manager, so you're never far from support when you need it.
WooCommerce support, on the other hand, is only accessible via its Helpdesk. If you need support with a technical issue, you'll need to submit a ticket and await a response. While this approach isn't particularly unusual for open-source software, we think Shopify Plus pips WooCommerce to the post when it comes to customer support.
WooCommerce vs Shopify Plus automation
Every business owner wants one thing: efficiency. The quicker you can get tasks done, the more time you can spend growing your business and making a profit, and the fewer members of staff you'll need to hire.
One of the biggest forward leaps in eCommerce over the last few years has been automation. Automation simply means taking tasks that are usually completed manually and automating them, saving crucial time in your packed schedule. The good news? Shopify Plus and WooCommerce both offer automation options in abundance.
Shopify Plus allows you to create workflows, meaning when an action is performed by yourself or a customer, it triggers an automated series of events. You can use Shopify's simple templates, or customize entirely unique workflows.
Shopify's Launchpad allows you to schedule and run flash sales, marketing campaigns, and product drops without lifting a finger on the day. You can also automate fraud risk and inventory decisions, eliminating human error.
Gathering positive feedback is crucial to the success of your online store, so allow Shopify Plus to prompt reviews on your behalf from happy customers. You can target and reward customers, too, based on their buying behavior and spending history.
Running out of a product and don't have time to order new stock? Shopify Plus' automated inventory management will handle it. If your inventory doesn't make it in time you can notify customers when their favorite items are back in stock.
All pretty impressive – so how does WooCommerce compare?
Most of WooCommerce's automation features are available thanks to its marketplace of integrations. With the Mailchimp integration, for example, you can subscribe users to a mailing list after checkout to maximize your chances of future sales.
ShipStation's WooCommerce integration automated multiple parts of the shipping process. It syncs your orders into ShipStation, creates labels, marks orders as complete, and generates tracking numbers, so you can keep your customers up to date with the status of their parcels.
From attaching invoices to emails to automatically triggered email follow-ups, there's almost an infinite number of ways you can automate on WooCommerce. It's worth noting, however, that some of these integrations have a cost attached, unlike many of the automation features included in the pricing for Shopify Plus.
WooCommerce vs Shopify Plus pricing
The pricing methods for each platform are vastly different, so it's challenging to compare the two. WooCommerce, the WordPress plugin, costs nothing.
The money you spend is on the added extras – the themes, security management systems, and hosting. It's impossible to use WooCommerce completely for free because you'll need to invest in some sort of hosting provider.
Shopify Plus has a straightforward pricing plan, but all of its innovative features come with a hefty price tag. Depending on the hosting provider you select for WooCommerce, there's a high chance you'll pay more for Shopify Plus.
While this high cost does generally promise a return on investment, it's better for established businesses with some guarantee of upcoming profits to finance this monthly expense.
WooCommerce vs Shopify Plus ease of use
Any enterprise-level online store takes a while to set up, thanks to the abundance of content and products you'll need to add. Once you've set up your inventory, you also need to select shipping, payment, and design options, so it's not the speediest process.
In general, it's easier to set up a Shopify Plus store and hit the ground running from day one. This ease of setup is a result of Shopify being licensed and hosted. While you can sign up for Shopify and get started straight away, there are other steps involved in setting up a WooCommerce store.
WooCommerce users need to Install WordPress, sign up for web hosting, and buy a domain name before they can begin.
For first-timers in the eCommerce market, Shopify Plus offers more support, in the form of useful articles on its website and the dedicated staff that each Plus user enjoys. While WooCommerce is equally as simple to set up once you've organized hosting, there's less guidance for novices.
How much is WooCommerce Enterprise?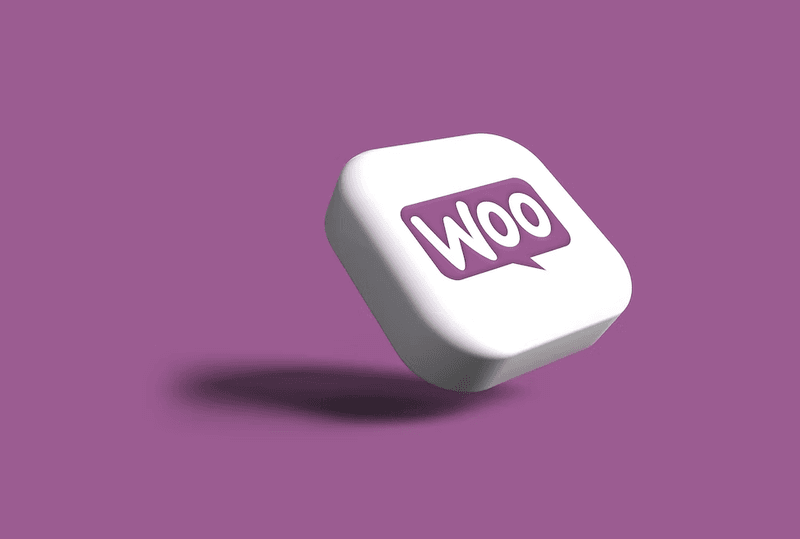 The beauty of WooCommerce is the level of control you have over how much you spend. Unlike Shopify, there's no fixed monthly fee. In theory, WooCommerce is free, but you'll end up spending money anyway as a result of all the extras you need to pay for.
For starters, you'll need to pay for hosting, which ranges from as little as $5 to as much as $5000 per month. When choosing a hosting provider, consider the following factors.
How many sites are on your server?
Do they have customer service?
What security features are provided?
What is the server uptime?
How does the host perform on speed?
Can you easily scale your WooCommerce site?
Other costs to consider include WooCommerce extensions, themes, shipping costs, payment gateways and running costs. Running costs include things like SEO, communications, and security.
Because WooCommerce is open-source, it allows users to customize their eCommerce store to a granular degree, but in-depth customization requires the help of a developer. Developers can cost anywhere from $20 to $200 per hour, so factor in this cost if you're thinking of using a developer for your site.
Very large WooCommerce stores have the option to join WooCommerce Enterprise, which offers a host of additional benefits, including priority support, guided onboarding, and dedicated team members to review and advise on your strategy.
How much is Shopify Plus?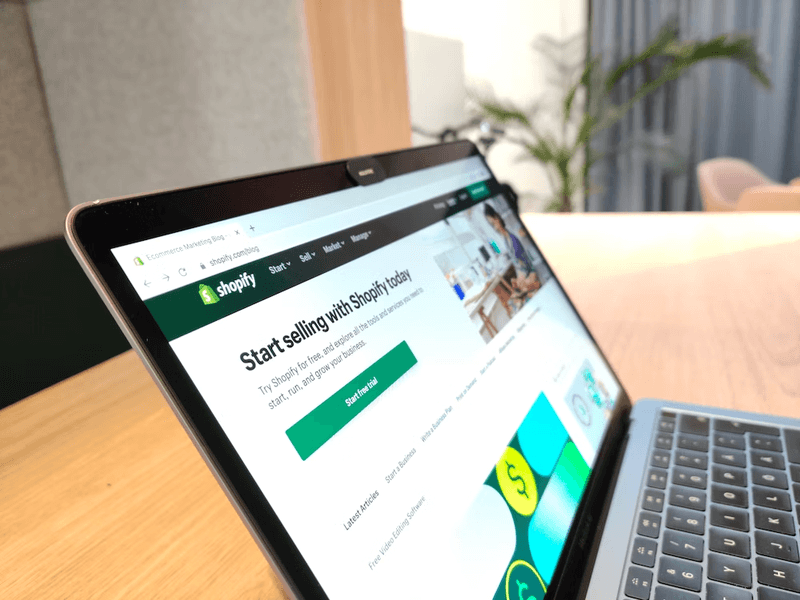 Shopify Plus's pricing is much more expensive than WooCommerce, but more straightforward. The Shopify Plus plan starts at $2000 per month. This fee covers all of Shopify Plus's coveted features, but if you need custom development you should also factor that into your budget.
Some enterprise-level businesses with extremely high-volume sales may pay more. They'll need to contact Shopify's team to negotiate a monthly price.
Other costs to consider are one-time theme purchases, apps from the Shopify app store, and tax automation.
Shopify Plus is better for:
People wanting aspects like hosting and security taking care of for them, as well as 24/7 support available and your own dedicated Account Manager. If you want a website set up in a relatively short period of time, or want to upgrade your existing site, Shopify Plus allows you to create and grow a store with most of the features you'll need included in your pricing plan.
Complete with sleek, easy-to-use templates, Shopify Plus is ideal for people with limited technical knowledge. It's certainly not the cheapest eCommerce solution on the market, however, and it's mostly aimed at large, profitable businesses, so those on a budget should take a look at Shopify's other pricing plans.
WooCommerce is better for:
eCommerce store owners who are all about customization. If you don't mind putting in some extra work for the store of your dreams, you'll love WooCommerce, which you can adapt exactly to your tastes with all of its useful integrations.
You'll need to have some level of technical knowledge, but it's simple enough to find a hosting provider. Plus, the monthly cost tends to be a lot cheaper than Shopify Plus – depending on which extras you opt for.
FAQs
Do you need Shopify Plus for B2B?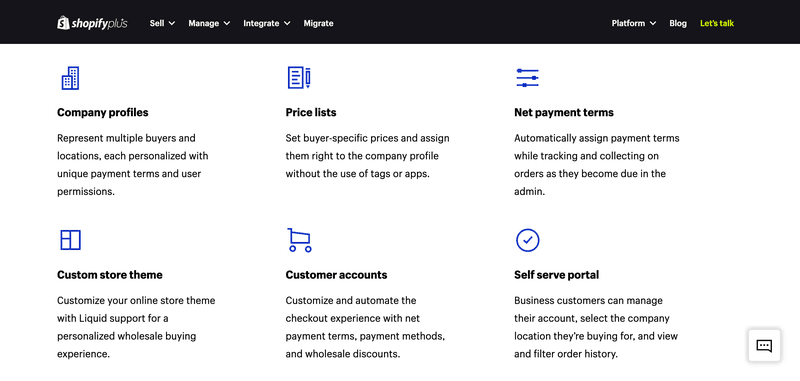 Many eCommerce stores sell not only direct to consumers, but also provide wholesale services to other businesses. While this can all be done from one online space, it's often easier to keep both sides of the business separate, so you're clear on the status inventory, profits, and customer communications for your B2C and B2B clients.
Shopify Plus offers users the opportunity to run both sides of their business from one store. You can opt for a single online store that covers both your direct and wholesale business or have a dedicated B2B store.
Shopify's B2B platform is still pretty new – it was launched in July 2022, when Shopify announced in a news article that a new set of features was available specifically for B2B merchants.
The dedicated B2B eCommerce platform offers features such as company profiles, net payment terms, customer accounts, and a self-serve portal. While having Shopify Plus for B2B isn't a necessity, it can help streamline your sales if you have the budget for it.
Is Shopify Plus more expensive than WooCommerce?
Shopify Plus is more expensive than WooCommerce, so if you're on a tight budget, the WooCommerce plugin is probably a better option. Shopify Plus is available for a set monthly price of $2000.
WooCommerce itself is free to use, but you'll probably end up spending more on hosting, features, themes, and more. For a successful WooCommerce store, you can probably expect to spend between $50 and $500 per month.
Is Shopify Plus or WooCommerce better for SEO?
You probably don't scroll to page 73 of Google when you want to find something. Your customers don't, either. So you somehow need to drive traffic to your site by appearing near the top of Google's search results.
When it comes to driving traffic to a site, SEO is essentially unparalleled. SEO (search engine optimization) is the process of optimizing your site's content so that it ranks higher on search engines.
Both Shopify Plus and WooCommerce offer SEO management tools. Shopify Plus SEO offers a set of SEO adjustments to optimize your site. Initiatives include reducing Java-script-dependent content, adding structured data, and removing duplicate page links.
There's also an integration with Kit app, which automatically uses the SEO manager to make suggestions for improved SEO.
WooCommerce doesn't have any in-built SEO functionality, but there are plenty of WooCommerce-compatible WordPress plugins on the market. Popular ones include Yoast and Rank Math.
It's my first time making an eCommerce store – which platform should I use?
As explored in this article, there are pros and cons to both Shopify Plus and WooCommerce. One thing to bear in mind if you're a technical novice is that Shopify Plus is hosted and licensed, so that takes care of one key challenge.
With that being said, Shopify Plus is much more expensive. For newbies on a budget, it might be worth starting with the much cheaper WooCommerce to gauge your chances of success before investing in Shopify Plus. For the most part, Shopify Plus is aimed at larger eCommerce stores with a guarantee of consistently high profits.
If you earn significant profits from your eCommerce site and can afford Shopify Plus, it might be worth the investment simply thanks to the sheer amount of customer support you can rely on. Shopify has an unparalleled reputation for providing customer service, and you'll get your own dedicated Account Manager to maximize your store for a high conversion rate.
What is WordPress?
WordPress is a popular content management system (CMS) that helps you create web content. Most WordPress users use the system to create a website or blog. In fact, it powers more than 40% of the websites on the internet.
WordPress is also open-source (like WooCommerce), so anybody can use or modify its software for free.
The bottom line
If you're looking for a platform that can accelerate your growth exponentially, you'll love Shopify Plus. Thanks to the wealth of features it offers, building a Shopify store that can truly expand has never been easier. The catch? All of these innovative features come with a hefty price tag.
If you can afford Shopify Plus, it's an excellent platform for an eCommerce store. If you're just starting out, however, beware of spending thousands of dollars a month and not getting a return on investment.
Shopify Plus can be better suited to online businesses that have already been established and need a helping hand with growth with features you'll struggle to find elsewhere.
WooCommerce is much cheaper to run but does require hosting, so check out some simple hosting providers before committing. This platform is, however, more customizable, thanks to the wealth of integrations available and open-source software.
Whichever platform you opt for, you'll benefit from a helpdesk for eCommerce, whether that's Shopify Plus or WooCommerce, to maximize your customer service strategy. Collate all your messages in one handy dashboard and switch on auto-translate to communicate with your international clients with eDesk, guaranteed to supercharge your sales.