Are you interested in using dropshipping on BigCommerce? You've come to the right place.
Dropshipping can benefit companies – especially smaller ones – in a variety of ways. We've collated everything you need to know about dropshipping, including its benefits and how it works, in our ultimate guide to dropshipping on BigCommerce.
So what exactly is dropshipping, and how can BigCommerce store owners use it to their advantage? Read on to find out.
What is dropshipping?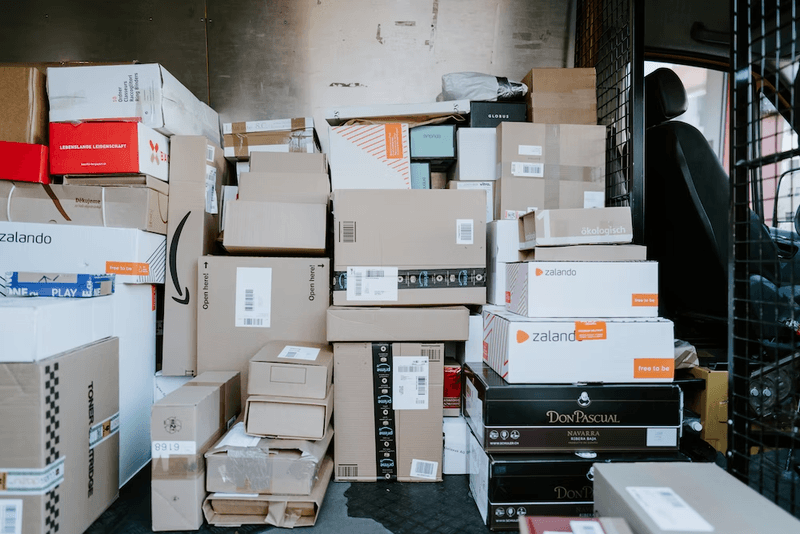 When you're an entrepreneur or owner of a start-up, huge capital investments are often out of the question. Start-ups can take a while to make a profit, and most small businesses aren't in the position to hire a huge team of staff or rent a warehouse. Enter: dropshipping.
Dropshipping is an order fulfillment method that allows businesses to send out products without having to keep them in stock. Instead, the store sells the product, then sends the order to a third-party supplier that ships the order directly to the customer.
Dropshipping has become a more popular business model alongside the general growth of the eCommerce industry. In fact, 27% of online retailers now use the dropshipping business model – a testament to its popularity.
What is BigCommerce?
Breaking into the eCommerce market is one of the best ways to start your own business. It's estimated that 95% of all purchases will be made through eCommerce by 2040, so if you were ever in doubt about the power of the online retail market, don't be.
One of the basic foundations of any eCommerce store is the eCommerce platform it's built on. Having a user-friendly interface and easily customizable template make any eCommerce store owner's job significantly easier, and that's exactly what BigCommerce offers.
BigCommerce store is currently one of the biggest eCommerce platforms in the world, similar to the likes of Shopify and Magento. This web-based platform allows business owners to set up an online store, customize it, and then use it to sell digital or physical products or even services.
One of the biggest attractions of BigCommerce is that it's web-based, so you can build and manage your store from anywhere without the need to install any specialist software on your desktop.
BigCommerce users pay a monthly fee for their stores, so you can opt-in and out of your subscription as you please. Not a skilled graphic designer? No problem. BigCommerce offers a range of customizable templates so you can create a professional-looking digital storefront no matter your skillset.
If you're not sure whether BigCommerce is right for you, take a look at a handy comparison chart to see how it stacks up against competitors.
Benefits of drop shipping for your BigCommerce store
Dropshipping isn't suited to every BigCommerce business, but for some online startups, it can be a great way to enter the market with minimal costs and a wide range of products. Here are just some of the benefits of dropshipping on BigCommerce.
Lower costs
Businesses that adopt a dropshipping strategy avoid the costs that come with acquiring inventory or storing items in business premises or self-storage. Dropshipping BigCommerce stores also avoid the need to hire staff to fulfill orders.
This reduction in costs compared to opening a traditional eCommerce store means it's easier for anybody to start a business without much capital, so it's an excellent way for people to enter the eCommerce market who wouldn't be able to with traditional shipping methods.
Lower inventory management
Online stores that adopt a dropshipping business model remove the need for physical inventory management, avoiding many of the overheads that other retailers face, such as staff or shipment tracking apps.
Plus, you won't have to find anywhere to store your products while waiting to ship them.
A wider range of products
If you're a traditional retailer relying on a physical space to store your goods, your product range is limited to the space you have. An eCommerce business using dropshipping suppliers doesn't have this problem.
With dropshipping, online retailers can offer a broader range of products that isn't dependent on geographical location or storage space.
Flexibility
Dropshipping businesses benefit from flexibility. Whether it's the opportunity to operate from anywhere in the world, the chance to adapt which products you sell based on market demand, or the opportunity to scale up your operations if sales increase, adopting a dropshipping business model frees online retailers from a lot of the restrictions imposed by traditional shipping methods.
The ultimate guide to dropshipping on BigCommerce
If you've decided dropshipping on BigCommerce is for you, here's how to get started.
1. Find the right market
Whenever you're starting a business – dropshipping or otherwise – there's one key initial step you have to take. Market research.
Market research tells you what's trending in the retail market at a given moment, so you can decide which products you'll sell based on what's popular.
There are a few things to consider.
Let's say there's a huge boom in sales of flavored coffee. You might naturally assume that this market is set to be incredibly lucrative, so you should start selling flavored coffee yourself. Not necessarily.
Up-and-coming markets can often be saturated with other start-ups and small businesses trying their hand at creating a unique version of a popular product, so make sure you're not going up against too much competition when you launch your BigCommerce online store.
If you decide to opt for products that are incredibly popular in the current market, try to create a niche.
A niche market is a subsection of a large market that appeals to certain demographics or meets particular needs or interests. By niching down your speciality, you can reduce the number of businesses you're in competition with.
For example, let's imagine you're launching your own business in the chocolate market. This market is hugely oversaturated as it is, making it more challenging for small businesses to break into the mainstream.
If you chose to niche down and sell vegan chocolate, for example, you're up against fewer competitors, and you're appealing to a more selective target audience. Bear this in mind when considering which quality products you want to buy from the dropshipping marketplace.
2. Choose the right dropship suppliers
One of the most important aspects of running an online business by dropshipping products is choosing the right supplier. By working within a dropshipping framework, you're putting your trust in your supplier for product quality, speedy shipping, and regulatory compliance.
With that in mind, choosing a supplier (or suppliers) is arguably the toughest decision you'll make:
The first step is to check the condition of the products is as advertised. Once you've established that the products are of a high quality, check the supplier's shipping costs and policies.
Find out how they handle returns, what the turnaround time is for order fulfillment, what their customer support is like (if they offer any), and their insurance policies.
For final reassurance that you're picking the right dropshipping store, check its reviews and testimonials. If the majority of users complain about their reliability or compliance, the chances are you'll experience similar issues. At a product level, you can leverage data extraction services like Grepsr to monitor reviews and Q&A data to derive actionable insights and help you continuously source and sell profitable products.
Popular examples of dropshipping suppliers include Aliexpress dropshipping, Alibaba, SaleHoo, and Megagoods. Use a dropshipping comparison article to help find the best supplier for your eCommerce site.
3. Build your BigCommerce online store
Once you've established what product you'll be selling and who'll supply it, it's time to build your BigCommerce store.
Setting up a BigCommerce store is relatively straightforward. You'll need to set up an account, then create your profile, add product categories, and then add your products. You'll also need to design your store.
If you're not a graphic design whizz, don't panic. BigCommerce offers tons of customizable templates, so you can create a store that suits your brand with minimal experience. You have the option to either upload a custom theme or visit BigCommerce's Theme Marketplace to select a look that best suits your business.
4. Market your store
So you've created a store, uploaded your products, and now you just sit and wait for the customers to roll in. Right? Well, you have to be a little more proactive than that.
The key to any successful business, online or otherwise, is marketing. Through marketing, you can make sure your site gets seen by your target audience, create a brand identity, and set yourself apart from competitors.
There are endless ways to market your product, but in an increasingly online world, digital marketing is your best bet. Creating a social media account is an excellent way to promote your products because it allows you to interact with your customers and collect social proof in the form of authentic customer photos and reviews.
Post regular product updates on your social media pages to generate interest, using hashtags to help users find your store's pages organically. Social media algorithms thrive on interaction, so the more you interact with your followers, the more you'll be pushed onto the main pages of the social media platform to help new users find you.
Creating interactive content such as giveaways or polls on Instagram stories not only boosts your online presence, but it also gives you insight into your target audience.
Another foolproof marketing strategy is SEO – or search engine optimization for newbies.
When's the last time you scrolled to page 40 of Google to find a product you were looking for? You didn't – and your customers won't either. By using keywords that your target audience is searching for, you can bump your store's ranking on Google. That means whenever potential customers search for products like yours, they're more likely to find your site.
5. Be prepared to own your supplier's mistakes
When something goes wrong that isn't your fault, but you have to face the customer, it's frustrating. We get it.
Unfortunately, when you decide to adopt a business strategy that involves dropshipping, you become the face not only of your shop, but of your suppliers, too.
If your customers experience a problem with their order, they don't care whose fault it is. All your customers want to know is how the issue will be resolved and whether they'll be offered any compensation for the inconvenience.
Working with dropshipping means that as the face of your business, you have to take accountability for any mistakes. It's all a part of quality customer service.
If customers have complaints, apologize, accept responsibility, and let them know what the solution will be. Where possible, offer some sort of compensation such as a discount on their next purchase or free shipping. Responding to complaints in good time with a solution is an excellent way of retaining customers.
Once you've organized customer compensation, discuss what happened with your dropshipping supplier with the aim of ensuring it never happens again.
6. Provide excellent customer service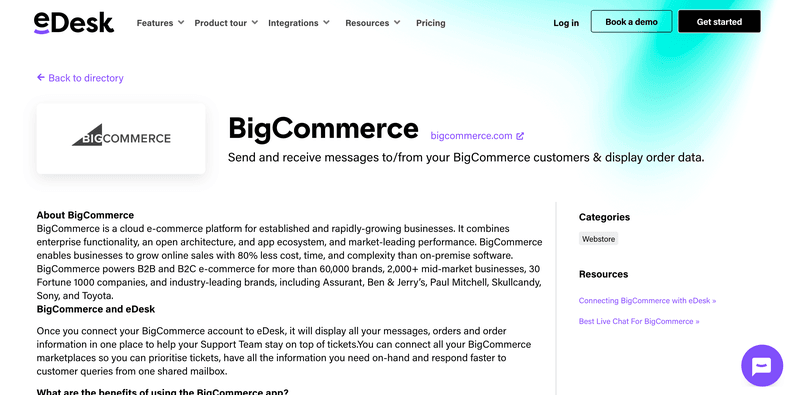 Struggling to keep up with your customer service without a huge team of agents? Meet your new best friend; eCommerce automation.
Customer service can make or break your business's success – especially in a world of online reviews and testimonials. The key to attracting new customers and retaining existing ones is excellent customer service, and it's easier than ever before with eDesk's BigCommerce integration.
We've all been there before. You're all set to buy from a company, you just have one quick question about an item in stock. But rather than being able to quickly message the company for a speedy response, you have to spend days emailing back and forth, by which point you've gone to one of their competitors.
eDesk's BigCommerce helpdesk displays all your messages, orders and order information in one place to help your support team (or yourself) stay on top of tickets. Connect all your BigCommerce marketplaces so you can prioritize tickets, have all the information you need on hand and respond faster to customer queries from one shared inbox.
Having an overview of all your customer queries in one platform streamlines your processes, and if you're working with a wider customer service team, you'll be able to pick up where your colleagues left off, and vice versa.
Dropshipping FAQs
Do dropshipping companies ship internationally?
Whether or not a dropshipper ships internationally depends on the individual company and its policies.
Shipping internationally can quickly rack up costs, and the quotes aren't as straightforward since they take into account customs and duties, too. International dropship orders can also take longer to process because of the extra paperwork. If in doubt, discuss with your dropshipping supplier and ask for an up-to-date quote that takes the extra costs into account.
Is dropshipping profitable?
Dropshipping is one way of making money quickly and with a relatively low amount of risk. With dropshipping, you can sell products to your customers without incurring huge running costs, unlike a wholesaler.
Because you'll have fewer costs, it's easier to become profitable quickly with dropshipping, as opposed to other eCommerce business models.
How else can I make my BigCommerce store successful?
Dropshipping is just one of the many ways you can run a profitable BigCommerce store. Other ways include pairing your store with a killer social media marketing strategy and ensuring your customer service strategy is always on point.
By including a BigCommerce live chat, you can reduce your response times, so your customers can get the answers they need within minutes. Excellent customer service leads to great reviews, which leads to even more potential customers shopping at your store, on an endless loop.
eDesk's BigCommerce integration allows you to send and receive messages from your customers and display accurate order data, so there's no more time-consuming back and forth between you and your customers. It's a win for your customers and a win for your bottom line.
Are there any cons to dropshipping?
As with every business model, there are a few challenges to dropshipping that any budding eCommerce store owner should be aware of.
With standard eCommerce stores, you can rectify product quality, fulfillment speed, or return and delivery policies yourself. If customers complain, it's within your power to make improvements that improve your customer service offering.
Responding to poor feedback by making changes is one of the many ways to make your customers happier, but with dropshipping, you have less control. The dropshipping suppliers provide your logistics, but you're the one who has to speak directly to the customer.
The best way to overcome this challenge is with realistic expectation management. Turn unhappy customers into happy ones by keeping a close eye on delivery fulfillment and keeping customers updated throughout the journey.
Another dropshipping challenge is that it's more difficult to grow a brand identity for your store. When you send a product to your customers, they're likely to focus mostly on the brand, and less so on the shopping experience you provide.
If you're considering starting an eCommerce business that relies on dropshipping, you'll have to be okay with others taking the credit for the products you sell.
Challenges aside, if done right, dropshipping can be a great way for up-and-coming eCommerce stores to create a pool of customers and make a profit quickly.
How much does it cost to start dropshipping?
There's no one-size-fits-all response to this question, but essentially, you should save as much as possible, as with starting any business.
Although there are fewer costs associated with a dropshipping business model, setting up any business requires a level of cash flow upfront. Not only will you still have to pay costs associated with dropshipping, but you'll also need to factor in marketing costs and your BigCommerce subscription costs.
Does BigCommerce allow dropshipping?
Yes absolutely, however you will need to integrate a 3rd party application like sprocket.
The bottom line
Want the flexibility of running your store from anywhere, with the free time available to spend on marketing and growth instead of order fulfillment? Dropshipping is for you.
If you want to give your BigCommerce store the best chance of success, you'll need to level up your customer service strategy. With the help of eDesk's handy BigCommerce integration, you'll never miss a customer query again, and you'll be able to respond in record time with all the order details right in front of you.
Paired with a dropshipping business plan and a killer marketing strategy, a BigCommerce customer service integration will be a game-changer for your business.