What is eCommerce Customer Service?
As a budding eCommerce seller, you need to have a strategy. You might be thinking about purchasing inventory, creating an online store thanks to an eCommerce platform, and creating a marketing strategy that converts. But there's one underrated aspect of running an eCommerce store that's all too commonly overlooked: customer service.
Providing eCommerce customer service mostly involves responding to product queries, processing timely returns and shipments, and updating users about shipping times. Most eCommerce customer service is carried out across a few key channels, including phone, email, live chat, and helpdesk software. Smaller online stores may use less labor-intensive methods like chatbots before growing a more substantial customer service team as their budget grows.
Successful online stores incorporate live chat and other e-commerce customer service software into their site to reduce the manual workload and put excellent customer service at the heart of their store. But why is customer service so important, and how can you improve yours? Let's find out.
Importance of eCommerce customer service
Picture the scene. You're torn between two online retailers – both of whom are selling your dream dress in exactly the right size and color, at a very similar price. There's one key difference. One store has a 90% customer approval rating, while the other has a 40% approval rating. It's obvious which one you'll choose.
Customer service has a serious impact on the success of your store, as shown by these impressive statistics:
90% of Americans use customer service as a factor in deciding whether or not to shop at an online store.
Businesses can grow revenues between 4% and 8% above their market when they prioritize a better customer service experience.
89% of customers are more likely to make a repeat purchase after a successful customer service experience.
83% of consumers feel more loyalty toward companies that respond to and resolve complaints.
72% of customers will share a positive customer experience with 6 other people.
Here are just some of the reasons why customer service is such a crucial aspect of your eCommerce store.
Increased social proof
Social proof is evidence provided by other shoppers that a company is trustworthy. Common examples of social proof include reviews, testimonials, and word-of-mouth recommendations.
Think about it. If you need a new hair stylist, and you're stuck between two, you're more likely to opt for the one who comes recommended by your best friend.
The better your customer service experience is and the more customer satisfaction your buyers experience, the more likely users are to leave positive reviews. The more positive reviews you have on your profile, the more likely you are to attract new customers. This creates a positive feedback loop that eventually transpires into increased revenue.
Increased repeat customers
Repeat customers are the bread and butter of your business. Too many businesses overlook the importance of repeat customers and instead spend all their time trying to attract new ones with deals and rewards. Repeat customers, however, are responsible for a significant portion of your sales.
One of the easiest ways to ensure your customers come back time and time again is to provide a great customer service experience.
Having a bad customer service experience can discourage consumers from shopping in the same place again, whereas quick response times and helpful support improve customer engagement.
Increased revenue
Improving your customer service solutions allows you to increase your revenue in a couple of ways. Not only will more customers flock to your store as a result of recommendations from friends or social proof, but better customer communication allows you to charge more for your products.
In fact, a whopping 68% of consumers are willing to spend more on products from a brand that's known for its excellent customer support.
Avoid bad publicity
Reputational damage can be fatal for a brand, and one of the worst reputations to cultivate is poor customer service. If your customers are unhappy and turn to social media to express their disappointment, negative posts about your company can go viral.
Once your business has had a PR disaster, it can be really challenging to get consumers back on side, so the easiest way to maintain your reputation is to avoid a disaster in the first place.
Types of eCommerce customer support channels
Now you understand the 'why' of good customer service, let's dive into the 'how'. Here are some of the most common types of eCommerce customer support channels and their benefits.
Phone support
Phone support is a popular choice of customer service support channels. Customers get the opportunity to speak to a member of the customer service team and explain their query, which is perfect if it's something that's difficult to explain via live chat or email.
The main downside to phone support is the high labor costs and the need for a permanent customer service team. There's little option for automating phone support, so it's often the reserve of more established eCommerce stores with the budget for a customer queries team.
Self-service support
Having self-service support available for customers can increase your conversion rate significantly. Instead of having to wait for a customer support agent to become available, customers can access the information they need themselves, with the help of a knowledge base, FAQs section, or tutorial articles and videos.
The benefit of self-service support is that it reduces the need to hire a customer service team or waste time on common queries. On the other hand, self-service support often isn't equipped to deal with some of the more complex queries customers submit. With that in mind, it's best to combine self-service support with other types of support, too.
Helpdesk
A customer service helpdesk is the perfect all-in-one solution for saving time while also guaranteeing an excellent customer experience for all users. With a helpdesk such as eDesk, you can control all your customer interactions from one easy-to-use dashboard.
Combining a ticketing system with features like live chat, your customers can contact you via multiple channels all in one place, making life easier for your customer service team. Plus, with eDesk, you can have order information to hand, so there's no more flicking back and forth between windows to answer simple queries.
A helpdesk solution is perfect for automating manual tasks, which leaves you with extra time to spend growing your business. It's a win for your customers and a win for your bottom line.
Email
Email is one of the most common ways for customers to interact with a support team, and it comes with several advantages. Receiving emails instead of phone calls allows your support team adequate time to look into the query without responding.
Unlike helpdesk software, however, there's much less automation involved with email. Using email as your main support channel will require having a relatively large, fully-trained team, so it can be tricky for smaller companies to keep on top of.
Live chat and chatbots
Live chat software allows customers to speak directly to the customer service team using an instant messaging pop-up. Chatbots commonly use AI and machine learning technology to create automated responses to commonly asked queries, in a similar type of instant messaging pop-up.
Both of these customer service channels can provide good results, but a chatbot should always be paired with another channel for best results. That way, any queries that the bot can't answer can be directed to the support team. Live chat is an excellent way to reduce response times, and it works best as part of an entire helpdesk solution.
Social media platforms
Consumers are increasingly looking to social media as a way to interact with their favorite brands and businesses. Offering users the opportunity to interact with you directly on social media can be useful, but it works best when paired with other channels, such as live chat or social media support software.
Make sure to opt for customer service software solutions that display all your conversations and tickets in one place, so you're able to pick up where you or other team members left off.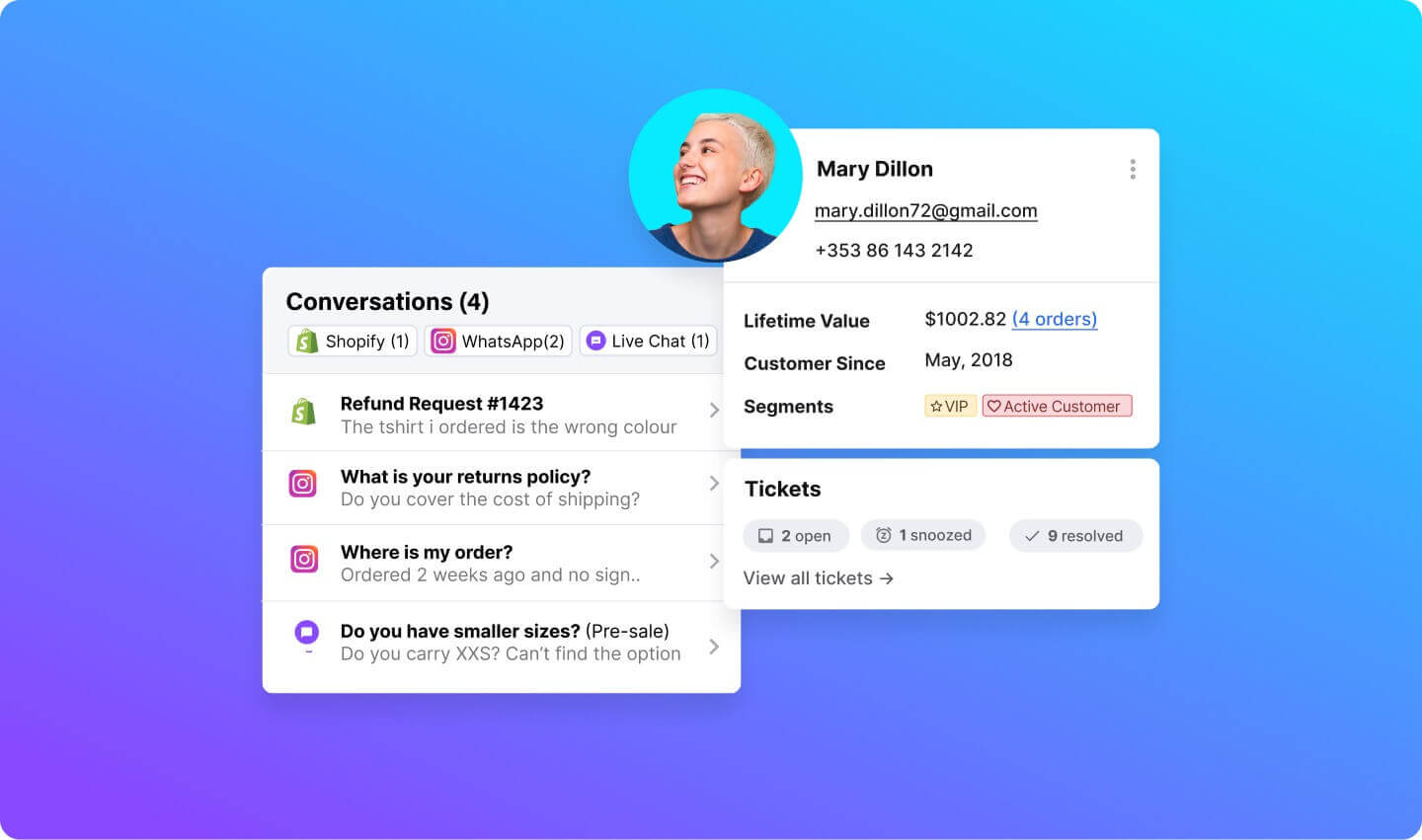 How to improve customer service for eCommerce
Centralize multichannel customer support like Cymax
Cymax Group is a leader in online sales for all things home, and customer satisfaction is at the heart of the business. But by selling on dozens of marketplaces – as is common for online retailers – the intent to create the optimal customer experience was challenging, to say the least.
Cymax Group had to log into a message portal for each channel individually and respond to messages correspondingly. The manual work needed to manage all the various messaging channels was cumbersome, unsustainable, and ultimately took time away from growing the business.
The solution
It turned out that centralization was the key to solving Cymax's problems. As the demand for furniture from online retailers boomed, Cymax turned its focus to digital innovation to keep pace with the changing expectations of customers.
Using eDesk, Cymax Group was able to centralize all its messages in one place, giving the entire customer service team visibility over every communication channel. This reduced response times, improved productivity, and allowed the team to meet their performance expectations.
Improve response times like CarParts.com
A speedy response time can be make or break for your business. If a customer has a query about a particular item that you don't reply to in a timely fashion, there's a risk of them going to a competitor instead.
CarParts.com knew this, so the team set out to gain a competitive advantage over their competitors by promising the best response times in the business. The company had a problem though – with several million online customers worldwide, they generate a significant number of tickets, which can be extremely difficult to manage.
The solution
CarParts.com turned its attention to eDesk, an automation platform that centralizes all inbound queries in one place, and automates manual tasks to save customer support teams precious time.
With so many queries flying in from global customers, working together as a team to solve problems was absolutely crucial. Collaborating with colleagues on eDesk couldn't be easier. To loop a teammate into a conversation, simply tag them with eDesk's 'mention' function. All messages are displayed in one thread, allowing agents to quickly catch up on the conversation history.
With eDesk's reporting insights, the team was able to not only respond more quickly, but to give an all-around better customer service. After all, how can you improve your strategy if you don't know where it's failing?
Streamline your customer service like MyBoatStore
MyBoatStore faced the same issue as many other businesses during COVID-19 – a dramatic uplift in support tickets. Without an increase in resources and with an already stressed customer service team, MyBoatStore felt challenged by the sudden increase in customer service queries. That's when they turned to eDesk to streamline their customer service strategy.
The solution
Instead of flicking back and forth between the marketplaces on which the MyBoatStore team was selling products, they managed to consolidate all their messages into one handy dashboard using eDesk. With the eCommerce customer service software, all incoming customer messages from Amazon and eBay were handled from one platform.
This not only helped the team be more productive, but also re-established the strong reputation for customer service that MyBoatStore had enjoyed pre-pandemic.
For more success stories about improving eCommerce customer service with the help of a killer customer service platform, read our customer stories.
Find out how How Wetsuit Outlet improved customer response times by 38% with eDesk

7 ways to improve eCommerce customer service
1. Don't ignore bad reviews
On the rare occasion that you receive poor reviews for your products or customer service, it's tempting to leave them and hope none of your potential customers see them. News flash: they'll see them, and it looks even worse if you leave genuine reviews and complaints without a response.
Instead of ignoring the problem and hoping it goes away, leave a polite response apologizing for the issue and laying out how you'll fix it – either with a refund, troubleshooting, or a vow to do better in the future.
That way, when potential customers see negative feedback on your profile, they'll know that you take the opinions of customers seriously. Plus, you'll improve the mood of the unhappy customer, making them more likely to become a repeat customer.
2. Commit to SLAs
An SLA is a service-level agreement that does exactly what it says – commits you to a certain level of service. This agreement is typically made between a business and its clients/customers, and there tends to be a penalty for not meeting the service agreement. An example of a service-level agreement between you and a customer might be that you commit to responding to all their support tickets within 24 hours.
While committing your customer support team to high standards in SLAs might seem daunting, it can encourage you to prioritize your customer service by setting out targets and KPIs to meet.
3. Introduce automation
Most of the time when companies provide poor customer service, it's not because they don't care about their customers. In the majority of circumstances, small business owners simply lack adequate time and resources to give customer queries the attention they deserve.
That's where automation comes in.
With automation features, you can improve your customer service while actually spending less time on it (yep, really!).
With eCommerce customer service software that puts automation at the center of its strategy, you can automatically consolidate customer communications from all your sales channels alongside related order details for speedy responses.
Plus, you can instantly reply to common queries using rules to identify tickets that are suitable for template responses.
4. Use insights to inform your strategy
Not sure how well your customers think you're performing? Customer service data will tell you. The best eCommerce customer service software offers insights, which let you know whether your business is heading in the right direction, using crucial metrics and trends.
Through powerful reports that highlight which products create the most support tickets or which products encourage the best reviews, you can use yesterday's data to build tomorrow's strategy.
From in-depth product insights, you'll learn how to solve problems before they arise in the first place. Does one product keep attracting negative reviews? Discuss issues with your suppliers to get them fixed. Do customers return certain products at a higher frequency? Create a product video to give consumers a more accurate idea of what they're ordering before it arrives.
With customer data, you can learn what's helping and what's hindering your revenue growth, and adjust your strategy accordingly.
5. Know the context
The best customer service approach involves empathizing with your customers, and the best way to create empathy is to see things through their eyes…literally.
In 2023, customers will no longer stand for customer service that stops and starts. If they begin a conversation with you on Facebook messenger, they don't want to have to relay it to the agent working on your ticketing system. Customers expect you to have an overview of their previous interactions with your entire team.
With customer view, you can get an overview of all of a customer's previous interactions with your site and your team. Using the full context of their order history and previous interactions, you can exceed expectations with communication that's tailored especially to their situation. The best part? You can do it all quicker than ever.
6. Reward loyal customers
We've all seen the ads for banks that offer money to new customers and stores that give users 10% off on their first order. There's nothing wrong with using these incentives to attract and convert new customers, but don't forget about your existing customer base in the process.
The key to cultivating and sustaining brand loyalty is rewarding customers for shopping with you regularly. Whether it's offering free shipping on their next purchase or giving them $5 off for every $200 they spend, these small incentives differentiate you from competitors and leave your customers feeling valued.
7. Speak your customers' language
Literally. If you open up your store to a global audience, you can't expect your customers to always share a language with you. Show your international customers that you value their custom just as much by working with a live chat provider that offers auto-translate features.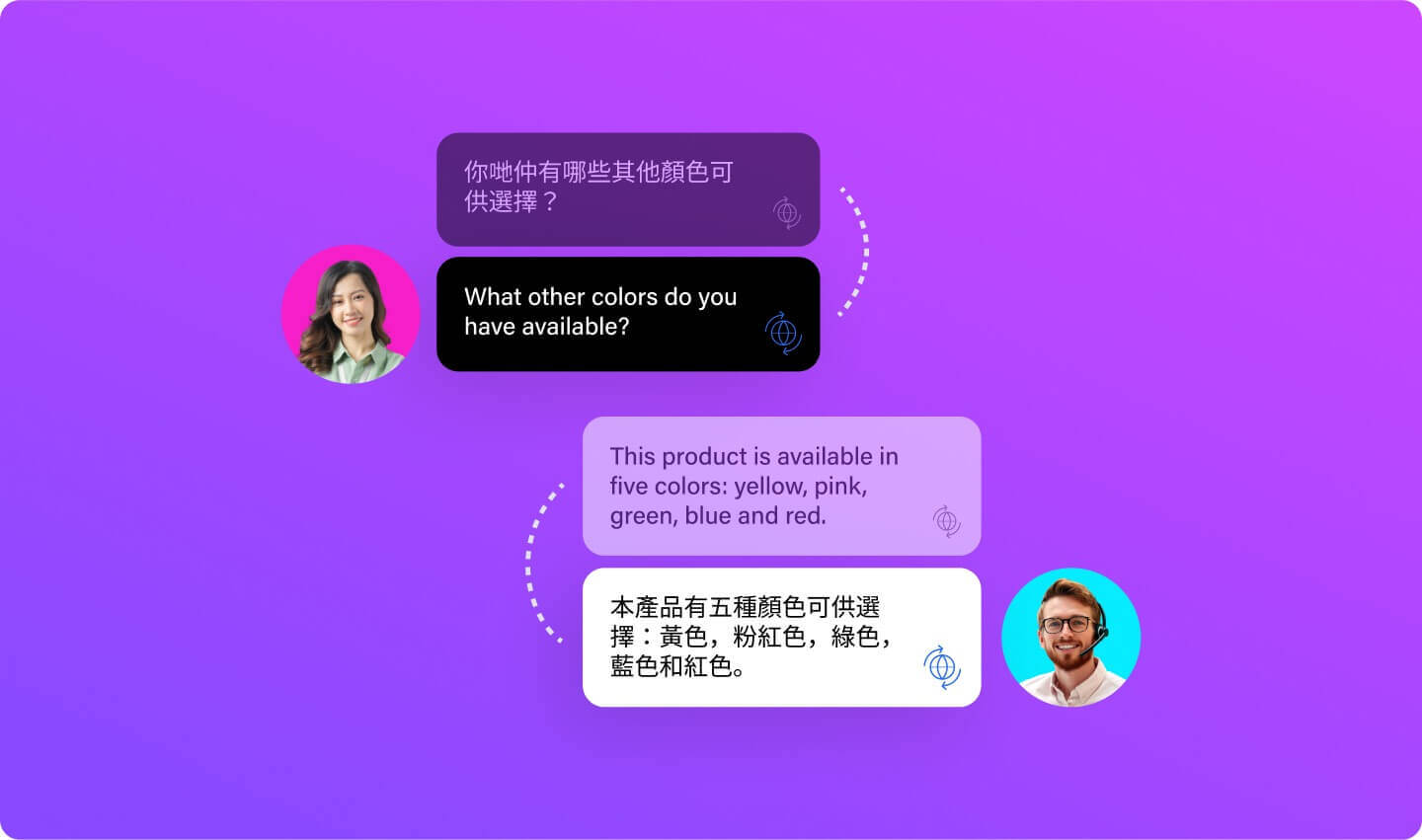 What customers expect in 2023
Just as the world of retail changes, customer service adapts with it, and so do customers' expectations of their favorite brands and businesses. Here are just some of the ways you can future-proof your business by meeting customers' expectations in 2023.
Speedy delivery times
Ever wondered how Amazon gets so many sales? Huge inventory of products and cheap prices aside, many buyers flock to Amazon because they're guaranteed one thing – quick delivery. In fact, some Amazon shipments can even be delivered to you the same day you order them, making next-day delivery look slow.
With more companies than ever before offering next-day delivery, it's becoming something that many shoppers actually expect, rather than a pleasant added bonus. If you're unsure whether to offer next-day delivery because of budget constraints, it's sometimes worth absorbing the extra cost in return for the increase in revenue it promises.
You can use your live chat feature to remind users of next-day delivery while they're browsing your site as a final nudge toward the checkout.
Free shipping and returns
72% of consumers cite free shipping as their main reason for shopping online. Uncertainty is one of the biggest friction creators in a retail journey, and customers don't like feeling uncertain about what the cost of shipping will be once they get to checkout.
If your budget doesn't allow for free shipping and returns, be upfront about shipping costs at every point in the user journey. That way, customers won't get a nasty shock when they arrive at the checkout to see an extra $10 added to the basket for shipping.
If you're unable to absorb the cost of free shipping for all purchases, consider offering it only for baskets over a certain amount. That way, not only will you entice more customers, but you'll also increase your average order value because customers will add small extras to the basket to reach the threshold for free shipping.
Personalized digital experiences
Everywhere consumers look, experiences are personalized. From quiz consultations to help pick a skincare product to social media ads that target you based on your interests, consumers now expect a certain level of personalization from all their interactions with brands. According to a recent Segment report, 75% of business leaders say personalization is table stakes for digital experiences.
There are multiple ways to create a personalized approach with your eCommerce strategy. A good place to start is by personalizing email marketing. If you're sending out product recommendations to subscribers, use automation software to recommend a product similar to ones they've previously bought or shown interest in.
If you use live chat, remember to use your visitors' names, and use eDesk's customer view for a history of all of their entire orders and customer service interactions. That way, you can take a tailored approach to the interaction, taking the context into account.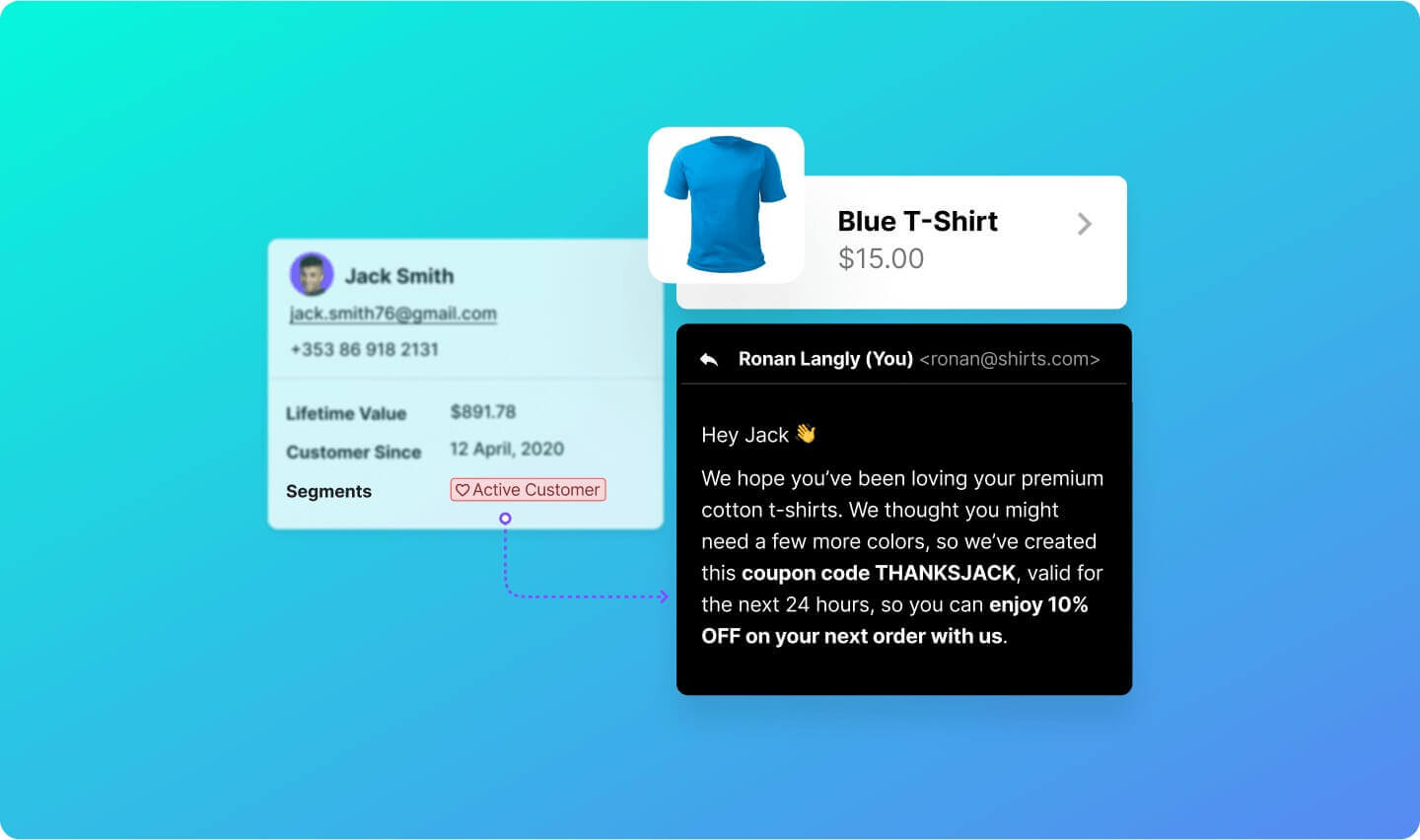 Self service tools and live chat
Picture the scene. You've just finished work and you've got a precious ten minutes before you have to pick up your kid from school. Bingo – time for some online browsing. You find the perfect product but you just have a quick question about the delivery.
You search for a response but your only option is to call the customer service phone. You're put on hold for 15 minutes, you give up, and shop elsewhere. That scenario could be easily avoided with self-service FAQs or a live chat feature.
By allowing customers to find the information they need quickly and easily, you remove friction from the online shopping experience. The less friction, the more likely they are to convert.
Key areas for eCommerce teams to work on in 2023
There are likely to be tons of things on your priority list for 2024, and having a killer customer service plan in place will help with them all. But here are just two things we recommend your team prioritizes if you want to see profits soar.
Increasing average order value
Increasing the number of orders you get is one thing, but increasing the average order value is arguably just as important. Think about it; convincing a user with purchase intent to simply add one more product to their basket is much easier than convincing a new visitor to your site to make a purchase.
One of the most straightforward ways to increase the average order value on your site is by using live chat prompts. By reaching out to a browsing customer at exactly the right moment, you can nudge them towards adding an extra product for free checkout or offering information about a bundle deal.
Offering a customer loyalty program is another proven tactic. As well as improving customer service by making regular customers feel important, a loyalty program encourages customers to buy more than they usually would to score points in the loyalty program. It's a savvy way to not only make customers feel valued, but also increase the price of the average checkout. Win-win.
Increasing eCommerce conversion rates
One of the most significant metrics any eCommerce store uses to measure success is its conversion rate. A conversion rate simply refers to how many customers 'convert', i.e. carry out a desired action, usually making a sale.
Don't underestimate the impact that customer service can have on increasing conversion rates. A whopping 96% of consumers say that customer service is an important factor in staying loyal to a brand, showing just how much consumers value that personal touch.
An easy way to increase conversion rates is with social proof. Social proof does what it says on the tin – uses social cues to build trust in a particular brand, and you can utilize it for yours.
Part of the reason why Amazon is so successful is because it allows customers to scroll through thousands of reviews before committing to a purchase, making them more likely to trust the legitimacy and quality of the product. You can implement the same approach by lining the pre-purchase stage of the user journey with social proof.
As well as reviews and testimonials, include user-generated content, which is considered the holy grail of social proof. Include images of your products as posted by social media users, or even hire content creators to take a video with your products involved – videos are especially high-converting in the TikTok age.
Whatever techniques you use to increase conversion rate, put customer service at the heart of it. More happy customers mean more praise for your products and site, which in turn means more happy customers!
The bottom line
Providing excellent customer service is the greatest tool in your arsenal for attracting and retaining a steady flow of happy customers. Customer data shows that a positive customer experience increases the chance of repeat customers and can often result in personal recommendations of your brand to others.
If you struggle to keep on top of customer service enquiries, helpdesk software can help. Complete with automation features and all of your customer support from multiple channels in one place, it's never been easier to perfect your customer service strategy.
You could continue not to prioritize your customer service processes and leave your competitors to pick up your customers. Or, you could invest in a customer service platform with real results like eDesk, and watch your sales start on an unstoppable upwards trajectory.