Many ecommerce sellers expand their operations by listing their products on Amazon, taking advantage of Amazon's sponsored listings, and becoming an FBA seller.
But there's one particular opportunity on Amazon many ecommerce sellers aren't aware of, Amazon Renewed.
Below, we'll cover what Amazon Renewed is, which products are eligible, and the steps you can take to become a successful Amazon Renewed seller.
Are you interested in growing your Amazon business? Then read on.
What is Amazon Renewed?
Amazon Renewed is Amazon's program for selling "like new" products. To be eligible for Amazon Renewed, products must fall into one of three categories:
Refurbished: These products have been used, but the customer returned it because it didn't work properly or they decided they didn't want it anymore.
Pre-owned: Like refurbished products, these products have also been used, but they're typically returned in better condition than refurbished products are.
Open-box: These products have been opened and taken out of their packaging, but they were never used by the customer.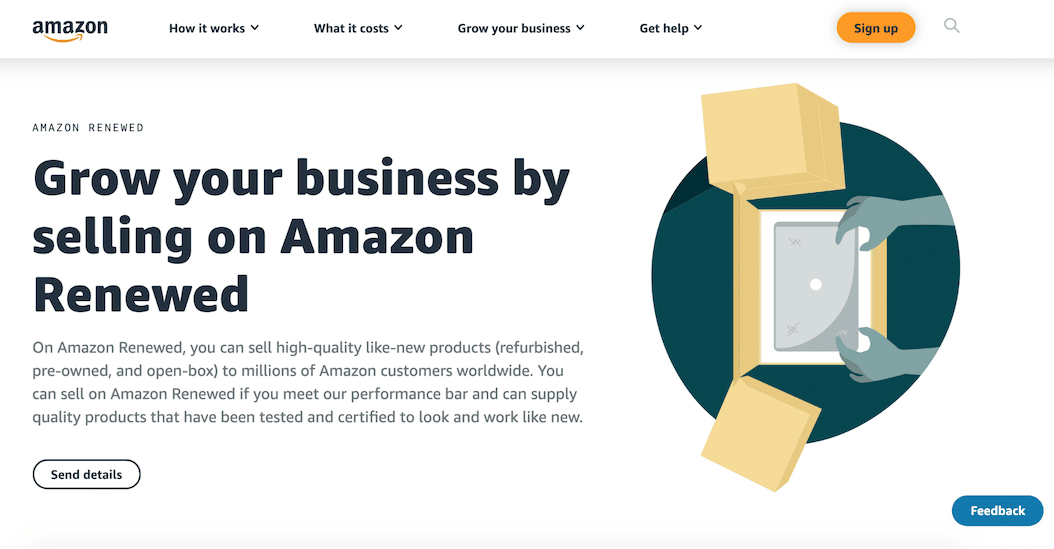 Regardless of their condition, all Amazon Renewed products have been inspected, tested, cleaned, and fixed (if needed) so that they are now in a condition to look and work like new.
Amazon Renewed products may have minor physical defects (like a small scratch or dent), and they typically do not come in their original packaging. Other than that, though, you can't tell the difference between a Renewed product and a brand new one.
Third-party sellers who join the Amazon Renewed program are responsible for professionally inspecting, cleaning, fixing, and repackaging these products before listing them for sale. Amazon itself also sells products through the Renewed program.
Products are backed by an Amazon Renewed Guarantee, a limited warranty which guarantees to the customer that the product should work as expected up to 90 days after purchase; otherwise, the customer is entitled to a free refund or replacement.
What products can you sell on Amazon Renewed?
Amazon Renewed sellers can sell refurbished, pre-owned, and open-box products that look and work "like new" in any of the following categories:
Automotive Parts
Cameras
Headphones & Audio
Home Appliances
Home & Industrial Tools
Kitchen Appliances
Laptops & Computers
Musical Instruments
Outdoors & Sports
Office Equipment
Smartphones
Tablets
Television Sets
Video Game Consoles
Watches
How to sell on Amazon Renewed
Follow these steps to get started selling on Amazon Renewed.
Step 1: Know the requirements
Amazon doesn't let just anybody sell on Amazon Renewed. You have to apply and be accepted. In order to qualify, you must prove to Amazon that you're capable of reliably selling refurbished products in "like new" condition. Every Amazon Renewed seller must do three things:
Provide invoices that you've purchased a sufficient number of refurbished items. The invoices must have a total value of $50,000 minimum and be dated sometime within the last 180 days (for products in Home, Home Improvement, Tools, Lawn & Garden, Outdoors, Kitchen, Sports, Toys, or Automotive categories), or 90 days (for all other categories). For sellers who want to sell Apple products, invoices must total $2.5 million minimum. You can black out the unit purchase amount.
Offer a warranty of 90 days minimum for all of your refurbished products.
Maintain an order defect rate (ODR) of 0.8% or less in the trailing 90 days (if you're an existing seller).
If you'd like to sell factory-refurbished items that don't have a manufacturer warranty, you'll also need to submit at least 8 images of a sample product for Amazon's review. The images must show the box it will ship in, inside packaging, and the product from all four sides, top, and bottom.
Step 2: Decide what you're going to sell
If you're confident you can meet those requirements, your next step is to determine what you're going to sell. As an Amazon Renewed seller, you can sell certified refurbished, pre-owned, and open-box products from any of the product categories outlined above.
To increase your profitability, we recommend the following:
Choose products in high demand, but with low competition. High volume sales can boost your bottom line — especially if you're not competing against other sellers.
Avoid products sold by Amazon.
Keep your pricing competitive. By default, Amazon Renewed products must be discounted at least 5% from the original price. For the best results, you want your pricing to stay within 2% of the current "used" Buy Box price, but at least 20% lower than the "new" price.
Pro Tip: Keep your prices competitive 24/7 with our sister company, Repricer.com by xSellco. It automatically updates your pricing anytime your competitor changes their price or goes out of stock.
Launch your Amazon Renewed account with at least 15 SKUs.
Use Amazon's promotion tools, like Sponsored Product ads.
Step 3: Source your products
Once you've decided what you're going to sell, you need to source your products. Amazon Renewed sellers typically have success sourcing their products from liquidation companies, manufacturers, and even Alibaba.
Manufacturers often have excess merchandise they sell to liquidation companies, who then refurbish the products and resell them to other third-party sellers. Manufacturers may also sell their excess or refurbished products directly to resellers.
This is also a good time to develop your inspection process. If you'll be working with a trusted manufacturer or reseller, you may be able to rely on them to take care of this for you. Otherwise, you'll need to have a clear step-by-step process for diagnosing functional issues, finding defects and imperfections, and refurbishing as needed.
Step 4: Register as an Amazon seller
In order to sell on Amazon Renewed, you must have a registered seller account on Amazon. If you're already selling on Amazon, congratulations. You can consider this step complete. Sign in to your Amazon account and proceed to Step 2.
If you're not, no worries. You can sign up for your Amazon seller account at the same time you complete your Amazon Renewed Application. Amazon will respond to your request within 10 business days.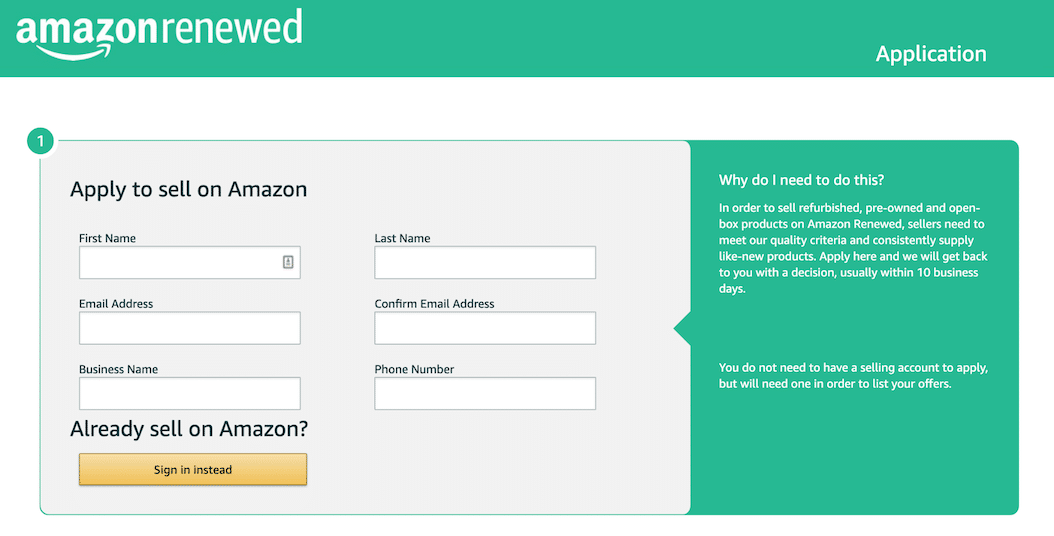 In the second step of the application, you'll answer a few more questions, such as whether you're a retailer or manufacturer. Confirm that you can meet the quality requirements, share your website URL, and describe the brands you'll be reselling.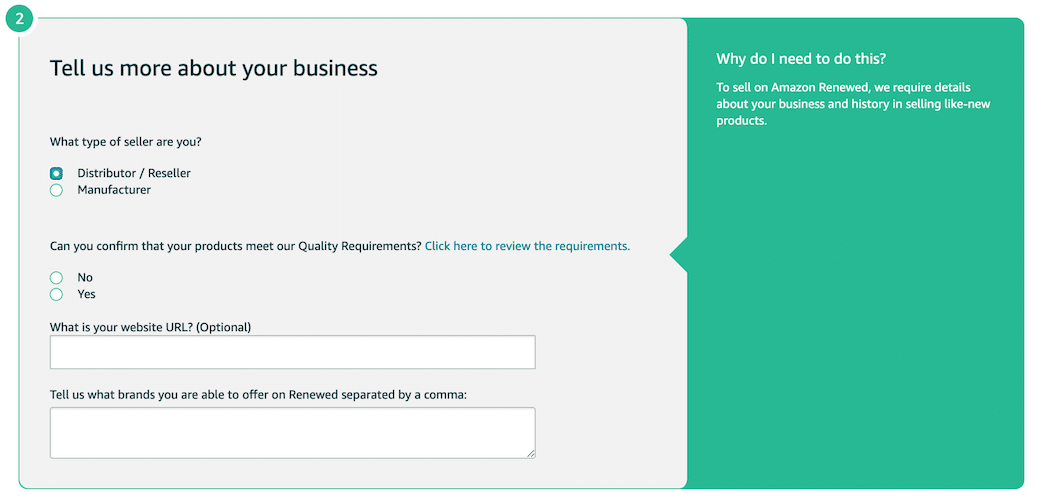 In the third step, you'll upload your product images and invoices.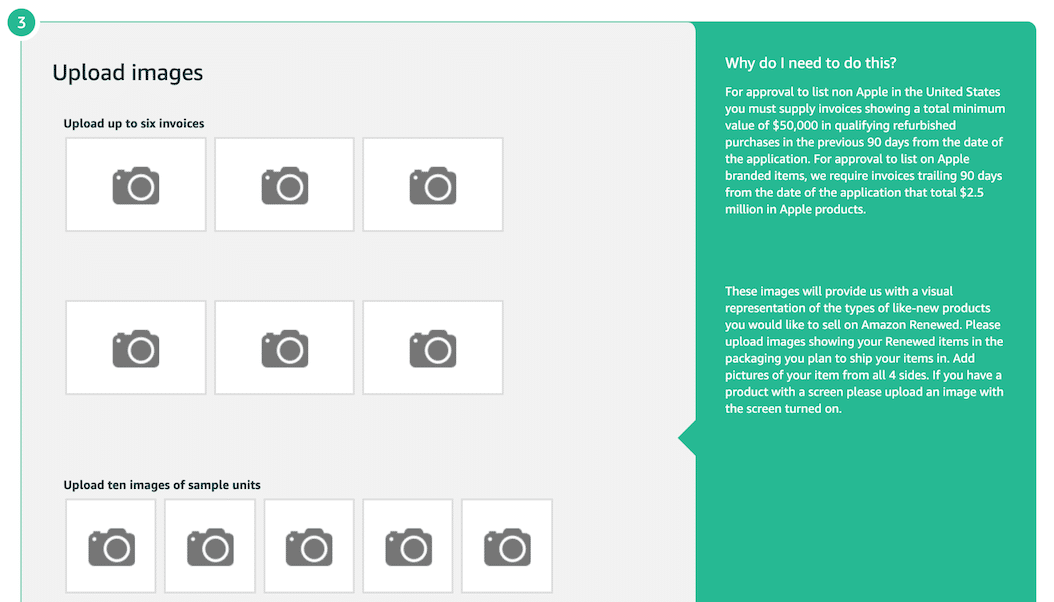 Finally, you'll confirm the accuracy of your application and click "Submit application."

Step 5: Start selling!
Once Amazon approves your application, you can start listing your certified refurbished products on Amazon!
Amazon Renewed offers ecommerce businesses a valuable opportunity to sell more on Amazon. Because they meet Amazon's strict quality guidelines, customers trust that the products sold through Amazon Renewed are just as legitimate as traditional new products on Amazon. Not only do you get to enjoy the benefits of that strong customer trust, but you also get to use the same powerful selling technology available only on Amazon — including Fulfilment by Amazon.
Get more from your Amazon business with our guides to boosting your review count and increasing your seller rating.