For anyone looking to build an online store, there inevitably comes the question: Shopify or WooCommerce?
Shopify and WooCommerce are the two most popular eCommerce platforms today. Either one is an excellent choice for hosting your online store, but the perfect one for you will depend on your unique preferences and needs as a seller.
To help you out, we've put together this comprehensive guide. We take a deep dive into the Shopify vs WooCommerce question, so you can decide on the right option for you.
Ease of use
Both Shopify and WooCommerce are designed to make it easy for people who don't have technical skills to start an online store. Having said that, one does make it easier than the other, and that's Shopify.
Shopify is a fully hosted eCommerce platform. That means everything related to keeping your website online — from website backups to server maintenance and security updates — is managed by Shopify. In other words, all you have to focus on is building your online store.
Once you sign up, Shopify's onboarding wizard walks you through picking out a theme, adding your products and content, and publishing your site. Everything on Shopify is drag-and-drop, so you can easily add, remove, and move things around.
WooCommerce, on the other hand, is an eCommerce plugin for sites hosted on WordPress. If you're already familiar with using the WordPress CMS, WooCommerce will be quite intuitive to you. Like Shopify, WooCommerce also has a setup wizard that walks you through the basics of setting up your online store and selecting a theme: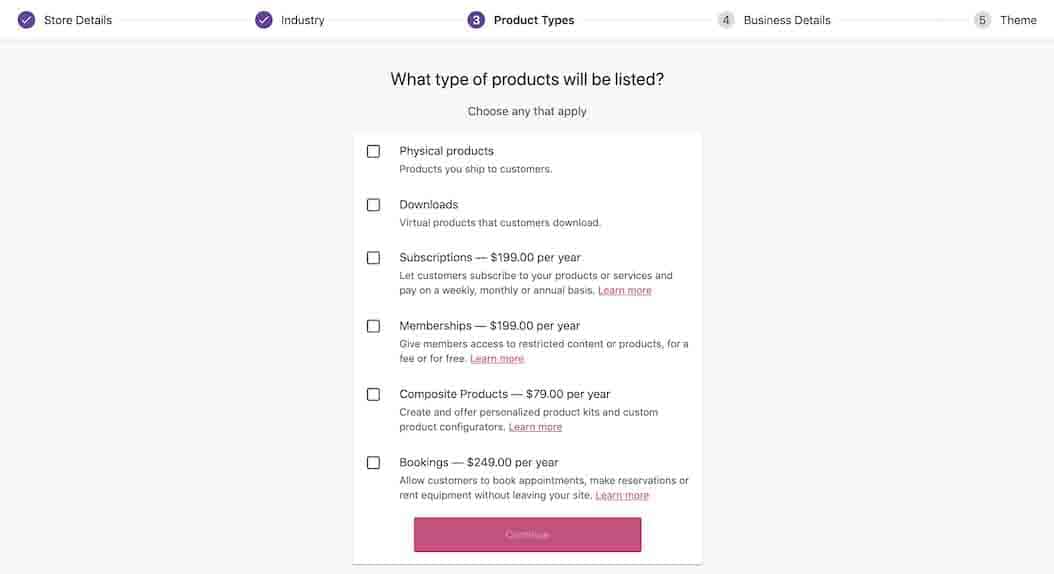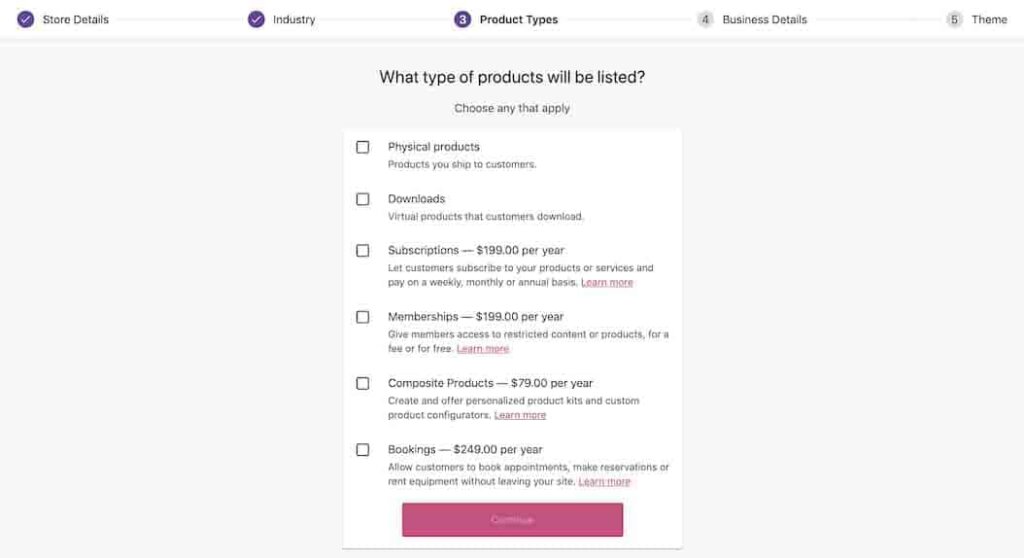 Once you've selected your WooCommerce theme, however, it's up to you to figure out what to do from there. There's no drag-and-drop functionality to add products or create category pages.
Moreover, with WooCommerce, you'll be responsible for purchasing your hosting, making required WordPress updates, and managing site backups. These administrative tasks take time away from running your eCommerce business, and they require some technical knowhow.
Winner: Shopify
Design capability
Shopify boasts over 100 professionally designed store themes for you to choose from. Some are free themes, while others are paid, but they're all drag-and-drop and approved by Shopify to maintain current web design best practices.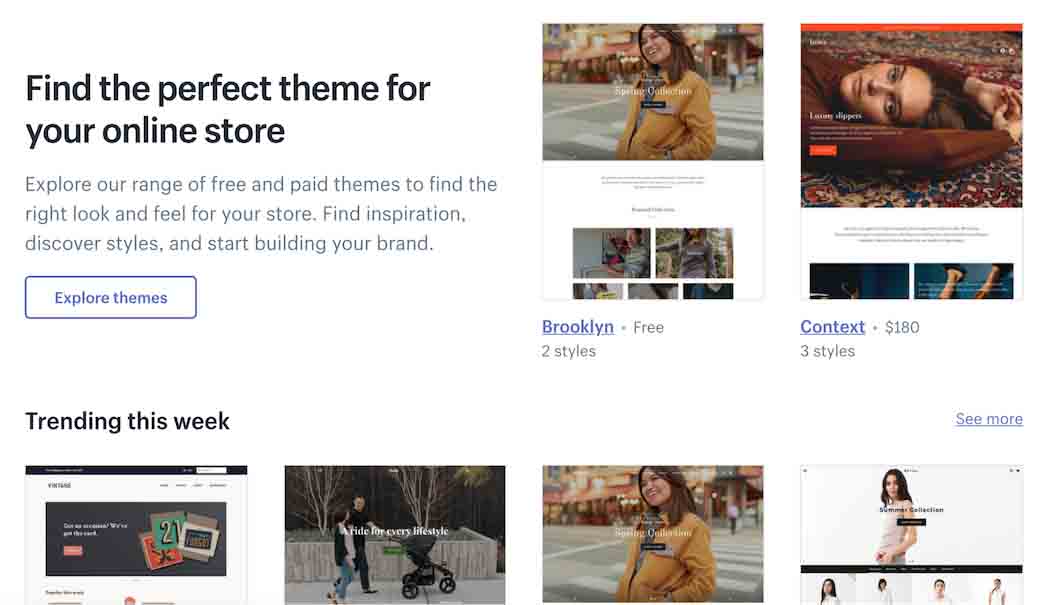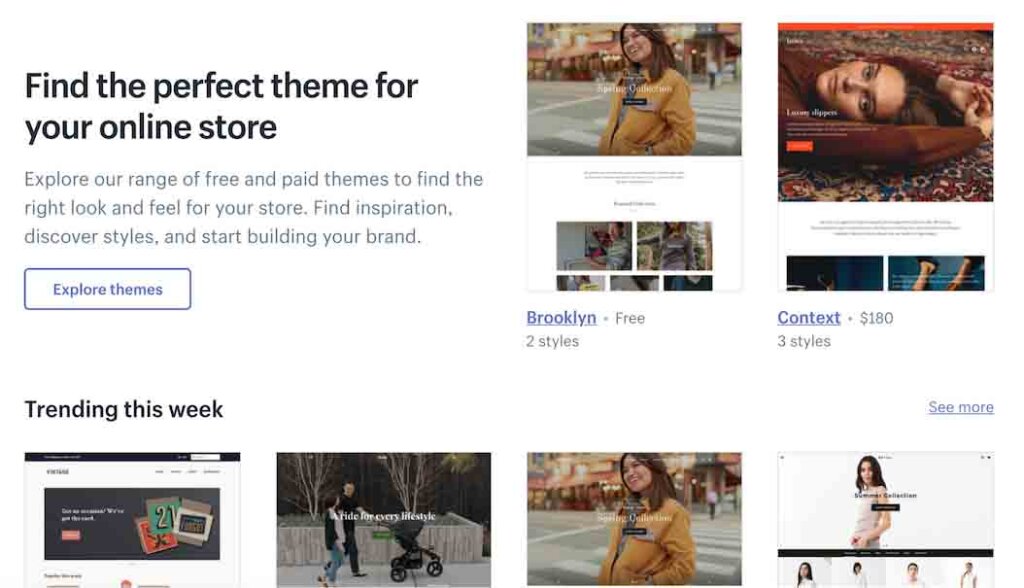 WooCommerce, on the other hand, has many more store themes for you to choose from – 10 times as many, to be exact. However, their library of 1,000+ WooCommerce themes are mostly provided by third-party developers. It will be your responsibility to ensure your theme is kept up to date, and remains compatible with any of the other plugins you use.
WooCommerce sits on top of WordPress, an open-source platform, so it allows for much greater customization of the design and functionality of your site. For sellers with limited technical knowledge, it can be a better option to rely on the professional themes designed by Shopify. There may be fewer to choose from, but you can rest assured that they will stay updated and compatible with the apps you install on your site.
Winner: Shopify
Payment options
Part of setting up an online store requires choosing a payment processor. You need a way to accept payments from your shoppers, after all.
On Shopify, you've got options. You can elect to use Shopify's built-in payment processing, Shopify Payments, or you can connect a third-party gateway like PayPal, Stripe, or Authorize.net.
As you might expect, it's cheaper to use Shopify Payments. Shopify Payments does not charge transaction fees, although there are standard credit card fees which vary depending on your Shopify plan. If you use a third-party payment gateway, you'll also be charged an additional fee per transaction, ranging from 0.5% to 2%.
With WooCommerce, you can choose between PayPal or Stripe as your payment processor — or you can install a plugin for another payment provider. WooCommerce itself does not charge any transaction fees; you'll only pay for the fees set by your payment processor.
When asking yourself who wins in the Shopify vs WooCommerce head to head from a payments perspective, it's helpful to run the numbers. If you're on the Basic Shopify plan and using Shopify Payments, you'll be charged the same online credit card fee that Stripe and PayPal do: 2.9% + $0.30 per transaction.
However, if you're on a Shopify or Advanced Shopify plan, your transaction fee drops to 2.6% or 2.4%, plus $0.30, per transaction. That can make things much more affordable for you as a seller — but you'll also be paying a higher monthly cost for those plans.
Winner: It depends
Apps, themes and integrations
Both Shopify and WooCommerce come with comprehensive eCommerce functionality out-of-the-box. However, there will always be more that you want to do with your online store.
Perhaps you want to invite visitors to subscribe to your email marketing newsletters, use conversion rate optimization techniques to reduce cart abandonment, or offer order tracking to your shoppers.
For extra features like these, you'll need to venture out beyond the standard Shopify and WooCommerce dashboard into their add-on library. Add-ons are known as "apps" in the Shopify universe and "extensions" in WooCommerce.
These add-ons can be developed by third parties, as well as Shopify and WooCommerce. For example, WooCommerce offers apps for eCommerce customer loyalty and marketing automation.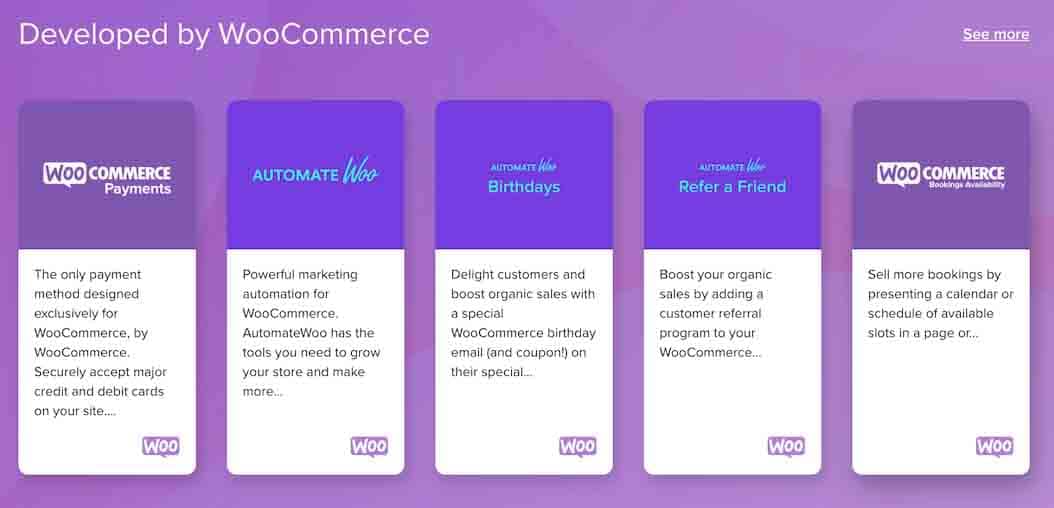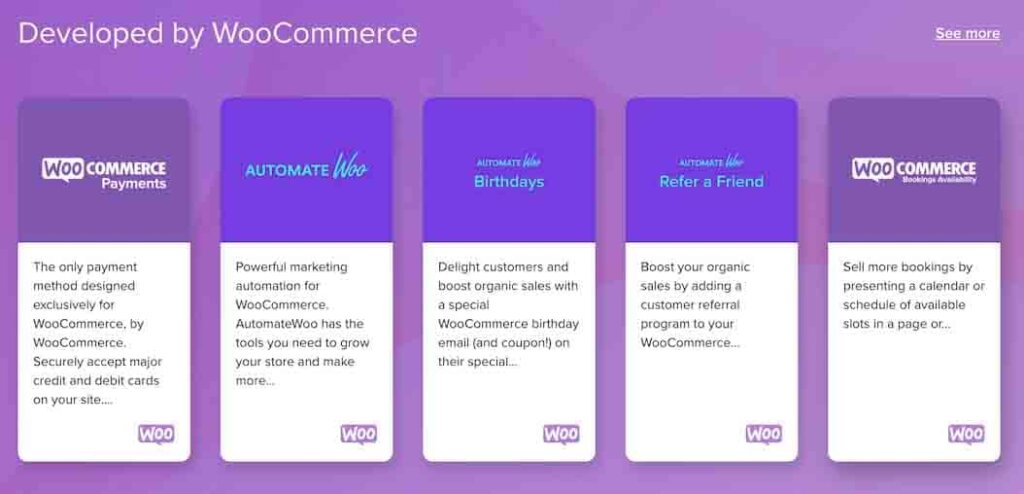 Likewise, Shopify offers their own apps for email marketing, inventory management, and live chat.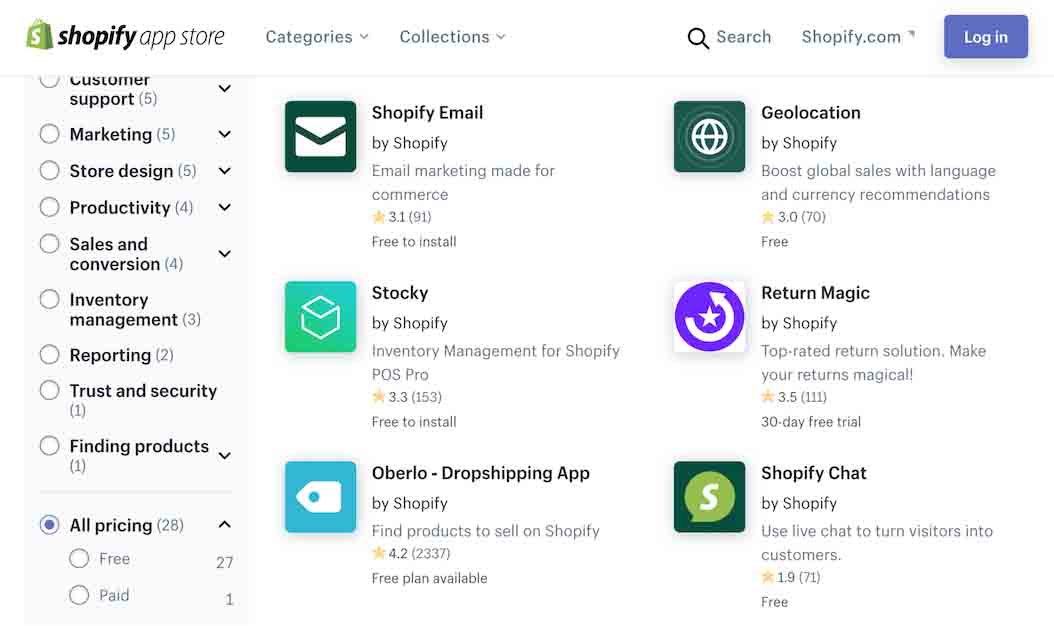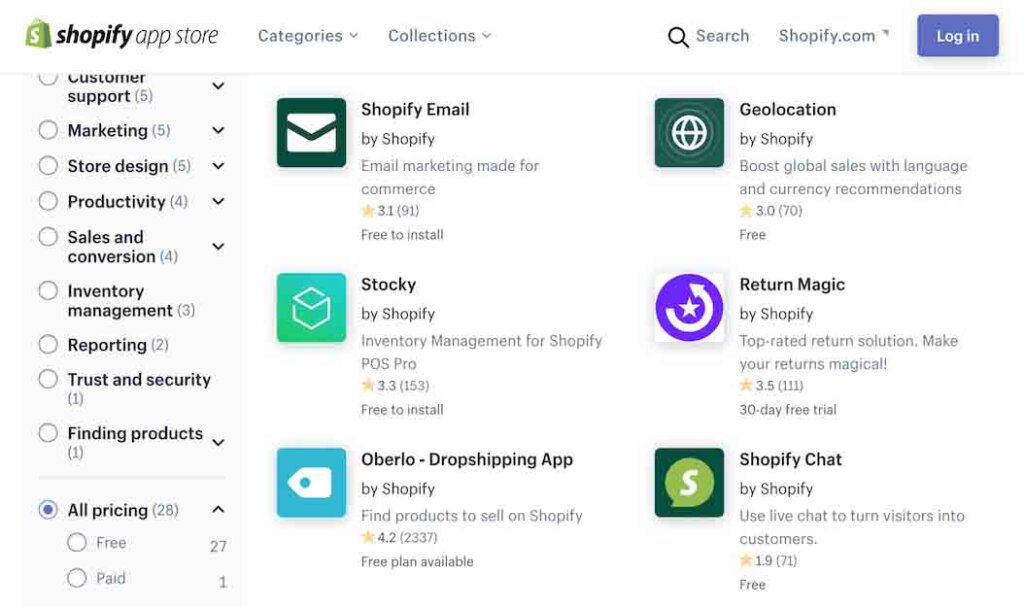 Third-party apps are where you'll find integrations for the other software you use to run your eCommerce business, like Mailchimp, Facebook, or Shippo.
We recommend browsing the app store before making your final selection of Shopify vs. WooCommerce. You want to make sure that the software you currently use to manage your store, whether that's email marketing or dropshipping, has a compatible app (or you're comfortable with switching to another one).
Winner: It depends
Scalability
As your store grows, your site will need to grow along with it.
As we discussed above, Shopify is fully hosted. When you host your eCommerce store on Shopify, your hosting, server updates, and site security are all taken care of by Shopify. Once you outgrow their three main plans, you can upgrade to Shopify Plus, their scalable platform designed for high-volume sellers.
With Shopify, scaling your store to meet demand is done in the background, without you having to think about it. That's not the case with WooCommerce.
You'll be on the hook for keeping on top of your hosting needs, and scaling your WordPress hosting solution according to your growing traffic. For this reason, it can be smart to start off with managed WordPress hosting rather than generic web hosting. These hosting plans manage much of the background tasks for you, like server and plugin updates, so you can focus on selling instead.
Either way, it's a good idea to think ahead about the growth of your store. If you plan to stay small, either Shopify or WooCommerce can be good options. If you plan to grow and aren't afraid of getting technical, WooCommerce may be the right choice. Perhaps you'd prefer someone else handle the technical stuff, if this is the case, you may want to stick with Shopify.
Winner: Shopify
Price: Shopify vs. WooCommerce
To calculate the true price of using Shopify vs. WooCommerce, you need to take a few things into consideration.
WooCommerce itself is free. In order to run WooCommerce, however, you'll need to separately purchase WordPress hosting, register a domain name, and buy a SSL certificate. The costs for those can range, but generally you might pay:
$10 to $30 per month for hosting
$10 to $15 per year for your domain name
$50 to $80 per year for a SSL certificate
Then, add in the cost of any premium WooCommerce themes or extensions you use. Tally those together, and you'll have the cost of running an eCommerce website on WooCommerce.
With Shopify, your hosting, domain name, and SSL certificate are all included. As a result, their base costs start out much higher.
The Basic Shopify plan costs:
$29 per month
+2.9% + $0.30 for online transactions made with a credit card (2.7% for in-person)
+2.0% transaction fee for any non-Shopify Payments provider
The Shopify plan costs:
$79 per month
+2.6% + $0.30 for online transactions made with a credit card (2.5% for in-person)
+1.0% transaction fee for any non-Shopify Payments provider
The Advanced Shopify costs:
$299 per month
2.4% + $0.30 for online transactions made with a credit card (2.4% for in-person)
+0.5% transaction fee for any non-Shopify Payments provider
Shopify stays competitive by lowering their credit card and transaction fees with each higher-tier plan, but it's still more expensive than WooCommerce.
Winner: WooCommerce
Is Shopify or WooCommerce right for you?
The good news is you don't have to decide before you buy. The WooCommerce plugin is free to install on any WordPress site, and Shopify offers a 14-day free trial. If you want, you can explore setting up your online store on both before making your final decision.
Here's the better news. eDesk offers integrations for both Shopify and WooCommerce, so whichever one you choose, you can provide best-in-class customer service for your customers, all from one integrated dashboard.
Essayez une meilleure façon de soutenir vos clients. Inscrivez-vous à un essai de 14 jours dès aujourd'hui. Aucune carte de crédit n'est nécessaire.