Every eCommerce seller knows that positive reviews are a good thing, but just how much do shoppers rely on them when deciding what to buy? As it turns out, they're really influential.
Three Reasons Why Good Reviews Are Essential
2,000 online shoppers were recently surveyed as part of an in-depth report commissioned by eDesk. A thousand consumers in the US and another thousand in the UK shared insights into their thoughts and behaviour regarding online reviews.
As a result, we discovered three standout statistics which highlight why positive reviews are so important for online sellers.
1. 44% Check Reviews Every Single Time They Shop Online
This is true of shoppers in both the US and the UK. And it is huge news for online sellers.
Delving deeper into the data, just 2% of shoppers said they never check reviews. While around 37% of US respondents and 40% of UK respondents said they only check them for certain products. Top of the list was technology, clothing, homeware, kitchenware, car accessories and beauty products.
It's also worth noting that women are more likely to check reviews than men. So if your target audience is predominantly female, make sure to clean up your feedback.
2. Three-Star Ratings Are Essential For a Quarter of Shoppers
If a product's star rating is less than three, 25% of UK shoppers and 26% of US shoppers wouldn't consider purchasing it under any circumstances.
Around 15% would go ahead if it was an essential item. While more than a third would only buy a low-rated product if it was impossible to find elsewhere.
Unless you're lucky enough to have no online competitors, you can add a rating of three stars or more to your list of eCommerce KPIs.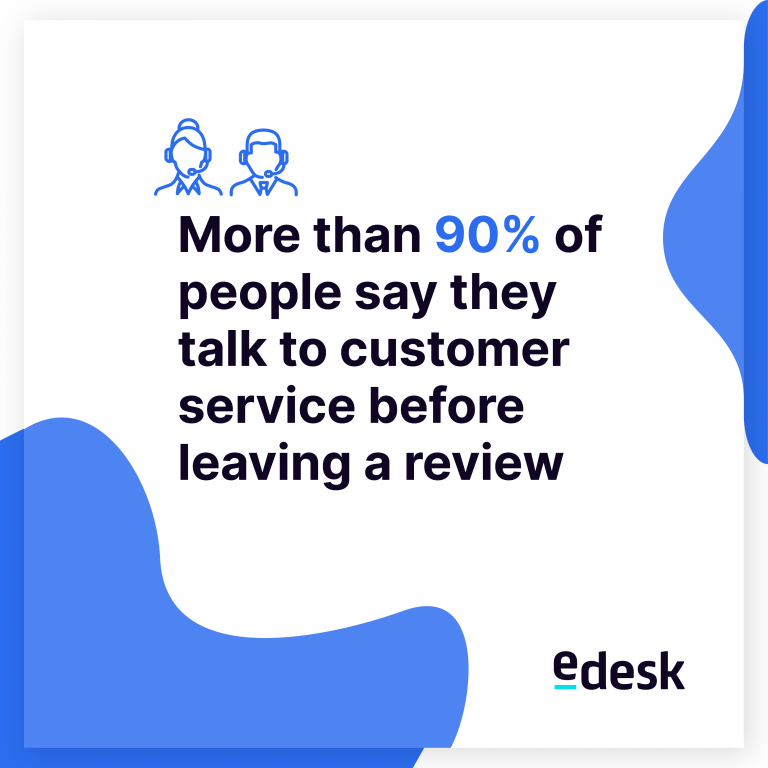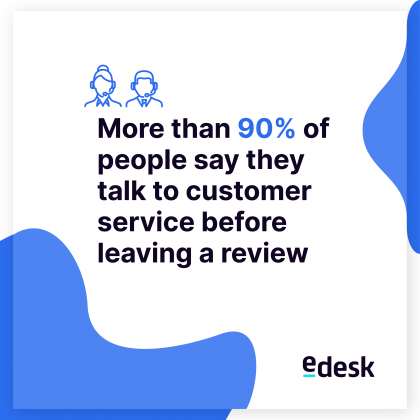 3. Shoppers Are More Inclined to Write Positive Reviews
Some shoppers say negative experiences motivate them to write reviews. But three times more said great experiences are more likely to do the same. This suggests that it's easier to clock up positive reviews. So, if you're not getting any, you may need to enlist the help of an eCommerce feedback tool.
It's also worth noting that 90% of shoppers on both sides of the Atlantic said they always contact customer service before leaving an unfavourable review. So if you have bad feedback coming through, you probably need to work on improving your customer support strategy.
So How Do I Increase Positive Reviews?
Online sellers need to take two key steps to ensure they receive great reviews. Firstly, they need to ensure customers have a positive experience. Then, after this, they need to request a review.
Providing a Solid Experience
A great customer experience begins with great quality products and reliable shipping arrangements. But you can't always prevent problems in these areas, so it's essential to have an expert system of customer service in place too.
As mentioned, the huge majority of shoppers contact customer support before leaving a bad review. So this is your chance to put a stop to negative feedback.
If you sell products on more than one channel, the easiest way to do this is by using an eCommerce help desk like eDesk. This provides one central platform where agents can see all incoming customer messages in one simple interface. Order information and message templates can be integrated to improve response times and the quality of replies too.
Ask For Feedback
This may seem deceptively simple, but the easiest way to increase positive reviews is to request feedback. Once a dependable customer service desk is in place, you can feel confident that the comments people write will be positive too.
Luckily, you can automate this process. eDesk lets you automatically follow up each sale or great customer interaction with a review request. It's even integrated with Amazon's Request a Review system so you can automate messages while remaining completely compliant with Amazon's strict feedback policies.
eDesk's integration with the likes of Trustpilot and Google makes it easy to increase ratings on these key platforms too. The potential for personalized messages can also add a human touch to your emails.
Proactivity from the marketplace seller is key 🔑 With 87% (🇺🇸) and 83% (🇬🇧) of those who had a positive experience more likely to leave feedback if they receive an email request, it's increasingly important to attract more reviews: https://t.co/O7ePhFagdJ pic.twitter.com/DxOZeSXUKZ

— eDesk (@eDesk) May 25, 2021
Once you reach out, the likelihood of receiving a customer review shoots way up. According to the 2,000 online shoppers surveyed for eDesk, the huge majority are much more likely to leave a review if they receive a follow up email. To be precise, 87% of US shoppers and 83% of UK shoppers confirmed this.
eDesk users can switch on automatic review emails with just one click. They also benefit from a centralized help desk that empowers fast responses to incoming messages. For more information about how eDesk's eCommerce platform can support your business as it grows, check out our webinar on 'The Why, How, and Value of Great Customer Feedback' below.