Think you can't succeed on Amazon? Think again. More than 140,000 small and mid-size businesses selling on the site eclipsed over $100,000 in annual sales in 2017, and half of all items sold come from marketplace sellers.  
If you're interested in selling on Amazon, but want to avoid the hassle of running a regular e-commerce business, try drop shipping on for size. Rather than developing and producing products, finding a warehouse and figuring out shipping, you pair up with a wholesale supplier to directly fulfill your customer's orders.
No inventory to store, no shipping to deal with and no big upfront investment to get your business off the ground.
Where do I start?

The first thing to do is choose what you want to sell and who you're going to buy it from. If you don't have a set product list in mind, try finding out what's currently trending online.
EBay's "Trending on eBay" page will show you the most popular goods being sold, which will give you a great idea of where to start.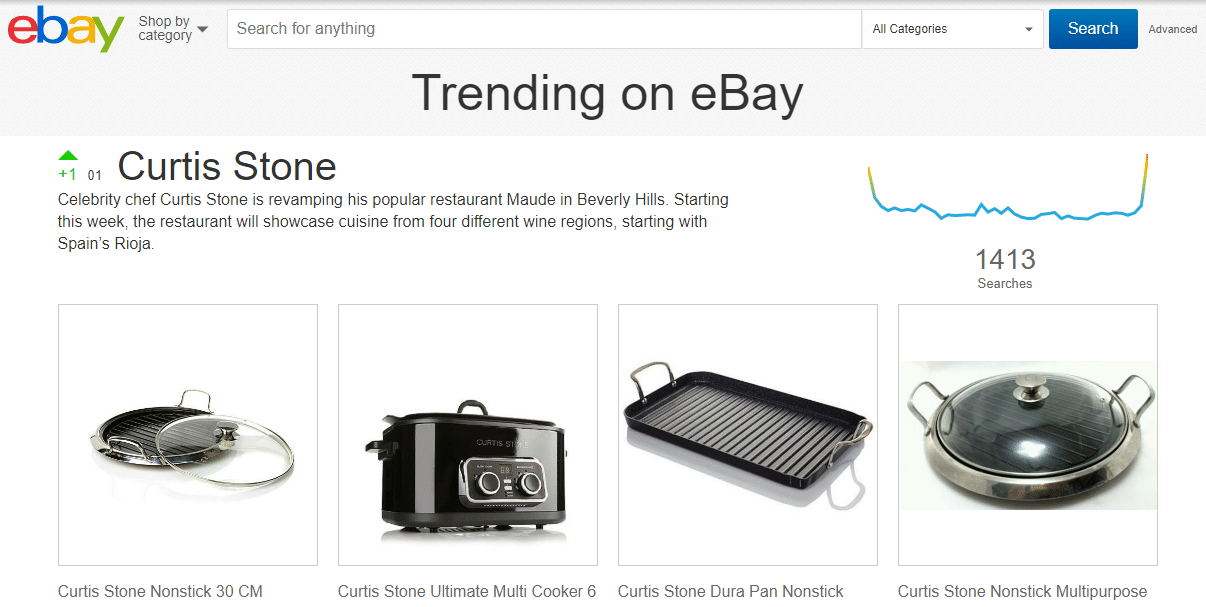 On Amazon, check the "Movers and Shakers" page. It's updated hourly and will give you a strong insight into the market.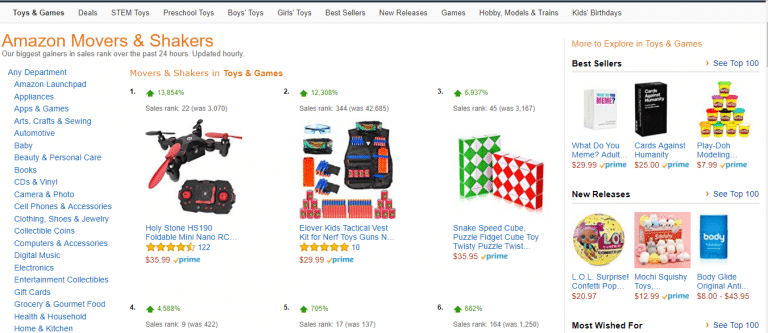 Similarly, with Alibaba.com, you can select any category and check "Hot Products."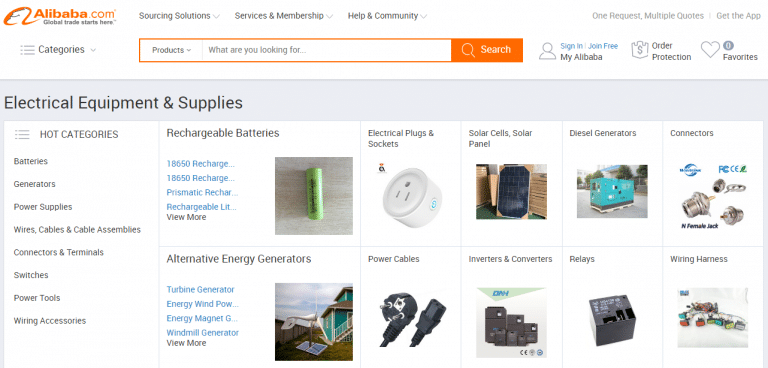 Another great source of suppliers is Aliexpress.com. Its Weekly Bestselling page shows more data on hot products that you could drop ship to your buyers.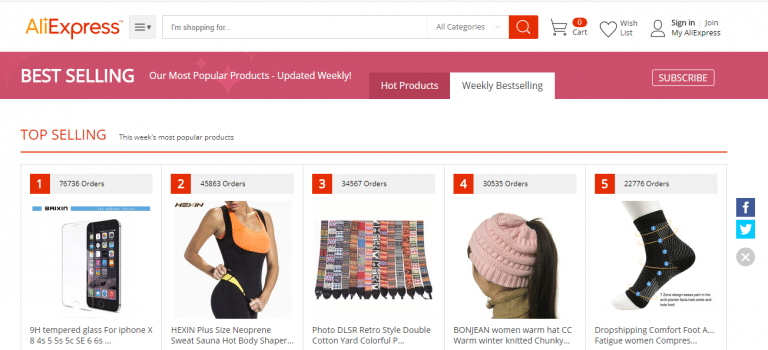 It's worth noting that no two marketplaces have the same best-selling products, so it's necessary to review several of them when doing your research.
Hot tip: While some people advocate selling what you're passionate about, that can be problematic. People have a tendency to overvalue what they love and lose objectivity.
Don't be afraid to analyze the market data and simply pick high-performing products. For this, Google Keyword Planner is your friend.
Thanks to the websites mentioned above, you already have four options to help you get started with your keyword search:
 Click "Search for new keyword and ad group ideas" 

Enter a category relevant to a trending product
Click "Get ideas" to see a list of all related keywords and see if anything catches your eye
I've picked my products. Now what?
A crucial step in drop shipping on Amazon is picking the right supplier. You don't want to jump on the cheapest deal that comes your way, as picking an unreliable supplier will end up costing you much more when you try to sell their products.
Late delivery times, miscommunication and suppliers sending the wrong products to your customers can have a negative impact on your business (particularly your seller feedback), so do your homework and choose yours wisely.
Alibaba and Aliexpress are great places to start. There are several guides that explain how to choose a supplier on both platforms and the subtle differences between the two. It's important to check that the feedback on the supplier's page is positive and it's a good idea to go with one that's been established on the site for some time already.
On Aliexpress, the search engine has a "sort by" option; choose "seller rating" to see the best suppliers the site has to offer. Alibaba doesn't offer this option, but suppliers will either have a Gold Rating, Trust Pass or Free Member badge. Go for Gold Rating suppliers and avoid those with free membership.
Drop shipping on Amazon: the basics
There are millions of third-party merchants already selling on Amazon, including other drop-shipping businesses, so choose a product niche, check what's already listed and make sure you can make a profit before you start.
Amazon tends to charge between 10 to 15 percent of the cost of each sale, so it's important to factor that in. Bear in mind that, as a drop-shipper, you don't have a lot of overhead costs to pay. Any other fees you might have to cough up are import costs if your goods come from abroad.
A huge benefit of drop shipping on Amazon is the low or even non-existing marketing costs. You have access to almost 250 million buyers and, unlike a lot of other platforms, most sales come from organic traffic, when people are searching for something on the site and find what they need without ads being involved. To ensure you make the most of that traffic, you must optimize your product listings.
What you need to know
Firstly, Amazon has a policy that specifically deals with drop-shippers, so it's important to comply. You must attach your own contact details to each sale, not the details of your supplier; returns are your responsibility; and you need to use your own supplier, not another Amazon merchant.
Then do as much promotion as you can from your end. This means focusing on getting your name out there for brand awareness through product reviews and seller feedback.
Once you get set up, you should start sending out strategic review requests. With the help of customer feedback software like xSellco, you can automate this task by sending selective requests to capitalize on your happy customers. 
In just a few clicks, get ready to send multiple requests like this: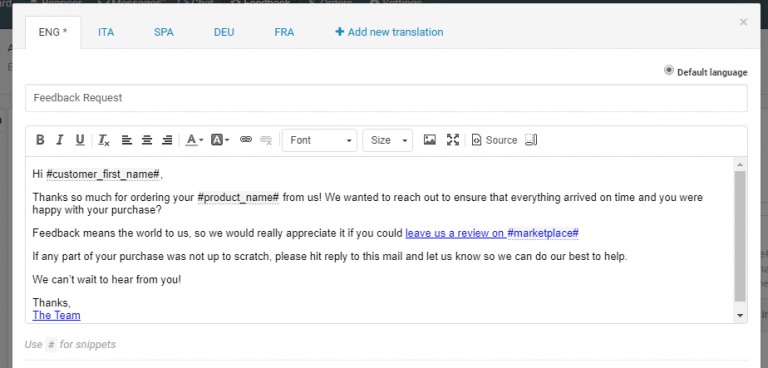 Remember, positive reviews increase sales in ways you might not realize. It gives authority and reliability to your seller profile and consumers are likely to spend 31% more on products from businesses that have excellent reviews.
eDesk is the leading helpdesk for online sellers, purpose-built to address the precise demands of e-commerce. Sign up for a no-hassle, 14-day free trial right now.