As a business that sells products or services to customers, it's a given that your customers will talk about your company or brand. It's only natural that after making a purchase, they'll have an opinion about whether the transaction was a positive or negative experience and whether there is room for improvement.
Listening to your customers is one of the most important things your business will ever do. After all, research has shown that it costs anywhere from five to 25 times more to acquire new customers than it does to retain existing ones.
This reminds us that customer loyalty is vital, and a key way of achieving it is by taking feedback on board to make sure that the customer experience your brand delivers meets and exceeds your customers' expectations.
If you've been wanting to know how you can use customer feedback to obtain an edge over your competitors, read on for our comprehensive guide filled with actionable tips that you can apply today to start generating results and growing your business.
What is Customer Feedback?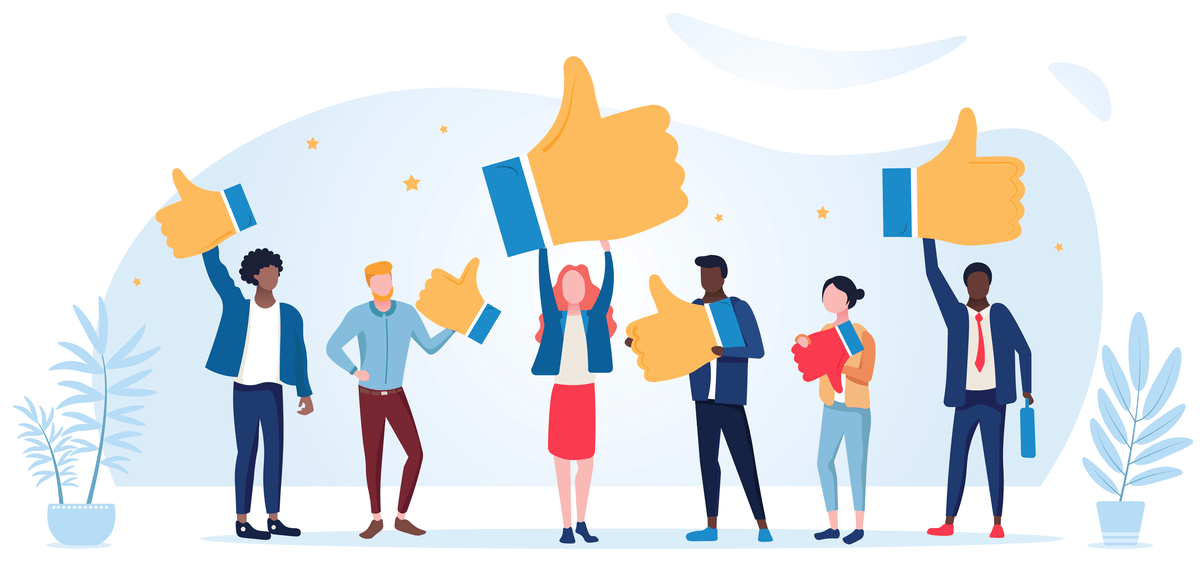 Customer feedback consists of all of the information, issues, and input that your customers share about their experience with a product or service following a transaction.
It's anything and everything your customers are saying about you and the opinions they hold based on their experience with your company – so as you can imagine – it's imperative!
Customer feedback helps companies improve the customer experience they offer and can generate positive change and growth within a business. Whether positive or negative, customer feedback can be instrumental in adapting your product and service to meet and exceed customer expectations.
Why is Customer Feedback Important?
By collecting and analysing customer feedback, you can empower your product, customer success, customer support, and importantly, your marketing teams can identify areas that can be improved.
If a customer has had a negative experience for whatever reason, you can be sure they'll tell others about it. That's why ensuring that you take the time to reach out to your customers to gather their feedback and make the necessary changes to provide them with an excellent customer experience is so important to your brand and your bottom line.
This is also why customer feedback is so important. It has the power to give you information that you can then take forward when making high-level business decisions because you can base your decisions on customers' actual experiences with your products or services.
Feedback not only gives you the information you need to ensure that your product or service is in tip-top shape but crucially ensures the customer experience you offer is in shape as well!
But for customer feedback to be advantageous to your brand, you must know how to use it. Feedback requires action.
Asking for Customer Feedback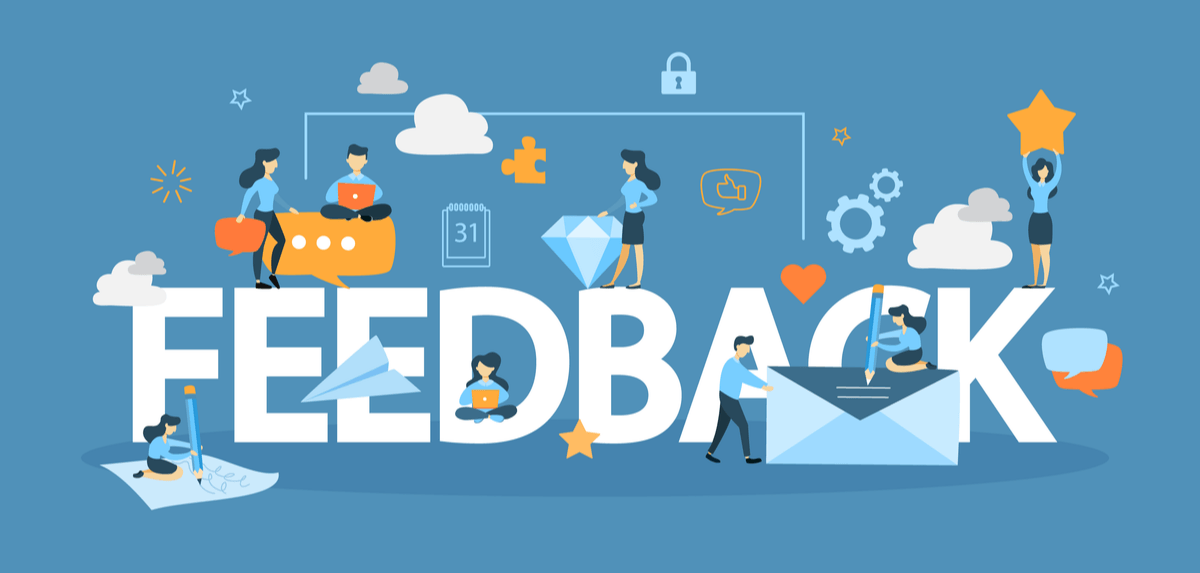 An important point to keep in mind is that collecting customer feedback should be a proactive undertaking. Although you should always listen to what customers are saying about your company, product or service online, it doesn't help you to simply sit back and listen without taking any proactive steps to connect with them and ask specific questions.
To ensure that customer feedback is used constructively to improve the overall experience, your company should take some active steps to elicit feedback from customers so that you can be aware of all the pain points and issues, as well as the good stuff.
The information you uncover from customer feedback will give you the information you need to steer your business forward and your customer service in the right direction.
Here are seven key ways you can grab valuable feedback from your customers. You may wish to use one or more of these effective methods, depending on what exactly you are seeking feedback on.
Identifying the outcome you need from customer feedback at the outset ensures that you engage with your customers in the most efficient, goal-orientated way possible. So, you should always start with a goal in mind and then choose one, or a combination of, these methods to solicit feedback from your customers.
7 Effective Ways to Ask for Customer Feedback
1. Email and Customer Contact Forms
Email is a fabulous way to gain customer feedback because it's already commonly used as a customer communication tool. You can make the most of email used as a support channel by asking your customers to provide feedback during and after the support process.
This can help unearth important information about customers' most frequent issues. By using email to ask how their customer service experience was following issue resolution, you can also evaluate the effectiveness of your customer support more generally.
Customers are accustomed to contacting businesses via email, so this is already an intuitive channel to use. You can solicit feedback proactively using email following any transaction, not just those which have had issues. Hearing from customers who haven't chosen to contact you about an issue can be just as important as hearing from those who have.
2. Customer Surveys
Customer feedback surveys are a straightforward way to connect directly with customers to find out how they have found their experience with your brand, what they want more of, and what could have been done differently.
The great thing about customer surveys is that they are a direct channel to the customer, and you can get answers to exactly the questions you're looking for feedback on. However, this also means that you must be strategic with how you ask your questions.
You can choose to conduct shorter surveys that are more targeted and focus on one specific area or topic, or you can choose to issue longer surveys that are all-encompassing and ask a variety of questions so that you can get more general feedback from your customers.
It can help to use a mixture of multiple-choice questions along with open-ended 'essay' questions in your survey. Giving customers space to write freely in response to specific survey questions can provide useful insights, along with their answers to multiple-choice questions.
You can share surveys with your customers via email, and there are lots of survey companies, such as SurveyMonkey, which can compile and collate the answers into survey data. This can easily be interpreted at management level and shared with product, customer service and marketing teams.
3. Customer Interviews
Another form of direct customer outreach is through customer interviews. Customer interviews are a way of adding qualitative feedback to the more quantitative (hard data) feedback you are collecting.
They can be done in person, via the phone, or even through video chat. Whatever the format, customer interviews are a way to get right to the source. If this is the approach you decide to take, make sure you go in with specific (but open-ended) questions and a commitment to active listening so that you don't miss any useful information that your customers convey during the course of the interview.
By speaking to your customers directly, their feedback can bring issues to life and offer insights that other types of feedback collection are unable to gather.
Open-ended questions are great at achieving this, in particular. When you approach your customers with open-ended questions, it allows them to speak freely about their experiences and may bring up other useful bits of feedback that you haven't asked for directly.
Customer interviews can help dispel false assumptions and better understand the customer's feelings and motivations behind their purchasing decisions.
4. Social Listening
One of the main spaces where customers talk publicly about their experiences with brands is on social media. Therefore, it's essential to pay attention to what is being said about your company or brand across social media channels, including Facebook, Instagram, Twitter, TikTok and more.
Fortunately, this doesn't mean your team needs to spend hours scouring the web for brand mentions every day. There are many comprehensive tools available on the market that provide sophisticated social listening services and will compile mentions of your brand into actionable social reports. Often, these reports also include tone and sentiment, giving you a solid overview of how your brand is received by the vast majority of customers online.
Furthermore, most social media platforms now have polling tools. This means that you can use your brand's own social accounts to hold polls asking your customers and followers for feedback on what types of products they like best, what their wants and needs are, and what they want from you as a brand.
This type of natural engagement provides useful insights into what customers are saying and what they're looking for in products and services. It allows you to obtain feedback straight from a wide variety of sources without the need for too much heavy lifting.
5. Web Analytics
You're probably already digging into your customer analytics as a key part of your marketing activities, but have you stopped to think about how analytics insights can be shared with your customer service team?
Web analytics can reveal the things about your customers that they otherwise might not communicate to you in a survey. For example, web analytics can reveal when customers are most active, the keywords driving them to your website, what they're looking for when they reach out to your brand, and how many times they visit before making a purchase.
You can use web analytics to see how long a customer spends on your website, if there are any particular pages or specific content that drive them there more frequently, and what the bounce rate is.
All of this information really helps you understand what customers resonate with and what they don't. If your bounce rate is high, for example, you'll want to evaluate what you can do to improve on that. Perhaps it tells you that your messaging needs some help, or your content could do with a refresh.
You can use web analytics to find out all this and more about your customers' activities on your website, allowing you to improve their experience. This is super important because it's been proven that user experience affects sales.
6. Website-Driven Feedback
Even more simplistic than using analytics, another way to collect customer feedback without asking any questions at all is to investigate how customers behave on your website when it comes to their interactions with self-service offerings like live chat.
In collecting feedback on the most commonly asked chatbot questions, or the most commonly accessed knowledge base pages, companies can get a view into the issues that customers are most likely to seek help with.
This isn't feedback in the traditional way we know it, but it can still provide a base from which the customer experience can be improved.
7. Beta Testing Feedback
If your business is ready to launch a new product or service, it may be useful to gather feedback ahead of its wider roll-out by offering it first to a select group of customers in 'beta' format. This can be presented as an exclusive 'sneak peek' to customers, many of whom are keen to provide initial feedback.
Companies like Google and StitchFix have been known to do this as they prepare to launch new products, tools and services. Consumers who get the first experience with the latest product or service can provide feedback that will ensure the success of the wider launch.
In particular, feedback mechanisms can also be built into the product experience itself. For example, a productivity tool can let the customer test drive its features and then ask for feedback directly afterwards. This can inform your company of any bugs or issues so that they can be fixed before the product, service or tool is made available to all customers and amplified with marketing campaigns.
What to Do With Customer Feedback
Of course, it's not enough just to collect customer feedback. For it to be useful, you must act on it. Once you have collected customer feedback using one or a combination of the methods above, it's crucial that the data is analysed in a way that makes acting upon it most efficient.
Leaving data in a silo is never a good idea, nor is segmenting it too finely. It's important to have a birds-eye view of the feedback as a whole, in addition to honing finer details to understand how improvements can be made on specific issues.
Creating reports that summarise the data and sharing them with the relevant stakeholders (senior leadership, managers, customer service teams, for example) as appropriate is a way to be transparent and collaborative with finding solutions.
Teams can respond directly to customer feedback, offering suggestions for improving processes to change outcomes moving forward.
The bottom line is that once you have collected the data, don't let it sit. Shared knowledge is a valuable resource, second only to data-led proactivity.
Final Thoughts
Obtaining customer feedback is a winning strategy. It's the foundation of growth. The more you understand your customers, the more you can improve and reach new heights with your offering and keep customers satisfied.
If that's not enough reason alone to collect customer feedback, research has found that simply asking for customer feedback in itself is enough to combat customer churn. It shows customers that your company cares about customer experience.
Ideally, you should gather customer feedback after every transaction and then genuinely take it on board when it is received. What your customers say about their experience with your company or brand can be a tremendous help to getting and staying on top of your game.
eDesk is the only eCommerce helpdesk software that includes feedback automation for Amazon, eBay, Trustpilot and Google My Business. Book a demo to learn more or try it FREE for 14 days (no credit card needed).