To succeed on eBay, you've got to have the right software. There are loads of tools out there to help you optimise your product listings to appeal to shoppers, rank higher in the Best Match algorithm, provide excellent customer service and increase sales for your eBay store. Read on to discover the best eBay software for your business in 2023.
eBay listing software
A good eBay listing tool can make the difference between a top-performing listing, and one that never gets noticed. eBay listing software offers pre-made templates, all created using design best practices and proven to attract shoppers and get them to convert. For you, that means no worrying about whether you've forgotten an important detail, and no need to spend your nights reading up on conversion best practices. Trust that the template works.
CrazyLister offers 200+ eBay listing templates, all of which are mobile responsive out-of-the-box. You can start a listing from scratch using these templates, or apply them to your existing listings. Those who sell on Amazon will be happy to hear that you can also manage eBay and Amazon listings from the same dashboard, and bulk list products across both platforms.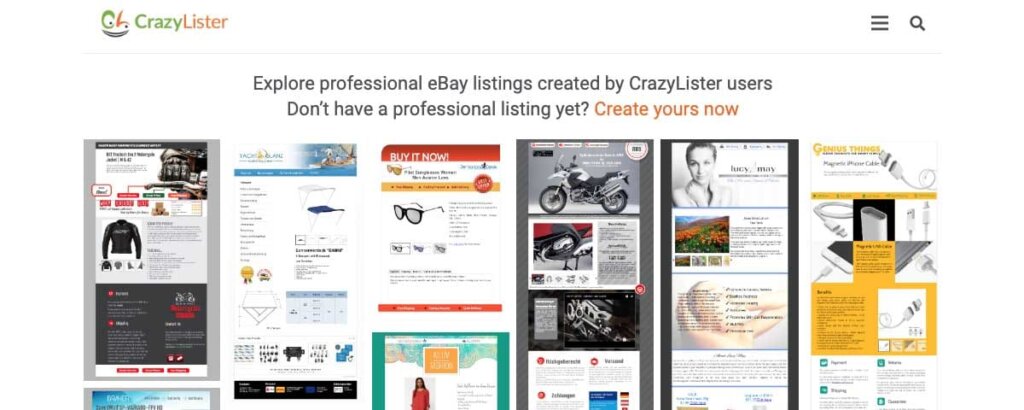 CrazyLister's pricing depends on the number of active listings you have. There's other free eBay listing software out there, including inkFrog and Add To Watchlist.
For those who sell on Amazon or Walmart, WowLister simplifies the eBay listing process even more. This eBay listing tool promises to list your products in under 60 seconds. How? You enter your Amazon or Walmart URL in the tool, along with a few basic product details. Link your eBay account, and it automatically creates the listing for you.


Once you've found a listing format that works for you, we recommend saving it as a Listing template in Seller Hub. You can save up to 10 templates in Seller Hub, and 20 in Selling Manager Pro. Test out different listing formats to see what's most effective for your products.
eBay search tools
When it comes to search, eBay's own search tool is pretty impressive. Toggle over to Advanced Search, and you'll be presented with a number of specific filters that allow you to hone in on specific product keywords, listing types, price ranges, and more.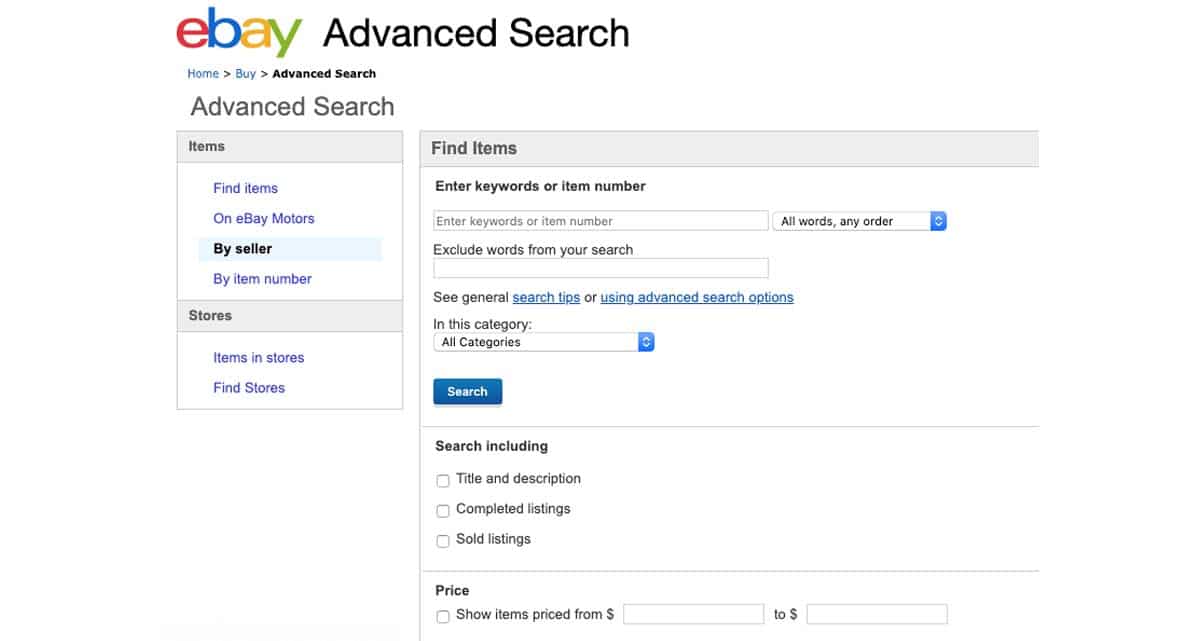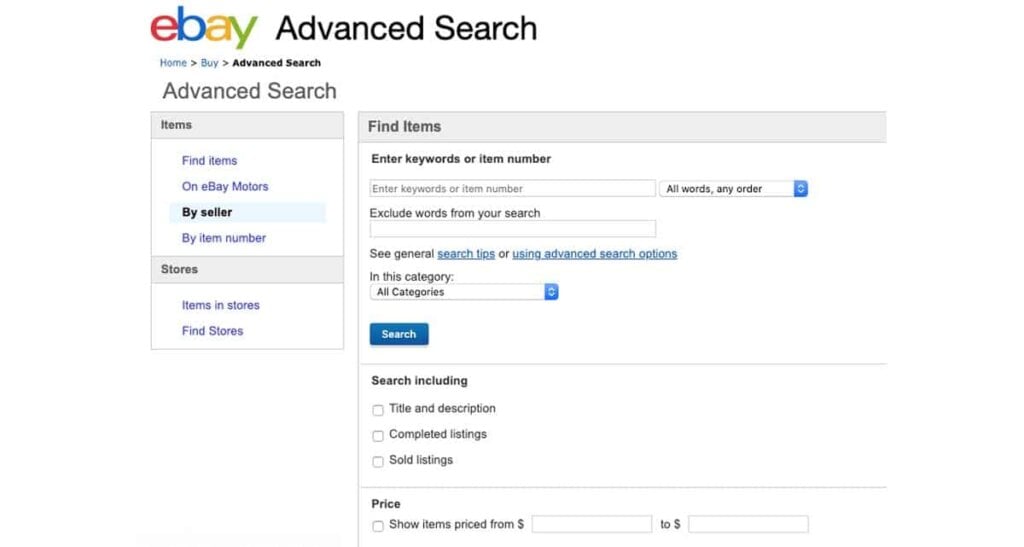 You can even perform competitive research and search by specific sellers.
Pro Tip: Add competitors to your saved sellers list, and you can quickly search for their products.
With eBay's Saved Searches feature, you can save time by setting and saving specific search parameters. Whenever a new item matching your search gets listed, eBay sends you an email alert. This is an excellent way to stay on top of potential product disruptors and new competitors.
eBay pricing software
There's an art to pricing your products on eBay. Price too high, and you'll lose out to other sellers. Price too low, and buyers may lose trust in your product.
To get started pricing your products on eBay, try eBay's own pricing tool. Fill out your listing details, including product type, listing type, and price, and eBay will recommend a price range based on similar products:


But eBay only provides a price range. To zoom in on the perfect price, you'll need to invest in a more advanced eBay pricing tool. For serious sellers, the investment is well worth it. Research from McKinsey shows that just a 1% price increase can increase profits by nearly 9%.
If you're selling on Amazon as well as eBay, pricing software is especially important. The ability to automate your pricing and react instantly helps you to win the Amazon Buy Box.
A tool like Repricer.com will ensure that your Amazon prices – which demand flexibility – are replicated to eBay. This ensures you're pricing is consistent across channels. Consistent pricing is a crucial requirement for multichannel sellers.
Top eBay estimator software
Your profitability on eBay isn't solely dependent on price. You also have to factor in fees for eBay, PayPal, and shipping.
Two top eBay estimator software include the eBay PayPal Fee Calculator and eBay Fees Calculator. With either one, you can quickly determine your eBay fees, PayPal fee, and total profit by product.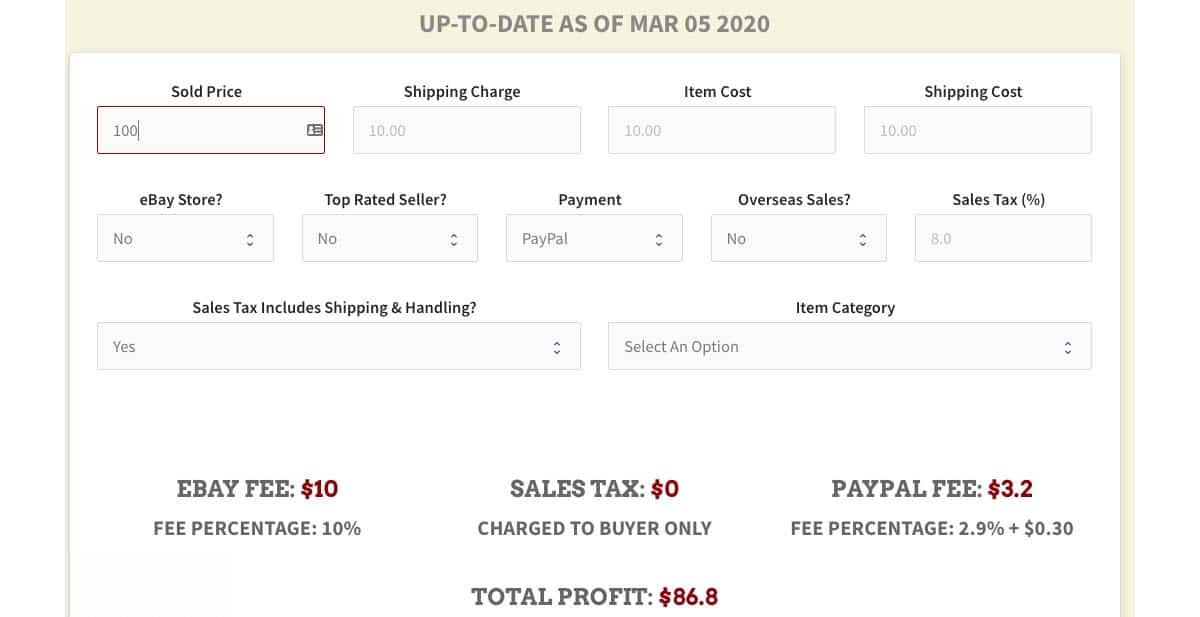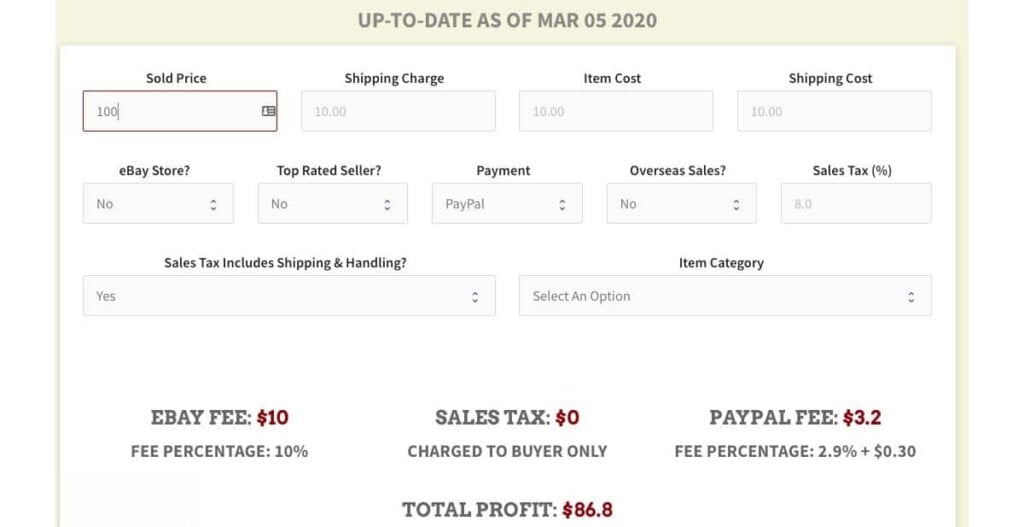 You can also use eBay's shipping calculator to calculate the shipping charge for buyers whenever you create a listing. 
The best eBay keyword software
It's easy to forget that marketplaces like Amazon and eBay are search engines in their own right, albeit focused on eCommerce. Just as you optimise your blogs and website pages for Google search, you need to be optimizing your product listings for eBay's algorithm.
eBay SEO software helps you discover the ideal keywords to include in your listing, so you can match the words your customers are searching for. You'll also be able to view insights like search volume (how many shoppers use this keyword) and competitiveness.
Keyword Tool is your comprehensive keyword research tool for eBay, Google, YouTube, Instagram, and others, so you can research hashtags for selling on social media from the same place that you research keywords for selling on eBay.
Other eBay keyword software providers include Keyword Keg and Keyword Tool Dominator. 
eBay research software
Terapeak is one of the top-rated eBay research software out there. You can even get it for free with certain eBay Store subscriptions (Basic, Premium, Anchor, and Enterprise).
Terapeak helps you discover the most popular products and categories, plus what strategies sellers are using in order to make them so popular. You can view the sales data from the last year for millions of items, including the number of listings, items sold, average sales price, sell-through rates, shipping costs, and trends over time.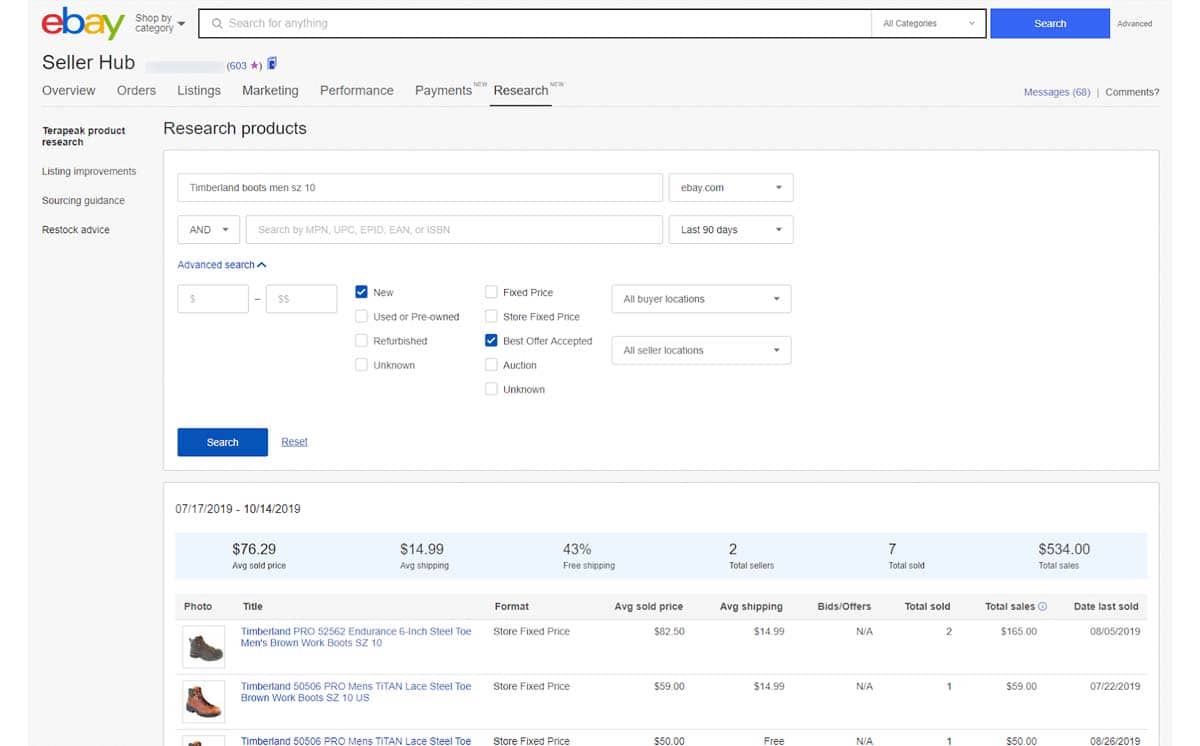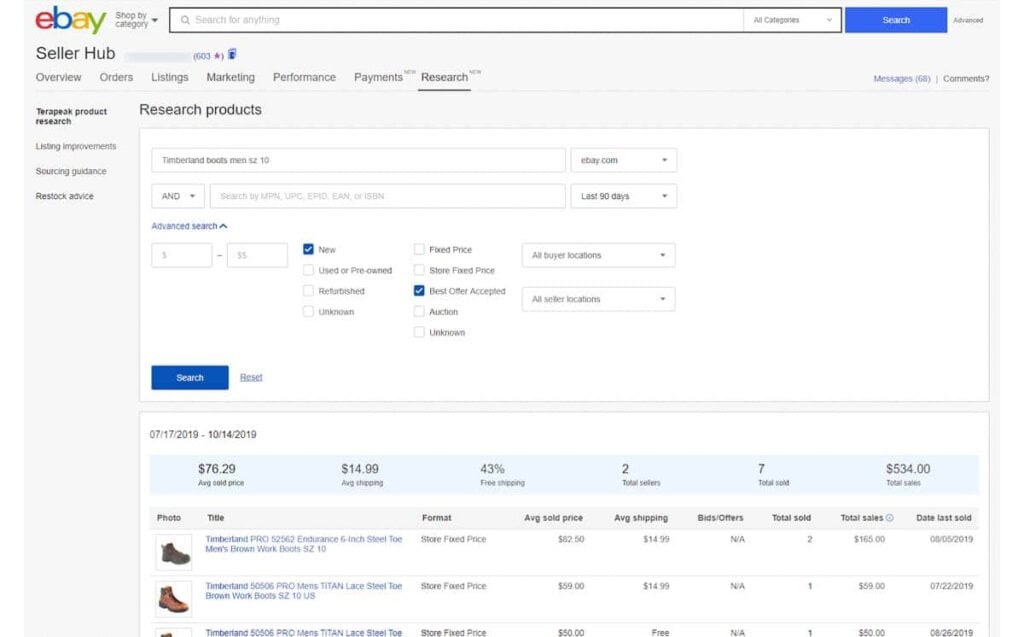 By reviewing the results, you can find patterns among top-performing listings. Do they share a similar format, feature image, or price range?
Algopix is another eBay research tool that offers insights into Amazon and Walmart, so it may be useful for those who sell on multiple platforms. 
eBay product ranking and feedback software
What goes hand in hand with researching your products? Optimizing them to sell better. To sell better, you need to rank better.
eBay research software like Algopix come in useful here, too. Algopix analyses your listings to identify any missing elements that are important for the Best Match algorithm, like having original images or including your terms of service.
Product reviews, especially positive ones, also influence the Best Match algorithm. With a tool like Feedback by eDesk, you can use smart targeting rules to reach out to satisfied customers and get their feedback on eBay. You can personalise feedback requests across multiple marketplaces, including eBay, Amazon, Google, and Trustpilot. You can also compare your ratings against your competitors'.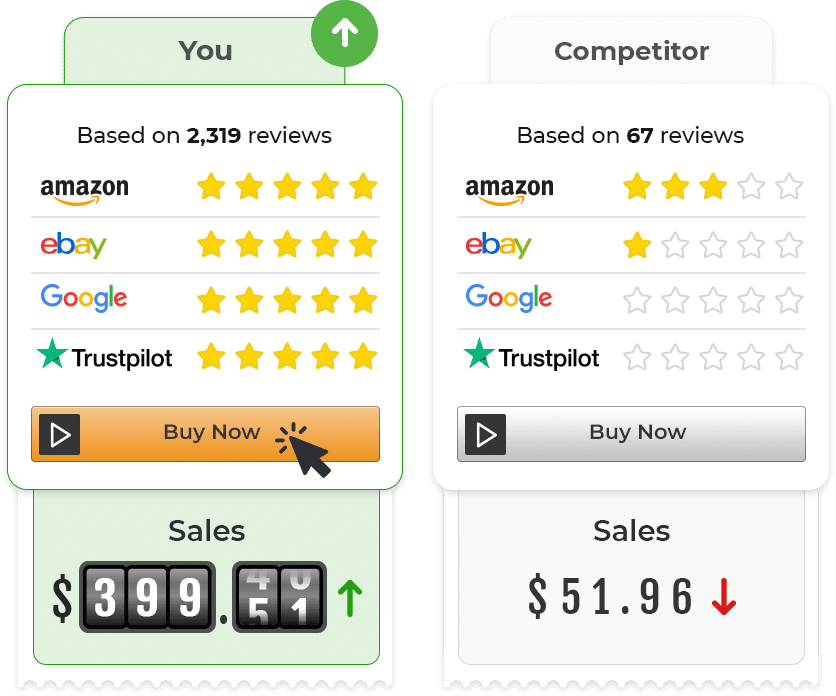 eBay seller analysis software 
All the eBay software we've reviewed thus far can set you up for success on eBay, but you won't be able to measure that success without eBay seller analysis software.
Fortunately, eBay offers two analysis software for sellers: Listing Analytics and Sales Reports. With eBay Listing Analytics, you can view metrics like the impressions, click-through, and sell-through rates for your listings. You can see your top-performing listings, and your worst, and compare your sales over time. Best of all, you can even analyse your competitors across these same metrics.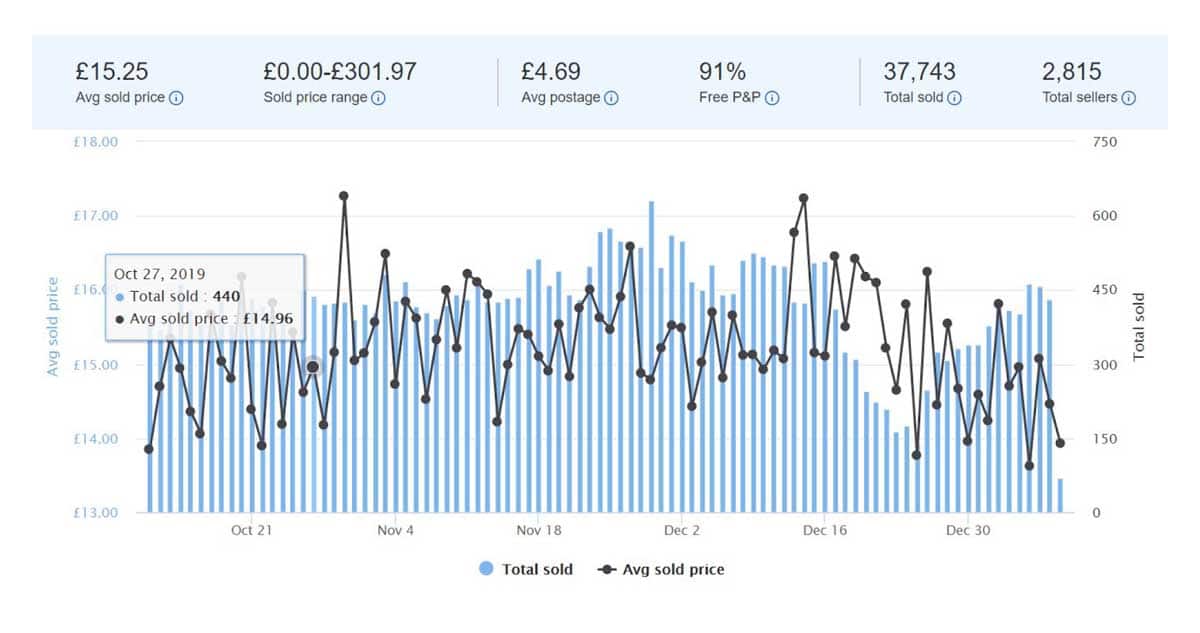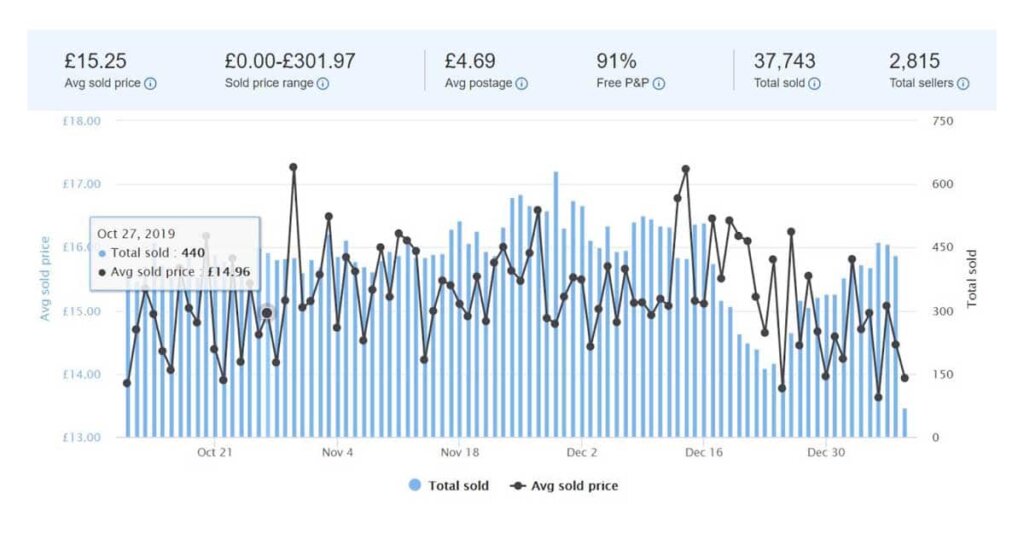 eBay's Sales Reports share information about your total sales, average sale price, average fees, sales growth. You can view reports from the past six months
eBay helpdesk software
eBay's a fantastic marketplace, but the customer service portal certainly isn't its strongest feature. For example, every incoming message creates a new ticket, even when they're sent by the same person. This is fine if you're looking to get some cash for a single unwanted item, but really doesn't cut it for professional merchants.
eBay sellers who are serious about providing great customer service use a dedicated eCommerce helpdesk like eDesk. With A.I. powered features that enable users to answer common questions with a single click, and a centralised inbox with order details, previous messages and customer information on a single screen, it makes top-class customer service easy to deliver.
eDesk integrates with every major online marketplace, as well as your website and social media channels. This makes it perfect for multichannel sellers looking to centralise their customer service interactions.