CEO Alex Payne discusses the future of eDesk, as the company enters the next phase of its growth.

Online shopping has changed… forever. Over the last year, the global pandemic has forced changes in consumer behaviour with more people turning to online than ever before, which has accelerated digital adoption by around seven years. The typically slow January was different in 2021, with IMRG Capgemini Online Retail Results reporting a 74.4% year-on-year growth in eCommerce, demonstrating how online shopping behaviour is, according to UNCTAD, here to stay.
The downside to this market uptick is that eCommerce retailers have seen a correlating rise in helpdesk tickets, with 1 in 6 sales generating an eDesk support ticket in 2020 (compared with 1 in 8 in 2019). This issue isn't unique to our customers; it's a challenge across the entire eCommerce category, and globally is creating a logjam in excess of $400bn worth goods that consumers have questions about.
Online, there is little scope to pick and choose which customers are more valuable to you. When it comes to online reviews, every transaction matters. eCommerce is ruthless at the best of times; customers can be fickle, supported by the high service standards that marketplaces demand. Increasingly they are using online algorithms – heavily influenced by rating scores – to determine how much visibility online retailers are given to customers. When poor service is received, poor reviews that can quickly follow not only damage an online seller's reputation, but also their marketplace viewability and therefore their business. Although most customers can be reasonable when things go wrong, what really matters is the quality of service that follows.
With resources tight, the only way to ensure great service is through arming your agents with great technology that enables extraordinary improvements in the way they manage customer's queries. Software has always provided magical solutions, accelerating particularly with machine learning and AI, not least in the world of online shopping. By using the right software, online retailers can grow sustainably without compromising on customer service, and therefore preventing penalisation for when those massive surges in customer demand occur.
To help eCommerce sellers grow sustainably, and as part of our ongoing commitment to empower excellent customer service, we have responded by bringing forward delivery of our product roadmap.
The latest version of eDesk supercharges customer support with AI advancements that include:
Smart Inbox
This automation feature interprets order data around customer issue types, streamlining them into filtered blocks of tickets for faster, batched responses, regardless of the channel – eBay, Amazon, Etsy, Shopify etc – they came through. Tickets are then automatically categorised, prioritised and assigned to the relevant support agents, speeding up communications and making management of increased enquiry volumes smoother.
It's worth noting that for years, Microsoft, Google and Yahoo! have tried to make it easier to manage email, but have yet to make any breakthroughs on productivity. By focusing only on eCommerce, eDesk is pioneering a new inbox, using structured data to organise retailers' customer support and enable a step-change in productivity.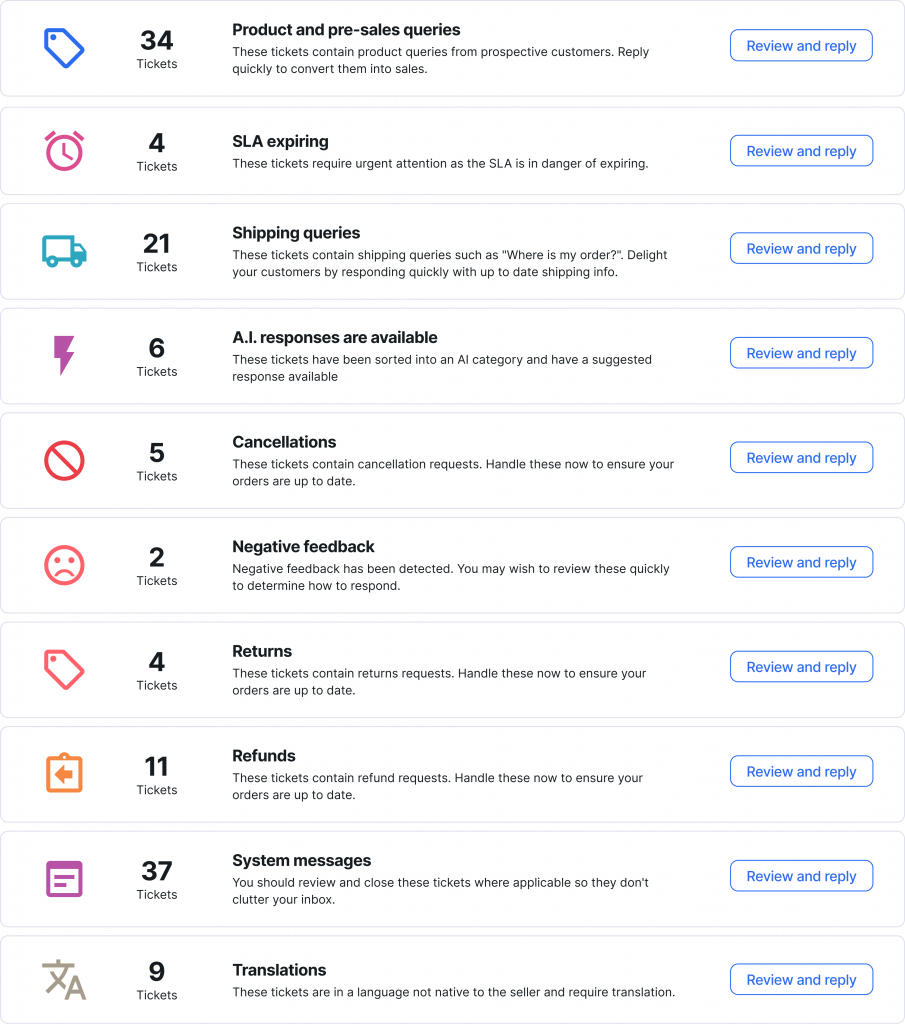 Insights
Our new insight dashboards provide one-click multichannel overviews of customer support volumes, orders and sales at speed, uncovering actionable insights for better business decisions. Product insights can identify relationships between events, such as understanding why refunds are being processed at a customer, agent or product level, enabling appropriate action to be taken.
These insights come from the sharp end of online selling, enabling retailers to make real improvements to their service and overall profitability.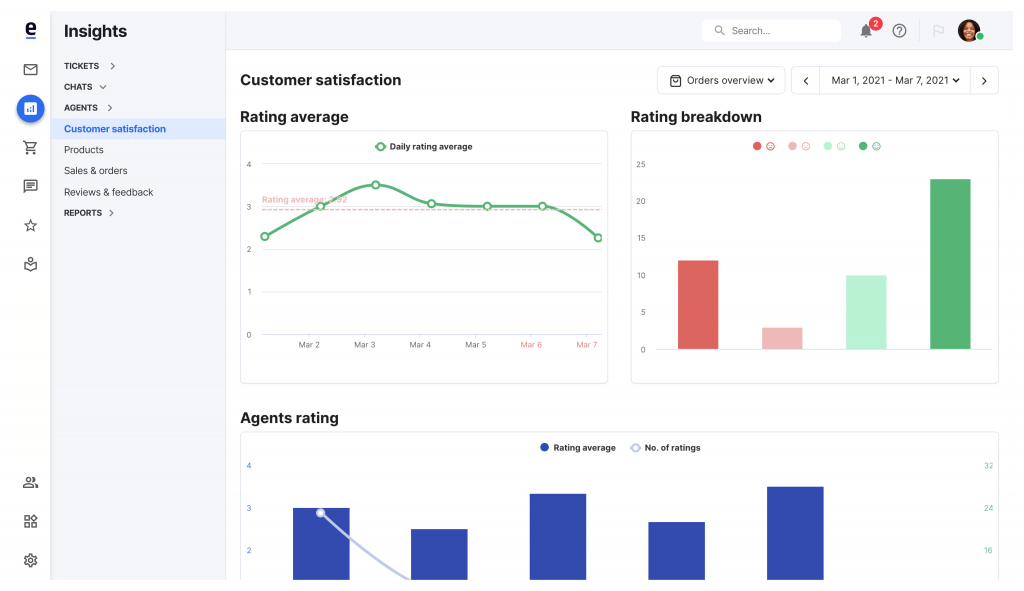 New UI
The platform has been reimagined to produce a UI as familiar as email, driving productivity and collaboration with clear workflows, so agents can find what they need quickly. The result is better oversight, productivity and efficiency across sales channels.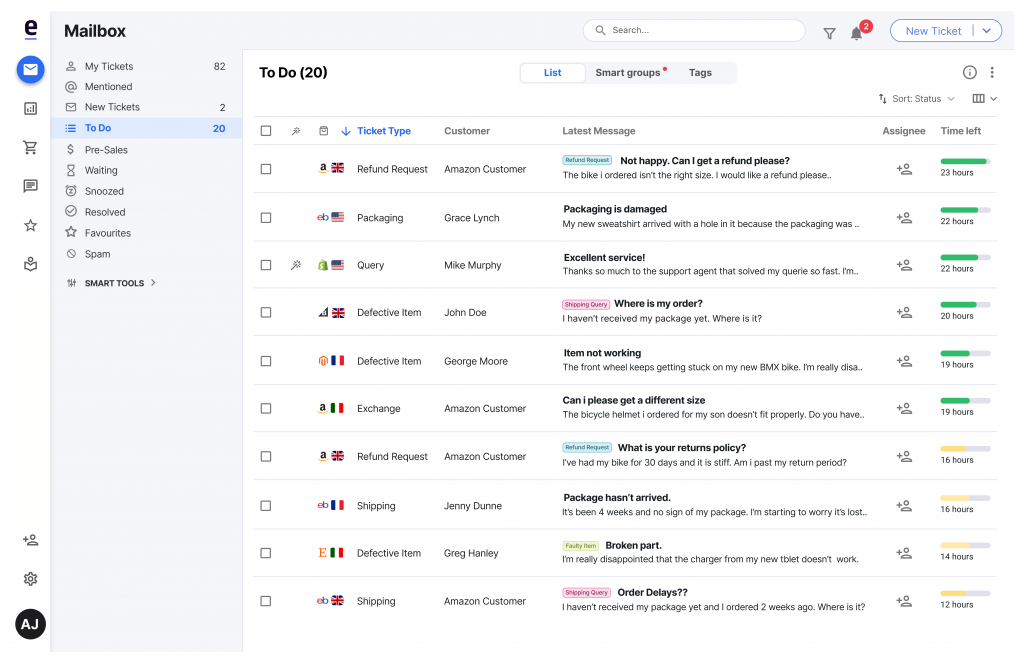 In addition to the latest eDesk, we have also been working hard with our customers and the industry to improve our Feedback and Repricer products. At the heart of our product development is a simple belief that to deliver the best possible outcome, everything needs to be managed at a transaction level. Consumers often just want to buy a product quickly rather than the full CRM experience, and it's only by using transaction level data in smart ways that we enable retailers to significantly improve the productivity of their customer support.
It's our mission to power five-star eCommerce support using transaction intelligence, and the improvements announced for eDesk, and upcoming for Feedback and Repricer reflect this. Watch this space for details of exciting innovations.
Finally, Some News From Us
While all xSellco products are built solely for eCommerce retailers, eDesk has always been at the heart of what we do and it most represents what we create and build for marketplace and webstore sellers – tools that enable customer satisfaction.
With this in mind, and to more clearly define what is at the core of our brand beliefs and values, we have decided to change our company name from xSellco to eDesk, beginning with the trading name from March.
However, this is the start of a journey over the next few months rather than an 'oven-ready deal', as we need to ensure that it is done correctly and our customers are always at the front and centre of everything we do.
On the whole, adopting eDesk as our trading name changes little day-to-day, but there are some minor things for our existing customers:
Invoices previously from 'xSellco' will now be from 'xSellco trading as eDesk' and feature the eDesk logo
eDesk, Repricer and Feedback customers will see emails from eDesk.com rather than xSellco.com
Our social media accounts will migrate from xSellco to eDesk
Repricer customers will continue to be supported via support@repricer.com, but will also receive support from support@edesk.com as it gradually takes the place of support@xsellco.com
What won't change:
On the whole, customers will see very little change
Existing pricing plans will remain the same and will not be affected as part of this change
Feedback and Repricer customers will continue to access their accounts in the same way, log-ins to our platforms will remain unchanged
Customers will still have the same points of contact as before, Account Managers and so on will remain the same
By adopting eDesk as our trading name, we aim to clarify our brand values, validate our reputation as the only end-to-end eCommerce customer support solution and reinforce our dedication to customer satisfaction.
For more information about how eDesk can help your eCommerce business improve customer experiences, contact your account manager or set up a demo here.